intelliHR allows you to easily collect, manage, and understand your people data, save hours through automation, engage your people, and enable performance all in one place. We'll support the processes so that you can support the people.
Greenhouse Recruiting's integration with intelliHR allows you to automatically send candidates to intelliHR once they have been hired.
Create a webhook
To integrate intelliHR with Greenhouse Recruiting, you'll need to create a web hook. Follow the steps in this article to create your web hook. Use the values listed below to configure the web hook:
Name: intelliHR integration
When: The time that the event will be sent to intelliHR. Select the following options for this integration:
Endpoint URL: The Endpoint URL provided by intelliHR
Secret Key: The Secret Key provided by intelliHR
Use the intelliHR integration with Greenhouse Recruiting
Once a candidate is hired in Greenhouse, their information and job profile is automatically created in intelliHR.
In order to successfully integrate Greenhouse with intelliHR, you'll need to configure several custom fields on the Candidate, Jobs, and Offers pages in Greenhouse Recruiting. Your intelliHR contact will assist you in configuring these fields and adapting them to your business needs.
First, navigate to the open job and select candidates from the left menu.
Then, select the candidate you'd like to hire.

Navigate to the offer details page and select Create Offer.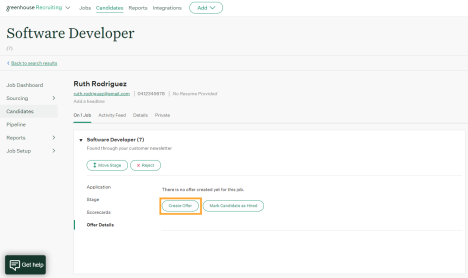 Click Save once you have filled in the relevant offer fields.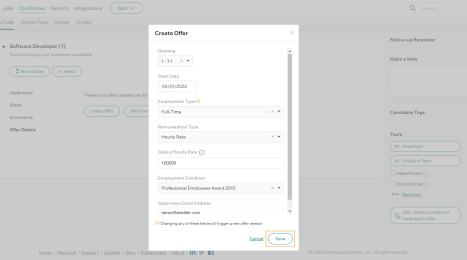 Next, mark the candidate as hired and click Save.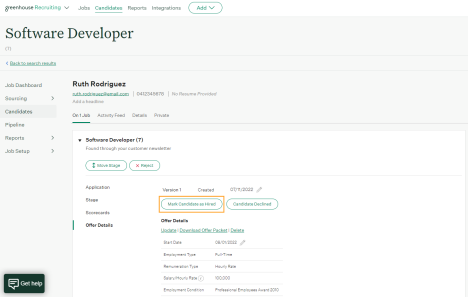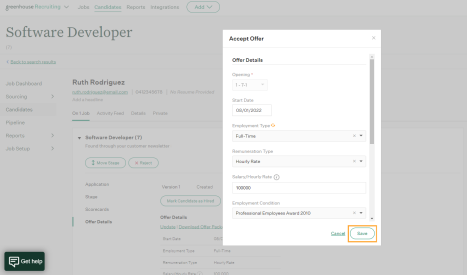 The candidate is automatically sent to intelliHR, where a person and job record are created.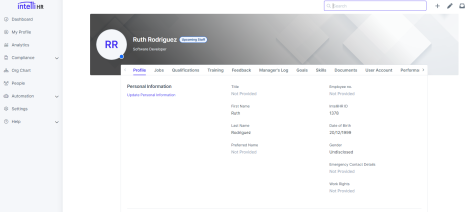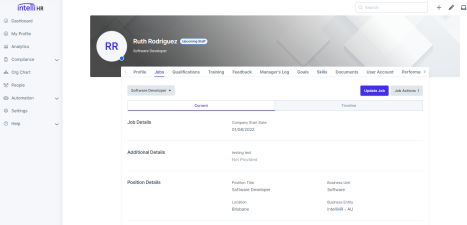 Additional resources
After using the integration, you may decide you want to share more info between Greenhouse Recruiting and intelliHR. If you would like additional information transferred over, please reach out to the intelliHR Integrations team to schedule a consultation.
For additional information not covered here, reach out to integrations@intellihr.com