Wonderlic is the pioneer of pre-employment assessments, with 80+ years of experience providing objective candidate insights that predict who's the best fit for your open positions and whether or not your candidates may thrive.
Wonderlic's whole-person, multi-measure assessments identify candidates who have the cognitive ability, personality and motivation needed to succeed in your roles. By measuring these three constructs we can give you robust insight into what candidates can do, will do, and want to do — all specific to your unique role. The technology behind WonScore, Wonderlic's pre-hire assessment tool, makes reading and interpreting candidates' results easy and doesn't require a lot of setup or training.
With these insights, HR teams can identify top talent before reviewing resumes and scheduling phone screens – allowing your team to move quickly on the candidates most likely to be successful. Wonderlic significantly improves your chances of hiring talent that will grow in their roles, enjoy their work, and stick around – reducing turnover long-term.
The ongoing evolution of our assessments is driven by continually validated scientific research and award-winning expertise in I/O (industrial-organizational) psychology, leveraging AI (artificial intelligence) and machine learning to create better talent science. As a result, we're creating groundbreaking new ways for companies to hire more fairly and effectively in an ever-changing world.
Greenhouse Recruiting's integration with Wonscore allows you to seamlessly add the Wonscore by Wonderlic assessment stage to a job's interview plan.
Create a Harvest API key for the Greenhouse Recruiting / Wonscore by Wonderlic integration
To configure the Greenhouse Recruiting / Wonscore by Wonderlic integration, you'll need to create a Harvest API key.
Follow the steps in this article to create the key, and verify that the credentials and permissions below are selected when configuring the Wonscore by Wonderlic integration.
Credentials
In the Create New Credential box, make the following selections:
API Type: Harvest
Partner:
Description: Wonscore by Wonderlic Harvest API Key
Permissions
Verify that the following permissions are selected for the Wonscore by Wonderlic integration:
Applications
Candidates
Tags
Scorecards
Departments
Email Templates
Custom Locations
Jobs
Job Posts
Job Stages
Job Openings
Offices
Prospect Pool
Custom Fields
Custom Field Options
Enable the Greenhouse Recruiting / Wonscore by Wonderlic integration
To enable the integration, follow the steps in this article to retrieve your API key from your Wonderlic representative and set up the assessment stage in your interview plans.
Once you've set up your interview plans and configured your take-home test, you'll be able to send the test to candidates.
Send and review a test
When candidates are moved into the Wonscore by Wonderlic interview stage, Greenhouse Recruiting will display a Send Test link.
Note: When you send an assessment from inside Greenhouse Recruiting, the interview instructions will still be sent by Wonderlic.

After it has been sent, an assessment's status will display in Greenhouse Recruiting.

Once the candidate has submitted their test, the Interview Kit will contain a link and access code to view the submitted test in the Wonscore application.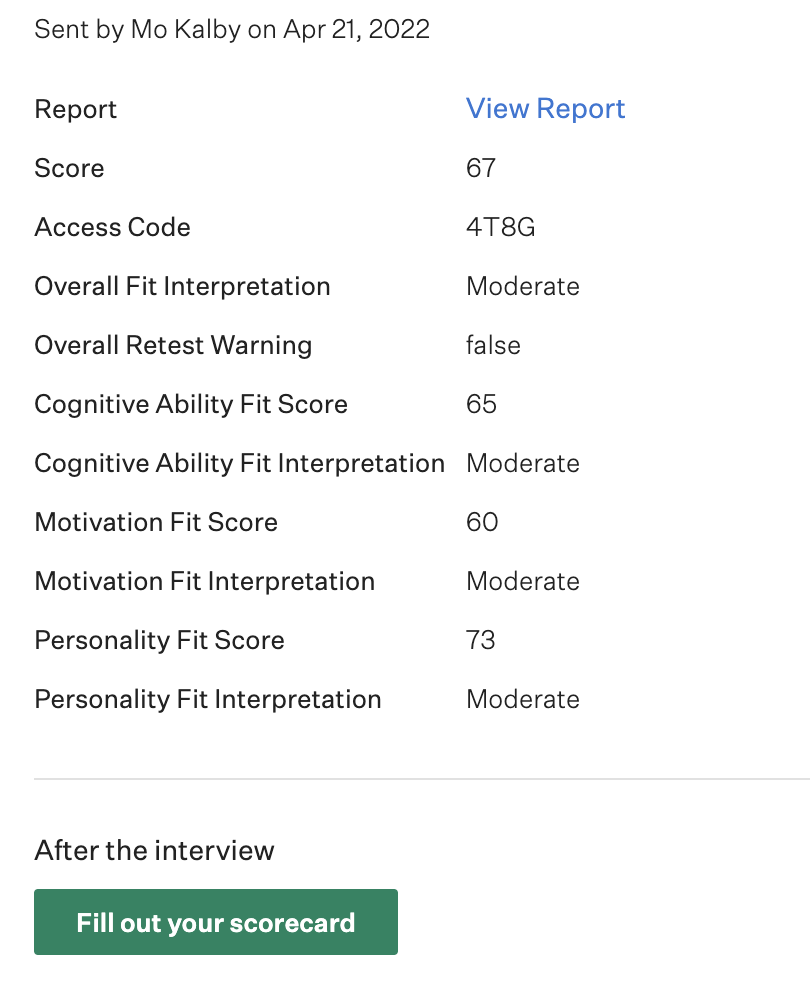 Click View Report and use the Access Code provided to see the candidate's results in Wonscore.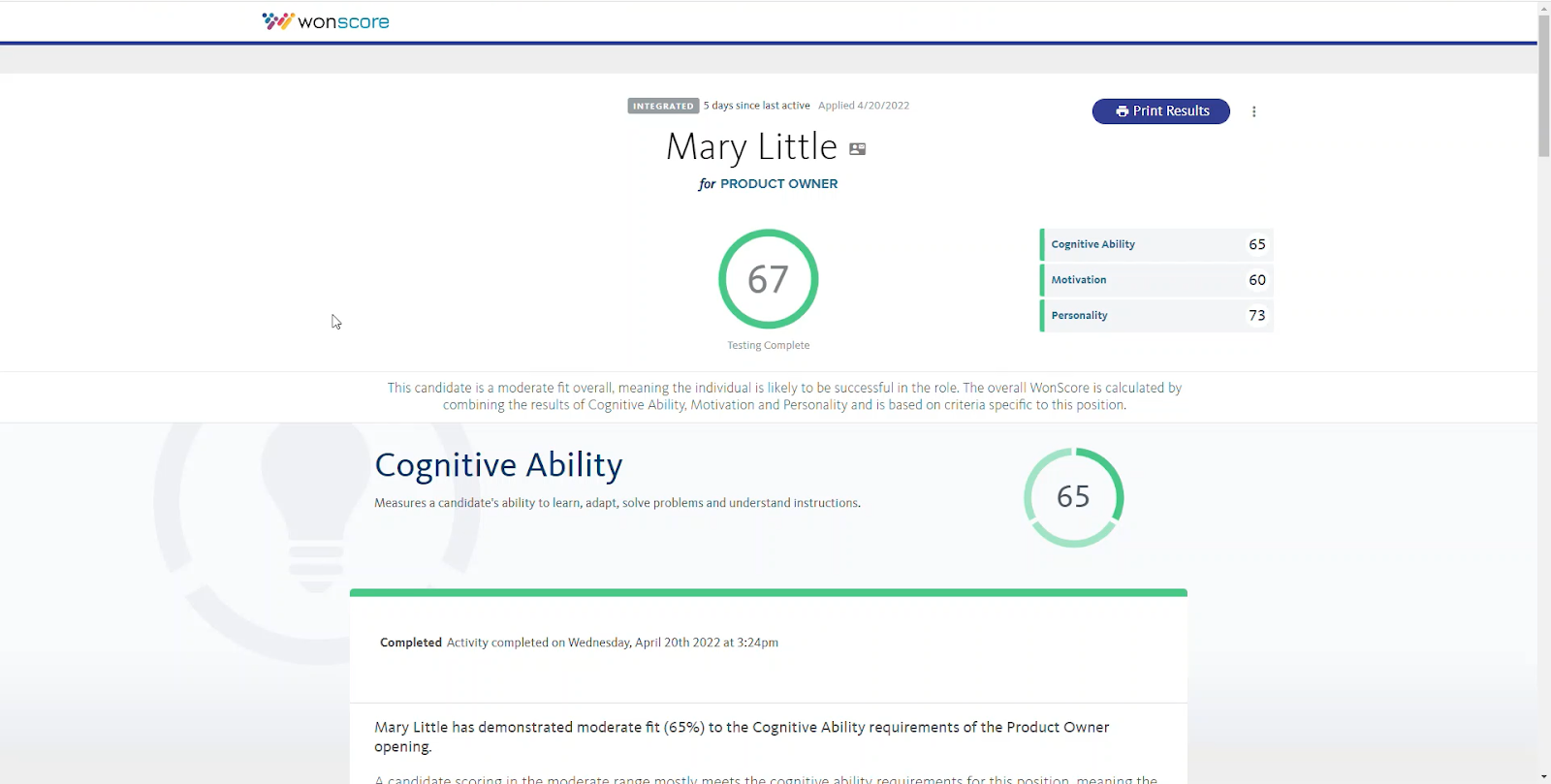 Additional resources
For additional information not covered here, reach out to support@wonderlic.com or visit the Wonscore knowledge base.