Permissions: Job Admin and above
Product tier: Available to all subscription tiers
Quick, easy answers to hiring's biggest questions
Report dashboards offer instant answers to the most important questions about your jobs, candidates, and recruiting processes. With report dashboards, anyone at your organization can get at-a-glance information on talent sourcing, pipeline health, goals, and more – with no need to rely on your recruiting operations team!
Use report dashboards
To use report dashboards, click Reports on your navigation bar. On the Reports Overview page, click Dashboards on the left.

The Dashboards page has a variety of tabs listed at the top. Click any tab to view the dashboard.
Each dashboard includes widgets with data related to different areas of your hiring and recruiting processes. You may need to scroll to see the full view of widgets.
Use the included filters on each dashboard to adjust your dashboard results.

Note: The All primary recruiters, All hiring managers, and Job custom fields filters are only available to Advanced and Expert tier subscriptions. Essential tier subscriptions have access to the All jobs filter to see jobs where you are the primary recruiter or hiring manager.
Save report dashboards
Note: Only Advanced and Expert tier subscriptions can save report dashboards.
After customizing a report dashboard with filters, you may want to save the dashboard for easy access to your favorite views and core metrics. To save a report dashboard, click Save at the top-right corner.

Enter a name for your report dashboard, then click Save.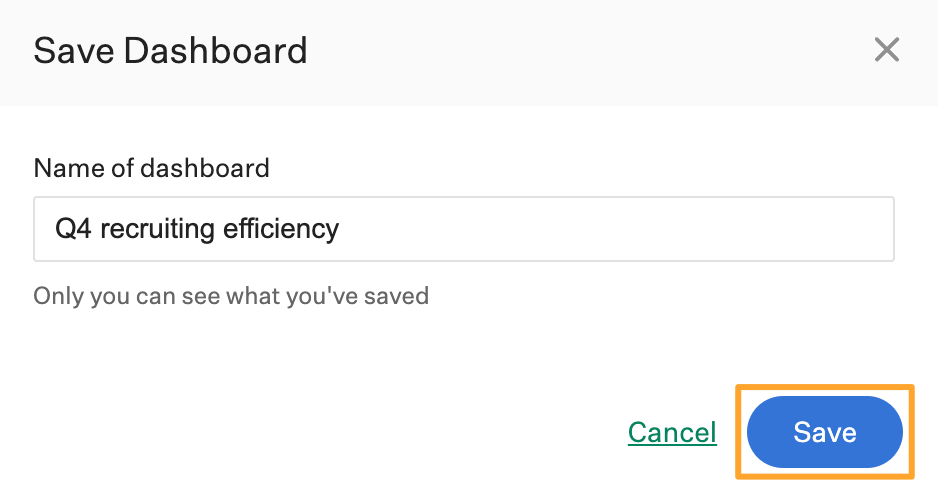 Access saved report dashboards
To access saved dashboards, click Reports on the navigation bar. On the Reports Overview page, click Saved on the left.

Your saved dashboards will appear. Saved dashboards populate with the most up-to-date data.
Dashboard widgets
Each dashboard includes widgets that contain real-time snippets of data to help you get a clear picture of your hiring. You can hover over a specific widget to learn more about how each value is calculated.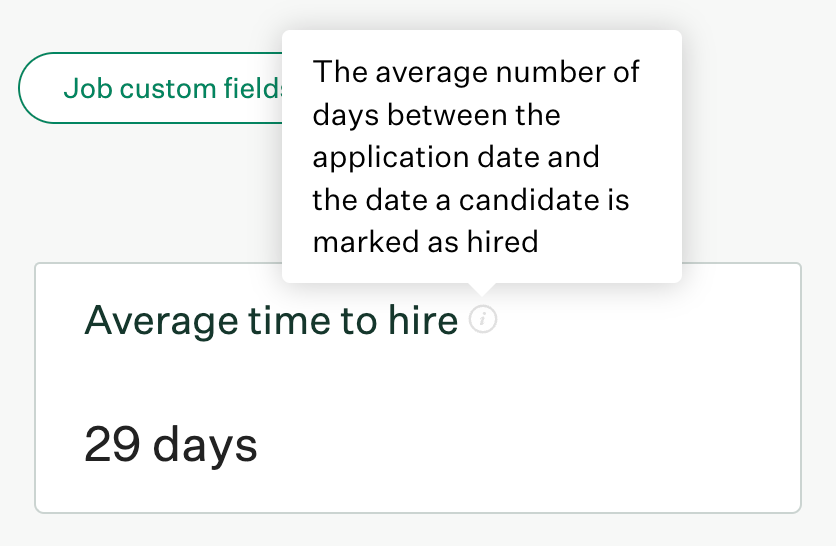 Some widgets only show a snapshot of data. Other widgets allow you to access a full report for more in-depth data. Widgets that link to a full report have titles highlighted in green. To view the full report for these widgets, click the widget title.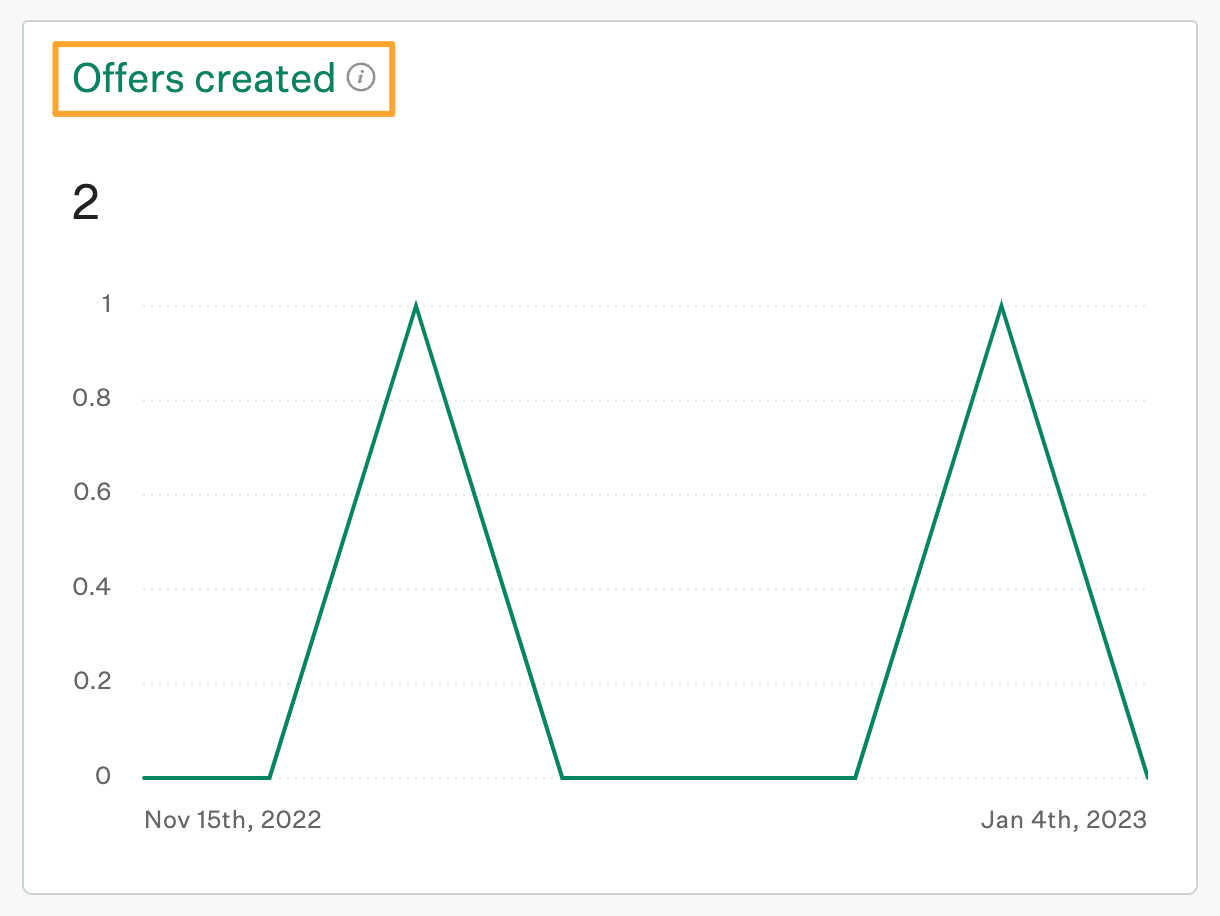 Note: While you can apply filters to the dashboard, the widgets themselves aren't configurable. Check out Report Builder for a fully configurable report.
Use the table below to see which widgets are available for each dashboard:
Dashboard
Available widgets
Offers and hires

Offer acceptance rate

Average time to fill

Average time to hire

Offers extended (links to full report)

Offers accepted (links to full report)

Top offer decline reasons

Recruiting efficiency

Average time to fill

Average time to hire

Average time in stage

Average time to source

Applications over time (links to full report)

Sourcing

Referrals submitted (links to full report)

Prospects added (links to full report)

Number of internal applications

Average time to source

Candidates added by sourcing strategy (links to full report)

Candidates hired by sourcing strategy (links to full report)

Applications over time (links to full report)

Pipeline health

Qualified candidates (links to full report)

Number of open openings

Number of open jobs

Applications over time (links to full report)

Pipeline history (links to full report)

Goals

Time to submit scorecards (links to full report)

Time to schedule available candidates (links to full report)

Time to approve offer (links to full report)

Time in stage (links to full report)

Time to review applications (links to full report)