Natural HR provides all-in-one HR and payroll software for mid-sized or enterprise organizations wanting to better engage, manage and pay their people.
Greenhouse Recruiting's integration with Natural HR allows you to move candidates from Greenhouse into Natural HR automatically once you have marked them as 'Hired' in Greenhouse thereby removing the time and error potential of having to do this manually.
In this article:
Configure user setup permissions in Greenhouse Recruiting
In order to enable the Greenhouse/Natural HR integration, you will need the developer permission Can manage ALL organization's API Credentials.
Contact a Greenhouse user in your organization with Site Admin level permissions with the additional user-specific permission Can edit another user's advanced permissions to apply the API credential management permission to your account. Have the user with Site Admin level permissions edit your user account's permissions by navigating to the Configure icon

> Users > Your Name.

The user with Site Admin level permissions should navigate to the Permissions panel on your user page and expand the Developer Permissions dropdown menu.
Select Can manage and configure web hooks so that a check is in the checkbox. When finished, click Save.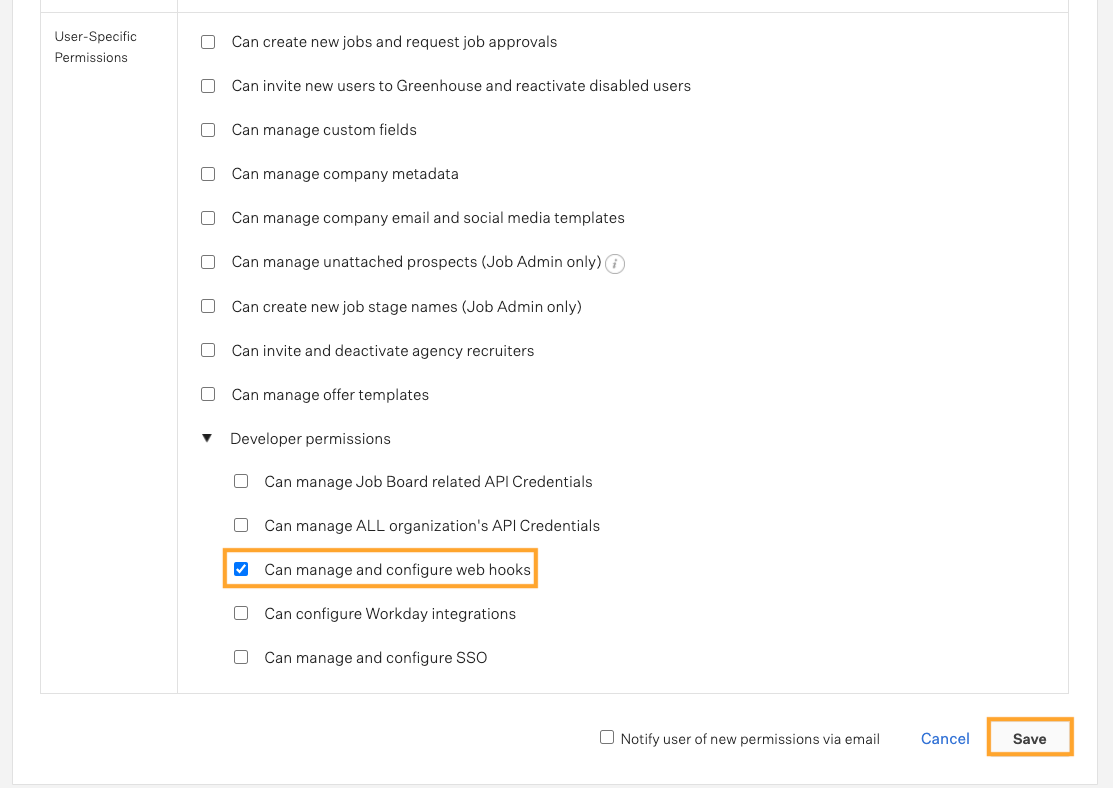 Repeat as necessary for any other user that should have access to set up the integration.
Retrieve Natural HR's endpoint URL and secret key
Before enabling the Greenhouse Recruiting/Natural HR integration, Greenhouse Recruiting will need two pieces of information:
To retrieve this information, go to Admin > Company > Settings > Tokens and click Add.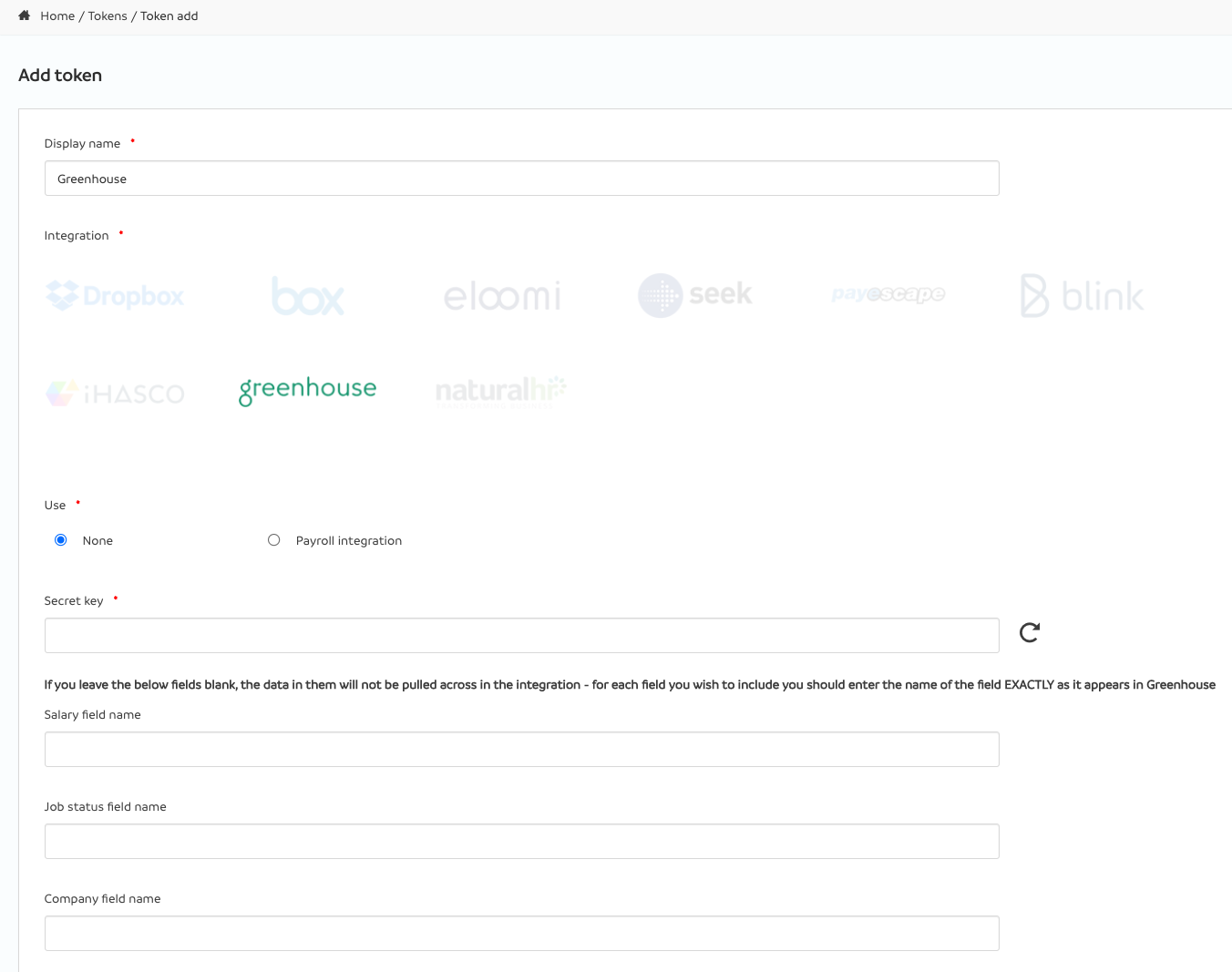 Enter a meaningful name for the integration (For example, "Greenhouse"). Then, choose Greenhouse from the integration list.
Enter a Secret key. This is a kind of password that allows us to validate that the requests we receive have come from your Greenhouse Recruiting account. Click the icon to the right of the Secret key field to randomly generate a secret key, or create your own.
Tip: If you decide to create your own secret key, we recommend using a random assortment of characters. This will make your key more secure.
Note: Be sure to write down your secret key so you don't forget it. You'll need it once you start working in Greenhouse Recruiting.
If you know the names of the Greenhouse fields that contain salary, job status and company, you can enter these now as well.
When you're done, click Submit.
Enable the Greenhouse Recruiting/Natural HR integration
With Natural HR's endpoint URL/secret key copied and your Greenhouse user permissions enabled, you're ready to enable the Greenhouse Recruiting/Natural HR integration.
To enable the integration, click the Configure icon

in the top right corner and click on Dev Center on the left.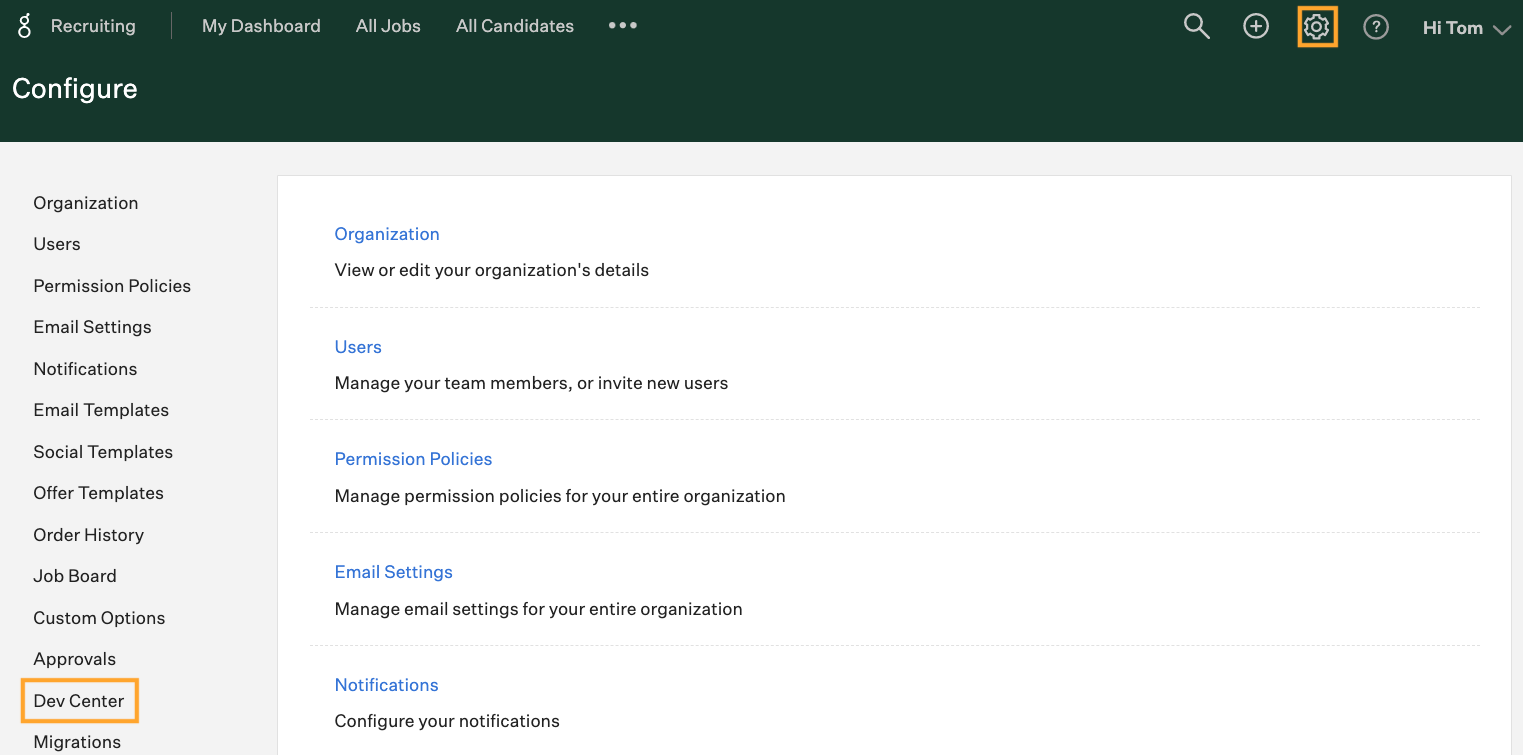 From the Dev Center page, click Web Hooks. Click Web Hooks from the subsequent page.

On the Create a New Web Hook page, fill out the following details:
Name: We suggest "Natural HR Integration."
When: Be sure to select the right web hook so that the web hook triggers for the appropriate event in Greenhouse. This should be "Candidate has been hired."
Endpoint URL: The endpoint URL will be https://www.naturalhr.net/hr/webhooks/greenhouse.php.
Secret key: This is the secret key you entered above when setting up the integration in Natural HR.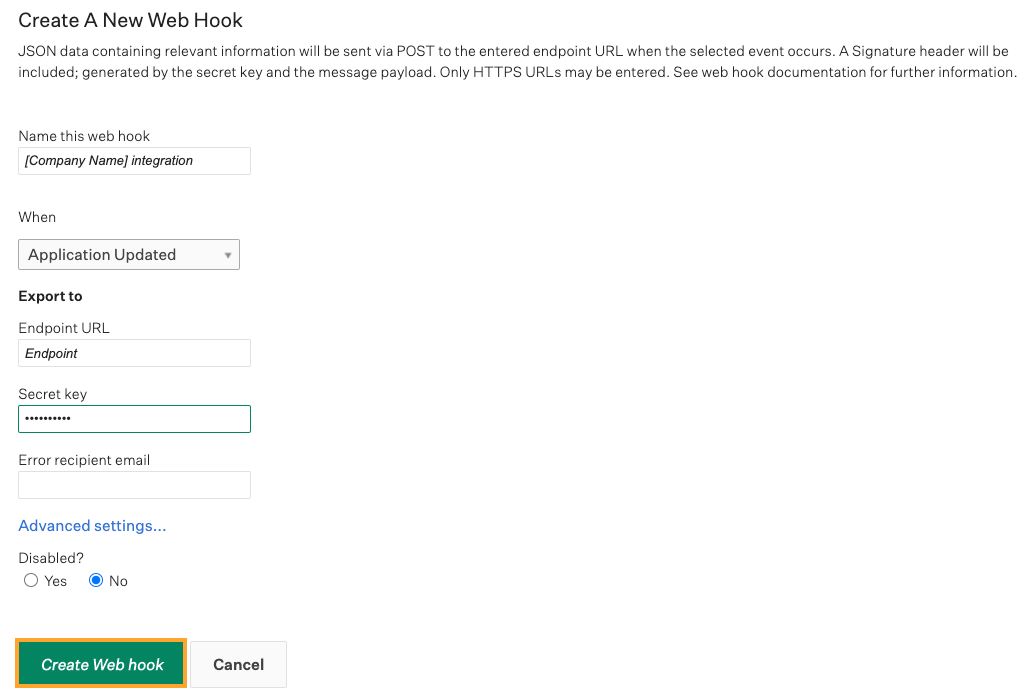 When you're done, click Create Web hook.
That's it! Your Greenhouse account and Natural HR account can now talk to each other.
Fields exported to Natural HR
First name
Last name
Title
Home telephone number
Home mobile number
Home email address
Address (This will export as a single line due to how it's stored in Greenhouse Recruiting)
Job title
Department
Site
Start date
Salary (including currency)*
Job status*
Company*
All candidate documents (This includes the CV/resume, offer pack and any other documents uploaded during the recruitment process)
Note: Fields marked * need to be set up as custom offer fields in Greenhouse to be able to synchronise.
Fields marked § must have the EXACT same values in both systems to synchronize. For example, if you have a department in Natural HR called "Sales," but it's called "Business Development" in Greenhouse Recruiting, the field will not synchronize.
Using custom offer fields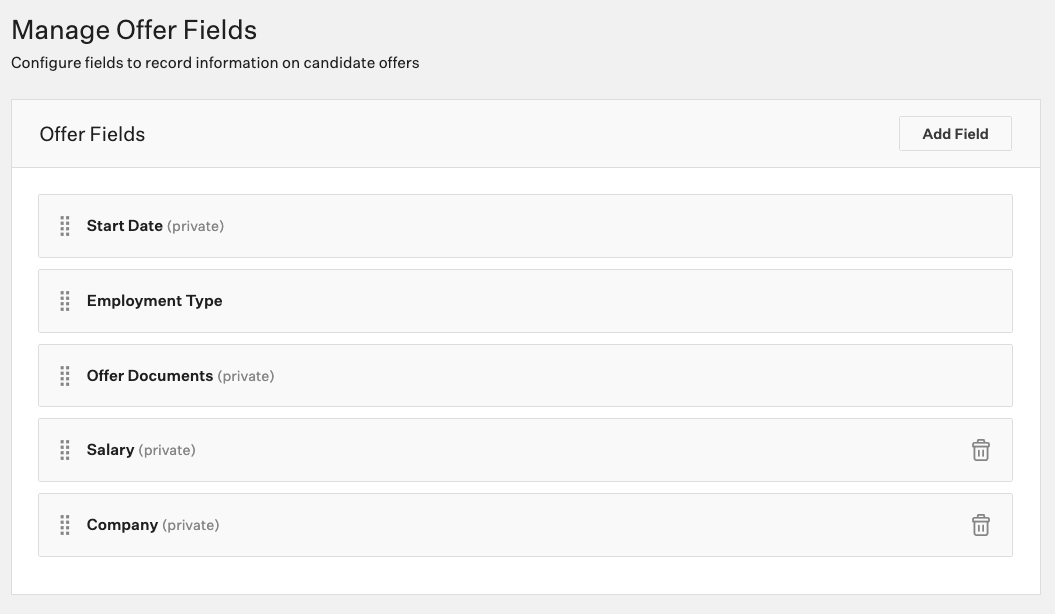 Find the custom fields for offers.
If you already have custom offer fields set up for job status, salary and/or company, note down the names of these fields. If you do not already have these custom fields set up, click Add Field.
On the next page, add a unique name for the field. This is the name you will need to use in Natural HR to indicate what field to look in for the custom values.
Choose a field type. For salary, you should choose "Currency." For job status and/or company, you should choose "Single select."
Note: Ensure that the names of the values entered MATCH EXACTLY with the values in Natural HR. For example, if Natural HR has a job status of "Full time" and you enter "Full-time," this will not synchronize properly.
How to use the Natural HR integration with Greenhouse Recruiting
Go to the candidate you wish to hire. Ensure the candidate has an offer added for them
Once you've done this, click Manage Offer.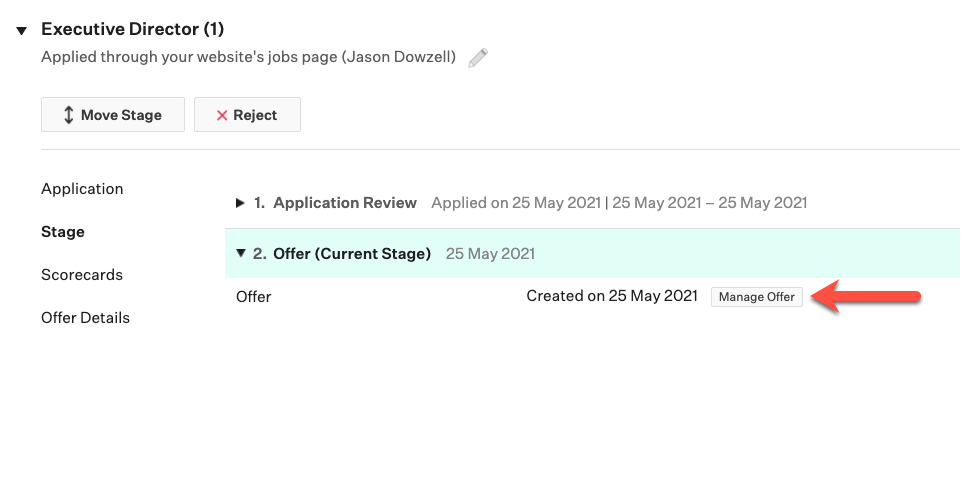 Then click Mark Candidate as Hired.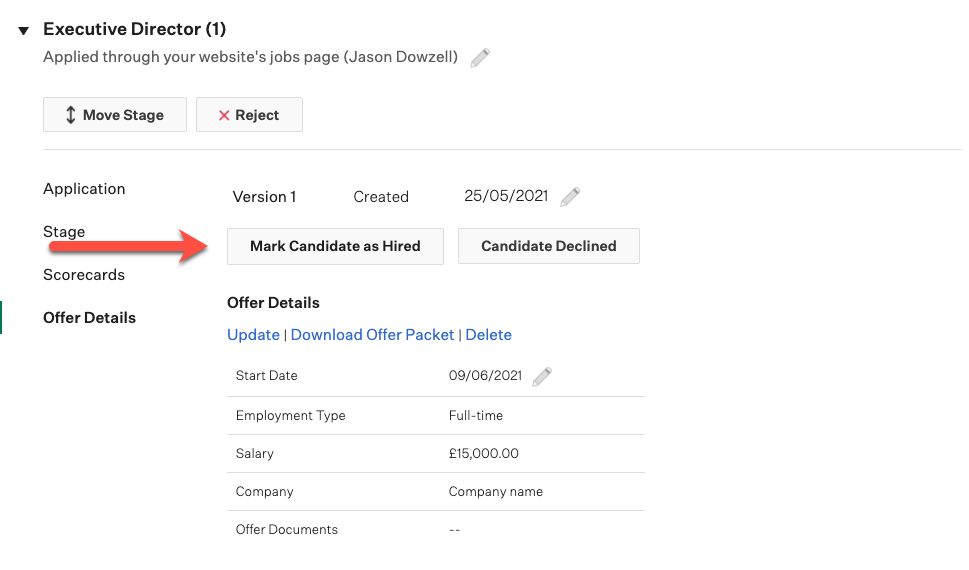 In the window, check to make sure the values are correct. Then, click Save.
You'll see a confirmation message that the candidate has been hired.

This will send a request to Natural HR to add the employee based on the information in Greenhouse.
Note: Please allow a few minutes for the export to process. A slight delay is expected since Greenhouse Recruiting processes its webhooks every few minutes.
You can check if the webhook has worked by clicking here and going to Web Hook Log.
You should then see something similar to the image below. If you do, that means the data has been sent to Natural HR and will be processed accordingly.

Additional resources
Please contact support@naturalhr.com for troubleshooting assistance regarding the integration.