Modern Hire is an enterprise-grade, virtual interviewing platform that covers the entire hiring process, from AI-powered, scientifically-validated pre-hire assessments and virtual job simulations, all the way to providing live video interviewing technology and on-demand video, text or phone interview solutions. Modern Hire takes over the candidate experience post-apply to build the right hiring experience for every job.
Organizations can screen, assess, schedule, interview, and evaluate candidates to identify best-fit talent.
Clients can leverage our platform to build job-specific, configurable workflows comprised of both on-demand and live interactions.
Candidates are empowered to self-schedule interviews and learn about your brand and company culture throughout the hiring process.
Built on tens of millions of candidate interactions, Modern Hire helps you create a talent acquisition strategy that delivers the outcomes needed to transform your hiring while improving business outcomes.
Greenhouse Recruiting's integration with Modern Hire allows you to seamlessly add Modern Hire assessments and interviews to a job's interview plan. In this article, we will cover how to:
Enable the Greenhouse/Modern Hire Integration
Add Modern Hire Stage to Job's Interview Plan
Configure the Modern Hire Stage
Send and Review the Test
Configure user setup permissions in Greenhouse Recruiting
In order to enable the Greenhouse/Modern Hire integration, you will need the developer permission Can manage ALL organization's API Credentials.
Contact a Greenhouse user in your organization with Site Admin level permissions with the additional user-specific permission Can edit another user's advanced permissions to apply the API credential management permission to your account. Have the user with Site Admin level permissions edit your user account's permissions by navigating to the Configure icon

> Users > Your Name).

The user with Site Admin level permissions should navigate to the Permissions panel on your user page and expand the Developer Permissions dropdown menu.
Select Can manage ALL organization's API Credentials so that a check is in the checkbox. When finished, click Save.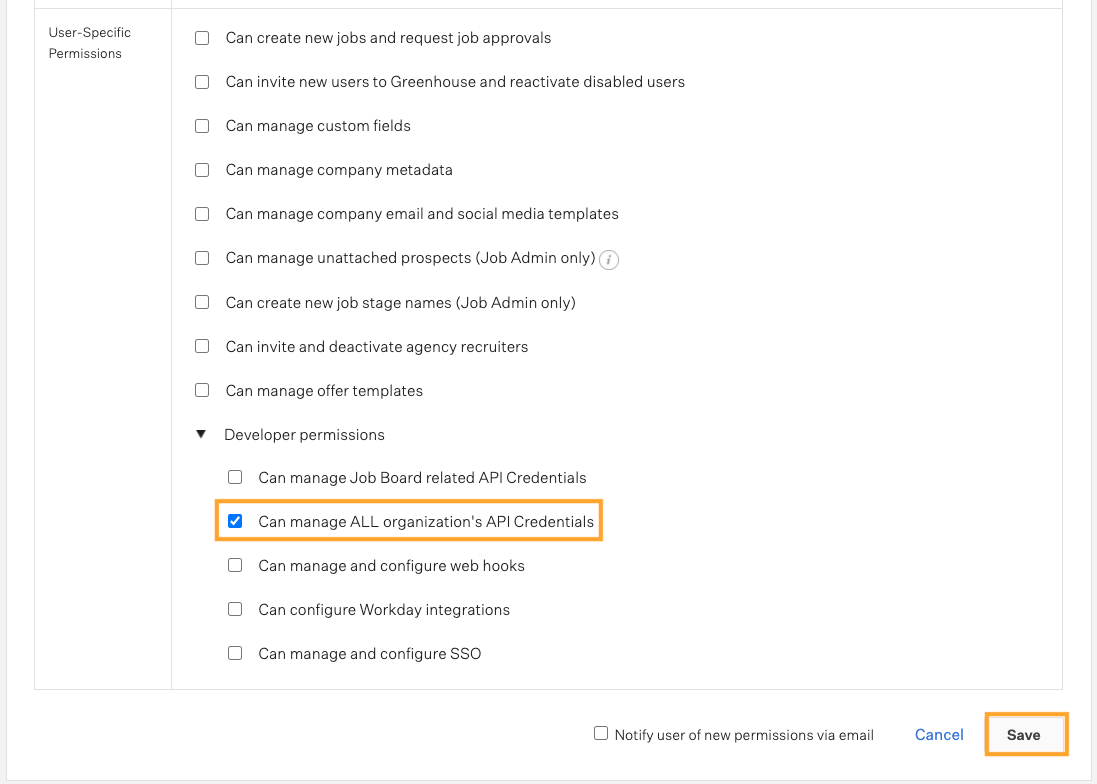 Repeat as necessary for any other user that should have access to set up the integration.
Create a Harvest API key for the Greenhouse/Modern Hire integration
To create a Harvest API key for the integration, click on the Configure icon

in the upper right-hand corner. Navigate to Dev Center on the left-hand panel.
From the Dev Center page, click API Credential Management.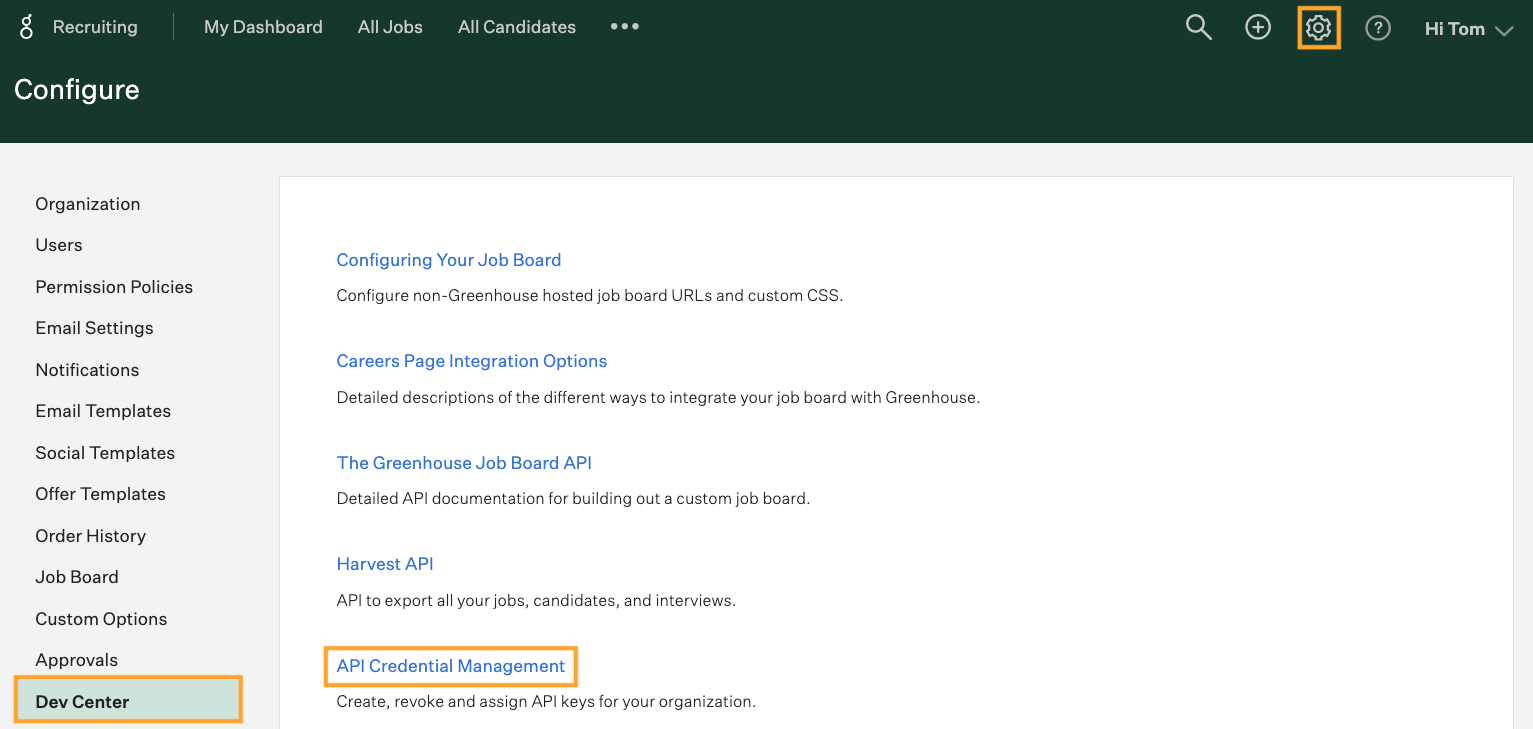 From the API Credential Management page, click Create New API Key to generate the API key for Modern Hire.

In the Create New Credential dialog box, make the following selections:
API Type: Harvest
Partner: Modern Hire
Description: Modern Hire API Key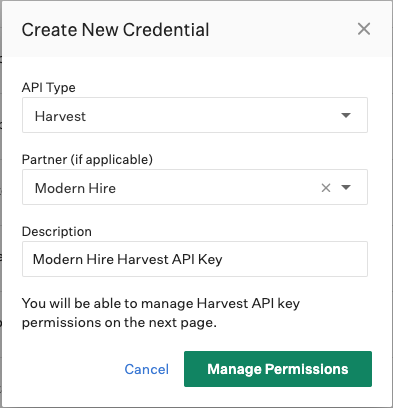 In the subsequent dialog box, click Copy to save your API key to your clipboard. Store the API key in a secure location to provide to Modern Hire in the next step. Click I have stored the API Key once you have copied and saved the key.
Note: You cannot access the full Harvest API key again after clicking I have stored the API Key. If you lose your API key and need to access it later, you must create a new API key, provide it to the integration partner, and then revoke access to the original key.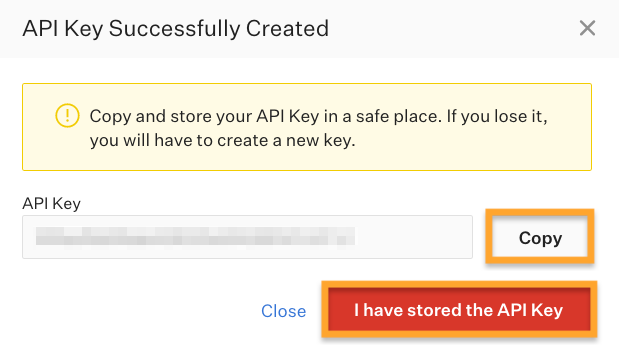 On the subsequent page, confirm the permissions listed below at the following link are selected:
Permission
Screen View

Application

GET: Retrieve Application

GET: List Applications

PATCH: Update Application

POST: Advance Application

POST: Move Application

POST: Moves Application to Job

Candidates

GET: Retrieve Candidate

GET: List Candidates

PATCH: Edit Candidate

Custom Fields

GET: Get custom fields

POST: Create custom fields

DELETE: Delete custom field

PATCH: Update custom field

Job Stages

GET: Retrieve Job Stage

GET: List Job Stages

GET: List Job Stages for Job

Jobs

GET: Retrieve Job

GET: List Jobs

PATCH: Update Job

GET: Get hiring team

Users

GET: Retrieve User

GET: List Users

GET: List User Job Permissions
When finished, click Update.
If any of the permissions listed at the link above are not selected, place a check in the box next to the appropriate permission. Click Save when finished.
Your Harvest API key for the Greenhouse Recruiting / Modern Hore integration is created and configured. Copy the Harvest API key to provide to Gem in the next step.
Assessment API configuration
To start, contact your Modern Hire onboarding team to receive your API key. Once you have received your API key,click here to open a ticket with Greenhouse.
Note: Do not send the API key in this initial email. API Keys allow access to sensitive data and must be kept secret. If an API Key is shared in an email and your email is intercepted by a malicious third party or your email account is hacked, the hacker would be able to view and access your API Key. For this reason, we require API Keys to be shared securely using SendSafely, Greenhouse's secure data transfer platform.
The Greenhouse Support Team will respond with a SendSafely link for you to enter your API key. A notification will be sent to the Greenhouse Support Team after you have entered your API key and they will email you to confirm that your API key has been set up in your account and your integration is enabled.
Add Modern Hire stage to job's interview plan
Once the Greenhouse/Modern Hire integration is enabled for your organization, you will be able to add the Modern Hire assessment as an Interview stage.
To do this for an existing job, navigate to a job (All Jobs>Job Name) and click Job Setup from the Job navigation bar.

From the Job Setup page, navigate to Interview Plan on the left-hand panel. Scroll down the page and click + Add a Stage.

From the Add Stage dialog box, select the Modern Hire stage. When finished, click Add to apply the stage to the job's interview plan.

Note: Modern Hire requires a Recruiter to be identified as part of the Hiring Team. A single recruiter must be identified as active and responsible for the job. If more than one recruiter is identified as responsible for the job, Modern Hire will select the first recruiter in the list.
Configure Modern Hire stage
Once the stage has been added to the job's interview plan, click Edit Take Home Test. Use the provided drop-down menu to choose assessments that you have previously set up in Modern Hire.
Select the appropriate assessment and assign at least one Greenhouse user to grade/review submitted assessments. When finished, click Save.
Note: Keep in mind that all configuration of the assessment itself, as well as the email template, will need to be done in Modern Hire.
Send and review the test
When candidates are moved into the Modern Hire interview stage, Greenhouse will display a Send Test link.
Note: When you send a test from Greenhouse, the interview instructions are actually sent by Modern Hire.

The status of the assessment will be viewable in Greenhouse:

Once the candidate has submitted their test, the Interview Kit will contain a link to view the submitted test on Modern Hire.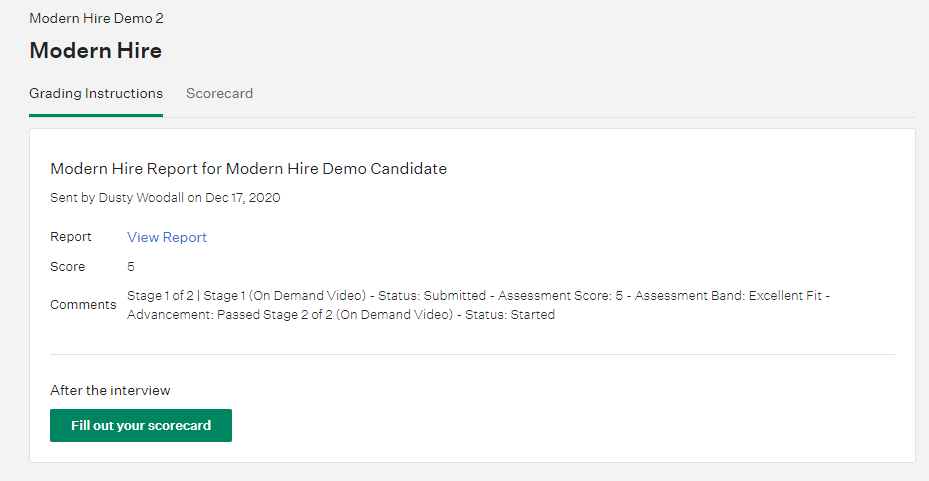 After you click on the Interview Kit on the candidate's profile, you'll be taken to a page where the URL is available to view the test results on Modern Hire.
Need help?
Add any FAQs regarding implementation pricing, common errors, etc.
Please contact support@modernhire.com for troubleshooting assistance regarding the integration.