In an effort to improve our suite of products, Greenhouse Software regularly releases new product features, updates, and improvements. Stay up-to-date with what's new at Greenhouse by Following our Release Notes.
Find our releases for this week below:
Greenhouse Recruiting
Remote is now a supported location option when publishing job posts to our free job board partners! Click here to learn more.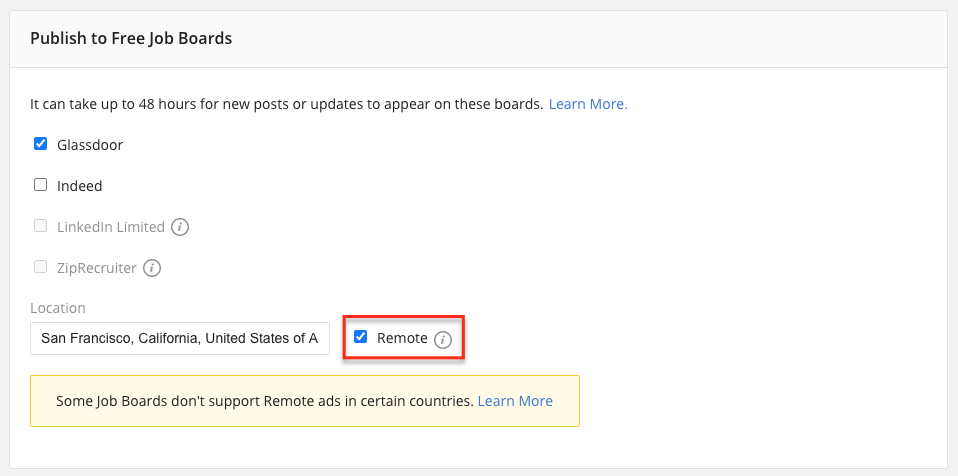 Integrations
Bug Fixes
In Greenhouse Recruiting, we fixed a bug that incorrectly limited a user's ability to use Offices and Departments filters throughout the application if that user's permissions limited them to creating new jobs only in specific offices or departments.
We also fixed a bug in which updating an application's rejection reason via Harvest API unintentionally deleted the application's rejected_at date.
We updated the All Users page and individual User Permission pages to ensure using type-to-search filters the Interviewer Tags dropdown menu as expected .
We fixed a second issue on the All Users page in which selecting a location from the Offices dropdown menu filtered the page results as expected, but the applied filter itself was not visible. This prevented users from removing an Offices filter from the page. Moving forward, if you apply an Offices filter on the All Users page, the applied filter will be shown so you can remove it if needed.

We fixed an offer exceptions bug that caused the salary field in the Offer Details dialog box to default to a currency type of USD, rather than inheriting the currency type of the tracked custom job field.
Free-text fields on scorecards now support using the characters < and > within code blocks. Please note using these characters outside code blocks might still result in unexpected behavior. We are continuing to investigate this issue, and apologize for any trouble it has caused your team.
Finally, in Greenhouse Onboarding, we found that entering text on a Welcome Experience page, deleting the text, and quickly entering new text sometimes resulted in the deleted text unexpectedly reappearing in the text field. We fixed this bug to ensure deleted text remains deleted, and only the most recently entered text is saved.