Permissions: Job Admin and above
Product tier: Available for all subscription tiers
Essential candidate reports allow you to view profile and application details for multiple candidates simultaneously.
In this article:
Generate an essential candidate report
To generate an essential candidate report, click All Candidates from your navigation bar.
Alternatively, if you intend to report on candidates for a single job only, begin by navigating to the specific job (All Jobs > Job), then click the Candidates tab.

Use the filters on the left to adjust the list of candidates you wish to include in your report. To learn more about the available filtering options, click here.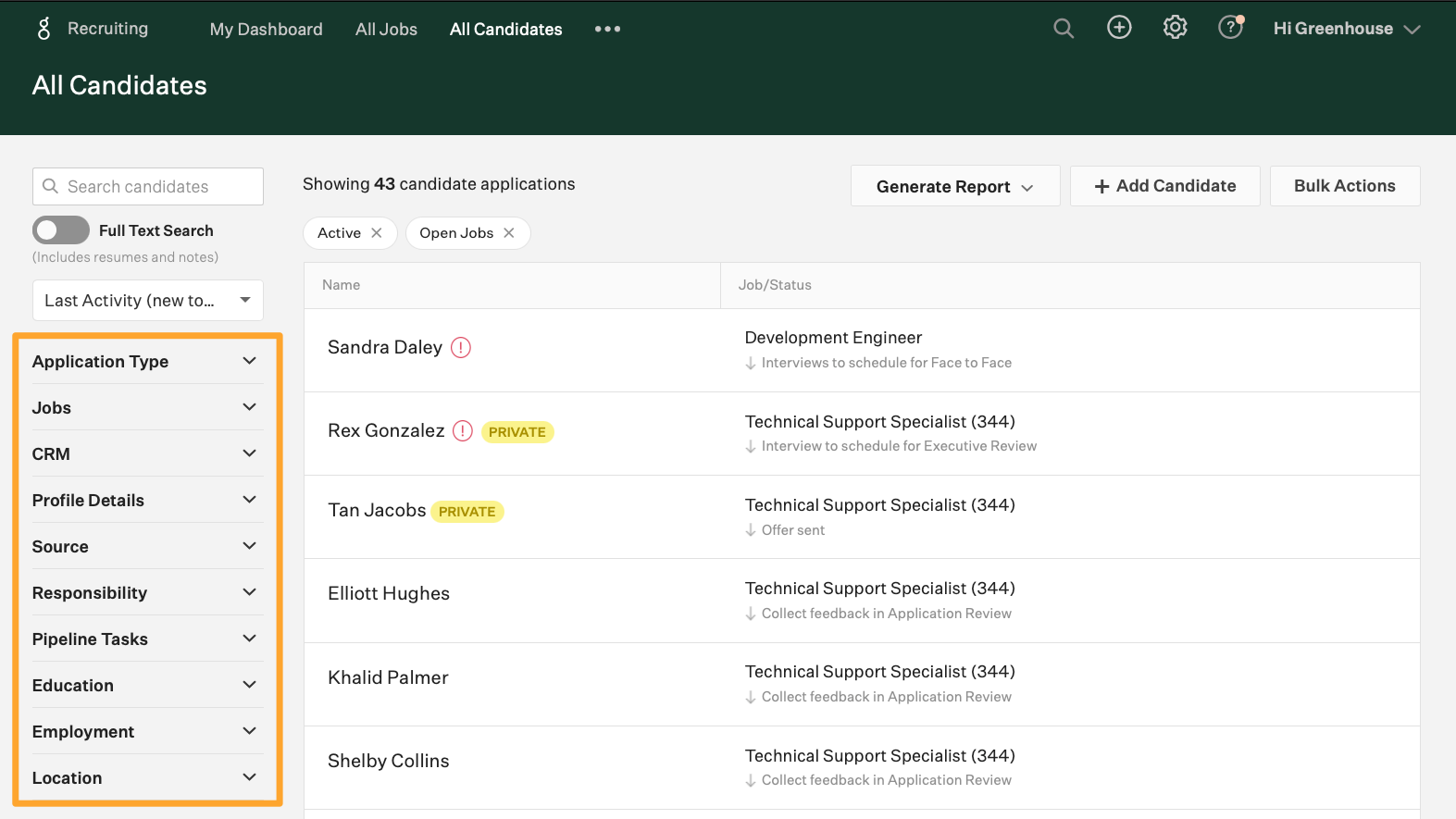 Note: By default, the All Candidates page displays all active candidate applications for open jobs. To report on rejected candidate applications and/or candidate applications on closed jobs, use the panel on the left to add the appropriate filters to your report.
Each filter you apply is reflected at the top of the page.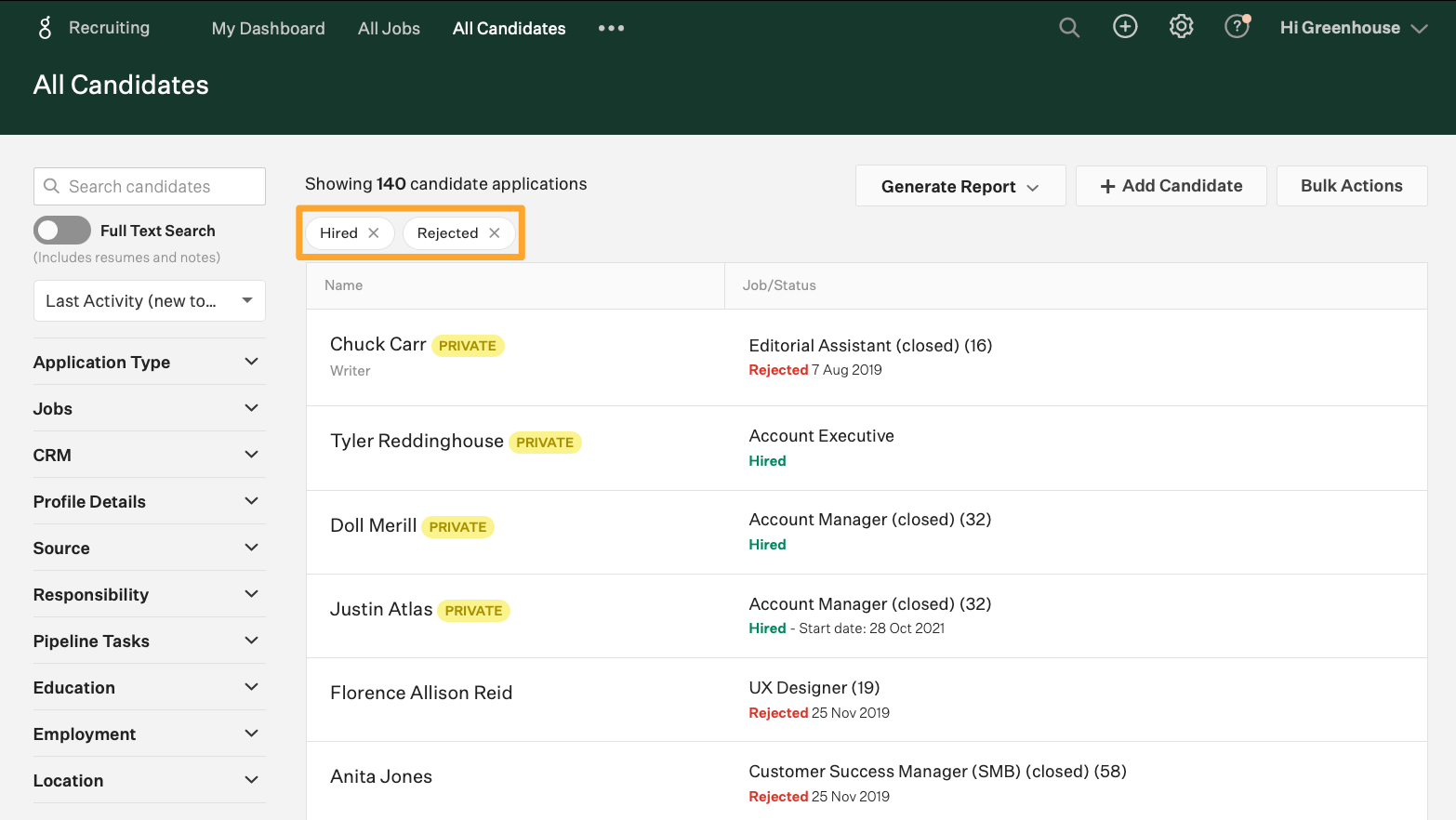 Note: The essential candidate report has a limit of 1,000 candidate applications per report. If the All Candidates page displays more than 1,000 candidate applications, narrow the list down with filters before running the report in-app, or export the data instead.
Once you've applied filters to the candidate applications list, click Generate Report at the top of the page. From the dropdown, click either View in App to view your report within Greenhouse Recruiting, or Email as XLS to receive an emailed spreadsheet of the data.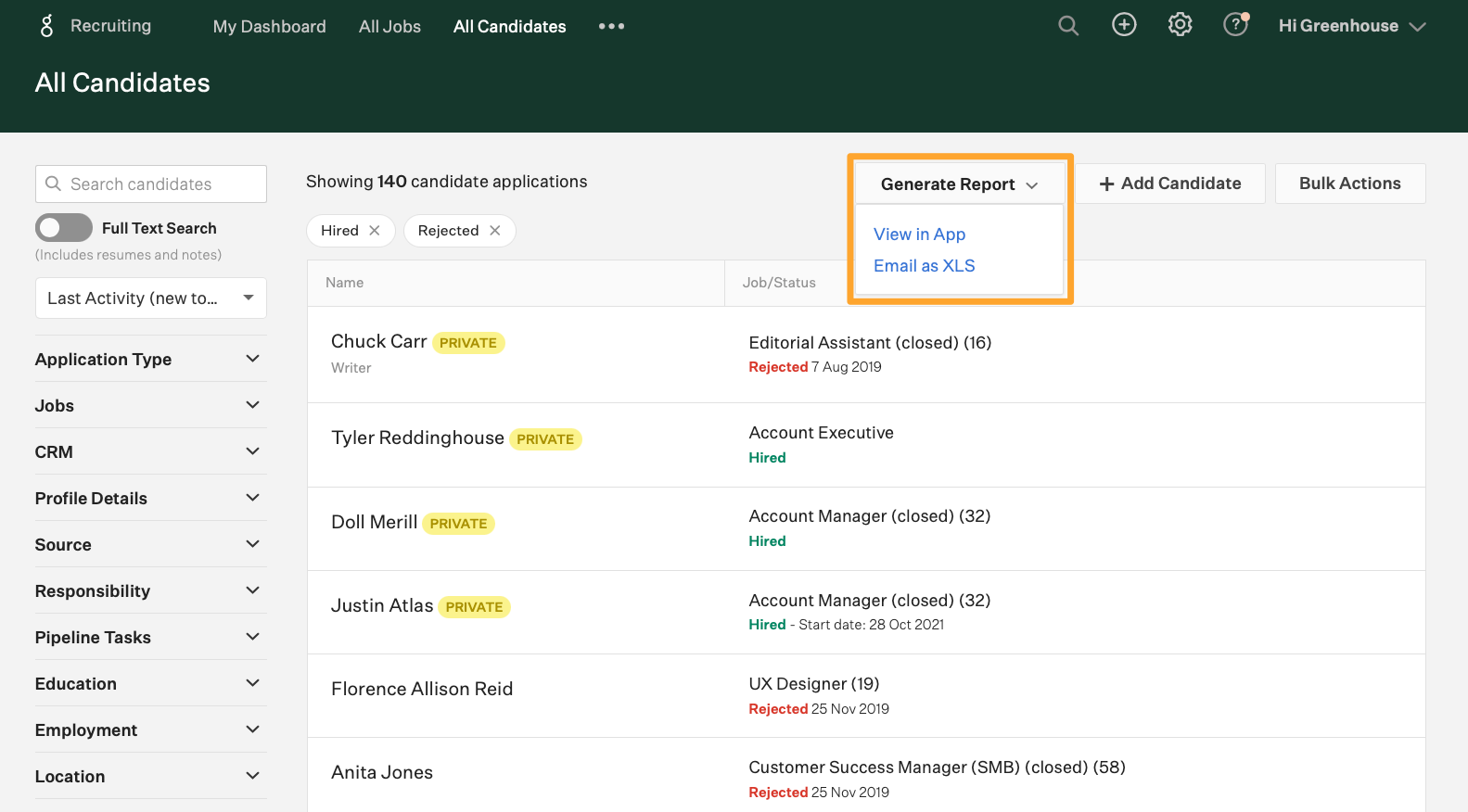 If you choose Email as XLS, the subsequent dialog box prompts you to confirm the request by clicking Email Export.

If you choose View in App, you'll be redirected to the Candidate Report page to view the list of candidate applications in report format. The filters you applied on the All Candidates page remain visible at the top of the report.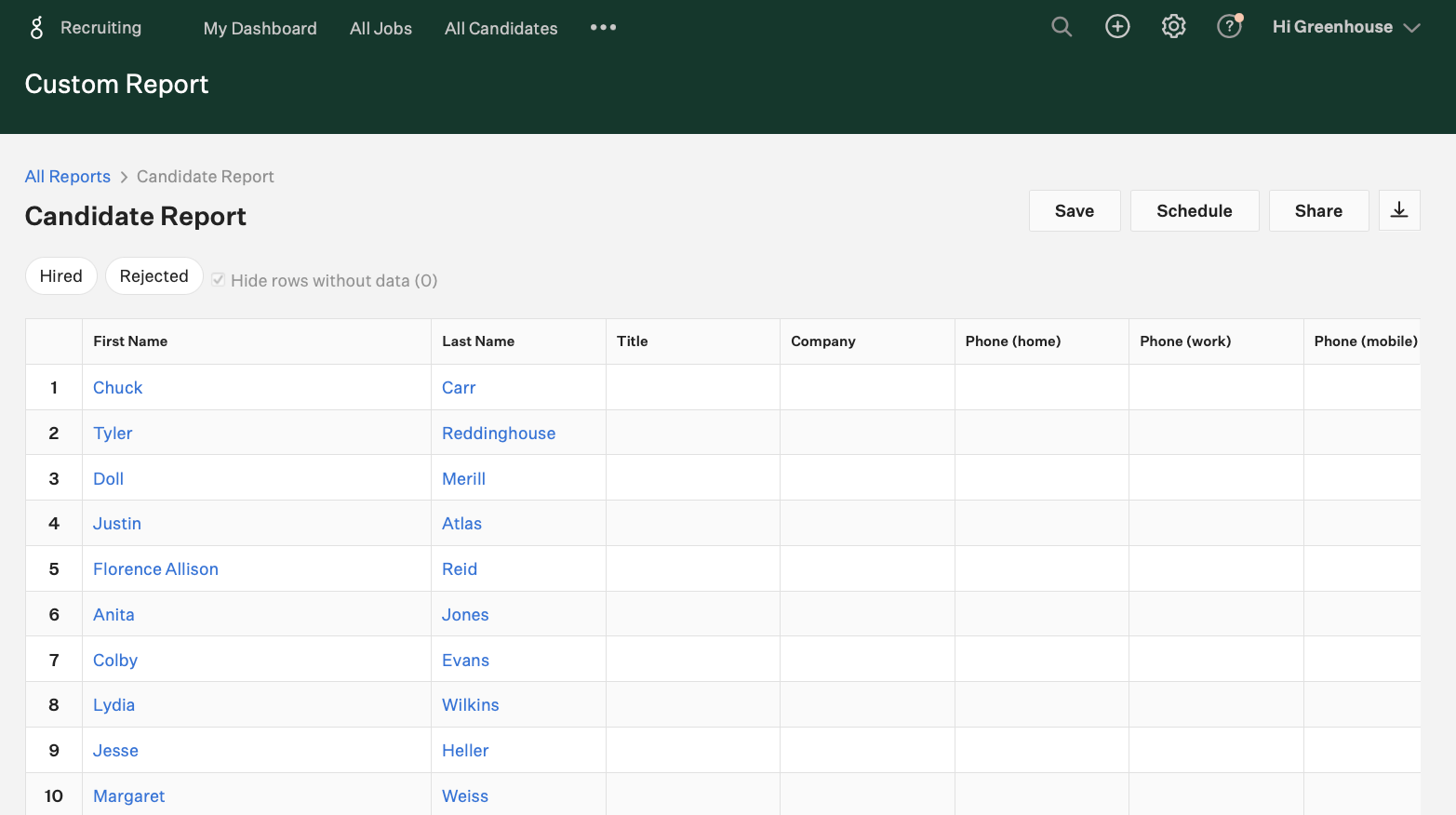 Note: Each line in this report reflects a single candidate application. If a candidate has submitted multiple applications, their name might appear more than once in your report.
The report includes columns for the following default candidate fields:
| | | | | |
| --- | --- | --- | --- | --- |
| First Name | Last Name | Title | Company | Phone (home) |
| Phone (work) | Phone (mobile) | Phone (Skype) | Phone (other) | Email (home) |
| Email (work) | Email (other) | Social Media | Website (personal) | Website (company) |
| Website (blog) | Website (portfolio) | Website (other) | Address (home) | Address (work) |
| Address (other) | Headline | Applied for | Office Location(s) | Department |
| Sourcing Strategy | Source | Credited to | Requisition ID | Opening ID |
| Stage | Status | Rejection Date | Rejection Reason | Rejection Note |
| Application Date | Last Activity | Last Stage Change | Next Scheduled Interview | Last Scheduled Interview |
| Offer Date | Start Date | Recruiter | Coordinator | Tags |
| Prospect Pool | Prospect Stage | Prospect Owner | Linked Greenhouse User | |
Note: Custom candidate fields are not included in the in-app version of essential candidate reports. To include custom candidate fields, choose one of the following options:
When generating the Essential candidate report, select Email as XLS, or
Create a Build your own Candidate Report using Report Builder (requires an Advanced or Expert subscription)
Organizations with an Advanced or Expert subscription tier can save the report to access it again quickly in the future, or schedule the report to be sent to specified users at a regular cadence.