The integration between TriNet and Greenhouse allows you to easily transfer employee information between both platforms.
What you need to get started
You will need both an API Key and a Greenhouse Admin Email Address to set up the integration.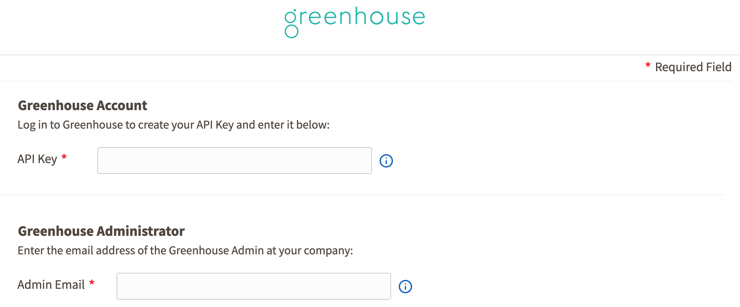 API Key:
The Greenhouse Harvest API Key is required for TriNet to connect to Greenhouse. To create a Harvest API Key, a user must be granted the following permission in the "Developer permissions" section of Greenhouse: Can manage ALL organization's API Credentials.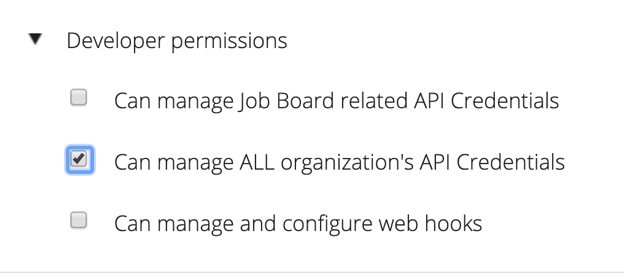 To generate an API Key from within Greenhouse, follow these steps:
Log in to Greenhouse and click on the cogwheel . Go to Dev Center > API Credential Management > Create New API Key.

Enter a description that connects this API Key to the TriNet integration.

Select Harvest Type and click Create.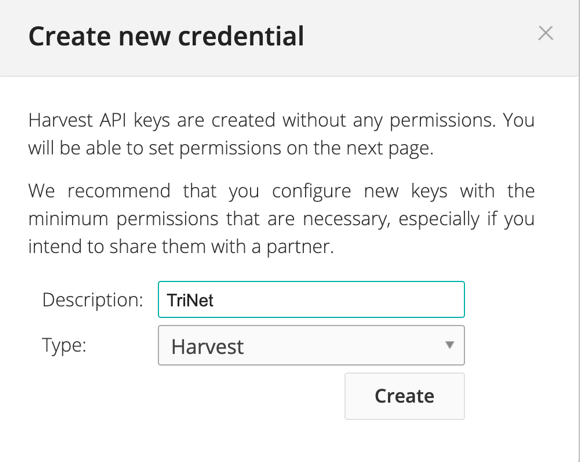 After creating the API Key, you'll be directed to Manage Permissions. Greenhouse allows you to specify which API Endpoints your API Key will have access to. Apply the following permissions.

Copy the API Key created in Greenhouse and paste it in the TriNet integration setup.
Admin Email Address:
An email address is required to integrate. For audit reasons, Greenhouse requires an administrator account for association with any updates. The email address entered should be that of the person at your company who is the Greenhouse Administrator.
Start the Integration
You will need the role of Integration Administrator to complete this set up. If you do not have this role, contact the HR Security role holder at your company.
Make sure you are in the Admin/Manager View by clicking the icon (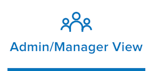 ) in the upper-right corner of the TriNet platform.
Click on Integration Center in the left navigation menu.
Search for the Talent Acquisition - Greenhouse Recruiting option under Available Apps and click

.

Click Get Started. You are required to acknowledge our TriNet Legal Agreement when you begin.

Enter the Greenhouse information you previously collected and select your preferences for handling the transfer of employee information.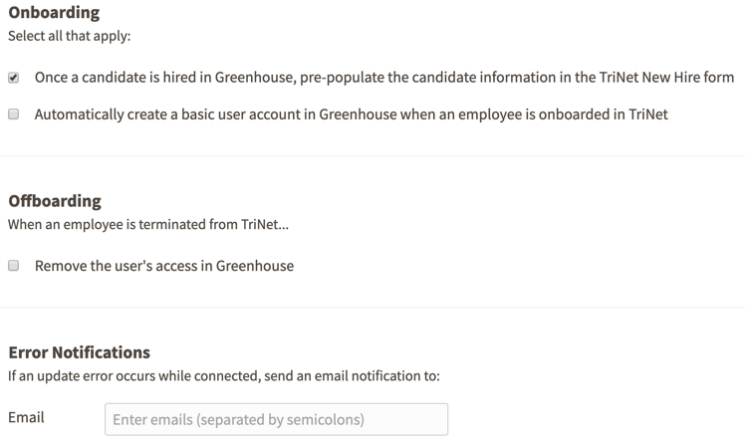 Onboarding – When a candidate is hired in Greenhouse, indicate if the candidate's information should pre-populate in the TriNet New Hire form. Reversely, if an employee is onboarded in TriNet, indicate if a basic user account should be created in Greenhouse.

Offboarding – Indicate whether the employee should be deactivated at Greenhouse if they are terminated on TriNet.

Error Notifications – If an update error should occur while connected with Greenhouse, indicate who should be notified via email. Multiple emails may be entered, separated by semicolons.
Click Connect. Your application will now display under the My Connected Apps section.
What Information is Exchanged
Greenhouse 🡪 TriNet
If you enter these fields of information into Greenhouse for a candidate, they will also pre-populate into TriNet in the New Hire Form - (if this preference was selected during your integration setup). *Optional: If this feature is enabled, you will need to enter the TriNet Location and Department IDs in the External ID fields of your Greenhouse offices and departments. The External ID is an optional free-text field available for offices and departments that allows your organization to assign non-Greenhouse alphanumeric identifiers to each of your Greenhouse offices and departments.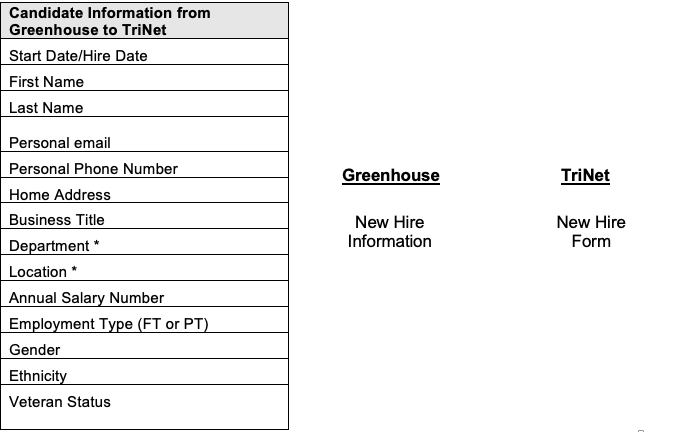 To locate the Location ID and Department ID in TriNet, from the TriNet Dashboard, go to Company Administration>Departments & Locations.
The Location ID is listed in the Code column.

The Department ID is located by clicking Edit on the Department page and viewing the pop-up.

To update the External ID field in Greenhouse, log in to Greenhouse and click on the cogwheel

in the top toolbar. Go to Organization and navigate to the Offices and Department sections respectively. Edit one office/department at a time and enter the code obtained from TriNet in the External ID field.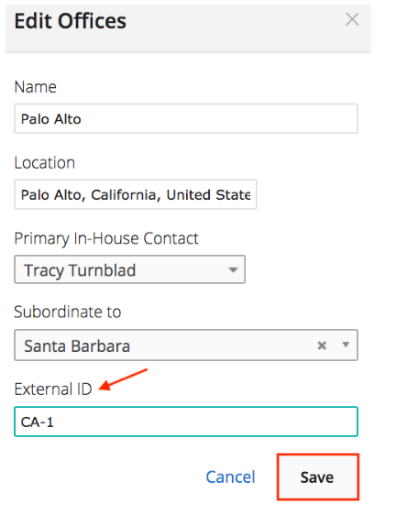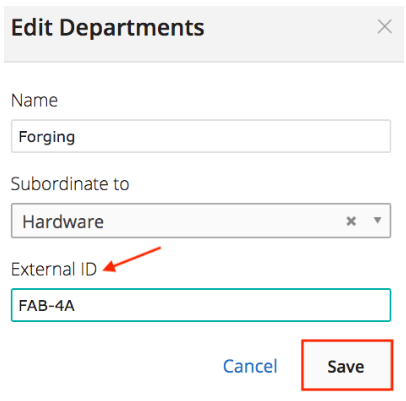 TriNet 🡪 Greenhouse
If you enter these fields of information into TriNet, they will transfer to Greenhouse and a basic user account will be created - (if this preference was selected during your integration setup)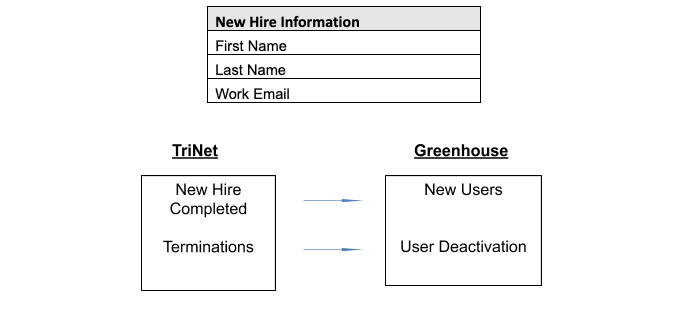 Edit the Integration
If at any time you need to change your preferences previously selected during the integration set up, click the

button to make your changes.
Disconnecting the Integration
If at any time you need to disable the integration with Greenhouse, click the

button. Please note that this completely removes the integration and another setup will be required if you need to integrate with Greenhouse later.
Now That You're Connected . . .
Once the integration setup between Greenhouse and TriNet is complete:
Mark the candidate as hired in Greenhouse when ready to hire.

Your TriNet Administrator will receive an email notification to log in to TriNet and complete the New Hire Forms. These forms will pre-populate with the information from Greenhouse if this preference was selected during the setup.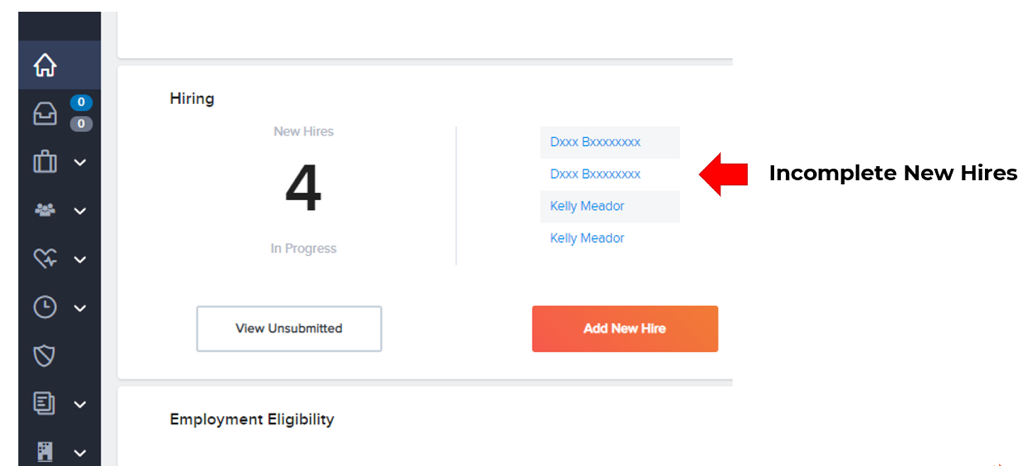 Complete and submit the forms online.

The employee(s) will be onboarded in TriNet.

A basic user account in Greenhouse will be created, if this preference was selected during the setup.
Terminated Employees
If an employee is terminated on the TriNet platform, then their user account will be deactivated from Greenhouse if this preference was selected during the setup.
Email Notifications
If an error occurs while you are connected with Greenhouse, you will receive an email (if provided during setup) to inform you what the error is and a possible solution. The email will indicate the location of the error and the employee name. You may have to resubmit your corrected information or contact your TriNet Customer Experience Contact for assistance.
This concludes the Greenhouse + TriNet Integration Guide. If you need assistance, please contact your TriNet Customer Experience Contact.
Disclaimer
© 2020 TriNet Group, Inc. All rights reserved. This communication is for informational purposes only, and all rights and obligations between the parties, including those regarding your use of TriNet's online systems, are solely those set forth in your written TriNet Services Requisition and the terms referenced therein. Nothing herein is legal, tax or accounting advice. Reproduction or distribution in whole or part without express written permission is prohibited. All trademarks, service marks, logos, and any other proprietary designations of TriNet used herein are trademarks of TriNet. Any other referenced third-party trademarks, service marks, logos, and any other proprietary designations are the property of their respective owners. "Employee" as used here and on the integration platform refers to worksite employees, which are employees who work for a TriNet customer company.