The Trustcruit integration allows you to automatically take newly applied/interviewed/rejected candidates from Greenhouse and add them to Trustcruit and automatically request feedback. To link your Greenhouse account, contact Trustcruit Customer Success (support@trustcruit.com) for the endpoint urls and secret keys you'll need to get started. Once you have both of those items, complete the following steps to link your accounts!
To create a Harvest API key:
The Greenhouse user will go to their

Configure tab

Select

Dev Center > API Credential Management

Click

Create New API Key

to generate the API key for

Trustcruit

The Greenhouse user will be able to select which permissions they would like to allow the partner
After creating the API key, copy the contents in the light green box and send this to Trustcruit Support.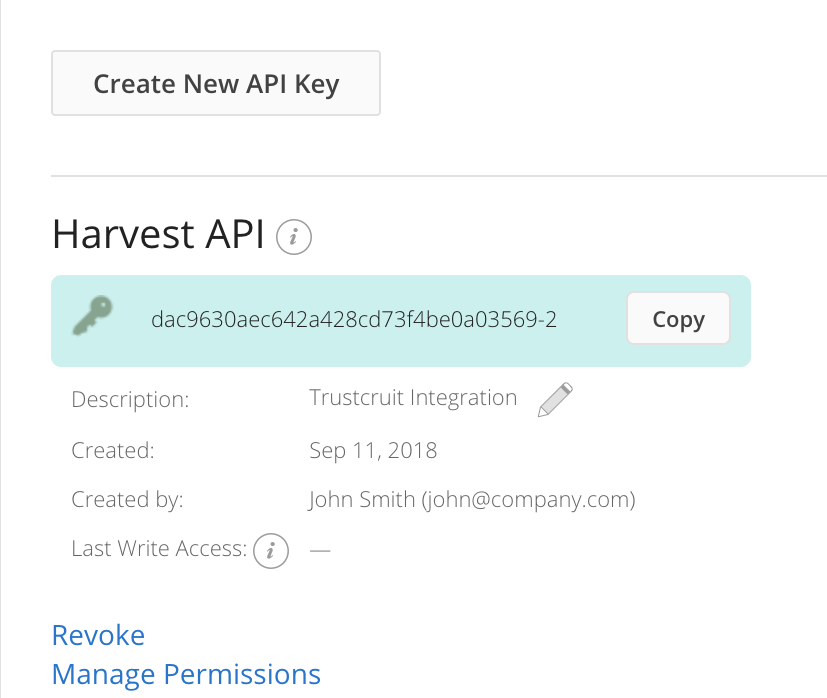 Setting up Web Hooks:
Part 1
Ask a Site Admin with Advanced permissions to log into Greenhouse

Have them select Configure > Users > Your Name

At the bottom of the page, select Can manage and configure web hooks

Save

Repeat for anyone else that should have access
Part 2
Now that you have the correct permissions, log into your Greenhouse account

Select Configure (icon in top right corner) > Dev Center > Web Hooks > Web Hooks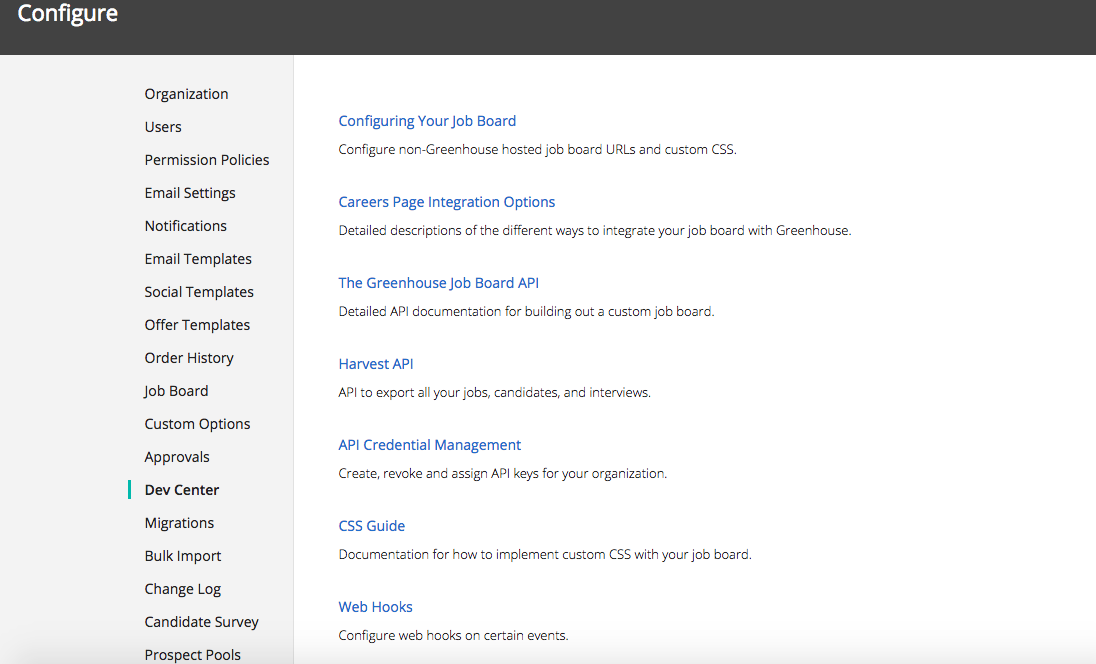 3. You'll land on a page called Create a New Web Hook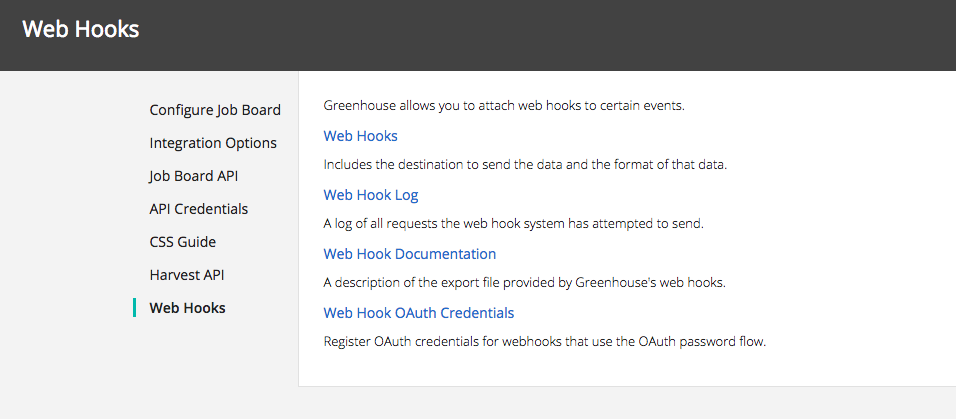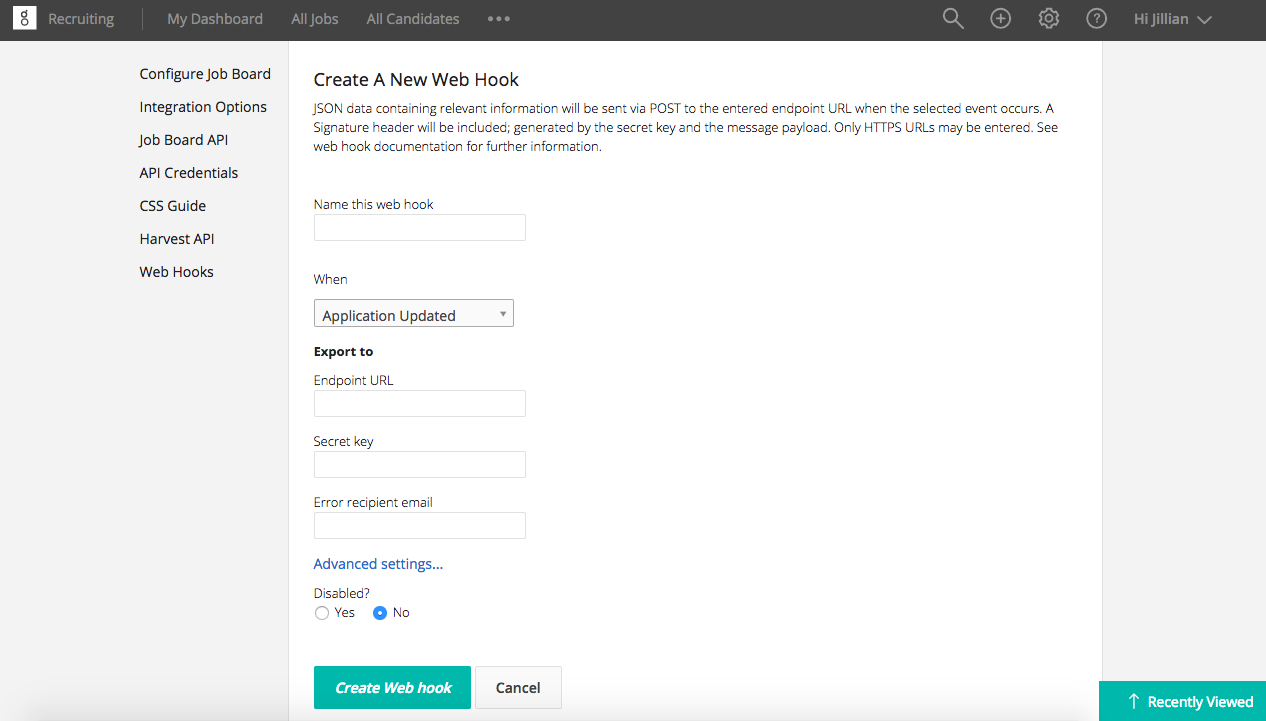 4. Name your three Webhooks — we suggest
Trustcruit Integration Application

Trustcruit Integration Interviewed

Trustcruit Integration Rejected
5. Make sure you select the right Webhook so that the webhook fires off at the appropriate event in Greenhouse.
Candidate has submitted application

Candidate has changed stage

Candidate or Prospect rejected
6. Input the Endpoint URL and Secret Key provided to you by Trustcruit Customer Success, then make sure the Web hook type is as stated in 5.1, 5.2 and 5.3.
7. Press Create Web Hook.
---
Once all webhooks are created, you should see something like this: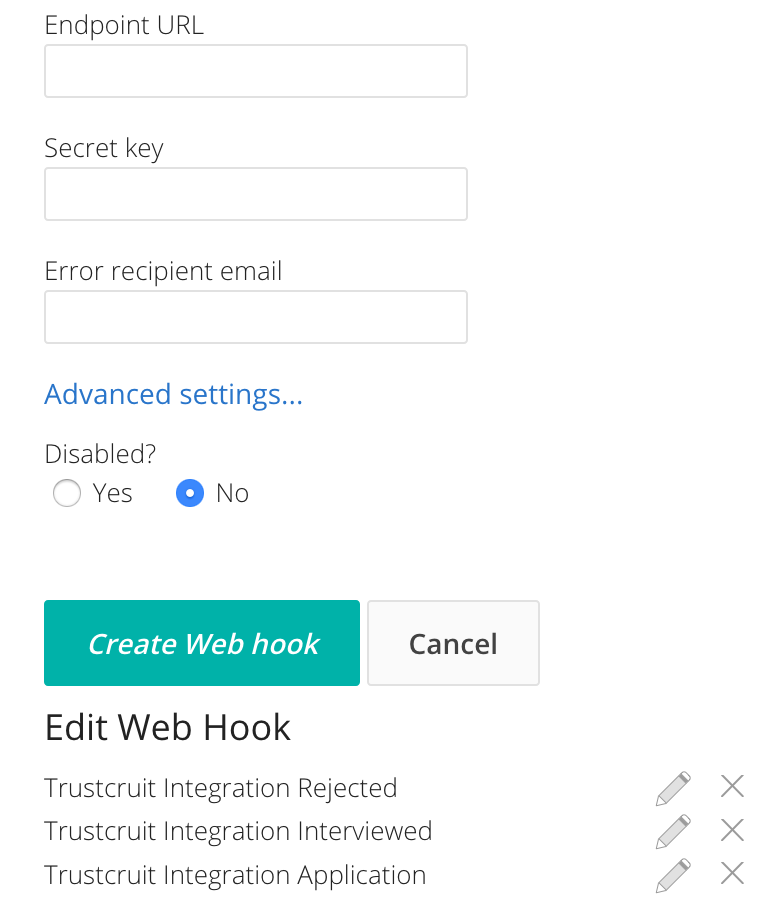 That's it! Your Greenhouse account and Trustcruit account can now talk to each other.
Next Steps
Contact Trustcruit support with which job stage will trigger the "After Interview form" in Trustcruit and which rejection reasons will trigger "After Rejection form".
'For example, all the candidates present in the job stage "Interview Conducted" (not a standard job stage) have been in an interview and should receive an "After Interview form" from Trustcruit.
Likewise, rejection reason "Duplicate" must not trigger an "After Rejection form" trigger but "Lacking skill(s)/qualification(s)" could.
After using the integration, you may decide you want to share more info between Greenhouse and Trustcruit. If you would like additional information transferred over, please reach out to Trustcruit Customer Success with a list of items to add!