The recruitment process is busy. Recruiters and Coordinators are tasked to manage the flow of many candidates through the interview pipeline and it can be easy to let a candidate fall through the cracks. Greenhouse Recruiting's Follow-up Reminders feature allows a user to easily see at a glance the tasks that were assigned to them so they can better track necessary next steps for candidates.
Note: Follow-up Reminders include tasks that were automatically assigned to a user because of their role on a Hiring Team and those tasks that were manually assigned to them from a candidate's profile. Reminders are scheduled to be delivered to users between 7:00am - 7:30am.
A user's Follow-up Reminders can be found from their My Dashboard page under the My Follow-up Reminders panel.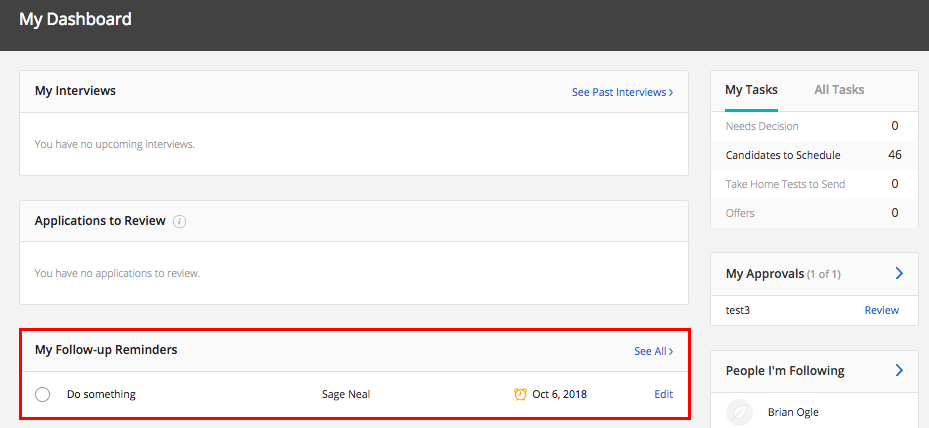 Every Follow-up Reminder will include the assigned task, Candidate name, and due date.
Complete/Dismiss Task
Click the 

 to the right of the task description to dismiss the reminder. Once completed, the reminder will appear for a brief time with a strikethrough.

Edit Task
Click Edit to edit the details of a task. From the subsequent dialog box, a user can:
Change the due date
Add/remove users that are reminded of the task
Edit the description of the task 

 
When finished, click Set Follow-up to confirm the the change.
See All Follow-up Reminders
The Follow-up Reminder panel on the My Dashboard page will display a maximum of 5 un-dismissed reminders. Click See All from the Follow-up Reminder panel to see all un-dismissed reminders assigned to the user.

From the All Reminders page, the user can filter the list of reminders by:
Additionally, click Bulk Dismiss and select many reminders to dismiss more than one reminder.