The Choice Screening integration allows you to seamlessly and automatically take newly-hired candidates from Greenhouse and submit them for background screening into Choice Screening.
Integrating Choice Screening with your Greenhouse implementation is very straight forward. Choice Screening will provide some required information, and conversely specific information about your Greenhouse implementation will be shared with Choice Screening.
To get started, contact your Choice Screening salesperson or customer support. They will provide an endpoint URL and a secret key.
example endpoint: https://csapi.choicescreening.com/greenhouse/webhook/examplegreenhousecustomer
example secret key:
9e4d7aef-6d0c-49ea-ae04-614930567dc1)
Once you have received both of those items, there are four parts to an integration between Greenhouse and Choice Screening
Access Rights
Choice Screening Integration Information
Greenhouse Integration Information
Package Selection per Job
In Greenhouse
Part 1 – Access Rights
Ask a Site Admin with Advanced permissions to log into Greenhouse
Have them select Configure > Users > Your Name
At the bottom of the page, select Can manage and configure web hooks
Save
Repeat for anyone else that should have access
Part 2 – Choice Screening Integration Information
Now that you have the correct permissions, log into your Greenhouse account
Select Configure > Dev Center > Web Hooks > Web Hooks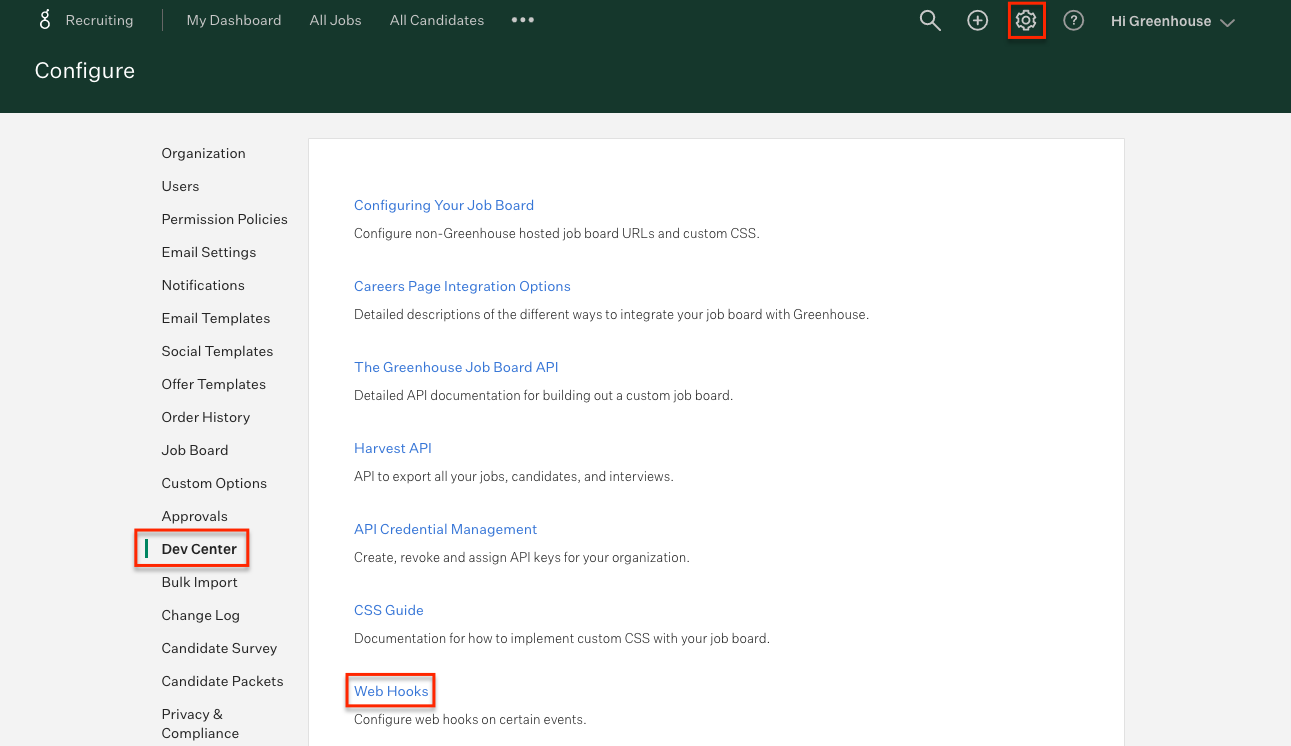 You'll land on a page called Create a New Web Hook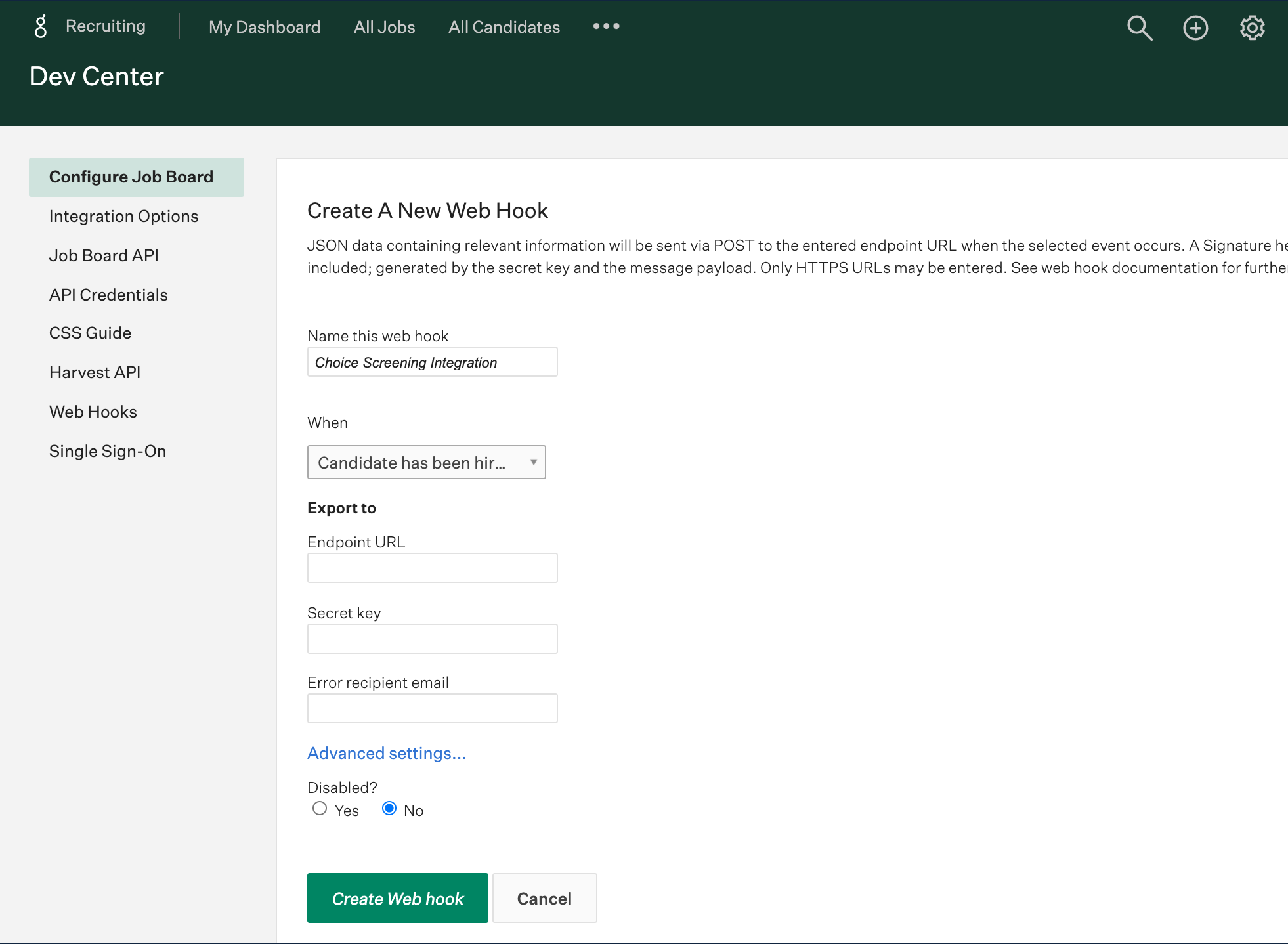 Name your Webhook — we suggest Choice Screening Integration
Input the Endpoint URL and Secret Key provided to you by Choice Screening, then make sure the Web hook type is Candidate Is Hired.
Press Create Web Hook.
Part 3 – Greenhouse Integration Information
Select Configure > Dev Center > Web Hooks > API Credential Management
Choose a descriptive name like: Choice Screening Integration Key
Under Type, choose Harvest
Expand the Candidates section and select POST: add note
Expand the Users section and select GET: List Users
Copy the key provided by Greenhouse and give to your Choice Screening sales representative or customer service agent.
Part 4 – Package Selection per Job
Select Configure > Custom Options > Jobs
In the Field and Description sections, choose a meaningful name such as "Choice Screening Background Check"
For Type, choose Single Select
In Options paste the package name as given to you by your Choice Screening sales representative or Customer Service agent

Example: Comprehensive Criminal 7 year|COMPREHENS02623

Select Required
Copy the Immutable Field Key value and give to your Choice Screening sales representative or Customer Service agent
Choose Save
That's it! Your Greenhouse account and Choice Screening account are now integrated!
Once your Greenhouse implementation is integrated with Choice Screening, when you initiate a background screen on a candidate, Greenhouse will automatically send to Choice Screening the candidate's name and email address information as well as what background screening package that was selected to be run.
Choice Screening will then send a background screening consent email to the candidate, and pre-populate the information provided for the candidate. Once the candidate has consented to the background screen, the package selected will automatically be run.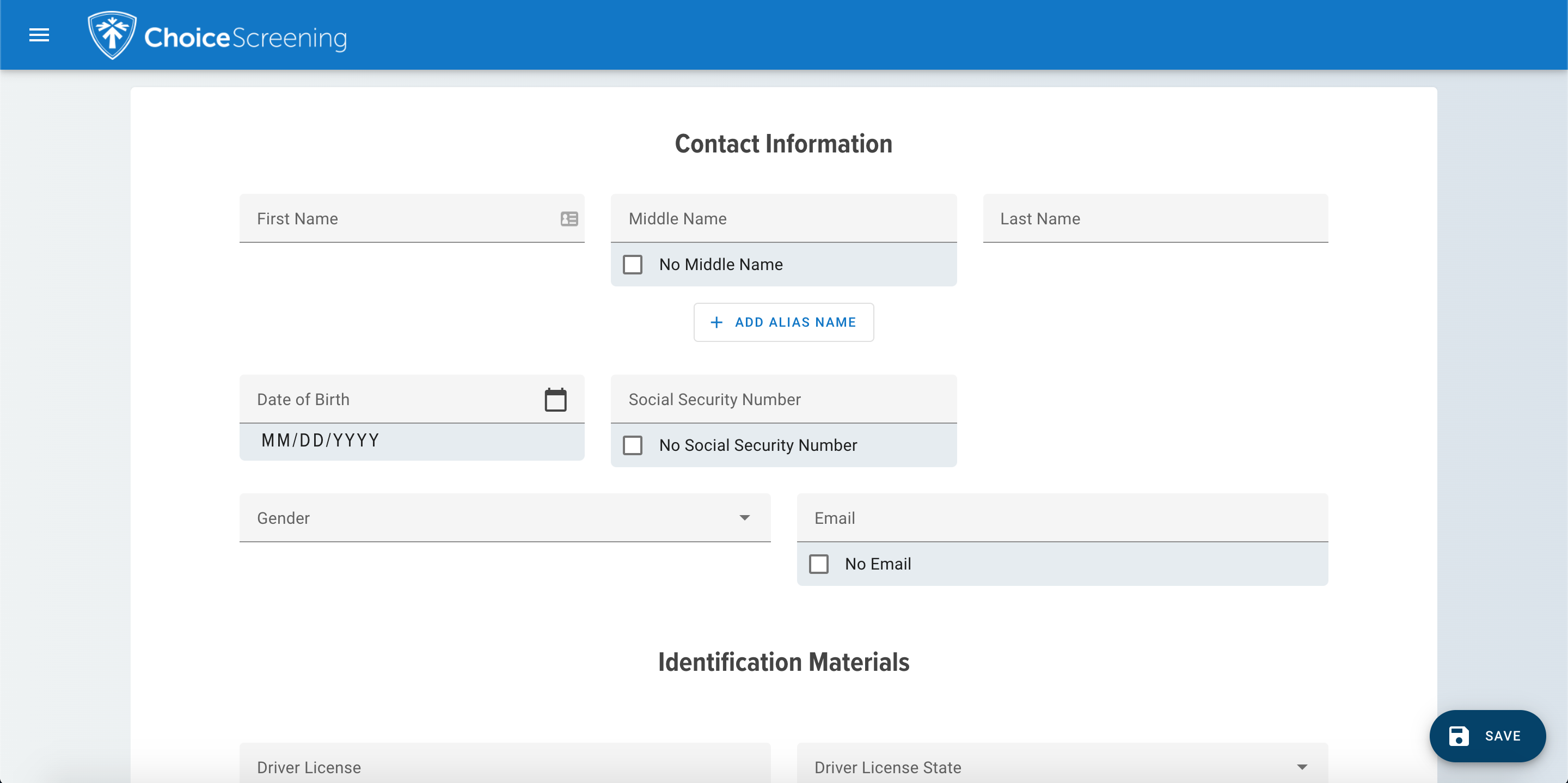 Once the package that was ordered is complete, that activity is noted in the candidate activity feed, and you can see the full details of that report in the Choice Screening portal.