TopFunnel helps some of the fastest-growing companies scale their recruiting strategies with their sourcing and recruiting solutions.
Greenhouse Recruiting's integration with TopFunnel allows you to link your jobs from Greenhouse to a TopFunnel campaign and import candidates back to Greenhouse. In this article, we will cover:
Configure User Setup Permissions in Greenhouse Recruiting
In order to enable the Greenhouse Recruiting / TopFunnel integration, you will need the developer permission Can manage ALL organization's API Credentials.
Contact a Greenhouse Recruiting user in your organization with Site Admin level permissions with the additional user-specific permission Can edit another user's advanced permissions to apply the API credential management permission to your account. Have the user with Site Admin level permissions edit your user account's permissions by navigating to the Configure icon

> Users > Your Name.

The user with Site Admin level permissions should navigate to the User-Specific Permissions panel on your user page and expand the Developer Permissions dropdown menu.
Select Can manage ALL organization's API Credentials so a check is in the checkbox. When finished, click Save.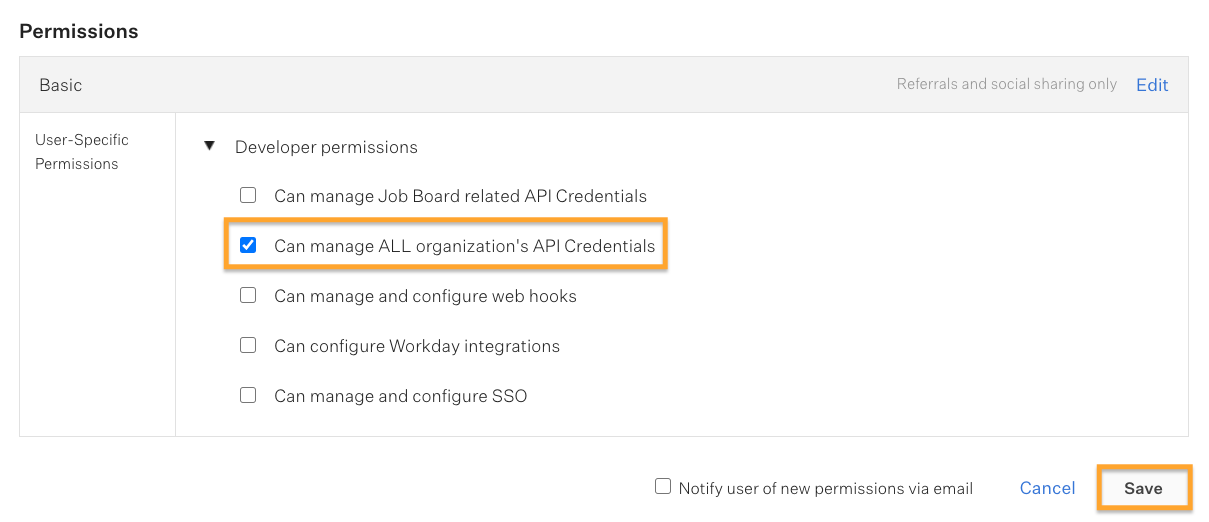 Repeat as necessary for any other user that should have access to set up the integration.
Create a Harvest API Key for the Greenhouse Recruiting / TopFunnel Integration
To create a Harvest API key for the integration, click the Configure icon

in the upper right-hand corner. Navigate to Dev Center on the left-hand panel.
From the Dev Center page, click API Credential Management.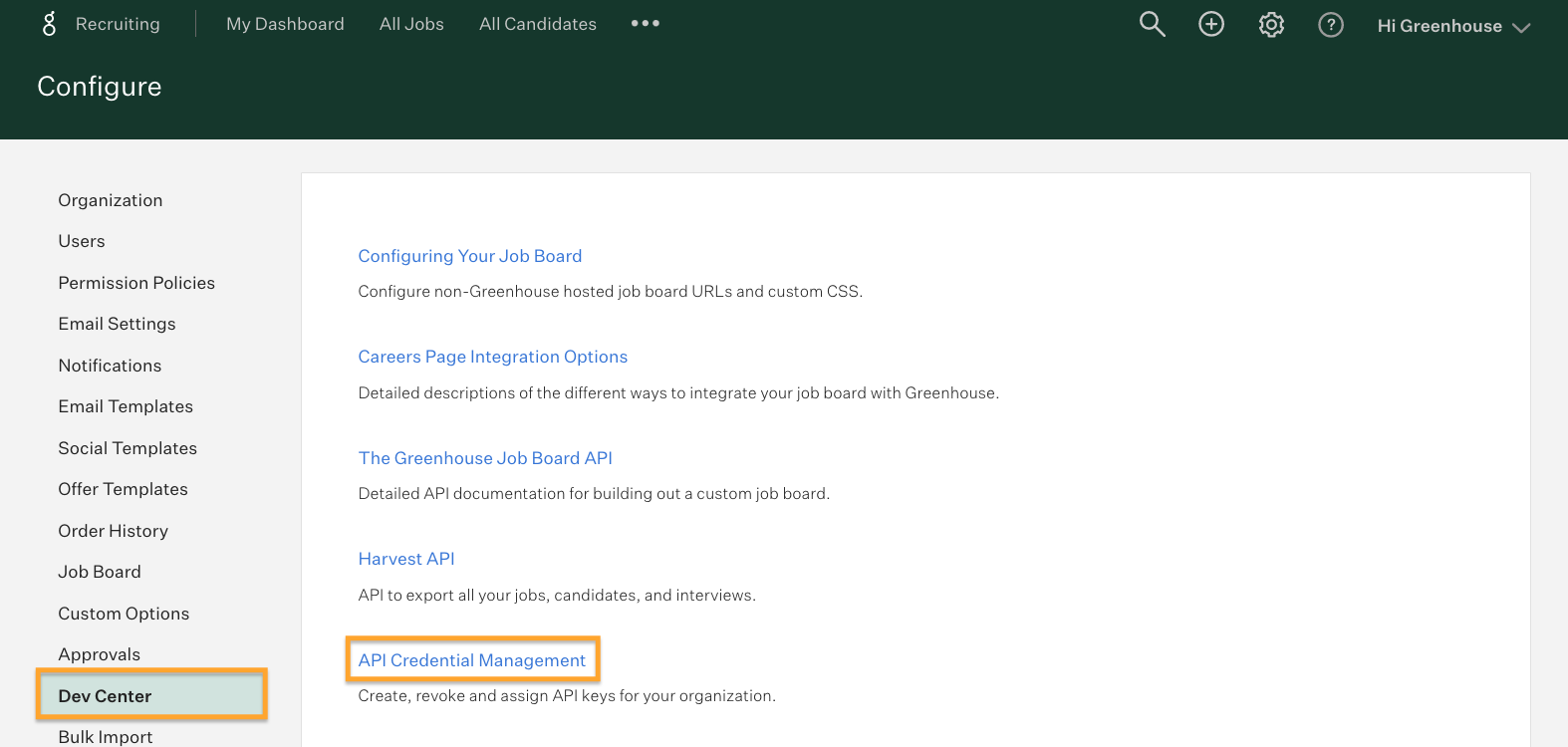 From the API Credential Management page, click Create New API Key to generate the API key for TopFunnel.

From the Create new credential dialog box, give your API key a name and select Harvest from the Type dropdown menu. When finished, click Create.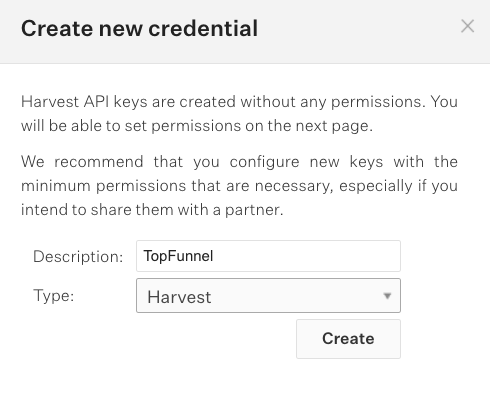 On the Manage API Key Permissions page, grant your API key the following permissions:
Candidates:


All permissions except DELETE: Delete Candidate

Jobs:

GET: Retrieve Job
GET: List Jobs

Tags:

GET: List tags applied to candidate
GET: List Candidate Tags
PUT: Add a candidate tag

Users:

GET: Retrieve User
GET: List Users
When finished, click Update.
Your Harvest API key for the Greenhouse Recruiting / TopFunnel integration is created and configured. Copy the Harvest API key, and then add it to your TopFunnel Settings page.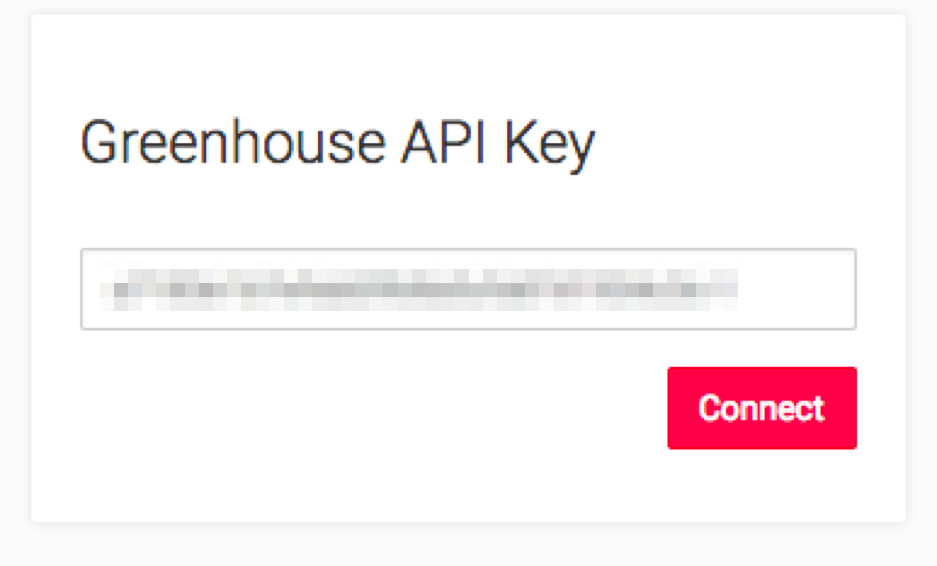 Use Greenhouse Recruiting / TopFunnel Integration
Add Data to Greenhouse Recruiting
You can easily link your jobs in Greenhouse to a campaign on TopFunnel. In TopFunnel, start typing the name of the role in the Greenhouse Job box, and the matching jobs will appear.
When you send out the initial email to a candidate in that campaign, the candidate will be added to the matching job in Greenhouse Recruiting.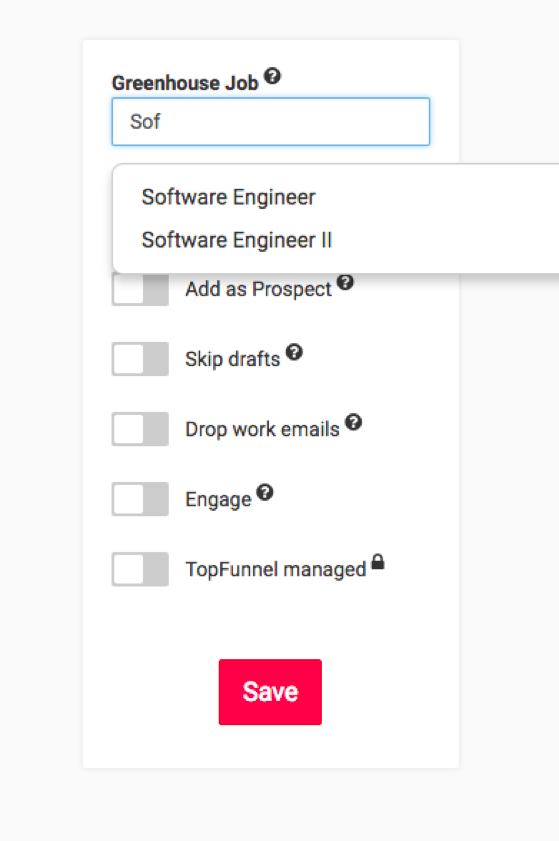 If you prefer to add your sourced candidates to Greenhouse Recruiting as prospects instead of as candidates, turn on the Add as Prospect toggle in your campaign.
To keep your Greenhouse clean, TopFunnel checks for an existing candidate as you source. TopFunnel does this by comparing existing email addresses in your Greenhouse account to those found by TopFunnel.
Tagging Candidates and Reporting
All the candidates imported to Greenhouse as candidates are given the tag TopFunnel, as well as the name of the person who sourced them and their campaign. You can use your existing Greenhouse analytics to track sourcing progress and recruiting channel performance.
TopFunnel as a Source
You can add any source to Greenhouse Recruiting to track exactly where your candidates are coming from. Simply add the source you would like to attach to that campaign in the Greenhouse Source box.
Note: If you are using TopFunnel as a source, you do not need to create a new source, and you can turn it ON from the Manage Sources page.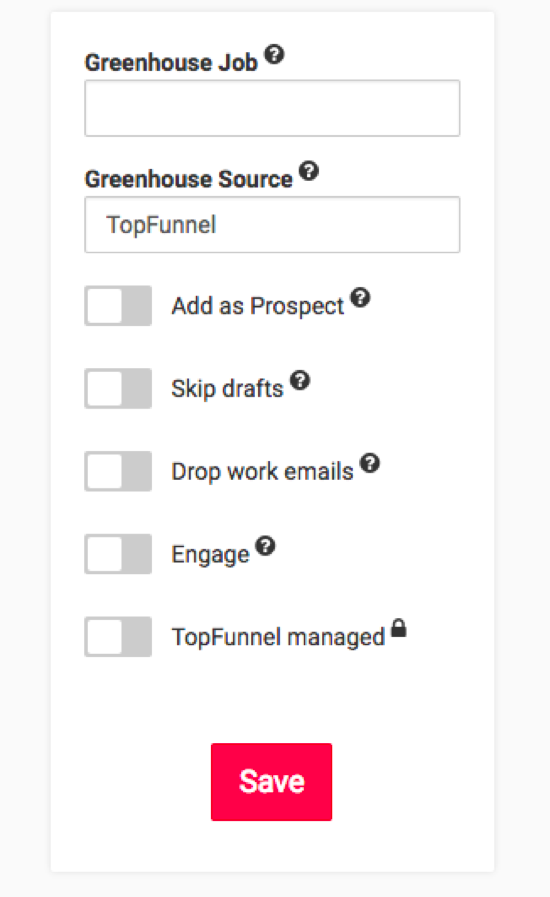 Get Help
Questions? Reach out to TopFunnel at support@topfunnel.co for assistance with this integration.