With this integration, users will be able to source, access, engage, and track candidates from Clinch.
Create a Harvest API key for the Clinch integration
To configure the Greenhouse Recruiting / Clinch integration, you'll need to create a Harvest API key.
Follow the steps in this article to create the key, and verify that the credentials and permissions below are selected when configuring the Clinch integration.
Credentials
In the Create New Credential box, make the following selections:
API type: Harvest
Partner: Clinch (optional)
Description: Clinch Harvest API key
Permissions
Contact Clinch to verify the Harvest API Key permissions needed for your integration.
Set up integration in Clinch
Navigate to the integrations page (Settings > Integrations) in Clinch and click the Greenhouse logo.
Paste the API key and Job Board Token in the available fields.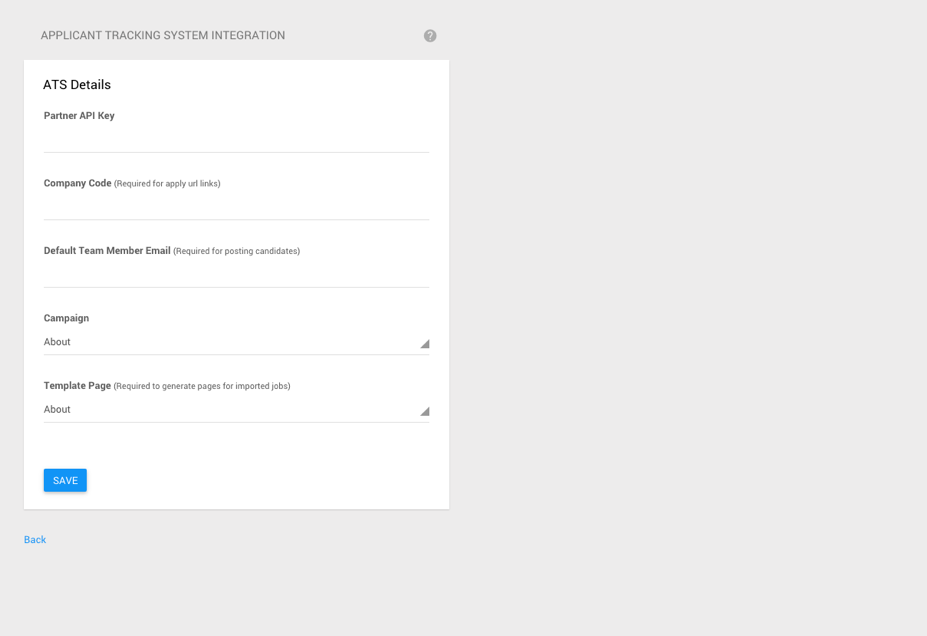 Type in your Greenhouse account email, and select a campaign and a page associated with the campaign to use as a page template for the imported jobs. When you're finished, click Save.
Click the Sync button to import your jobs from Greenhouse Recruiting.
Copy webhook information in Clinch
Once you have your Greenhouse API details saved in Clinch you can set up Greenhouse webhooks to keep candidate status in Clinch and in Greenhouse in sync. To set up this integration, navigate to the edit Greenhouse Integration form and copy the Webhook Secret Token and the Webhook URL from the form.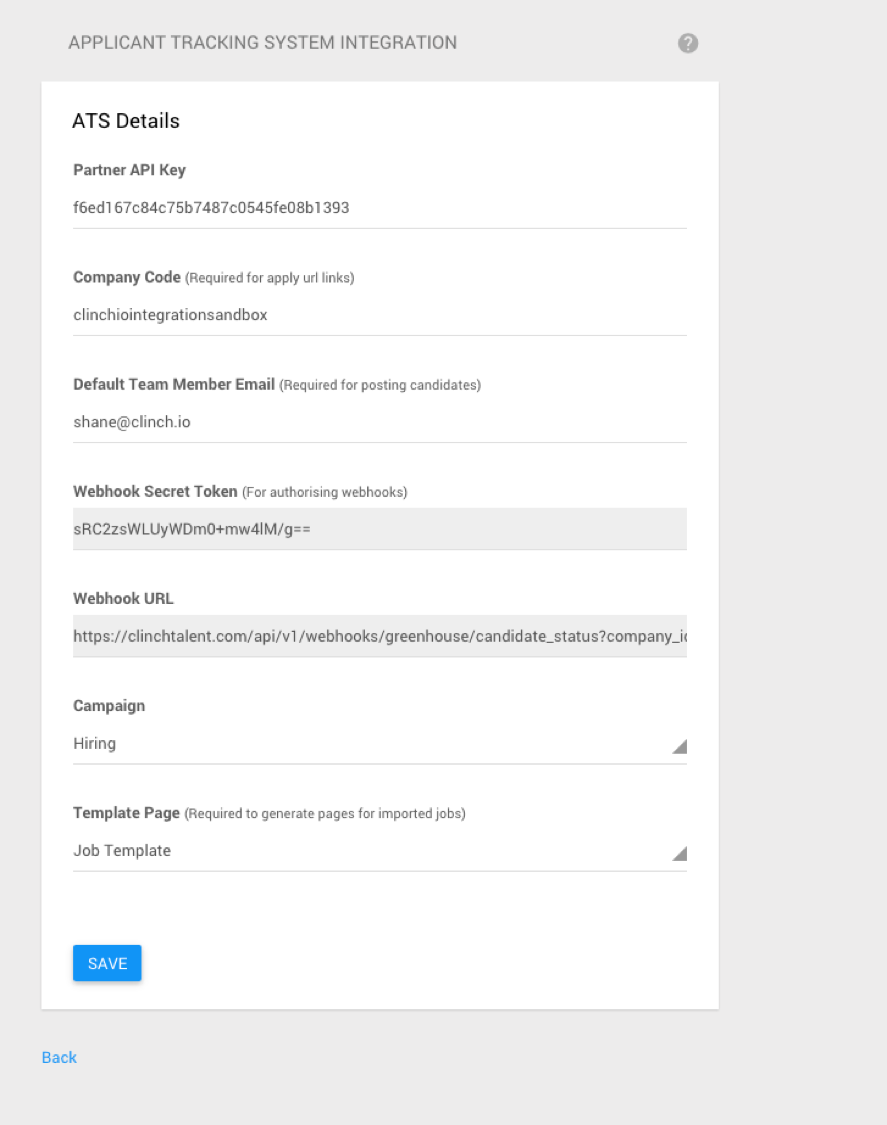 Create webhooks in Greenhouse Recruiting
To integrate Clinch with Greenhouse Recruiting, you'll need to create a webhook. Follow the steps in this article to create your webhook, using the values below. You'll need to create three webhooks for the Clinch integration.
Webhook 1: Candidate application
Name: Candidate application
When: Candidate has submitted application
Endpoint URL: The Webhook URL copied in Clinch
Secret Key: The Webhook Secret Token copied in Clinch
Webhook 2: Candidate stage change
Name: Candidate stage change
When: Candidate has changed stage
Endpoint URL: The Webhook URL copied in Clinch
Secret Key: The Webhook Secret Token copied in Clinch
Webhook 3: Candidate Rejection
Name: Candidate rejection
When: Candidate or Prospect has been rejected
Endpoint URL: The Webhook URL copied in Clinch
Secret Key: The Webhook Secret Token copied in Clinch