Permissions: Site Admin, and Job Admin who can email candidates / prospects
Product tier: Available for all subscription tiers
When 'include EEOC questions' is enabled on a job post, candidates can input their demographic data directly from the job application. This makes it easy for your organization to collect this data.
However, some candidates never have an opportunity to apply through your organization's job post – for instance, prospects, referrals, or candidates sourced by agency recruiters. To collect these candidates' EEOC data, Greenhouse Recruiting allows your organization to send the EEOC questionnaire via email. This ensures that every person has the opportunity to submit their demographic information and consent to being added to your system.
Note: Greenhouse Recruiting strongly recommends that government contractors make use of this feature in order to exhaustively collect demographic information for all candidates.
Enable users to send EEOC questionnaire
Note: Only users with Site Admin level permissions who can also edit another user's advanced permissions can enable this feature for your organization.
Before users can send the EEOC questionnaire to candidates via email, your organization must first enable the feature.
Click the Configure icon
on your navigation bar, and select Permission Policies from the left.

From the Permission Policies page, navigate to the All Users section and enable the option to Allow users to send EEOC questionnaire to candidates and store all full-text search criteria.

Send EEOC questionnaire to a candidate
Note: EEOC questions are application-specific, meaning they can be asked separately for every job a candidate is on. If two profiles are merged, the one with completed EEO questions will be preserved.
Once the feature is enabled for your organization, send an EEOC questionnaire via email to a candidate by navigating to that candidate's profile (Jobs > Candidates > Candidate Profile).
From the candidate's profile, scroll to the On Job tab and click Application from the left.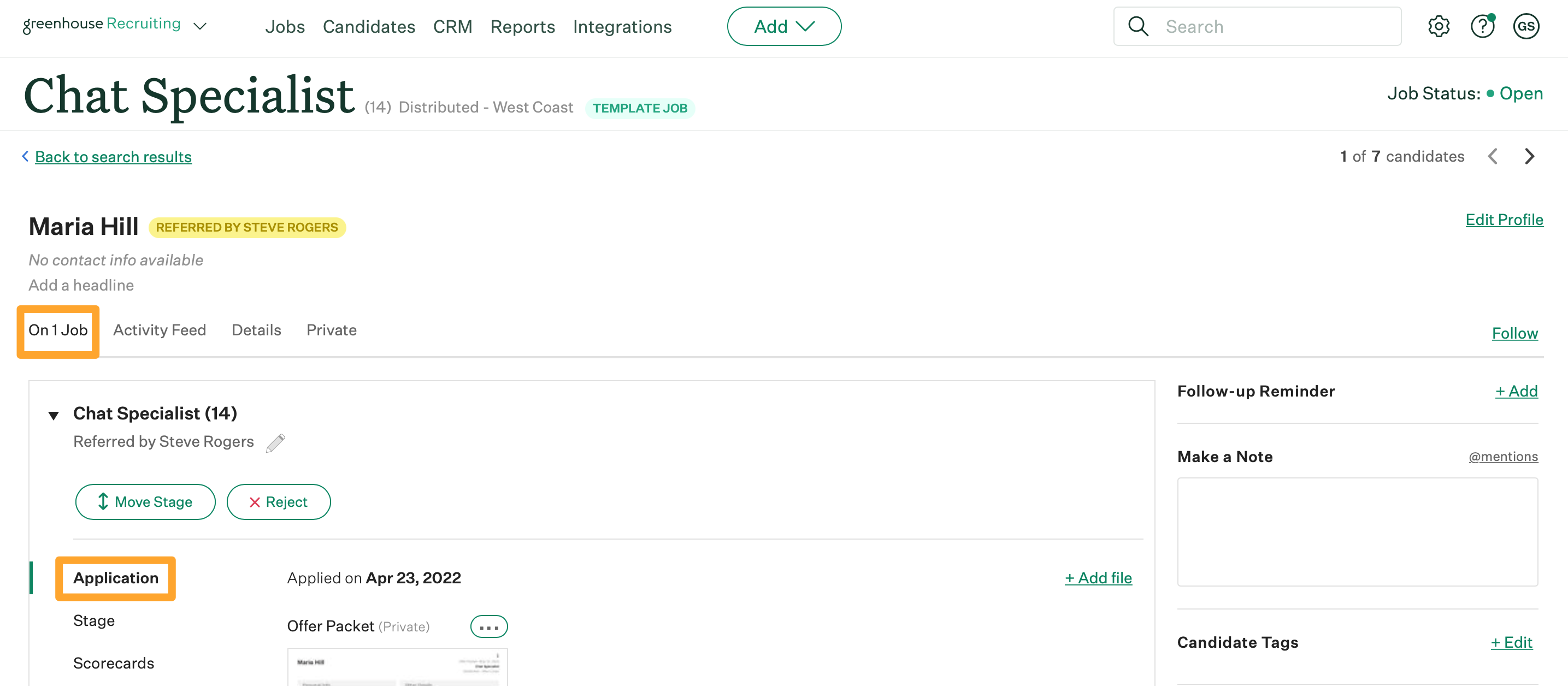 Expand the Job Post Questions dropdown and click Send beside EEOC.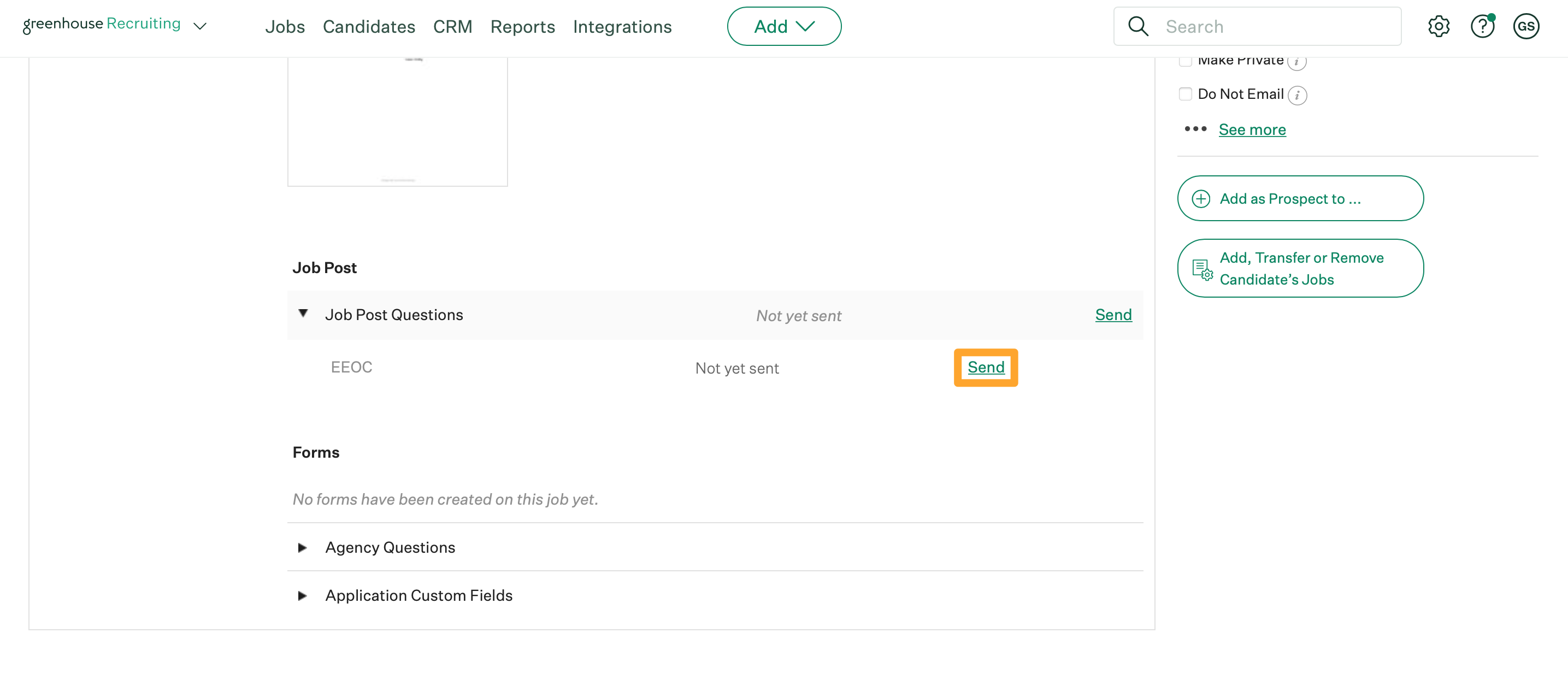 From the Send EEOC Questions box, review, edit, or replace the following fields for the email:
Template
From field
To field
Subject heading
Email body
The contents of the email are derived from the Default EEOC Data Request email template. For more information on email templates, click here.
When finished, click Send Email.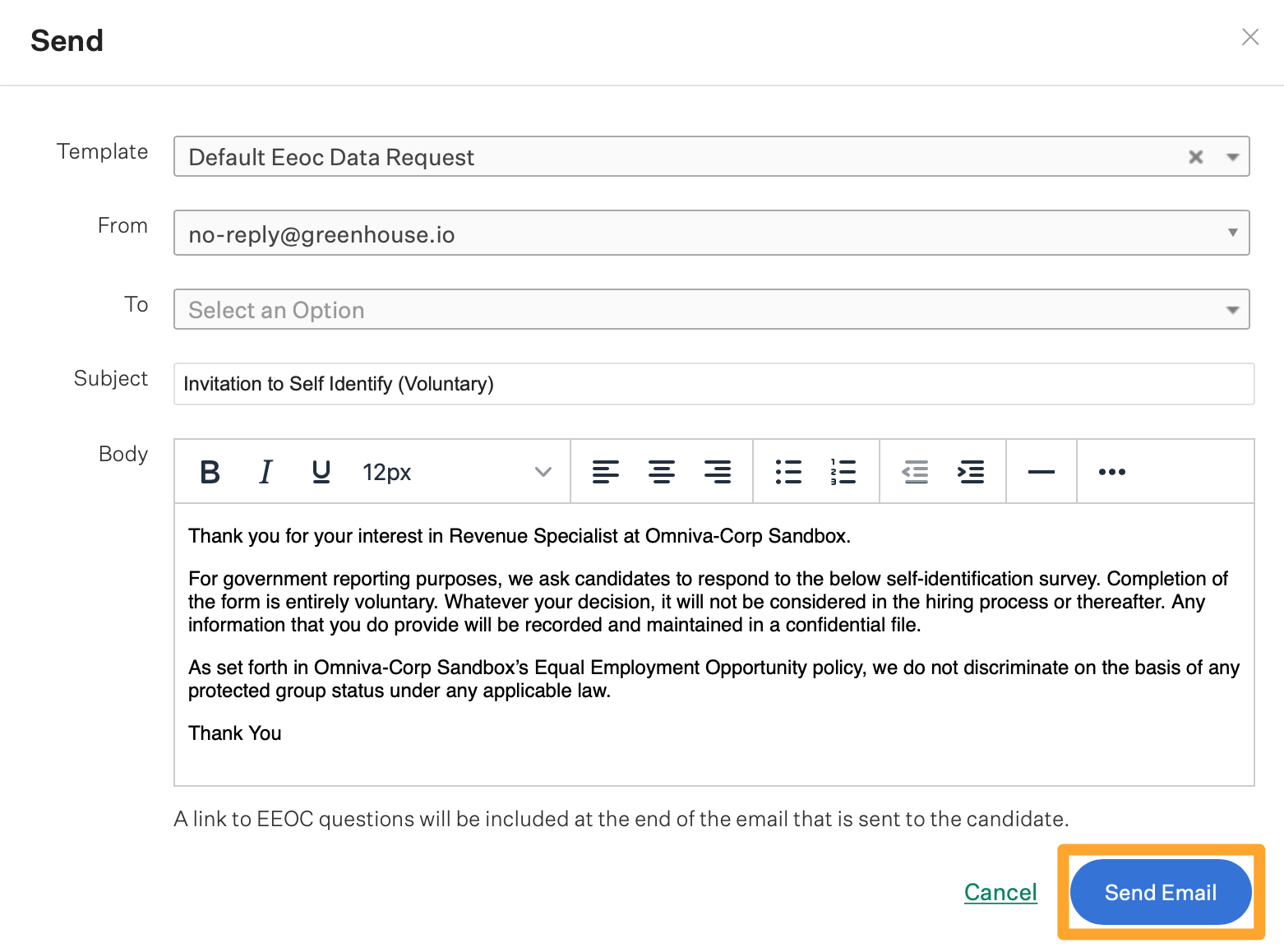 Note: Only users with Site Admins level permissions who can also see EEOC Reports will be able to view and export the EEOC report.
A link will be appended to the end of the email that will allow the candidate to self-identify and submit their answers. After sending, the candidate's profile will change to show Pending Submission, and you will have the option to resend the email as often as you would like.
When the results are finally submitted, the Applications tab will change to reflect that and the date will be displayed.