Job Admin levels are defined sets of permissions that are granted to Job Admin users on a per-job basis. Greenhouse Recruiting provides all organizations with two default Job Admin levels:
Job Admin: Standard
Job Admin: Private
To learn more about the Job Admin: Standard and Job Admin: Private levels, click here.
In addition to these default Job Admin levels, organizations with an Advanced or Expert subscription can create and manage custom Job Admin levels (Job Admin: Custom). Custom Job Admin levels allow you to define levels of visibility and access to manage your organization's own unique recruiting process. Once you have created custom Job Admin levels, you can assign these levels to Job Admin / Interviewer users when adding those users to jobs in Greenhouse Recruiting.
To create a custom Job Admin level, click the Configure icon

in the upper-right corner, then click Permissions Policies in the left-hand panel.

From the Permissions Policy page, find the All Job Admins section, then click the See and manage Job Admin levels link.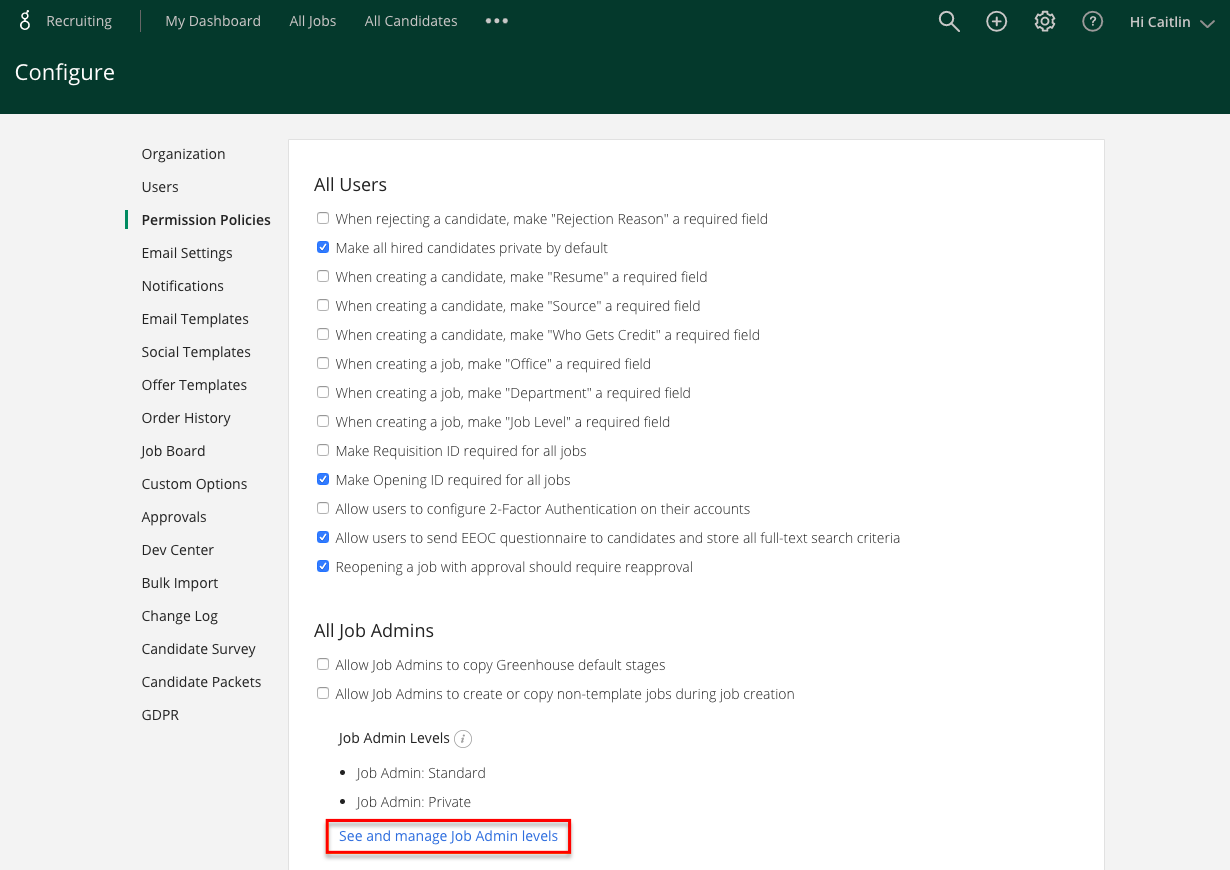 The Manage Job Admin Levels page outlines the Job Admin levels already available for your organization's Greenhouse Recruiting account, and the permission stripes assigned to each Job Admin level. On this page, you can add or remove permission stripes from each existing Job Admin level (including the default Job Admin levels), remove a Job Admin level entirely, or create a new Job Admin: Custom level.
To create a new Job Admin: Custom level, click Add Job Admin Level at the top right of the page.
A new column will appear to the right of your list of existing Job Admin levels. Give your new Job Admin: Custom level a name, then click Create.

Check the boxes inline with the permission stripes you wish to grant to the new Job Admin: Custom level. For more information about the implications of each permission stripe, see the following article: Job Admin Levels and Permission Stripes
Once you have configured the Job Admin: Custom level with the appropriate permissions, you can assign the new Job Admin level to Job Admin / Interviewer users on a per-job basis. To learn more about assign a Job Admin level to users, see the following article: Assign Job-Based Permission
Note: In addition to the permission stripes you grant to a Job Admin: Custom level, all users assigned to that Job Admin level will inherit the following built-in Job Admin permissions:
Can see the job's Dashboard, pipeline, and reports
Can see all candidates on the job
Can add and edit candidates and referrals
Can be assigned Hiring Team roles