Permissions: Basic and above
Product tier: Available for all subscription tiers
Greenhouse Recruiting and Slack have designed an integration that allows you to receive important Greenhouse Recruiting notifications directly in a Slack channel of your choosing.
The Slack integration supports the following notifications:
New applicant
New internal applicant
New referral
New agency submission
New scorecard
Scorecard reminder
Approval request
Approved to start recruiting
Offer fully approved
@mentions
Connect your Slack account to Greenhouse Recruiting
You can connect your Slack account to your Greenhouse Recruiting account in your Account Settings. (Your initials > Account Settings > Add to Slack)

Sign into Slack using your organization's Slack URL and login information.
Note: If you see an error message that the integration is not supported with your team, contact your Slack administrator to adjust your team's integration settings.
Select which channel should receive the notification.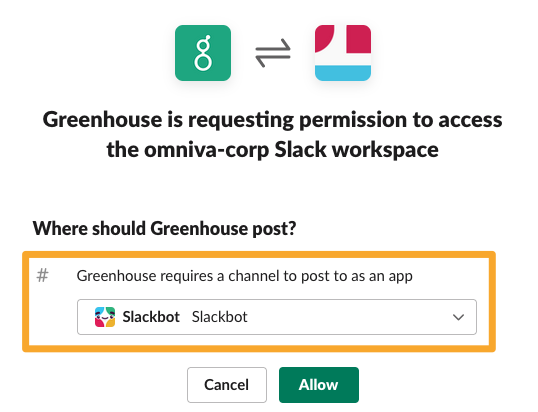 Best practice: Greenhouse strongly suggests choosing Slackbot, which sends the message to you privately, rather than an entire channel. However, if you want your notifications to be more visible, you can choose a private or public channel that you have permission to post to.
While Greenhouse Recruiting automatically strips out private information before posting to a public channel, remember notifications to public or private might allow other members of your Slack team to see information in the channel that they wouldn't normally have access to in Greenhouse Recruiting, such as approval status, candidate status, or other notifications.
For example, if you are a Job Admin and enable notifications to a Slack channel with non-admins, those users may be able to see sensitive information intended only for your position.
When you're finished, click Allow to authorize the integration. You'll receive an email confirmation and a notification message in the selected Slack channel confirming the integration was added.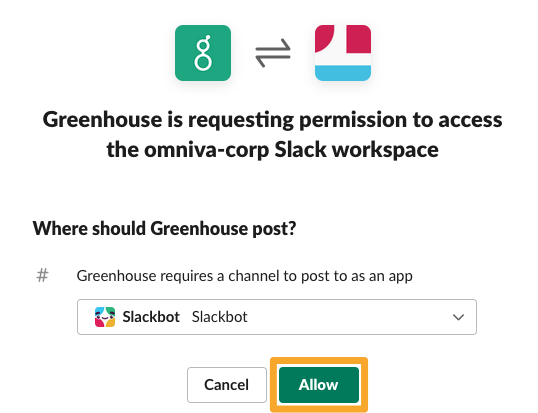 New candidate and approval notifications
Once you connect your Slack account, you can control the notifications from the integration by clicking the Edit button.

Your configuration is separated into sections based on the different types of notifications that may be relevant to your hiring process (such as notifications for new applications, referrals, or approvals).
Note: Basic users can only enable scorecard reminder messages on jobs where they are scheduled to conduct interviews.
To quickly enable a notification for all relevant jobs, click Turn all on next to the section.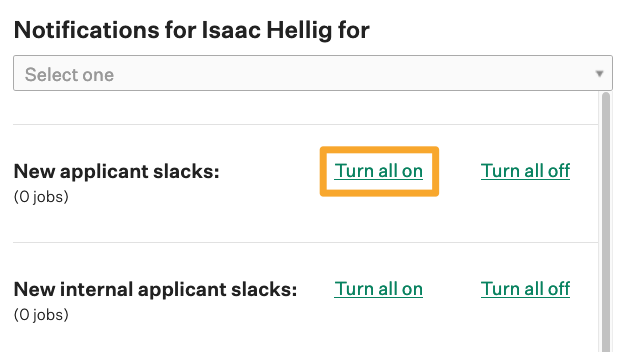 To configure notifications for a specific job, select it from the dropdown menu at the top of the window and select the checkboxes for each notification.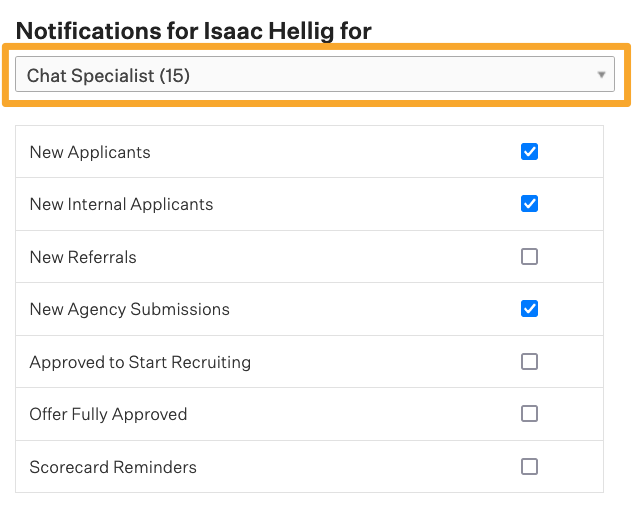 When you're finished, click Save.
@mention notifications
After you connect your Slack and Greenhouse Recruiting accounts, you can be notified anytime a teammate @mentions you in a candidate note or scorecard.
To turn on this feature, click the toggle button in the Slack integration section of your account settings.

Now, every time you're @mentioned, you'll receive a Slack notification a preview of the relevant scorecard or note, and a link to the candidate's scorecard or profile (based on where you were tagged).
If you were @mentioned on a candidate or scorecard where you aren't assigned the correct permission, you won't be able to access that information.
Note: In addition to a Slack notification, users will continue receive an email notification for each @mention. The email notification can't be deactivated.
Manage scorecard-related Slack notifications for other users
Job Admins and Site Admins can configure scorecard reminders and new scorecard Slack notifications on behalf of recipients on individual jobs.
Note: Slack notifications are sent only to recipients who have enabled the Slack integration for their Greenhouse Recruiting account.
These notifications are managed on the Notifications section of the Job Setup tab for a specific job. (Navigate to a job > Job Setup > Notifications)
To update the notification settings, click Configure next to the type of notification.

Turn on the Turn on Slack notifications toggle and click Save.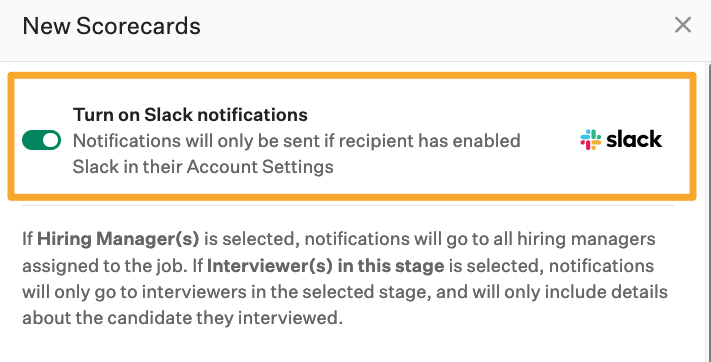 Update or disconnect Slack integration
To review or edit your integration settings later, return to the Account Settings page in Greenhouse Recruiting.
To remove the integration entirely, click Disconnect.

If you just want to update the settings, notifications, or channel for the current integration, click Edit.

To remove the integration from your entire organization, a Slack administrator will need to deactivate the integration from your team's Slack preferences. Any users with the integration enabled will receive two emails the next time a notification is triggered — one email alerting them the integration has been deactivated, and one email with the new candidate notification information.
Slack notification examples
When a candidate-related action occurs and triggers a Slack notification, you receive a message in Slack containing the candidate's name and a link to their profile.

If you've opted to receive approvals notifications in Slack, any job or offer approval that requires your attention appears with buttons that allow you to approve or reject without ever leaving Slack.
If the approvals are sent to any channel other than Slackbot, any private fields are stripped out to prevent unintentionally sharing sensitive information with all channel members.

Note: The first time you approve a job or offer, you'll be prompted to click an additional link in Slack to re-authorize your account. This authentication allows Greenhouse Recruiting to confirm you have permission to take action on the approval.