Whether you are evaluating candidates in a large group or need to do some application reviews mid-flight, you can quickly compile and print multiple candidate resumes in one PDF and access them whenever and wherever you need them.
To start, click All Candidates from your navigation bar.

On the All Candidates page, use the filters on the left-hand panel to narrow down the list of candidates if necessary (e.g. Job, Stage in hiring process, Recruiter, etc). Once the list of candidates is narrowed down, click Bulk Actions.

Choose the candidates whose resumes you would like to print by clicking on the checkbox beside the name of the candidate (or Select All if there are fewer than 30 candidates in your filtered candidate pool). Once you have selected the desired candidates, click Edit Selected.
Note: You can bulk print up to 30 resumes at a time, so you may need to go through these steps a few times to download the full list of resumes.

From the subsequent dialog box, locate the Action section and click Get Resumes.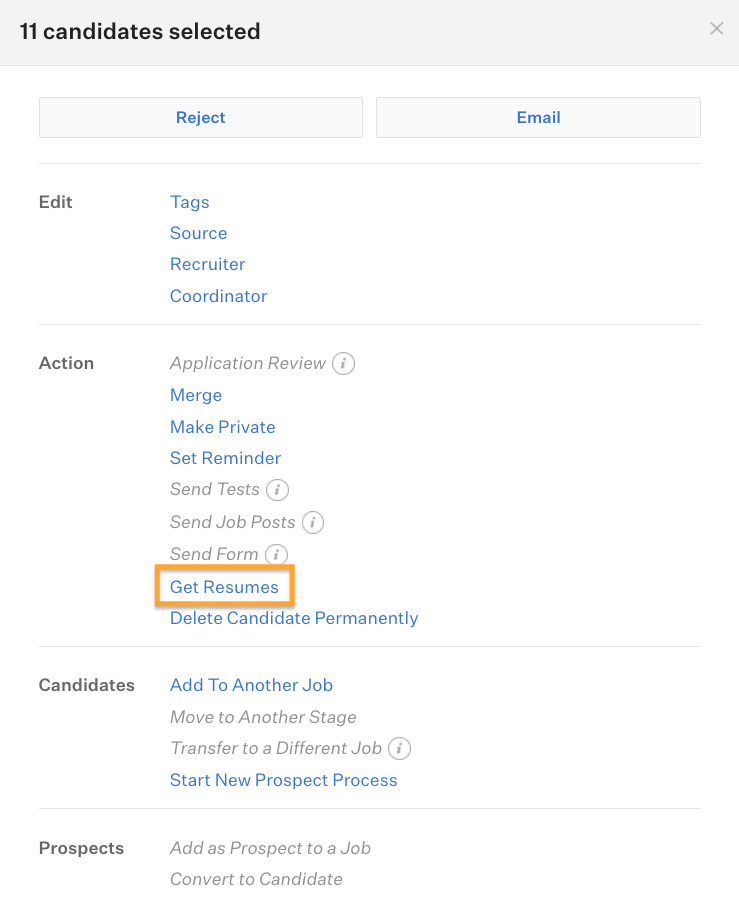 In the subsequent dialog box, confirm the details, then click Get Resumes once more.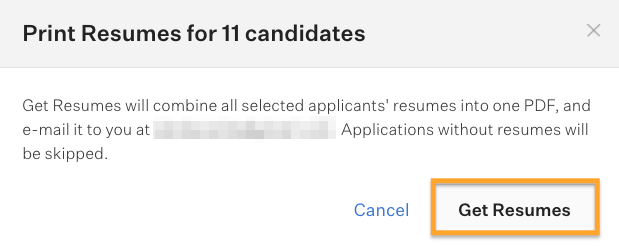 All of the resumes from your selected group of candidates will be compiled into a single document and emailed to you. The email maybe take a few minutes to process if you are dealing with a large number of resumes.
Candidates without resumes will be listed in the body of your email for reference. All available resumes from your selected group of candidates will be compiled in a single PDF that can be emailed, printed, or loaded on a device for on-the-go reviewing!