Note: This tool is only available for organizations that have the Prospects feature.  
Are you developing carpal tunnel from manually adding tons of prospects into Greenhouse? Are you ready to follow up with prospects you met at your last meet-up or job fair, but you just can't bring yourself to wade through them all one by one? 
With Bulk Import you can use Excel to add many prospects into Greenhouse at once! 
You can only bulk upload Prospects at this time, not Candidates. To convert prospects to candidates, follow the steps below, then bulk move the candidates onto a particular job. Check out this article for a guide on how to do that.
Bulk Import Prospects
To begin your upload, click on the Configure tab from your Dashboard and navigate to Bulk Import from the left-hand panel.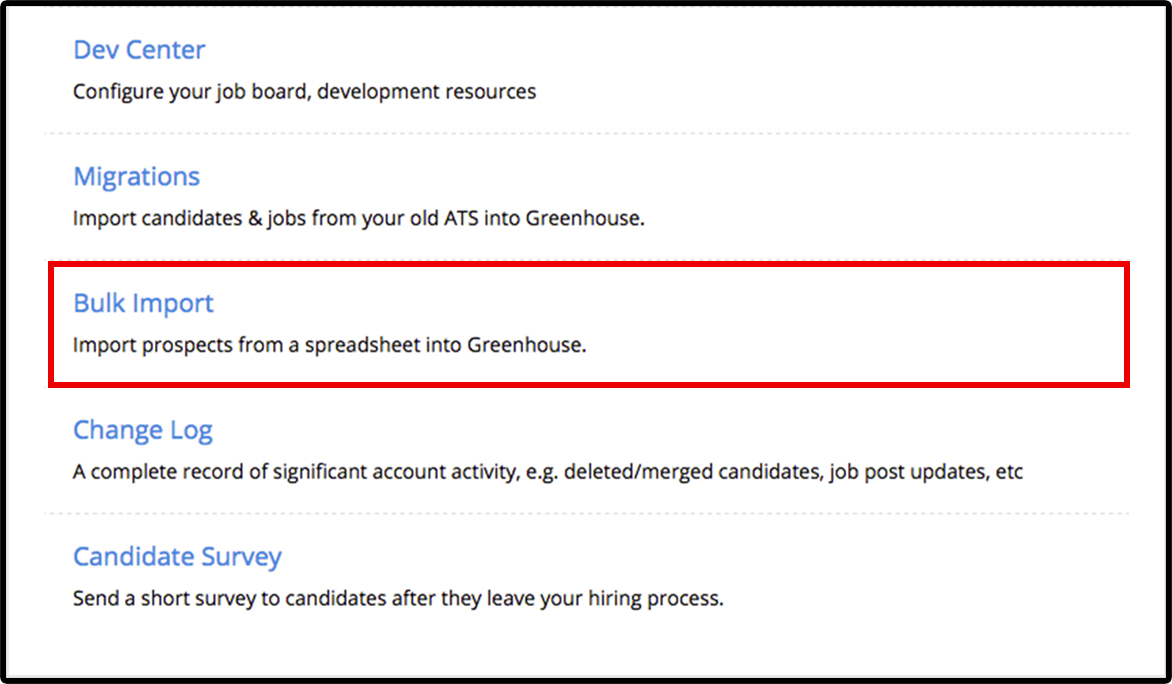 Rather than format Excel yourself, we've created a handy template that should get you started. Click Download Template or click here to download it.

From there, add as much information about the prospects as you'd like. Bulk Importing supports:
First Name
Last Name
Company
Title
Notes
Email
Phone
Social Media
Website
Address
Job
Source
Who gets credit
Prospect Pool (for customers with CRM only)
Prospect Stage (for customers with CRM only)
If you don't care about a particular column, just leave it blank!

When everything is neat and tidy, head back into Greenhouse and upload your file.

You'll then be taken to the first of four mapping screens to make sure the columns are matched with the correct fields within Greenhouse. If you used our template, everything should be lined up appropriately.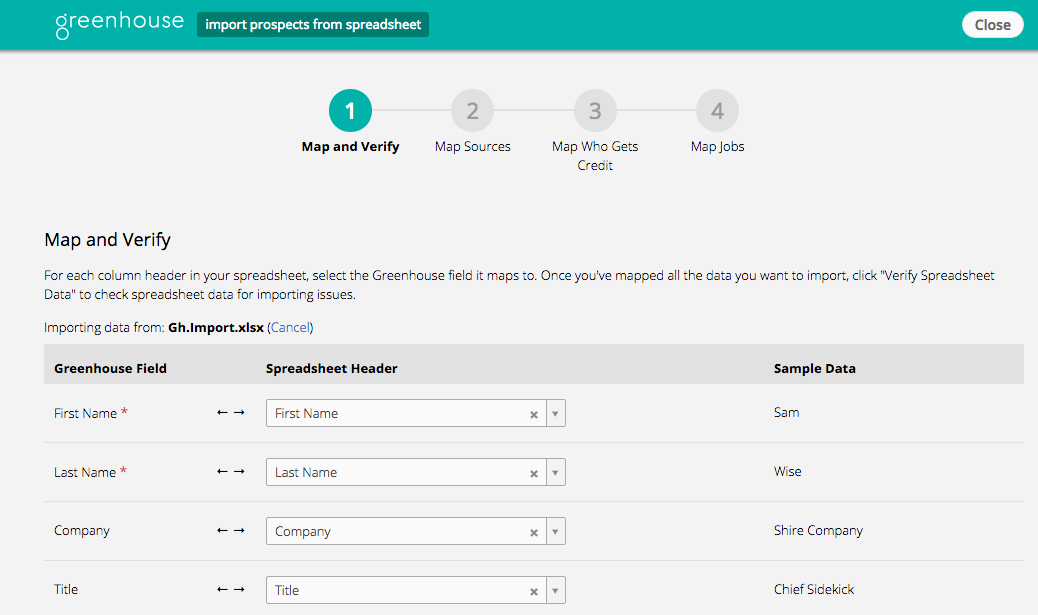 If you decide you don't need a specific field, just select Don't import this field... to exclude it.

The next three pages allow you to map Sources, Who Gets Credit, and the Job you want to attach each prospect to. Once you're finished, Greenhouse will begin uploading your prospects in the background while you do other things.
If you happen to get interrupted during the mapping process, just head back to the Bulk Upload page and press Finish Import. 

Once everything is completed, you can click View Results to see a list of all your uploaded prospects, easily make edits, or convert them into Candidates!