Permissions: Site Admin
Product tier: Available for all subscription tiers
The Candidate Survey feature allows your organization to configure a short survey that will be sent to candidates after they have exited your hiring process. Feedback captured in the Candidate Survey provides valuable insight into how candidates are experiencing your interview pipeline.
In this article:
Configure Candidate Survey
Note: To ensure candidate anonymity and accurate data, the survey is sent by Greenhouse on behalf of your organization.
To configure Candidate Surveys for your organization, click the Configure icon

in the upper right-hand corner and navigate to Candidate Survey on the left-hand panel.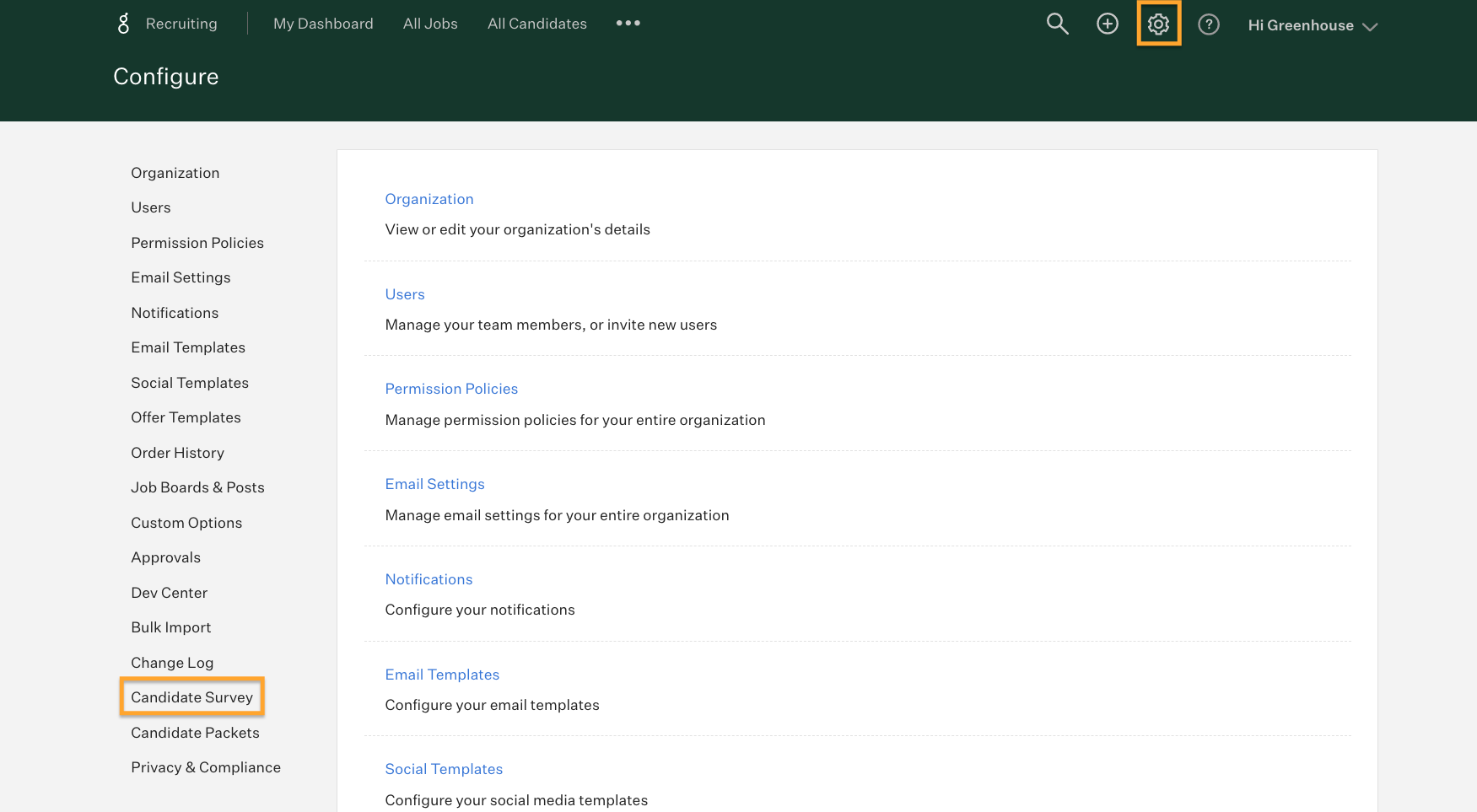 From the Candidate Survey page, click Configure to configure the details of the Candidate Survey.

In the subsequent dialog box, use the provided fields to select which offices and departments should receive the survey. Alternatively, click All Offices and/or All Departments to select all options in the respective fields. When finished, click Next.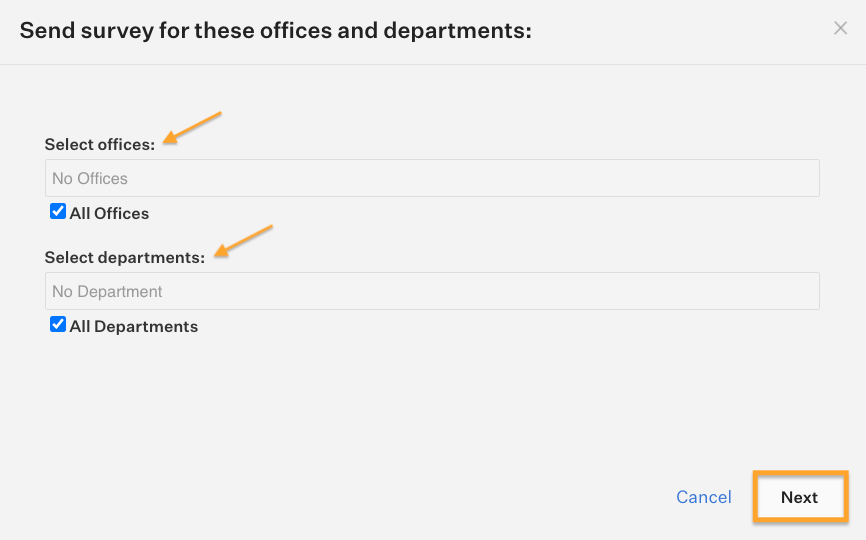 Select the stage(s) that candidates need to reach in order to be sent a survey. Only candidates who have entered the selected stage will be sent a Candidate Survey. When finished, click Next.
Note: All jobs that will send the Candidate Survey must include at least one of the stages you select.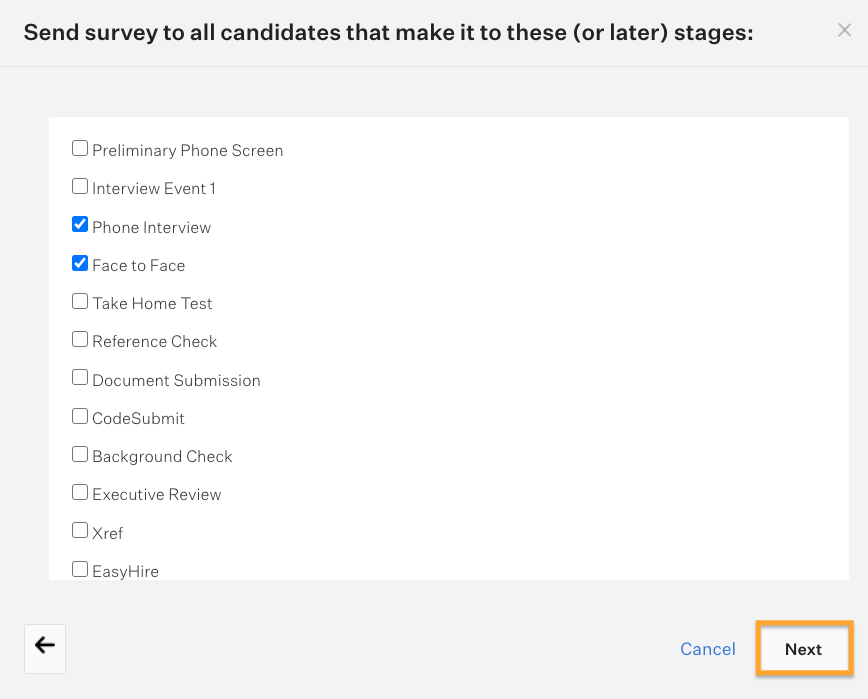 In the above example, any candidates who exited the interview pipeline prior to the Phone Interview stage will not receive a Candidate Survey.
Select how many days (or weeks) after a candidate is rejected or hired should the Candidate Survey be sent. When finished, click Save Settings.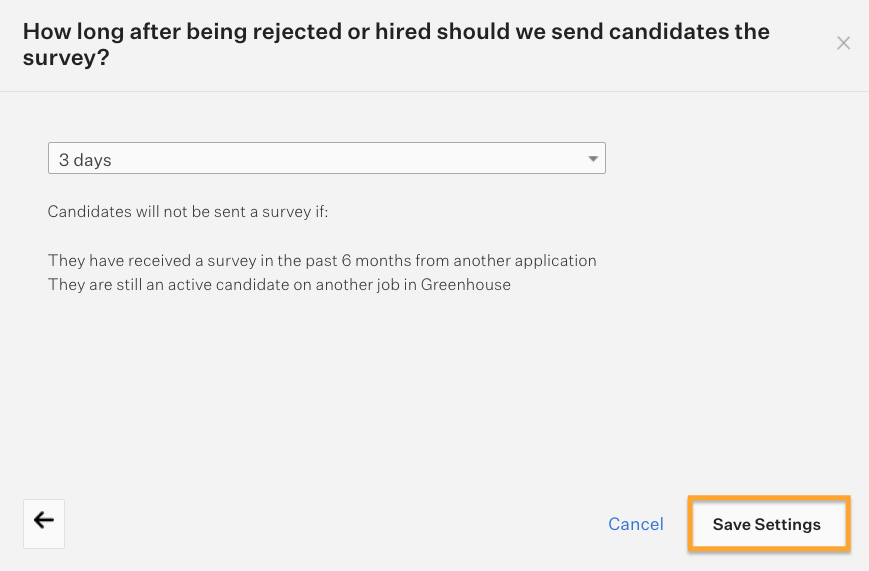 Note: The goal of candidate surveys is to have consistent data across all jobs and companies so that you have benchmarks to compare yourself against. In order to have these benchmarks, the questions must be the same across all jobs and across all companies. Because of this, the questions included in the Candidate Survey are standardized across Greenhouse Recruiting and cannot be edited, removed, or appended.
Candidates will not be sent a survey if:
They have received a survey in the past six months from another application
They are still an active candidate on another job in Greenhouse Recruiting
Do not email has been marked on the candidate's profile page
Click Preview from the Candidate Survey page to review how the questions are displayed to candidates who are sent the survey.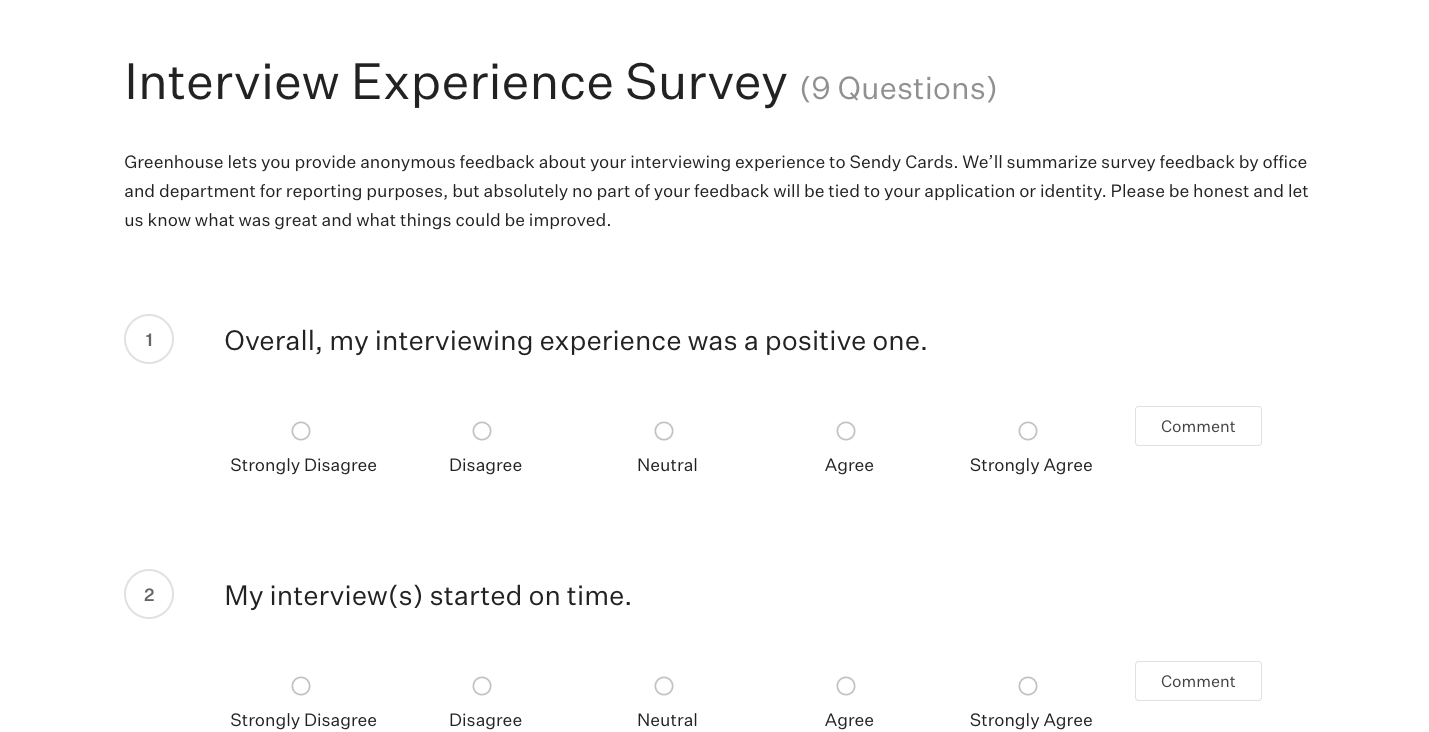 Enable Candidate Survey
Once the Candidate Survey is configured for your organization, return to the Candidate Survey page and toggle the button to ON in the topmost panel.

Candidate Surveys are now enabled for your organization. Candidates who meet the qualifications you configured will receive the following email at the designated time post-hire or -rejection: