Note: Some organizations have been updated to a new version of the scheduling process. If the steps in this article do not align with the workflow you see after clicking Schedule Interview or Schedule All on the candidate's profile page, please click here to learn more about the updated process.
If you use Google Calendar, and if a stage consists of multiple interviews, you can choose to schedule all of the interviews at the same time!
Please note: If you're using Chrome, be sure to allow pop-ups from Greenhouse.
Step 1. Click Schedule All.
Step 2. From there, select Settings and it should offer options to select the specific calendar you are using. Select Google and set the time zone if needed.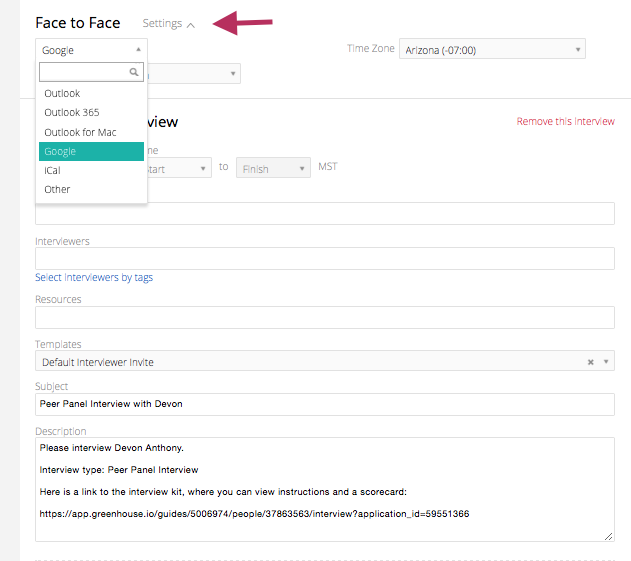 The advantage of choosing to Schedule All is that you'll be able to enter all of the meeting details in the same window.
Step 3a. Click Open in Google Calendar. One Google invitation will open in a new tab, and the rest of the Google invitations as new windows.
OR
Step 3b. If you have integrated your Google Calendar with Greenhouse, you can schedule all interviews without leaving the application by clicking Send Invites to Interviewers. (For instructions on how to set this up, click here)
Please note: If you are on Chrome, and if you have not adjusted your pop-up blockers, only the first Google invitation will open in the new tab (the other invitations will be blocked).
To finish scheduling, you'll need to click the Save button on each of the open Google invitations.