When your organization is ready to begin the hiring process for a new job, navigate to the Add icon

in the upper right-hand corner and select Create a Job from the drop-down menu.

From the subsequent page, select either Copy an Existing Job, Sample Job, or Blank Job. Refer to the table below to see the differences between each option.
Note: If you have created jobs in the past and/or have Job Admin level permissions on another job, you can elect to use those previous jobs as a template for the new job you are creating. To do so, click Copy an existing job.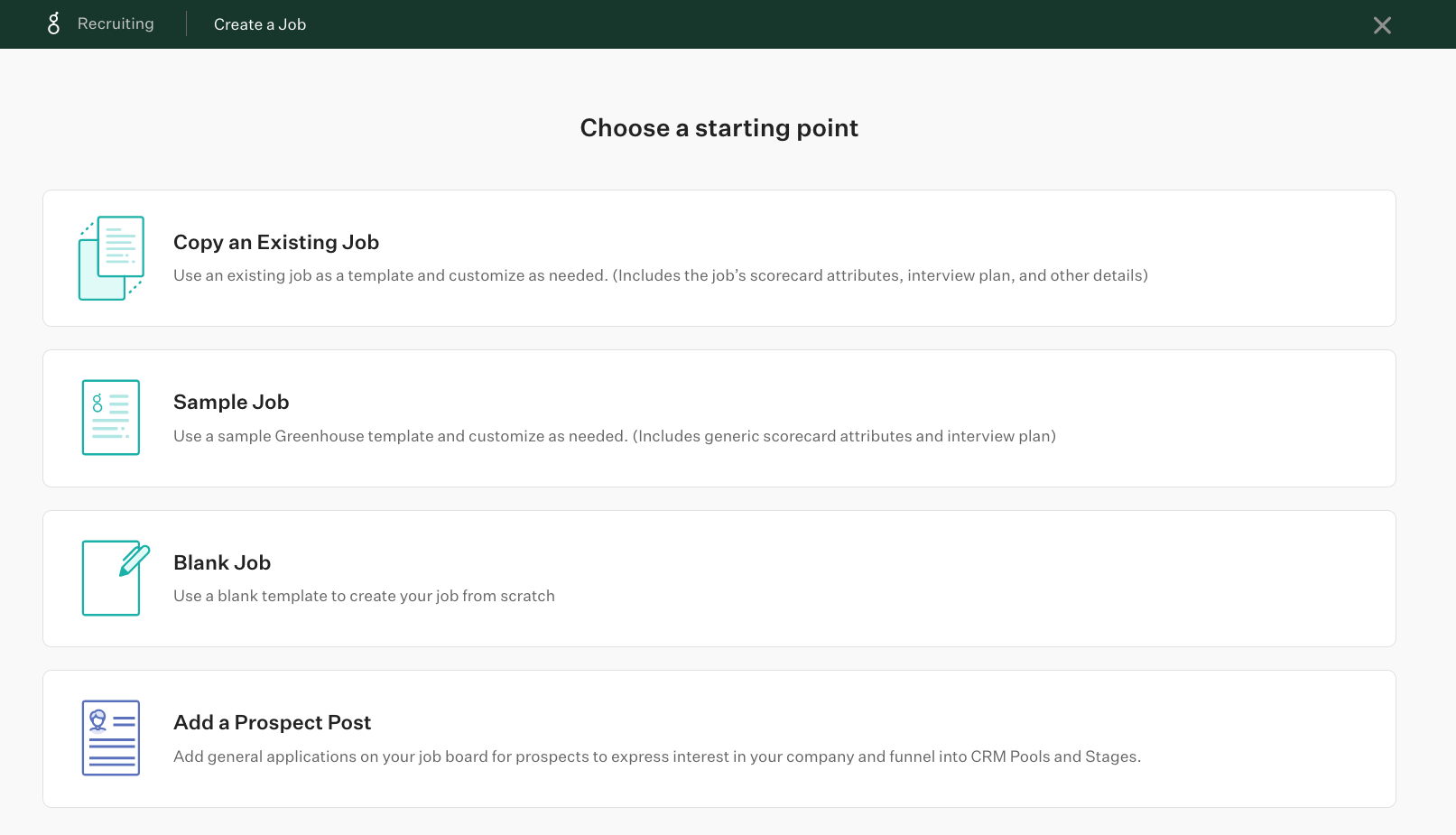 Note: If you are a user with Job Admin permission levels and your organization has restricted job creation to template jobs for all Job Admins, you will be sent directly to the Copy an Existing Job page, where you can only see template jobs on which you have been granted access.
Template
Greenhouse provides default
Copy an Existing Job

A pre-existing job that you have access to is used as a template for the new job you will create

Sample Job

Attributes for Scorecard
Stages for Interview Plan

Blank Job

No default fields provided

Add a Prospect Post

No default fields provided
Once a template is selected, you can build the different elements of the job depending on how your job setup flow is configured. You might see any of the following steps:

Complete the steps of the job setup flow. You can always return to a step for further configuration after the job has been created. For more in-depth information regarding job setup best practices, please see the following documentation: Jobs and interviews best practices
When you have finished completing all the steps of your job setup flow, click Finish. You will be directed to the job's dashboard.
Request approval
Creating job does not necessarily mean it is open to start recruiting candidates. If a job requires another user's approval, you must request job approval before the job is opened. A job that has yet to receive approval is considered a Draft.
To request approval for a new job, click Request Approval from a job page's navigation bar.

Users listed as approvers for the job will be notified of the approval request. The job will be considered Open after all necessary approvals are granted.