Permissions: Job Admins who can edit job info and Site Admins
Product tier: Available for all subscription tiers
Job fields refer to the various pieces of information that can be filled out for every job your organization creates, and allow you to capture this data in a standardized format.
In this article, we'll cover steps to edit default and custom job fields within an existing job's configuration. 
Job fields overview
By default, Greenhouse Recruiting creates the following job fields: 
Internal Job Name
External Job Name (as seen on job board)
Department
Office
Requisition ID (Req ID)
Employment Type
Opening IDs
Number of Openings
Team Responsibilities
How to sell this Job
In addition to the default job fields, your organization can create custom job fields to capture relevant information about jobs.
In addition to viewing these default fields within a job's setup, any custom fields added to your jobs will be included in the Job Info page for field management. 
Edit existing job field 
To modify an existing job field, open the Job Info tab in the job. (Jobs > Select job from list > Job Setup > Job Info)

On the Edit Job Info page, hover over any custom or default job field and click the Edit icon.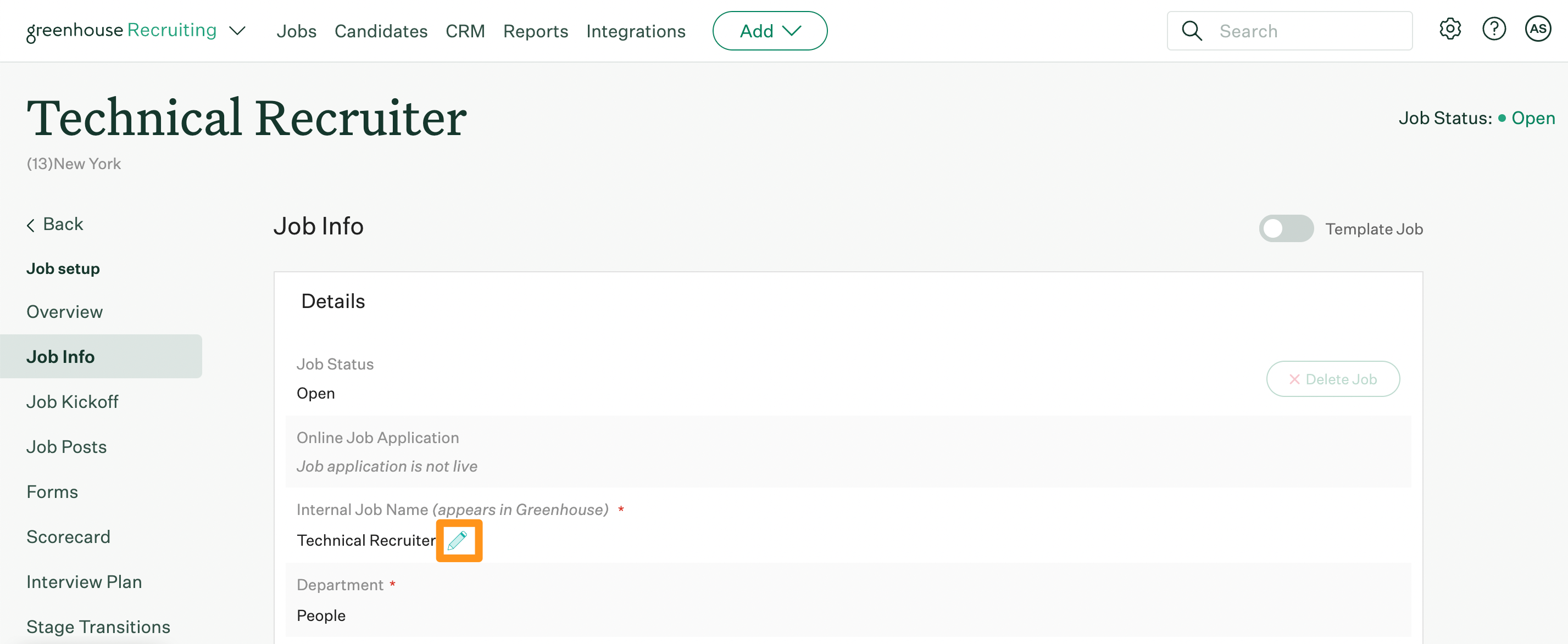 Note: If a job field is marked as This field can only be changed via the Harvest API, users will be unable to edit the field from the Job Setup > Job Info page. Instead of the Editicon, the field will present the Lock icon to indicate that the field can only be changed through the Harvest API.
If a custom field has been deleted prior to being edited, the custom field data will remain on existing jobs that already have associated custom field data but the custom job field will no longer show up for new jobs or within your reports.
When finished, click Save.
The new job field data entered will display within the Job Info page along with any custom job reports and our essential All jobs summary report