Permissions: Owners, Coordinators, and users with custom access to see and edit tasks assigned to current employees
Product tier: Available for Greenhouse Onboarding and Greenhouse Welcome tiers
Use the task report in Greenhouse Onboarding to check the status of employees' assigned onboarding tasks.
View task report
To find the task report, navigate to Reports from your homepage's navigation bar.
Select View task report from the list of available reports.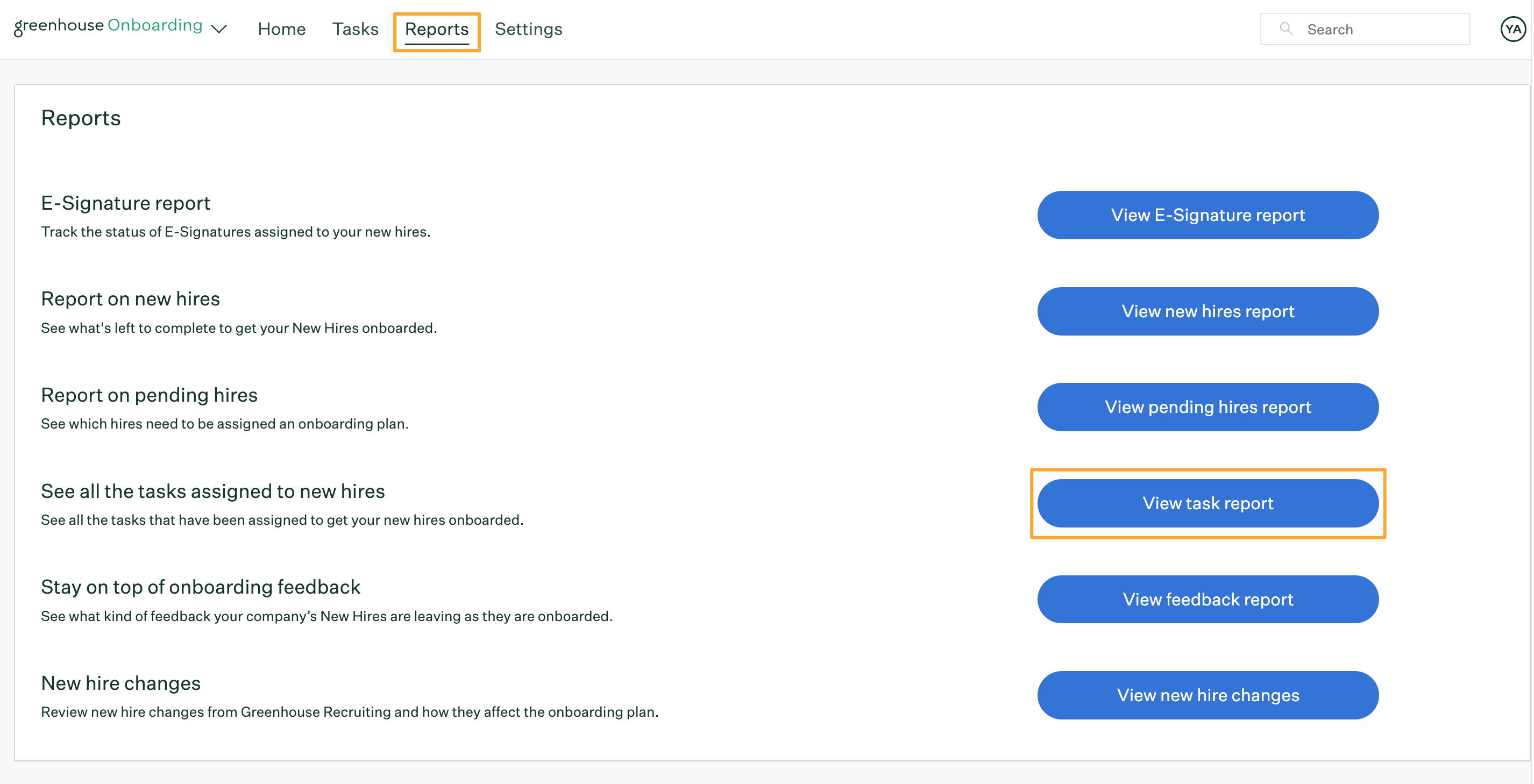 On the Tasks page, you'll find a list of all onboarding tasks assigned to employees at your organization.
Note: Owners and Coordinators can view and edit tasks for all employees in your organization. Users with custom access to edit tasks will be able to view and edit only the tasks that match the rules defined in their custom role.
For example, a user's custom role gives them access to edit tasks for employees in the Marketing department. When this user opens the Task report, they will see a list of tasks for all employees hired in the Marketing department at your organization.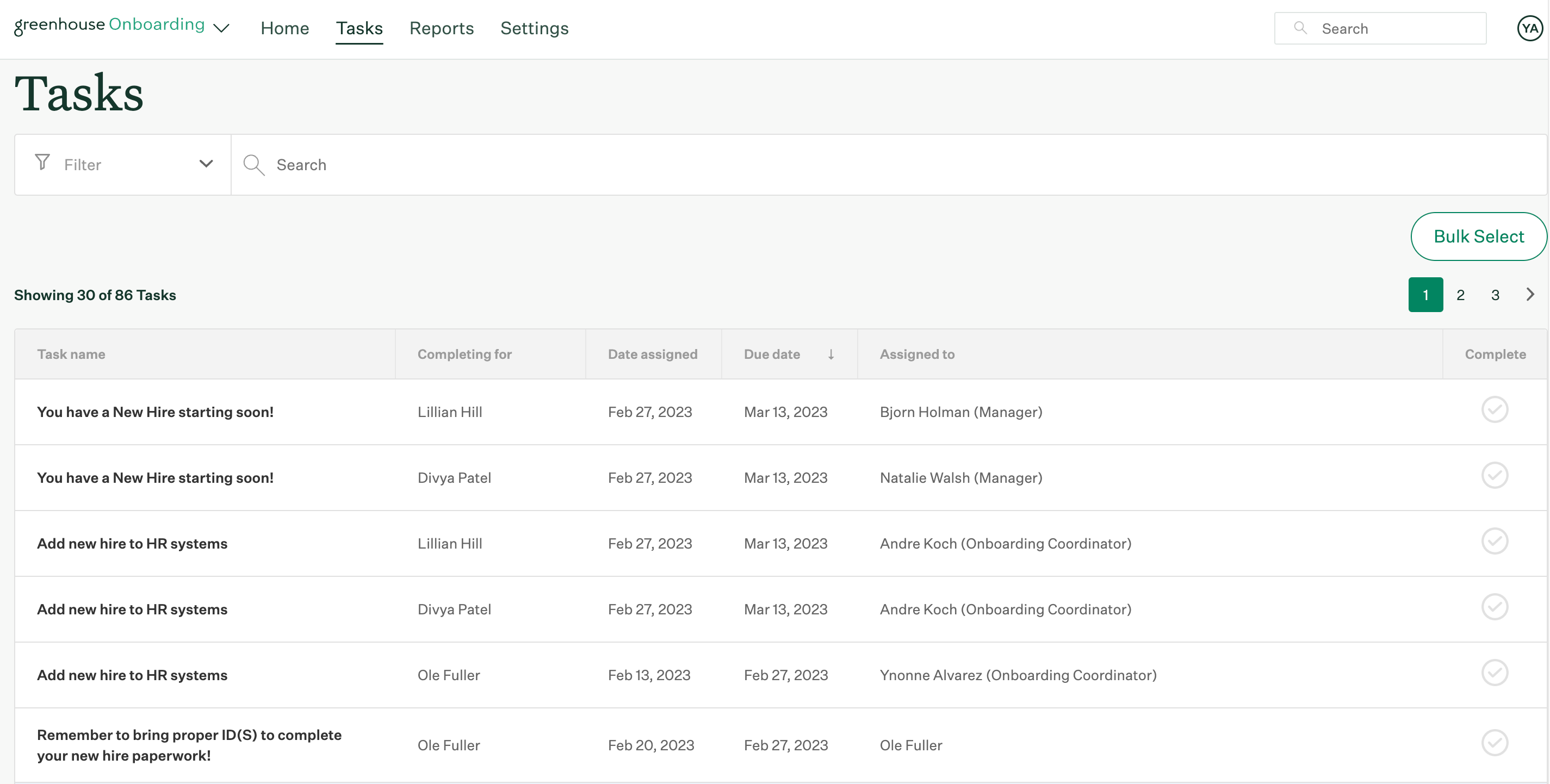 Task report fields
| | |
| --- | --- |
| Field name | Field info |
| Task name | The onboarding task assigned to your employee |
| Completing for | The new hire associated with this onboarding task (Managers and Onboarding Coordinators will complete tasks related to new hires) |
| Date assigned | The date that this task was assigned |
| Due date | The due date for this task |
| Assigned to | The employee assigned to this task |
| Complete | Mark whether this task is complete |
Filter tasks
You can filter your tasks report for increased visibility or use the search bar to find specific tasks assigned to your employees. Expand the Filter panel and apply the following filters to narrow your report results:
Who is responsible
Person the task is for
Person's department
Person's location
Person's employment status
Person's other criteria
Starting between
Note: You can make up to one selection for each filter.

You can also mark the following checkboxes to display overdue, completed, or unassigned tasks in your report:
Show only overdue tasks
Include completed tasks
Include tasks not yet assigned

Click Reset Filters to clear your filter selections and see the full report.

Search tasks
Type a task name into the report's search bar to quickly locate specific tasks.

Bulk edit tasks
Click Bulk Select to open bulk actions for your tasks report.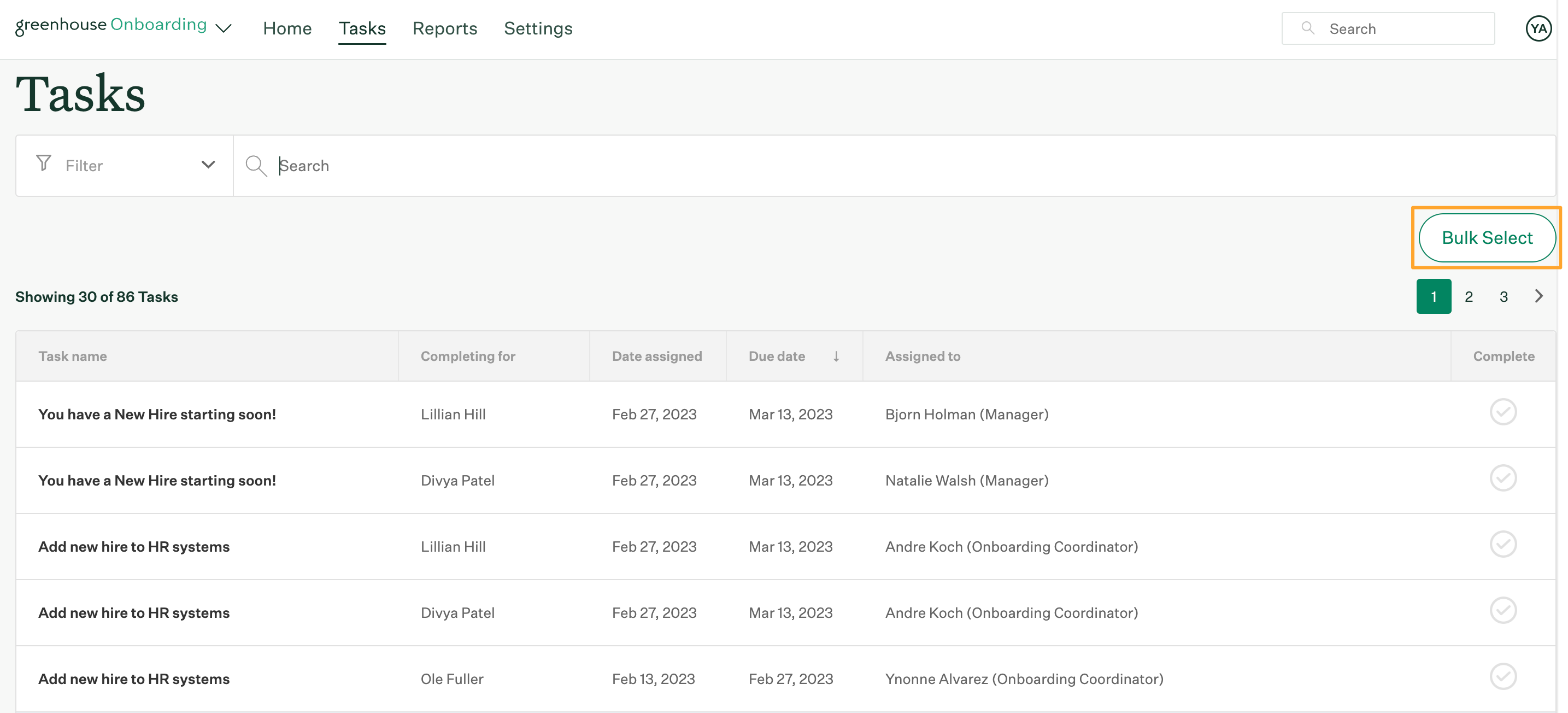 To update tasks in bulk, check the box to the left of each task you'd like to edit. You can mark the checkbox at the report's top left corner to select all tasks.
Click Bulk Actions.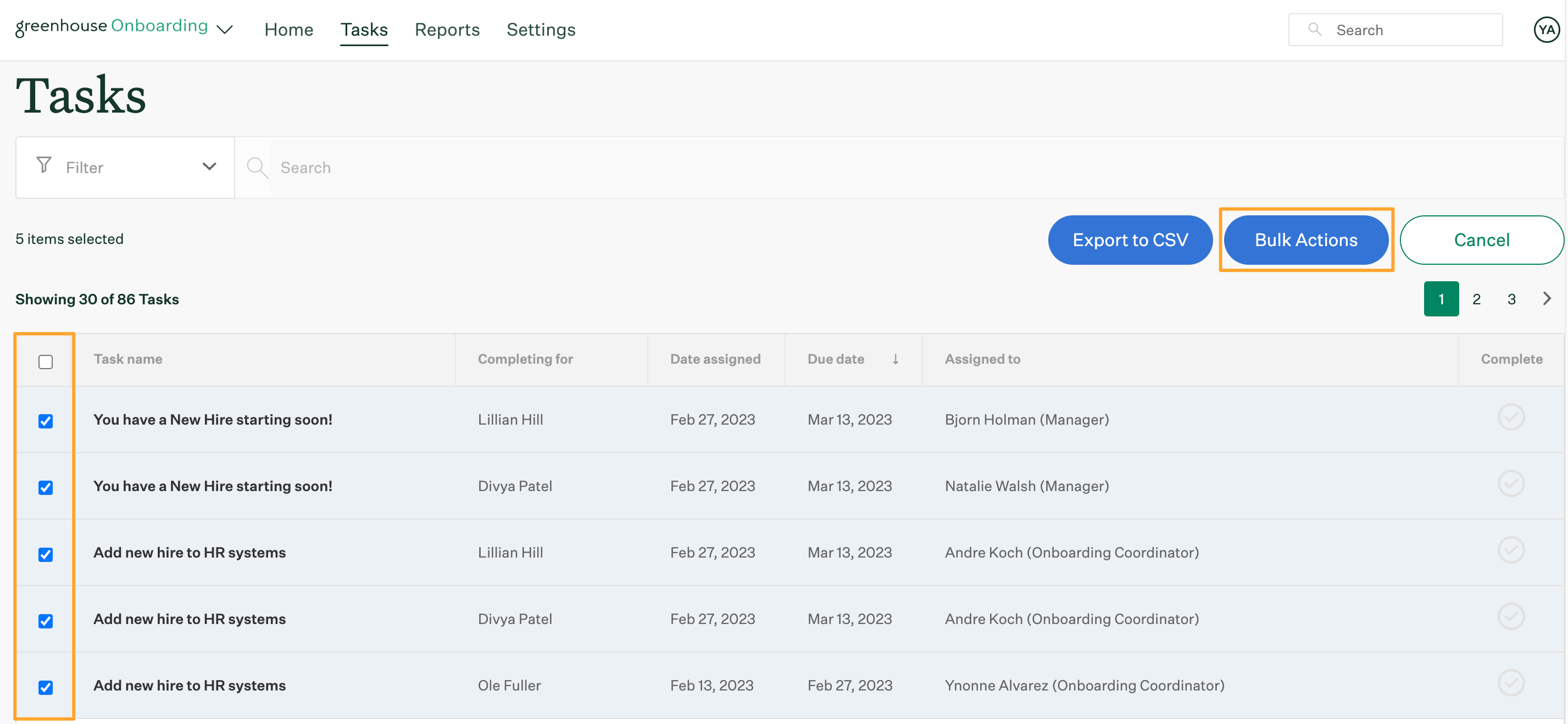 From the Bulk Actions window, you can select to reassign tasks, mark tasks as complete, or delete tasks.
Reassign tasks in bulk
To reassign tasks to another employee, click Reassign in the Bulk Actions window.

In the Reassign Tasks window, choose a new assignee from the dropdown menu. Click Reassign to change the assignee for your selected tasks.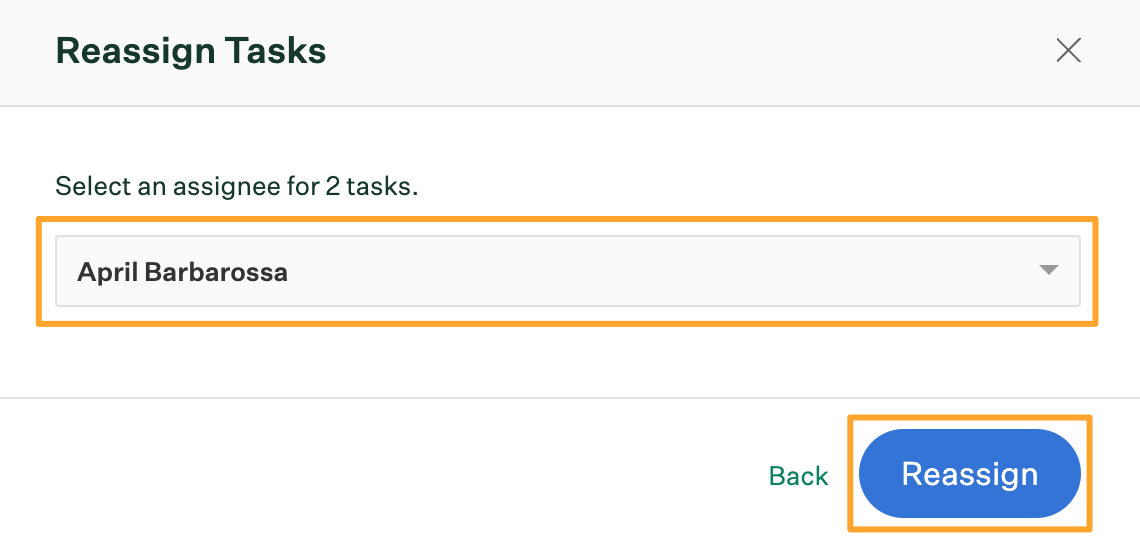 Mark tasks as complete in bulk
To mark multiple tasks complete, click Mark as Complete in the Bulk Actions window.

Click Complete to confirm that you'd like to mark the selected tasks complete.
Delete tasks in bulk
To delete multiple tasks at once, click Delete in the Bulk Actions window.

The Delete tasks window will pop up. Retype the confirmation message to confirm you'd like to delete your selected tasks, then click Delete.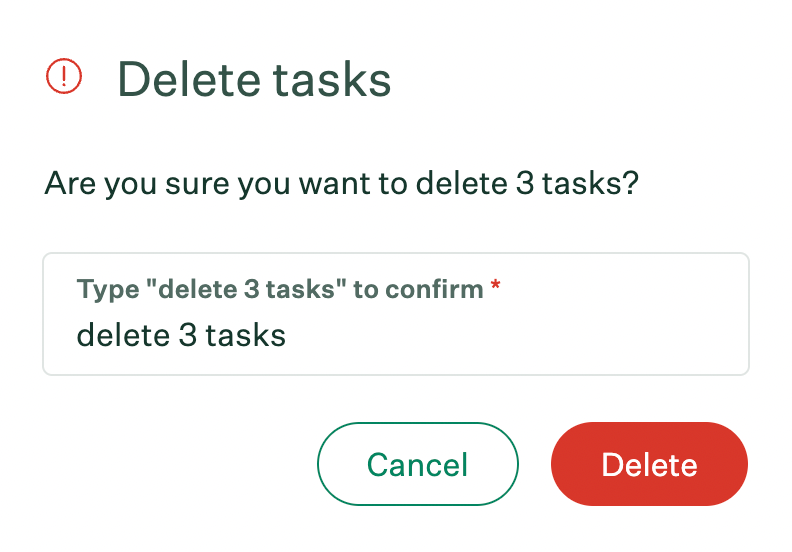 Export tasks report
You can export your tasks to a downloadable CSV file to share task reporting and keep a record of your task statuses.
To export your report, click Bulk Select.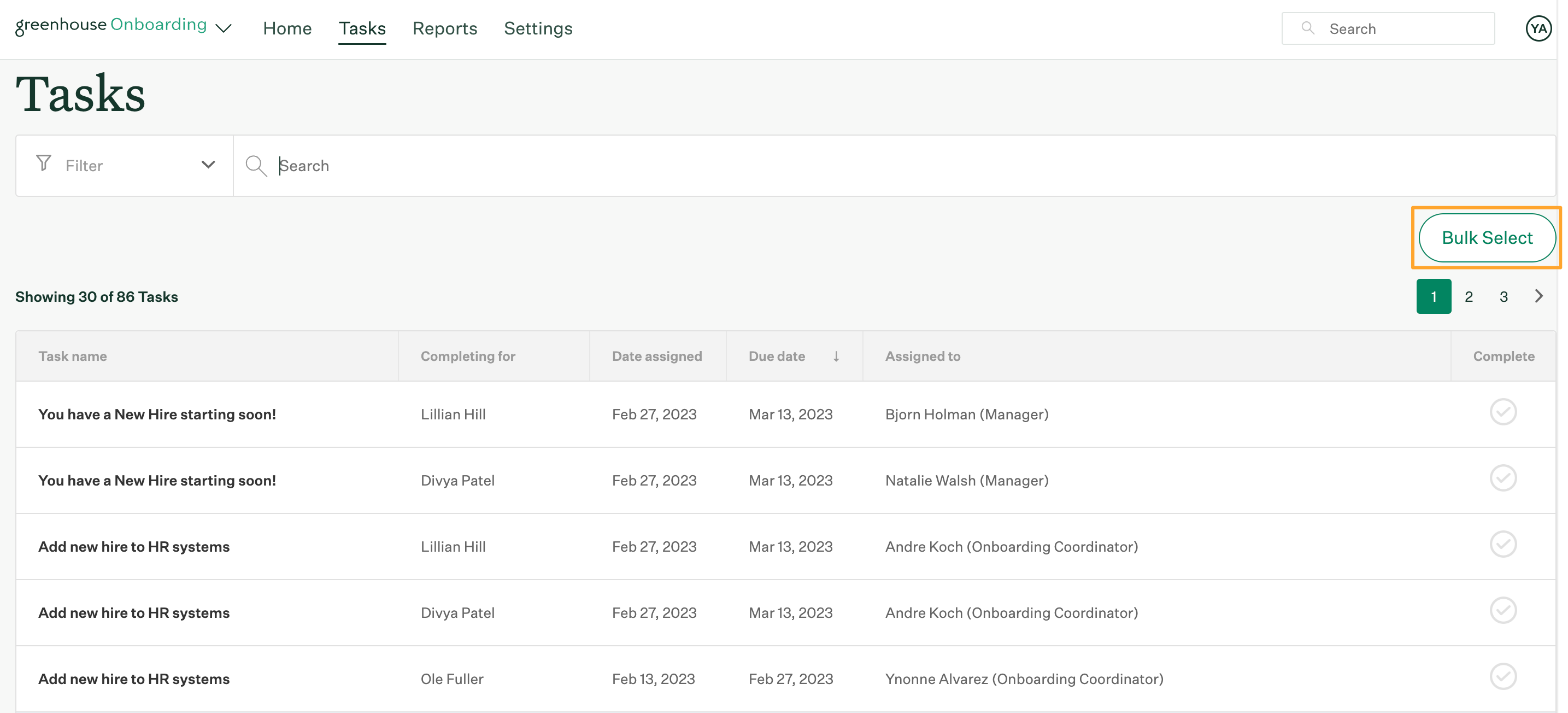 Select the checkbox next to each task you'd like to export. You can also click the checkbox in the report's top left corner to select all available task data. Click Export to CSV.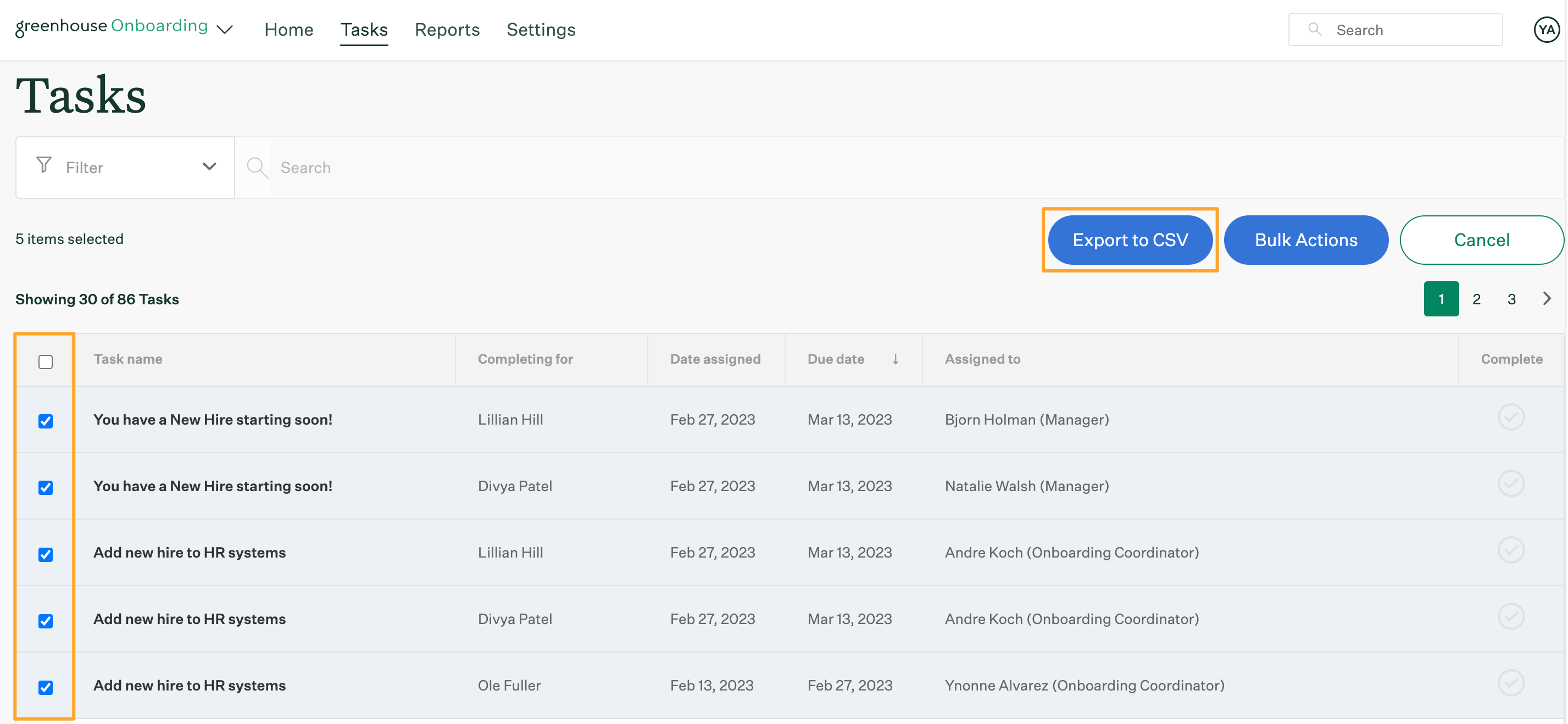 Click Confirm to begin exporting your selected task data.
Once your file has finished exporting, click Download to save your CSV file.

Additional resources