Permissions: Job Admins and above with access to CRM who can advance candidates/prospects
Product tier: Available for all subscription tiers
Prospect pools (and their subsequent stages) enable your organization to organize, track, and manage outreach efforts for prospects within Greenhouse CRM.
In this article, we will cover moving prospects assigned within an existing prospect pool or stage to a differing one.
Note: To learn more on configuring prospect pools and stages, click here.
To move prospects to another prospect pool in bulk, navigate to the Candidates tab and expand the Application Type filter on the left-hand panel.
From the listed drop-down options, filter for Prospects Only and then click Bulk Actions.

Note: To include unattached prospects or prospects uploaded without being organized into a pool, in your results, select the 'Prospects on No Jobs' checkbox within the Application Type filter.
Only users with the 'Can manage unattached prospects permission' can manage these prospect profiles.
Select prospects to include in this bulk action by clicking the checkboxes next to the individual prospect profile.
Click Edit Selected when finished.

Click Move to Another Pool and Stage.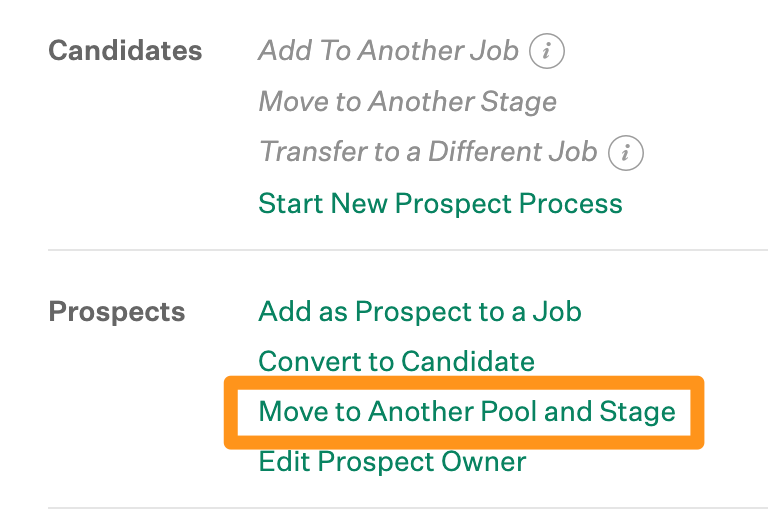 Using the subsequent dialogue box, fill in the updated prospect Pool and/or Prospect Stage fields.
When finished, click Save and the selected prospects will be added to the updated prospect pool and stage.