Permissions: —
Product tier: Available for all subscription tiers
Greenhouse Recruiting utilizes SendSafely, a cloud-based encryption service, to securely exchange your files and sensitive data when interacting with our team.
SendSafely protects your data by allowing authenticated users to access file contents sent or requested when enabling partner integrations in Greenhouse Recruiting or troubleshooting platform usability issues with the Greenhouse Technical Support team.
In this article, we provide an overview of cases where SendSafely links may be requested and how to request SendSafely links for use with Greenhouse Recruiting. 
When do I need to use SendSafely in Greenhouse Recruiting? 
If you need to configure a partner integration. For example, some partner integrations require their API keys are provided directly to the Greenhouse Technical Support team to complete the integration setup. In these cases, a link for SendSafely will need to be requested so you can securely provide your partner API key to our team.
When exchanging screenshots of personal account data while troubleshooting with the Greenhouse Technical Support team. Testing environments are utilized by the Greenhouse Technical Support team when troubleshooting platform usability errors reported by our users. These environments allow our team to potentially replicate and confirm unexpected behavior and/or errors seen and reported in Greenhouse Recruiting so best resolution steps can be provided.

If the team is unable to replicate certain errors or workflows and account access has also been granted, screenshots taken of any sensitive account data provided by you or the Greenhouse Recruiting team should be exchanged using SendSafely.
Use SendSafely to securely share data with Greenhouse Technical Support
To request a link for SendSafely to enable a partner integration or to share other sensitive data securely, open a ticket with Greenhouse Technical Support. 
In your initial request, confirm the name of the partner integration being enabled or additional context on the data you're looking to securely share.
Note: Do not send or attach full, un-redacted API key credentials or files directly within your initial ticket.
You will need to complete identity verification steps prior to Greenhouse Technical Support generating and sending a SendSafely link out for use. These steps help further ensure your sensitive data is being shared in the most secure practice.
Note: SendSafely links are generated through specialized tokens pulled from tickets opened with Greenhouse Technical Support. Created SendSafely links are specific to your open ticket with the Greenhouse Technical Support team and cannot be created in any alternative method. 
Once your identity has been verified, the Greenhouse Technical Support team will respond with a SendSafely link for you to enter the requested file data or API key to securely transmit over.
Note: When providing API keys through SendSafely, select Include secure message checkbox to copy and paste your API key as text.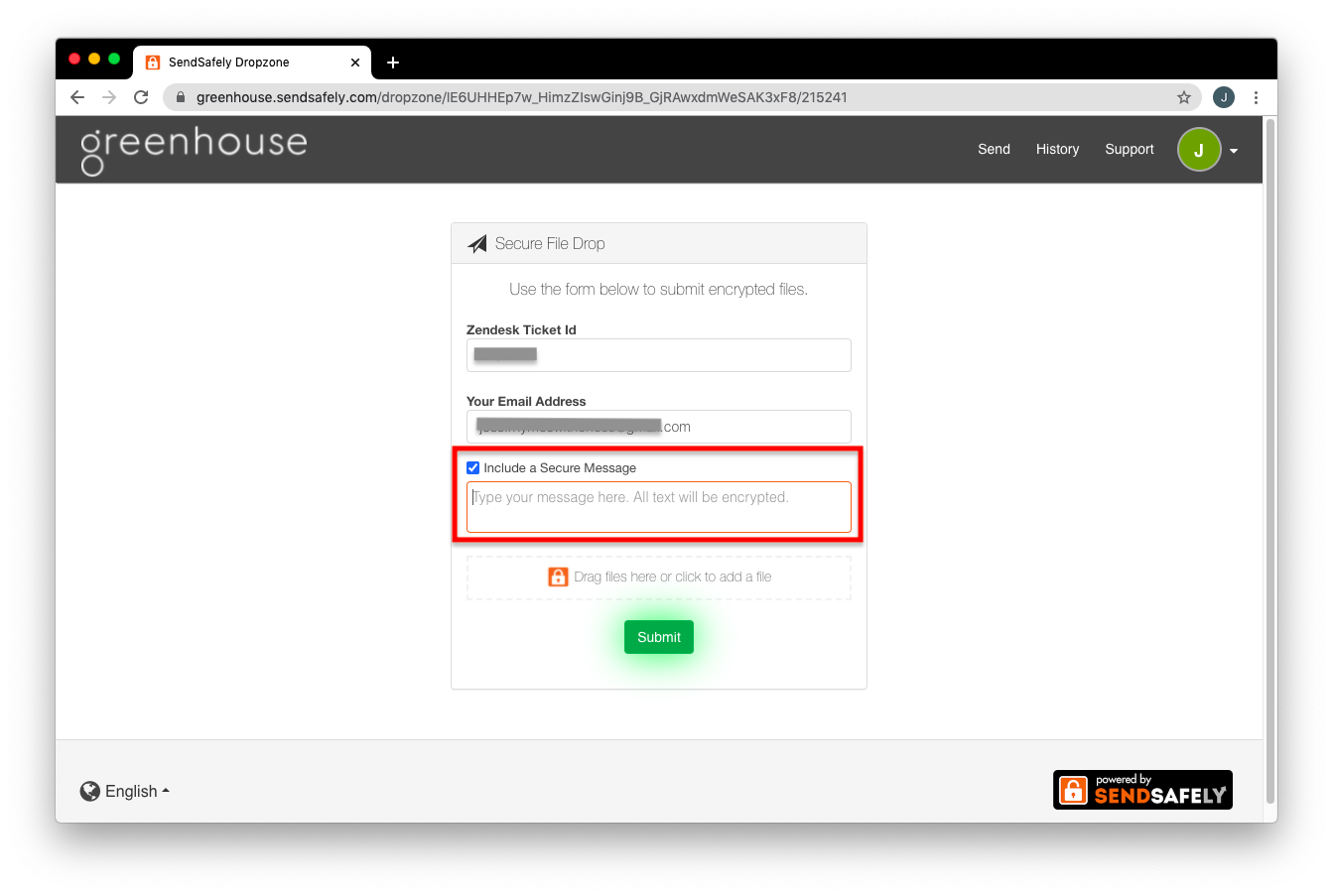 Once your files have been submitted in SendSafely, an automated notification is sent to alert the Greenhouse Recruiting team to review. 
Note: SendSafely link contents can be accessed by all recipients included on your active ticket, including cc'd parties and all internal Greenhouse employees.
For additional information on security practices in Greenhouse Recruiting, click here.