Permissions: –
Product tier: Available to all subscription tiers
Greenhouse Recruiting allows users to harness the reach of professional social media networks like LinkedIn in their recruitment efforts. This article provides an overview of the various ways you can use Greenhouse Recruiting and LinkedIn together.
For an in-depth look at the documentation for a specific feature, check out the sections below:
LinkedIn Limited Listings
In addition to the free posting on GlassDoor and Indeed, you can post your job board to LinkedIn for free using LinkedIn Limited Listings. While these free ads won't show up as prominently as ads purchased directly with LinkedIn, they will hopefully expand your reach and allow you to access an additional subset of candidates at no additional cost to your organization.

Unlike other free external job boards, LinkedIn Limited Listings are handled at an organizational level and these posts will either be On or Off for every job that is currently live on your job board. Some other considerations to make when using LinkedIn Limited Listings are the following:
LimitedIn Limited Listings only appear in search, after relevant LinkedIn Job Slots and Posts, and do not in the recommendations throughout the site (e.g., "Jobs You May Be Interested In" module and email, "Work With Us" ads, "Similar jobs" recommendations, etc.). This means that they are only visible to the subset of members who are actively looking for jobs.
Posters are not able to manage limited listings in Recruiter (or for online, through www.

linkedin.com

), meaning that they don't have access to Job Analytics, suggested matches ("Talent Match," which is being renamed as "Suggested Professionals"), people who have viewed the job, etc.
LimitedIn Limited Listings cannot be sponsored across the site.
For more information on posting your job board with LinkedIn Limited Listings, click here.
Using tracking links on LinkedIn for a single job post
If you are planning to post an open job to LinkedIn, you will want to create unique URLs to the online application so that you can track LinkedIn as the Source for a potential candidate. Once a job has been opened, and the Job Post for the position has been created and made live, you will be able to generate a unique URL to track the candidate's source.
Whatever marketing you may be doing, provide the tracking link to show candidates where they need to click to apply in either the body of the post or in an appropriate field.

Click here for more information on creating a tracking link for a single job post.
LinkedIn job wrapping for tracking multiple job posts
If you don't want to create a tracking link in Greenhouse Recruiting each and every time you post a job ad on LinkedIn, you can talk to your LinkedIn Relationship Manager about LinkedIn Job Wrapping. LinkedIn Job Wrapping is a paid service on LinkedIn that can be leveraged for free if you have 50 job slots or more. The service automatically posts jobs from your Greenhouse Recruiting account into LinkedIn job slots.
In order to implement job wrapping, you will need to provide your LinkedIn Relationship Manager a unique tracking code.
For more details, contact your LinkedIn Relationship Manager and see our documentation on generating a tracking code for LinkedIn Job Wrapping.
Allow candidates to apply directly from LinkedIn with LinkedIn Easy Apply
LinkedIn Easy Apply is an integration between LinkedIn and Greenhouse Recruiting that allows candidates to apply directly through LinkedIn without having to take the additional step of navigating to your company's careers page. In order to enable this feature, you will need to provide LinkedIn with your Job Board's URL Token and a Job Board API Key so they can properly configure your jobs.
To enable the integration, please visit our documentation here.
Add Apply with LinkedIn to your job board
Note: This feature is only available to organizations who have a LinkedIn Recruiter contract or a company account with active job slots.
Greenhouse Recruiting's integration with Apply with LinkedIn allows candidates to automatically import personal information from their LinkedIn profiles to auto-fill applications on a job board with the click of a button!
If a candidate uses the button to begin an application that has been posted to LinkedIn using a paid job slot but does not submit, LinkedIn can record those Apply Starters in LinkedIn Recruiter so you can reach out to them proactively!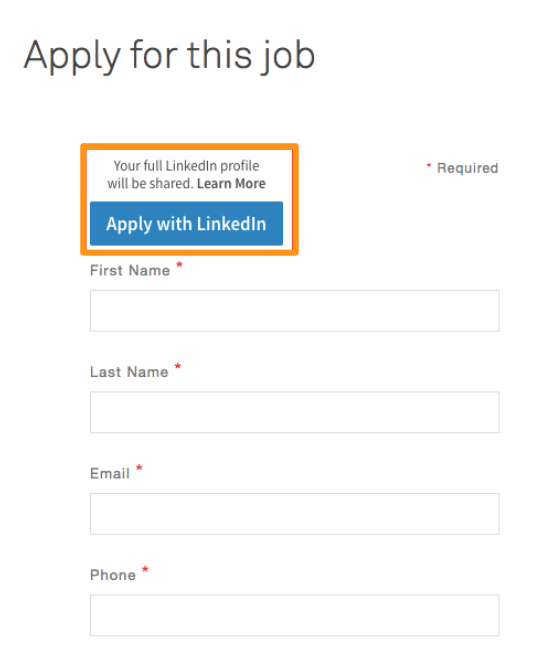 To set up the Apply with LinkedIn Integration for your job board, please visit here.
LinkedIn Recruiter System Connect (RSC) integration
For members of your team that heavily use LinkedIn Recruiter, we've teamed up with LinkedIn to build LinkedIn Recruiter System Connect (RSC), an integration that allows users to leverage their LinkedIn Recruiter accounts directly within the Greenhouse Recruiting dashboard. LinkedIn Recruiter System Connect (RSC) is an integration that allows you to seamlessly source and manage candidate information across Greenhouse Recruiting and LinkedIn Recruiter all on one platform.
Note: This integration is not available for LinkedIn Recruiter Lite accounts.

With LinkedIn RSC, you will be able to match, sync, and view LinkedIn profiles in Greenhouse. You can send inMails directly from Greenhouse.
For an in-depth look into the features of LinkedIn RSC visit our features page, here.
For LinkedIn RSC setup instructions, click here.
Connect Greenhouse Recruiting account to LinkedIn user profile
At Greenhouse, we believe your personal and professional network is a valuable resource for your recruitment strategy. This feature allows a user to link their Greenhouse Recruiting account to their LinkedIn account. Once connected, users can manually post jobs or schedule reoccurring posts to their respective LinkedIn networks.

To learn how to post from your Greenhouse Recruiting account to LinkedIn, click here.
Greenhouse Recruiting Chrome extension
Bring the power of CRM to where you are working. Once installed, the Greenhouse Recruiting Chrome extension allows your organization to add prospects to your Greenhouse CRM from a website, resume, or manually through the plugin without leaving your current workflow.
For customers with a Sourcing Automation seat, the extension also retrieves accurate prospect contact information using state-of-the-art algorithms and multiple data sources.
Read more about the Greenhouse Recruiting Chrome extension here.