Permissions: Job Admin and above who is a LinkedIn contract administrator
Product tier: Available to all subscription tiers
Greenhouse Recruiting's integration with LinkedIn Recruiter System Connect allows you to leverage your LinkedIn Recruiter account directly within Greenhouse Recruiting.
The LinkedIn RSC integration offers you seamless access to consistent, real-time candidate data across LinkedIn Recruiter and Greenhouse Recruiting to streamline sourcing and candidate management.
Note: The LinkedIn RSC integration setup is a one-time process for your entire organization. However, once enabled, each person at your organization who wants to use the integration needs to connect their individual user accounts to LinkedIn Recruiter.
Enable the integration
Activate in Greenhouse Recruiting
Note: LinkedIn RSC isn't compatible with Safari browser. Log in to Greenhouse Recruiting with a supported browser before enabling the integration. Check out LinkedIn support to learn more.
To enable the integration for your organization, log in to Greenhouse Recruiting and click Integrations on your navigation bar.
Search for LinkedIn and click on LinkedIn Integrations in the results.

Click Continue to select your integration option. 

Note: You need to be signed into LinkedIn in the same browser window to see this step. If the widget isn't displaying, you may need to allow cookies on your browser. Check out the following links for more information:
Click Choose package.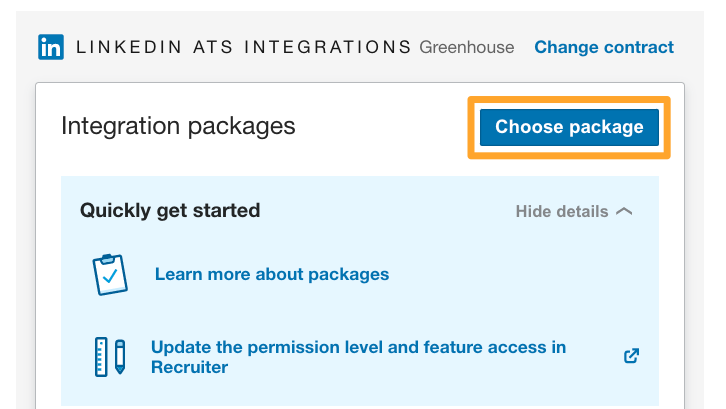 Place the checkbox next to each integration package that you want to attach to your organization in Greenhouse Recruiting. You can scroll in the window to see the ATS, Reporting, and LinkedIn Apply options.
Click Learn more to learn about each integration package on LinkedIn.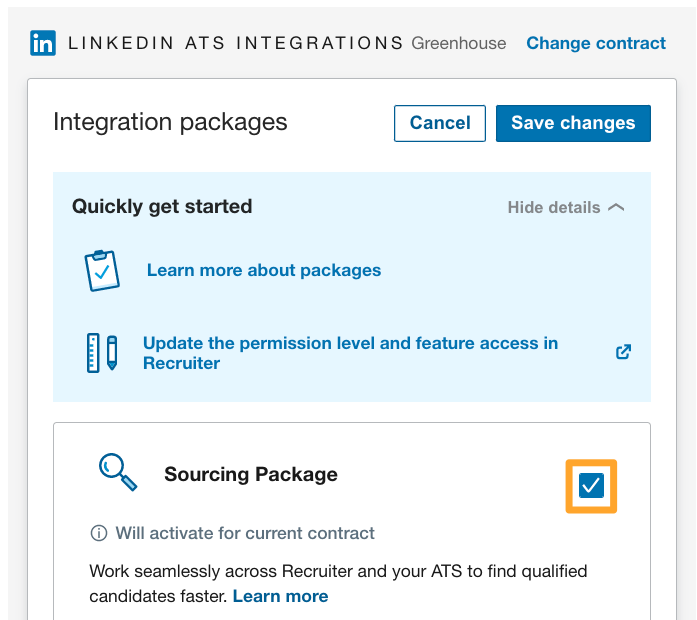 When finished, click Save Changes.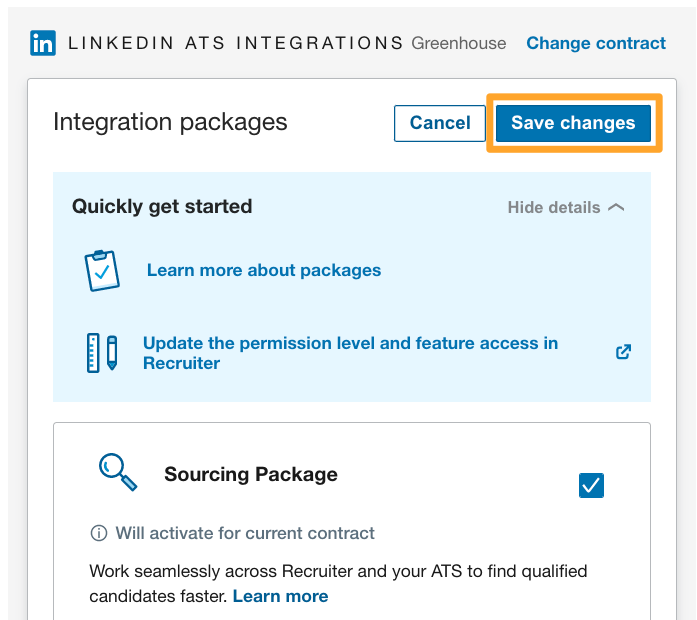 Next, click Notify ATS to send a request to Greenhouse Recruiting.

After a few seconds, the request will process and the integration will be enabled.
Note: When your request is finished processing, you'll see Partner Ready.
Activate in LinkedIn Recruiter 
Next, connect the integration in LinkedIn Recruiter for your organization.
Navigate to your LinkedIn Recruiter account page and hover over your profile image at the top-right.
Click Product settings from the dropdown.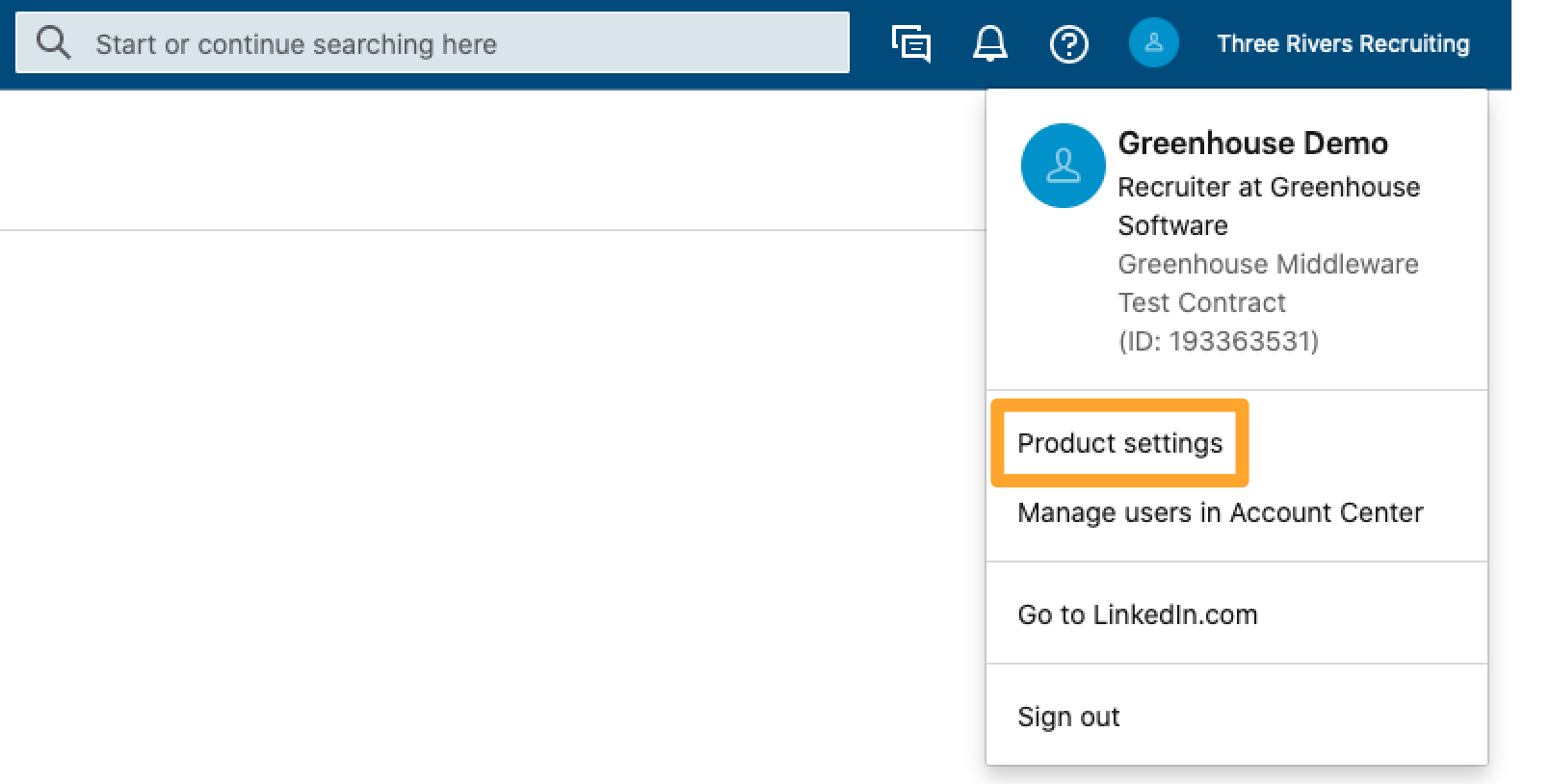 Click ATS integration on the left.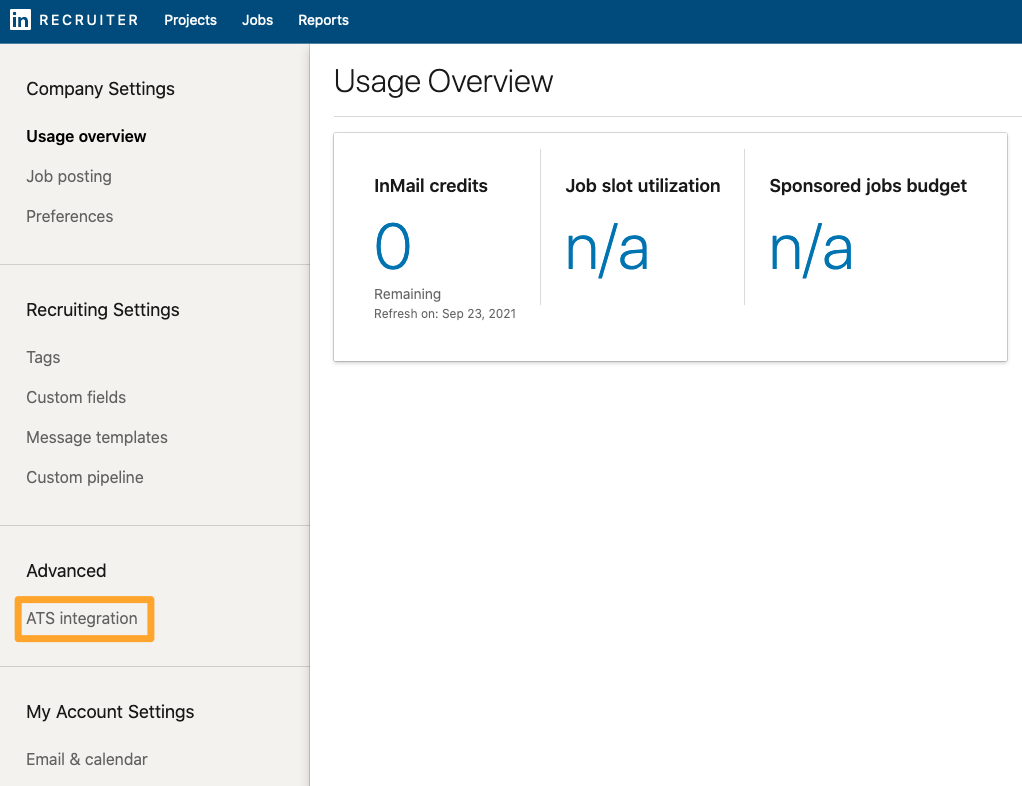 Locate the name of your organization in the list, and click Edit beside the organization name.

Select the checkboxes next to each feature as needed.
When finished, click Save.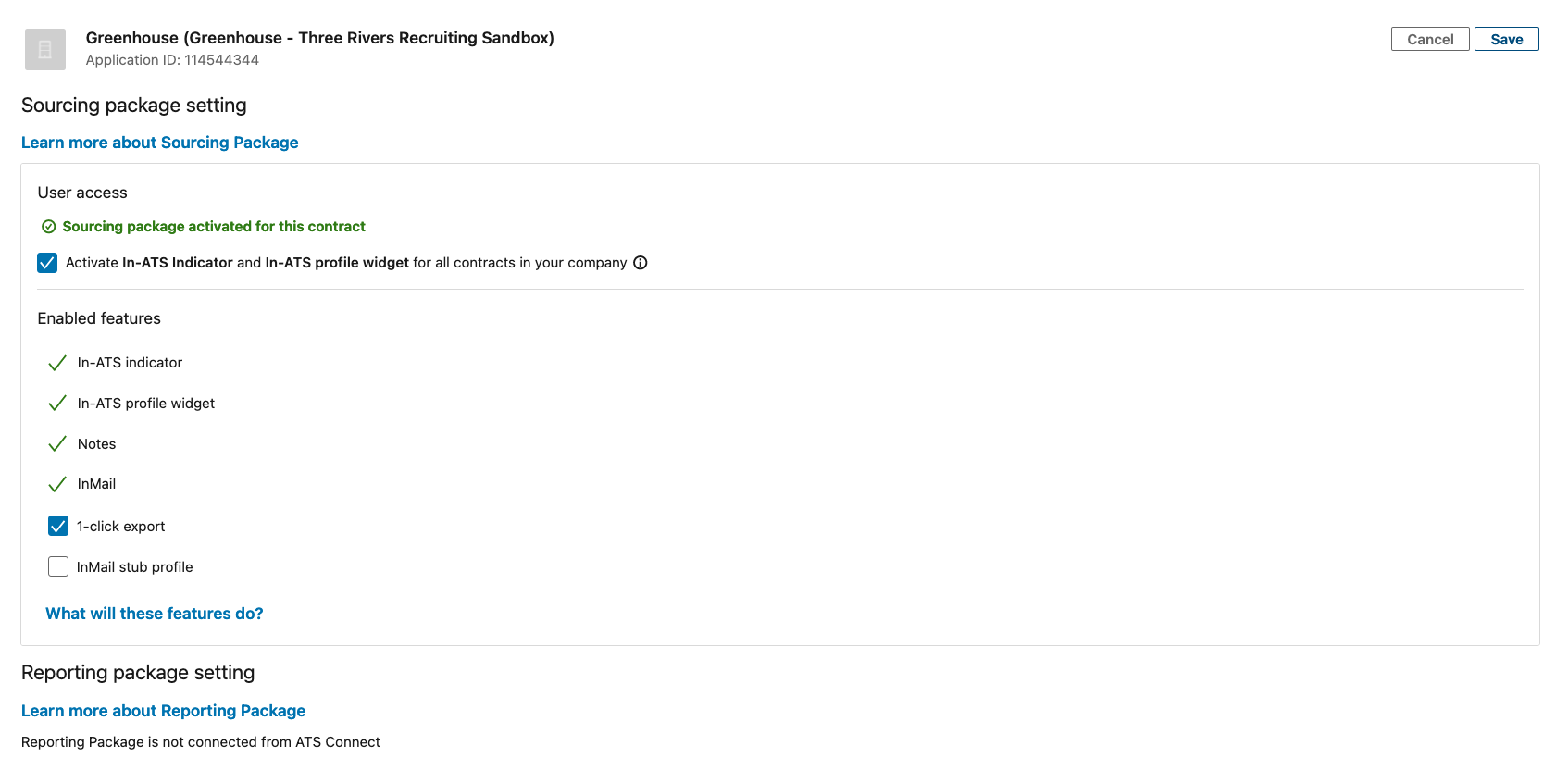 Note: If you have multiple Recruiter dashboards, each Admin must sign in and enable contract-level access from their specific dashboard.
The status shows the contract that you're currently viewing.

Connect your user account to LinkedIn Recruiter
Note: The final step to connect individual Greenhouse Recruiting accounts to LinkedIn Recruiter needs to be completed by anyone at your organization who wishes to use the integration.
After LinkedIn RSC has been enabled for your organization, people at your org need to connect their individual Greenhouse Recruiting accounts to LinkedIn Recruiter.
Log in to Greenhouse Recruiting, and click your initials on the navigation bar. 
Click Account settings from the dropdown.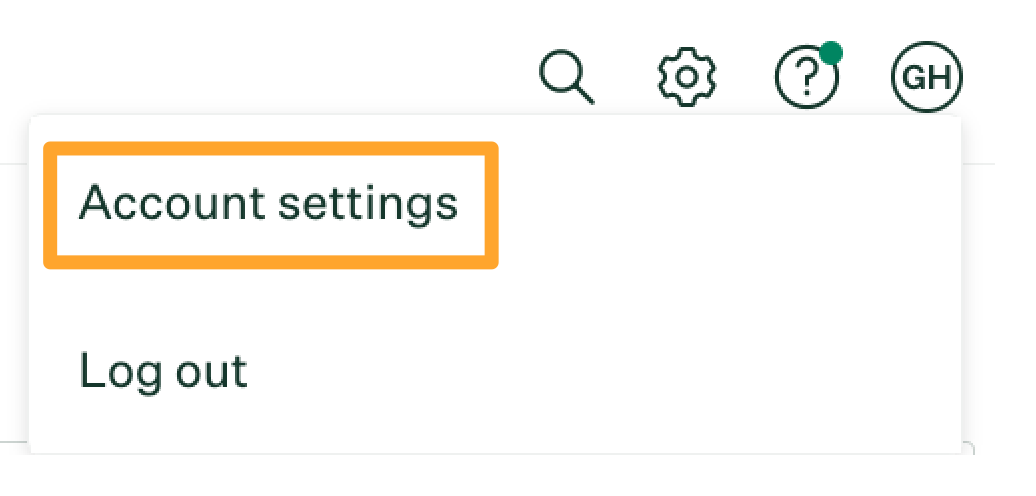 Click Connect under LinkedIn Recruiter System Connect.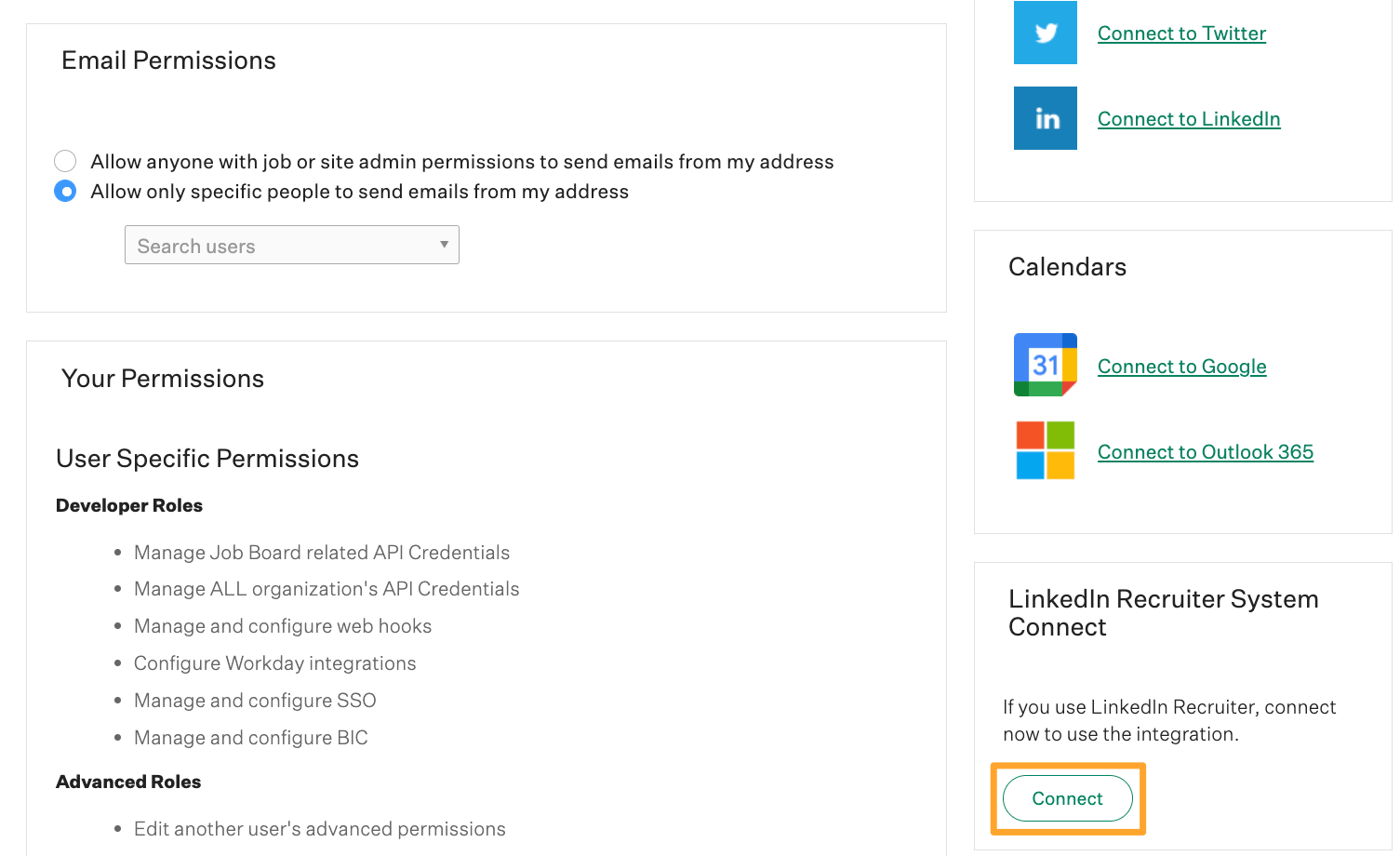 After logging in and confirming the permissions required, your accounts will be linked and you can use LinkedIn Recruiter with Greenhouse Recruiting.