For members of your team that heavily use LinkedIn Recruiter, we've teamed up with LinkedIn to build LinkedIn Recruiter System Connect (RSC), an integration that allows users to leverage their LinkedIn Recruiter accounts directly within the Greenhouse dashboard.  LinkedIn RSC allows you to seamlessly access consistent, real-time candidate data across LinkedIn Recruiter and Greenhouse to streamline sourcing and candidate management all on one platform.
Note:  The user performing this one time set-up must be a Site Admin in Greenhouse and a contract administrator in LinkedIn.
Step 1: Activate LinkedIn RSC Integration in Greenhouse
To start, click the ellipsis from your navigation bar and select Integrations from the dropdown menu.

Use the provided search bar to search for LinkedIn and click on LinkedIn Recruiter System Connect in the results list.

From the LinkedIn Recruiter System Connect page, select Request.

The Request button will change to read Notify Partner after your request has been sent. It takes an estimated 10 seconds for Greenhouse to process your request.
Note: To confirm that we have processed your request, click Notify Partner and refresh the page. When your request is finished processing the button will read Partner Ready.

Step 2: Connect LinkedIn Recruiter to Greenhouse
The next step to setting up the LinkedIn RSC integration is to connect LinkedIn Recruiter to Greenhouse. Navigate to your LinkedIn Recruiter Account page. Under the More tab, select Admin Settings from the drop-down menu.

From your Admin Settings page, click on the ATS tab. Locate the name of your organization and expand the settings by clicking on the downward facing arrow.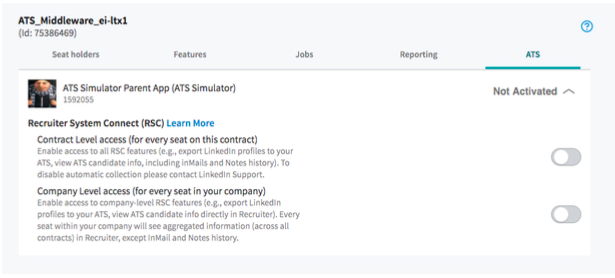 Enable Contract Level access or Company Level access as needed. For details on what each of these feature level access means, please click on Learn More.
Note: If you have multiple Recruiter dashboards, each Admin must sign in and enable Contract Level access from their specific Dashboard.
The status under the ATS tab in Recruiter Admin settings will display Activated when either Contract Level, Company Level access, or both toggles are enabled. The three possible states are shown in the figures below: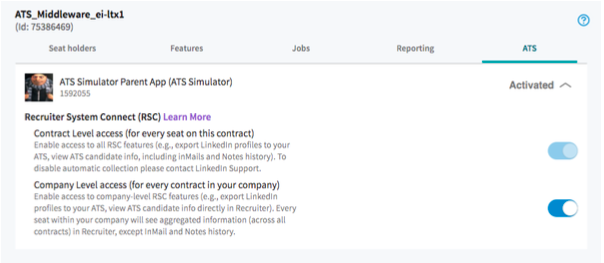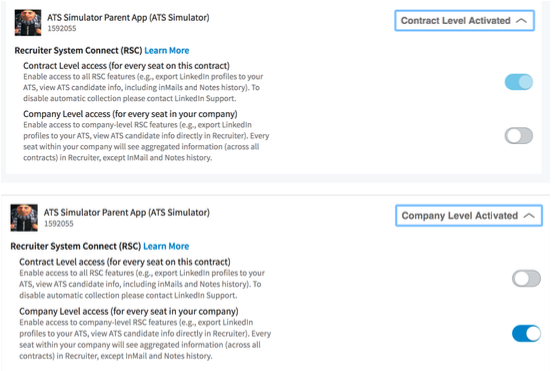 Additionally, the status of the integration in your ATS shows the status at the contract that you are currently logged in to. This means that when Contract Level access has been activated in Recruiter Admin settings, the status will display Enabled.

When Company Level access is activated but Contract level access is not, the status of the integration in your status stays as Partner Ready, but now states that Company Level access has been enabled.

Step 3: Connect your Greenhouse Account to your LinkedIn Recruiter  
Note: This last step of connecting individual Greenhouse accounts to LinkedIn Recruiter will need to be done by anyone who wishes to utilize the integration.
After LinkedIn RSC has been set up by a user with Site Admin level  permissions, you will be able to connect your individual user account to LinkedIn Recruiter. Through this connection you will be able to streamline the sourcing and management of candidates across both systems all on one platform. 
Navigate to the upper right-hand corner of your Greenhouse account and click on your Name.  Click on Account Settings from the dropdown menu.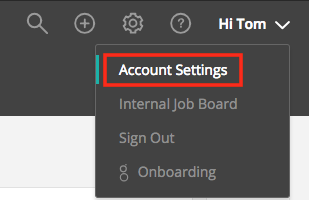 From the Account Settings page, navigate to LinkedIn Recruiter System Connect and click on Connect. A new page will ask you if the information is correct. If it is, click Allow. Your user account is now connected to LinkedIn Recruiter and you are will be able to access information seamlessly across both systems.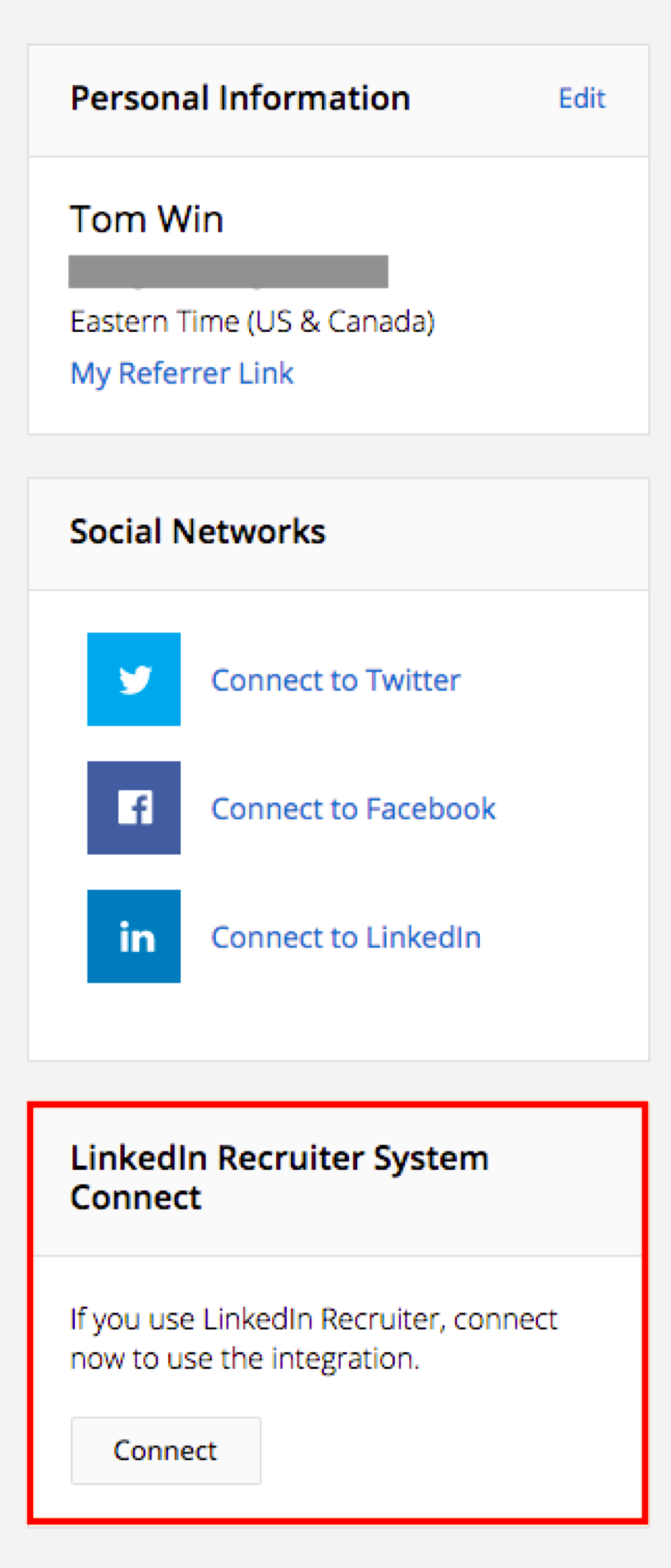 For more information on how to use LinkedIn Recruiter System Connect please visit: LinkedIn RSC Features in our help center or contact our support team.