The stage transition notification email is delivered once a candidate is moved from one stage in a job's interview pipeline to another stage. Only users added to the job's notification list for stage transition will be notified.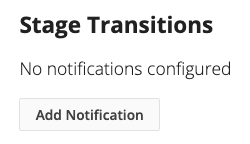 Note: If you are configured to be notified of stage transitions for a job and also performed the stage transition for a candidate, you will not receive a notification.
To learn more about configuring notifications for stage transitions or other job events, click here.