This Power Reports feature comes with Pro and Enterprise Accounts. Contact renewals@greenhouse.io to upgrade your account to include "Power Reports" features if you have a Core Account. 
Have you ever spent time configuring a report so it's just so and wished there was a way to preserve that view for reference later? You could bookmark the url in your browser, but then you had to keep those bookmarks saved somewhere - and knowing which bookmark relates to which report can be a big hassle. To help alleviate some of this pain and set Greenhouse up to support Scheduling reports in the near future, we're rolling out "Saved Reports."
When viewing a report, you'll see a a new "Save" button that opens a window where you can name your saved report: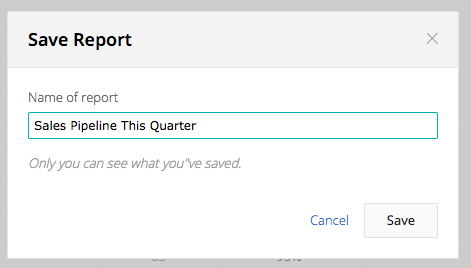 Once you've saved your report,  it will show up both on the reports homepage and the report flyout. If you want to remove a saved report - you can simply "X" it out from the reports homepage. 


Some quick notes: 
These are your saved reports, so they will only show up for you throughout the app. Sharing the URL will look something like this — https://app.greenhouse.io/reports/interviewing_pipeline?saved_report_id=11 — meaning other users won't be able to view them. 
Two reports cannot share a name (per user) - so we recommend making the report names as specific as possible so you don't run into any issues down the line.
When viewing a Saved report, the "Save" button will be inactive until you make an update. Once you do, you can hit "Save" again to save your changes!
Saved Reports tip: With relative date filters (such as "Previous Quarter"), you can Save a report and never have to edit it again! The dates will automatically update with you as time passes.