This feature is only available to Pro and Enterprise Customers. 

Have you ever struggled to share recruiting data with other members of your team? Sure, you can Slack them a link to a report you've generated or export the Excel file and send it to them, but it's not a straightforward process and requires them to remember to check in later. To streamline your efforts to share great data and set ourselves up for Scheduled reports, you can easily email reports to your colleagues directly from Greenhouse!

When viewing either a standard or saved report, you can now click the new icon at the top of the page to send the report via email! Clicking will allow you to author your message to one or more users before sending it straight to their inboxes.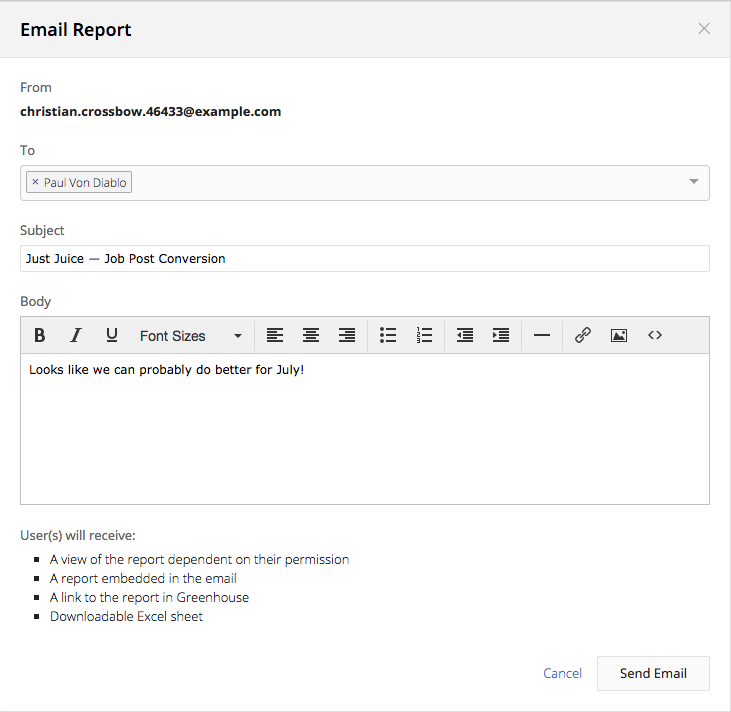 When you email a report to another user, Greenhouse will first check their permissions to see if they are allowed to access the report at all. If you send one to a Basic User or Interviewer, or if you try to send a report with Private Data to an user who can't access it, the report won't send.
Even if your recipients are allowed to see a given report, they might see a slightly different version than you do. That's because the emailed report shows the exact data they would see if they logged into Greenhouse, so any jobs or candidates they don't have access to will be removed before sending. If you want to share your exact report with someone who doesn't have the same permissions, you can email it to yourself and then forward that to other users instead!

When your recipients open your email, they'll see your message, the report in the body of the email, a link to view the report in Greenhouse, and an Excel version.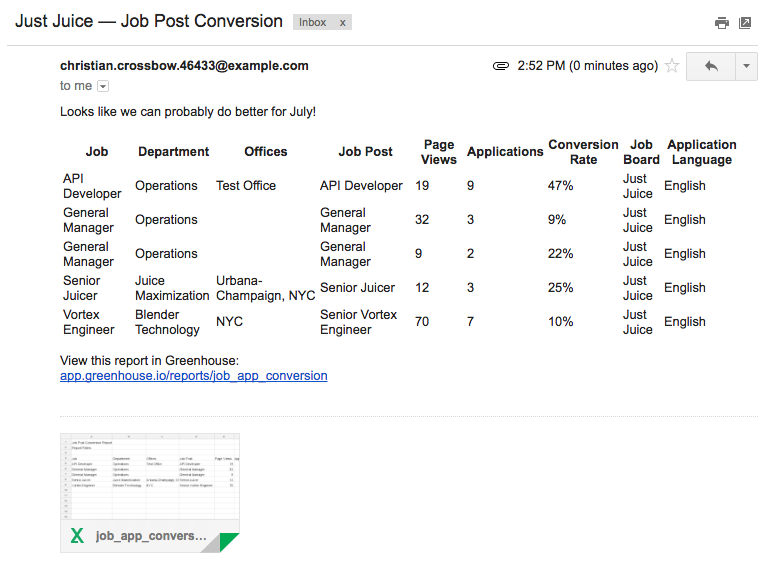 Please Note: Because they contain a large amount of candidate data, the Offer Details and Scorecard Feedback Reports will not appear in the body of emails or as attachments. Instead, an expiring link will be attached to allow your recipient to download the report for 24 hours.