Permissions: Job Admin or above
Product tier: Available for Advanced and Expert subscription tiers
Greenhouse Recruiting allows your organization to save any report configured within the application for quick and easy reference.
Note: Saved reports are stored on a per-user basis and sharing the URL of the report will result in an error. To share a saved report, use either the Email Report or Schedule Report feature.
To save a report, click the Ellipsis icon

on the navigation bar and select Reports from the dropdown menu.

From the Reports Overview page, click Essential Reports.

On the Essential Reports page, choose the report you wish to run.

Edit the report if necessary using the provided filters.
Tip: With relative date filters (such as "Previous Quarter"), you can save a report and never have to edit it again. The dates will automatically update with you as time passes.
When finished, click Save at the top of the report.

Use the subsequent dialog box to give the saved report a unique name. Click Save when finished.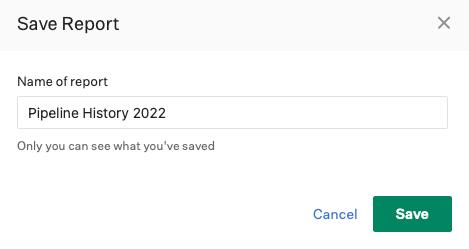 The report is saved!
To view all of your saved reports, return to the Reports Overview page and click Saved Reports on the left.