If your Greenhouse Recruiting account and Google account authentication expire, you won't be able to access the schedule page and will see the error message, "Sorry, but we ran into an error loading this page."
To fix this issue, you'll need to disconnect and reconnect your Google Calendar integration.
Disconnect Google Calendar
To disconnect a linked Google Calendar, navigate to the integrations page and click the Google Calendar tile. (Integrations > Manage Integrations > Google Calendar)

Click Disconnect in the pop-up window.

You will see a notification at the top of the page confirming your Google account has been disconnected from Greenhouse Recruiting.

Reconnect your Google Calendar
After you disconnect your calendar, click Connect in the same window.

You will be redirected to a Google login page. Choose your account, enter your username and password, and follow the steps as they appear.
Note: Make sure to use the Google credentials associated with the calendar where you schedule.
Click Allow to confirm your intent to connect Greenhouse Recruiting with your Google account.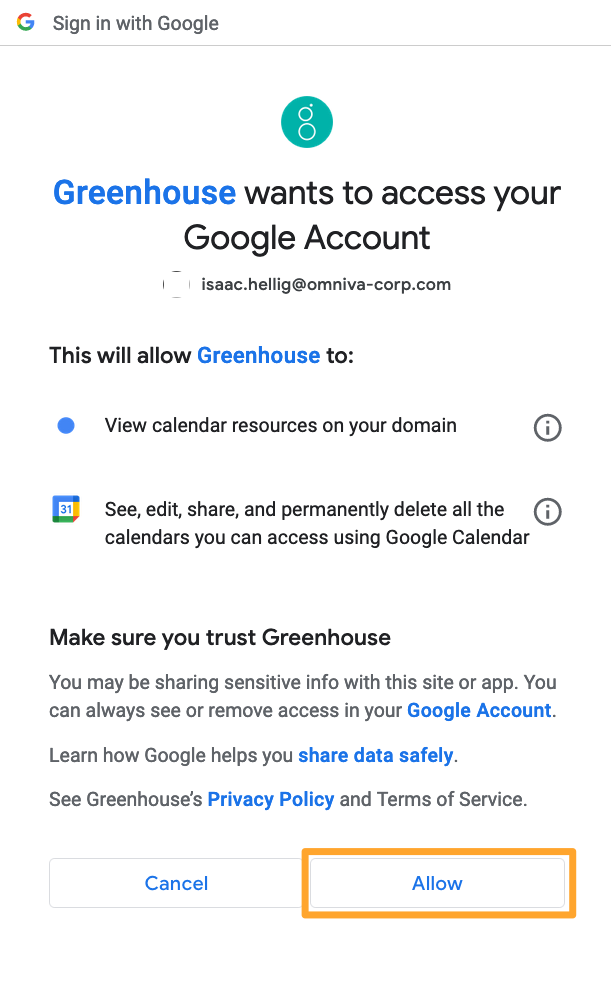 After the integration is complete, you'll be directed back to Greenhouse Recruiting. Close the integration window and attempt to schedule the interview again.
If you are still having issues, please contact Greenhouse Technical Support.
Additional resources