Interview kits are used by interviewers to prepare for their interviews, record their assessments, and evaluate candidates on Scorecards. In addition to structured categories and attributes, interview kits can also contain custom questions that interviewers ask candidates. In this article, we will cover how to add a custom question to an interview kit for an existing job. 
Navigate to a specific Job Dashboard by clicking All Jobs from the navigation bar and select a job from the subsequent list.  

From the Job Dashboard, click Job Setup and navigate to Interview Plan on the left-hand panel.
Click Edit next to a specific interview kit.

From the interview kit, navigate to the Custom Questions panel and click Add Custom Question.

From the subsequent dialog box, input the custom question in the appropriate field and select an answer type from the provided dropdown menu.
Note: If Single Select or Multi Select is chosen, provide each possible response on a separate line in the subsequent field. 
To make a question required, place a check in the checkbox next to Required.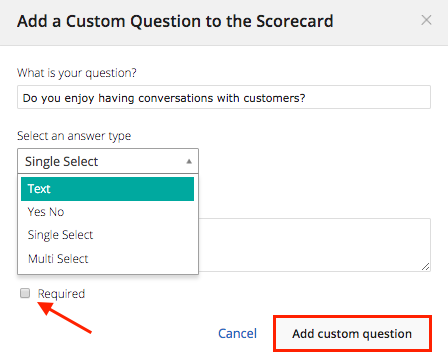 When finished, click Save.