Permissions: Job Admin and above with CRM access and a Sourcing Automation seat
Product tier: Available for all subscription tiers with the Sourcing Automation add-on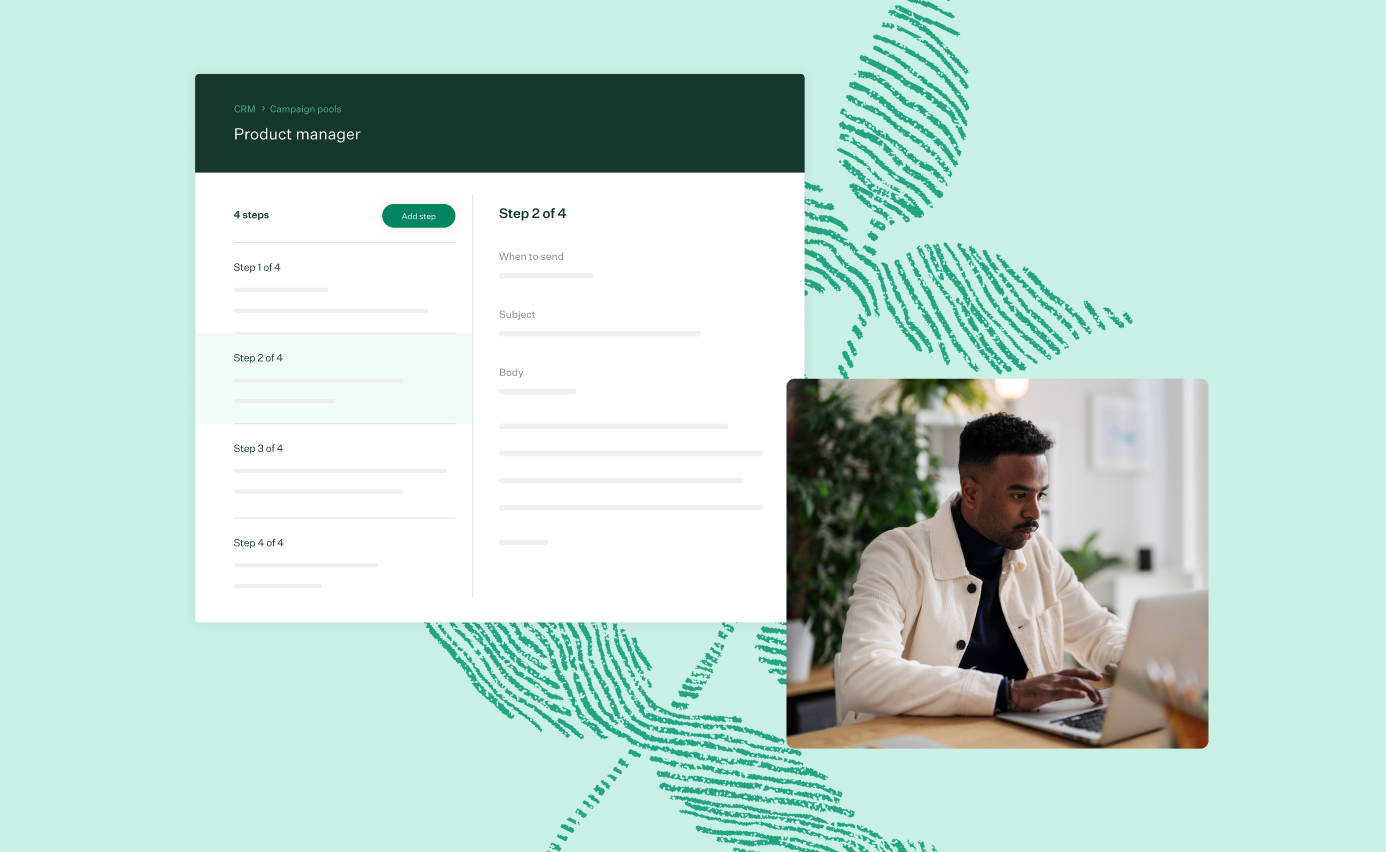 Outbound sourcing and engaging passive talent is an important component of any recruitment team's overall sourcing strategy. In a competitive talent market, you may be looking for new and effective ways to design and structure outreach to find, reach, and engage prospective candidates.
With this in mind, we've gathered several best practices and templates to make your sourcing strategies and emails effective.
This information and more can also be found in our eBook, Outbound sourcing: Best practices for talent leaders which covers:
How to create engaging email outreach content and sourcing email templates to set you up for success
How to structure and optimize sourcing outreach campaigns using best practices
Common mistakes and what to watch out for when sourcing
Email frequency
Number of campaign steps
An effective recruiting outreach campaign has three to four email steps since it shows persistence in your outreach efforts. Sending as few as one to two emails can get lost in a prospect's inbox, while sending more than four emails can cause frustration.
Campaign-level scheduling
By default, campaign messages send based on each step sender's configured timezone and schedule in their personal Sourcing Automation settings. We recommend configuring a campaign-level schedule to send campaign messages more consistently to prospects across time zones.
When you turn on this feature, each message in your campaign pool will send according to the campaign-level timezone and schedule, regardless of sender.
Learn more about configuring a campaign-level schedule.
Engage campaigns
For roles with fast-approaching hire dates, we recommend creating an engage campaign and running your campaign for a duration of two weeks for each prospect. This should be enough time to engage with prospects and add them to your pipeline.
Engage campaigns have the following minimum wait times:
Step 1: 10 minutes
Steps 2 and beyond: 1 day
Example:
Use these recommended wait times when scheduling your engage campaign steps:
First email: Same day
Second email: 2 days after no reply
Third email: 3 days after no reply
Fourth email: 5 days after no reply
Nurture campaigns
We recommend creating nurture campaigns if you're recruiting prospects from your existing talent pool or for evergreen job openings. In addition, nurture campaigns are a great tool for staying in front of prospects when you don't have active openings. Unlike engage campaigns, your efforts in nurturing prospects should occur on an ongoing basis.
Nurture campaigns have the following minimum wait times:
Step 1: 7 days
Steps 2 and beyond: 30 days
Sending a campaign email once per month should be sufficient to share more insight into what it's like to work at your company, specific details about the roles you're hiring for, or any other relevant information worth sharing with the prospect. We recommend adding a featured job post token to your nurture campaign steps to highlight your current featured jobs to prospects.
Template tokens
You can use default and custom candidate tokens in the subject line and email body of your campaign pool steps.
When building an email template or writing your campaign message from scratch in the step editor, use the Insert Token dropdown to select from a list of available default and custom candidate tokens.
Available default tokens include the following:
Token name
Meaning
Email
Prospect's email address
Name
Prospect's first and last name
First name
Prospect's first name
Last name
Prospect's last name
Company name
Prospect's current company
Title
Prospect's current job title
Phone number
Prospect's phone number
Location
Prospect's address
Today

Tomorrow

Next business day

Two business days
A certain day of the week. This day is based on when the email is delivered.

Example: If you use the Two business days token and the email is sent on Wednesday, the day used in the email will be Friday.
Featured posts
Your organization's featured external job posts
Subject line best practices
Your email subject line is essential for making a great first impression with prospects.
Follow these best practices to optimize your email open rates:
Topic
Best practice
Length
Keep the subject line short and concise. It's recommended to keep your character limit to 30 characters or less to ensure it doesn't get cut off. This is key for mobile devices – keeping the subject line short and sweet optimizes the limited space.

If you include a call to action, such as asking to book time for a phone call, you'll want to add it to the beginning of your subject line to emphasize the action item.
Test different subject lines
Test different subject lines to find what works best. One way to find out which subject lines perform best is to test them out yourself.

While some subject lines may perform well for others, they may not perform well for everyone. Some email campaigns have different goals, so you might see different results depending on what you're trying to accomplish.
Location
Mention a location to provide more context to the prospect about where the opportunity is located. This can help boost open rates, especially if the job opening is within the same area as the prospect's location or a remote opportunity with more flexibility.
Avoid misleading subject lines
Having a deceptive subject line can leave a negative impression on the recipient, especially if this is your first interaction with them. We've seen common mistakes that include using "Re:", "Fwd:", and other misleading context in the subject line in your first email interaction with the recipient.

Instead of using these tactics in your email outreach, make sure the email body aligns with the subject line's context to establish trust in your initial interaction with the contact.
Subject line templates
Here are a few subject lines we've seen success with:
Example:
[First Name], about your LinkedIn post (or comment)
[Their company] to [Your Company]?
[Department] opportunity @ [Your Company] — let's chat?
Remote [Job Title], [Your Company]
Congrats [First Name]
Email copy best practices
The most efficient way to scale your outreach is to create email templates that recruiters on your sourcing team can use and adapt to specific jobs.
Here are some best practices to keep in mind:
Topic
Best practice
Length
When analyzing body copy performance, email response rates increased to 42% when the length was less than 200 words. Similarly to subject lines, it's best to keep the body of the email short and sweet. Greenhouse recommends 125 words or less.

If an email appears lengthy at a quick glance, it can deter the contact from reading the message altogether. Instead of having long paragraphs, try divvying up the information into shorter, organized paragraphs or bullet points to make it reader-friendly.
Avoid impersonal emails
It's essential to always include the person's name in the greeting, especially if you want them to pay attention to your cold email. Emails that are too vague and generic can discourage the prospect from reading the entire message and some services, such as Gmail, can flag generic emails as spam.

Additionally, not identifying a specific person in your email can be interpreted as spam and potentially lead to getting blocked.
Sincere emails
Be direct about why you're reaching out while ensuring the tone and message in your email are polite, professional, and to the point.

Starting off emails with "hope all is well" or "hope this finds you well" may not be the best approach for an email outreach campaign. While this can be a popular phrase, including this saying doesn't sound very sincere – especially if you don't know the prospect and this is your first interaction with them.
Provide a call-to-action (CTA)
Focus on one or two (at most) CTAs in your email such as asking for a time to chat or to connect on LinkedIn. Having multiple, unclear CTAs can overwhelm the recipient and result in confusion about what you're asking of them.
Email copy templates
Now that you know more about the benefits and best practices of templates, here are a few types you can consider building when getting started:
Note
: As you fill in the templates, Greenhouse recommends you keep the word count to 125 words or less if possible. Replace the brackets in the templates with either free text or with their respective
token
when adding the template to a campaign pool.
Introductory email
The introductory email is the first touchpoint you'll make with the prospect that also sets the tone for the rest of your multi-step outreach campaign.
Share a quick introduction about yourself and your company. For example, "My name is [your first name] — I'm part of the [your team name (i.e. Talent, recruiting, etc.] team at [your company]."
Mention how you found the prospect, whether that's through LinkedIn, a referral, or any other sourcing method
Focus on why you're reaching out to them and highlight any key information about the open role. For example, an overview of the role at a high level and the company such as company background
Hi [first_name],
Hello from [your company]! I hope this message stands out because I'm impressed by your experience at [their company]. Your background caught my eye and I had to reach out.

I'm thrilled to be hiring a [job title] for the growing [department/team] at [your company name]. Based on your experience [highlight a relevant responsibility they hold at their current or previous role], it feels like this opportunity would be a great match.
In this role, you'll be responsible for:
[highlight a key responsibility of the job]
[highlight a 2nd key responsibility of the job]
[highlight a 3rd key responsibility of the job]
Sound interesting? I'd love to share more details with you about the position and where [your company] is headed. You are welcome to add time to my calendar [make "my calendar" a text link to your calendar].
Cheers,
[your first name]
Follow-up email
Follow-up emails should provide incremental value to prospects. Use these emails to offer additional context that you think would benefit the prospect, whether it's outlining specific responsibilities of the role or sharing a resource where they can learn more, such as the company blog or another asset.
Hi [first_name]!

I am following up about the [job title] at [your company]! I shared your profile with our [team hiring manager title (i.e Senior Customer Success Manager)] and they wanted to be sure I did my best to connect with you for an initial conversation. I've added their LinkedIn profile here if you'd like to learn more about who you'll be working with:

[hiring manager name, job title: LinkedIn profile URL]

From what I've seen so far, it feels like this position would be a strategic challenge for you given your experience as a [prospect's current job title].

I'd love to share more about [your company] and learn more about you and what you're looking for in your next opportunity. You are welcome to add time to my calendar [make "my calendar" a text link to your calendar] so we can chat more!

Talk soon,
[your name]
Nurture or re-engagement email
In your follow-up emails, your goal is to keep the prospect engaged and nurtured, making it more likely they'll consider your outreach to be genuine and targeted to them. Nurture or re-engagement emails typically share timely information about new opportunities or additional company information intended to start conversations and keep prospects interested.
You should provide relevant and enticing information, including details about the role, company benefits, and company culture.
Hi [first_name],

I shared a bit about [your company] and the opportunity to make an impact on our [department/team], but I thought it might be helpful to share why I'm excited to be part of this [2-3 adjectives describing the company culture (i.e. inclusive, high-growth, etc.)] [type of company/industry (i.e. recruiting, tech, etc.)] company.

One of my main reasons for joining [your company] goes back to their efforts related to [a company pillar/key aspect of company culture that might resonate with the prospect (i.e. DE&I, career growth, etc.)]. I'd love to tell you more about how we're [elaborate on an initiative the company is creating to work towards that company pillar/key company culture aspect].

I'm truly inspired and impressed by the people I get to work with at [your company]. If you'd like to connect and learn more about the culture at [your company], you are welcome to add time to my calendar [make "my calendar" a text link to your calendar].

Best,
[your name]
Breakup email
The breakup email is the last email step in your outreach campaign where you let the prospect know that this is your last attempt at contacting them. The timing could be off for prospects to explore other opportunities so be sure to let them know they can get in touch with you in the future if anything changes.
Hi there [first_name],
I think you'd be a great contributor to the [department/team] team at [your company], but I completely understand if the timing isn't right. I'm sure you're very busy at [their company]!
If you find yourself curious to learn more about [your company] in the future, please don't hesitate to reach out - I'd love to chat! In the meantime, you are welcome to stay in touch with me on LinkedIn. You can also use this link (make "link" a text link to your calendar) to add some time for us to chat.
Wishing you continued success in your current role!
Best,
[your name]
Email signature best practices
Adding a signature is a great way to keep your emails professional while sharing your contact information so people can easily contact you. Emails without a signature can raise suspicion and diminish your credibility, especially if the recipient wants to know how to contact you or learn more about your company.
Here are best practices to keep in mind:
Topic
Best practice
Format
We recommend using a pure, text-based signature that includes your full name, location, email address, and phone number.

This is essential when sending cold emails since including several images or more complex signatures can complicate email deliverability in the future.
Images
While adding images in your signature can add a personal touch and help with employer branding, it can complicate your email deliverability. Instead, it's best to use a text-based signature that includes your contact information.