Permissions: —
Product tier: Available for Expert subscription tier with HRIS Link add-on
HRIS Link allows you to use HRIS reports to easily import and update jobs, user accounts, offices, and departments in Greenhouse Recruiting. By integrating your HRIS with Greenhouse Recruiting, you can manage recruiting at scale, with increased efficiency and reduced chances for human error.
In this article:
HRIS Link summary
HRIS Link requires a standalone HRIS report for each of the following Greenhouse Recruiting components you wish to import:
Jobs
Offices
Departments
Users
Each report must be published as a web service, like Reports as a Service (RaaS), and each report must be accessible by an integration system user (ISU).
Your HRIS Link reports must meet Greenhouse Recruiting specifications. You can find report specifications below:
HRIS Link features
HRIS Link works by processing reports from your HRIS and importing data to Greenhouse Recruiting every 15 minutes at :00, :15, :30, and :45 past the hour. Reports are accessed by a customer-provisioned ISU and should be published as a web service (like Reports as a Service or Raas).
HRIS Link will validate the report, check for errors, then create or update data in Greenhouse Recruiting as needed, allowing your organization to manage the structure of jobs at scale, while managing the nuance like recruiting, sourcing and interviewing in Greenhouse Recruiting.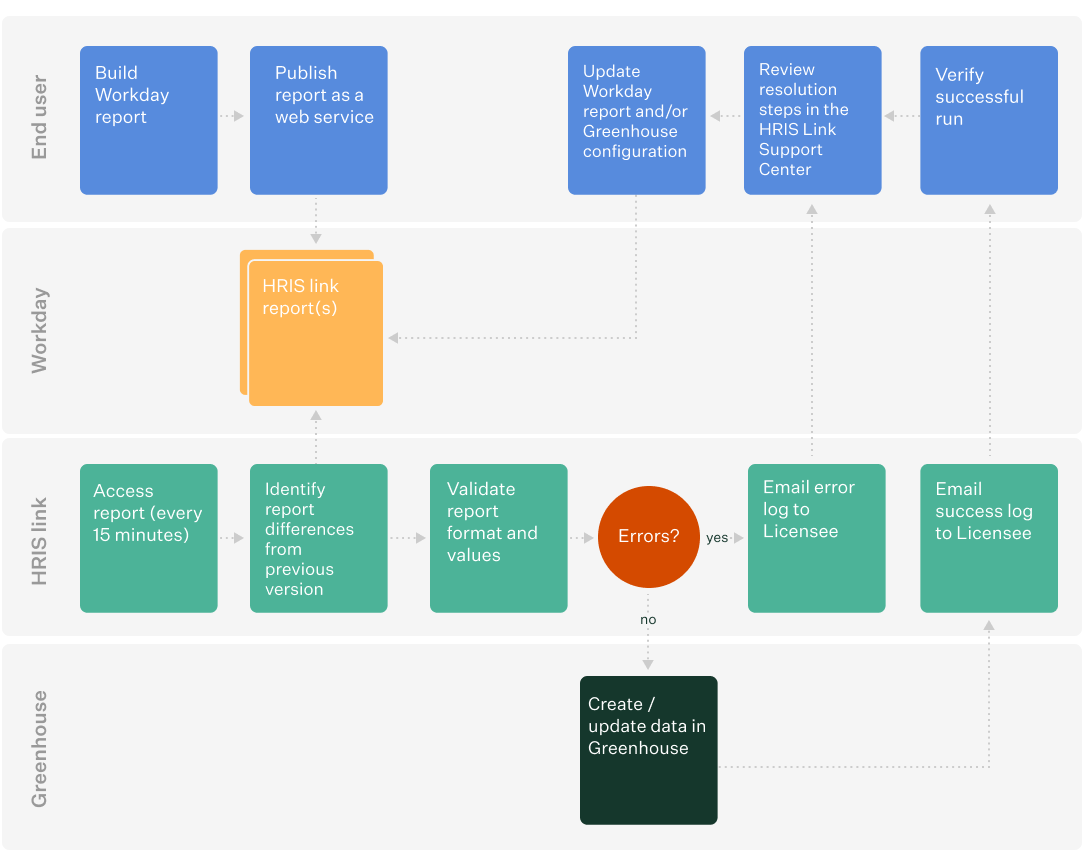 HRIS Link reports can be modified at any time by your organization, allowing full customization and extensibility without the need for technical assistance. A summary of each integration run with success and error details is sent to a single email address selected by your organization​.
Additional resources
To learn how to configure HRIS Link for jobs, offices, departments, and/or users, please see the following articles: