Greenhouse Recruiting and CoderPad have teamed up to help you better evaluate technical candidates through live collaborative coding interviews and take-home assignments.
CoderPad is the leading technical interview platform for teams that need a simple, fast solution to help accurately assess candidates throughout the hiring stages. It works like an IDE to emulate real-world scenarios, and is easily personalized to specific development team needs — ensuring a positive experience for both the candidate and the interviewer.
The CoderPad Take-Home integration with Greenhouse Recruiting allows you to send take-home questions and assignments to candidates conveniently via Greenhouse Recruiting. One-time setup is simple and convenient. In this article, we will cover how to:
Enable the CoderPad Take-Home Integration
To enable Greenhouse Recruiting's integration with CoderPad Take-Home, Greenhouse Recruiting needs your CoderPad API Key.
Note: Because the CoderPad Take-Home integration uses one API Key for your organization, it is recommended to provide Greenhouse Recruiting with the API Key of a CoderPad account whose "Name" is general (e.g., Company Name).
This means your entire team can Send Take-Homes and view the graded test cases for Take-Homes all within Greenhouse without each person needing their own CoderPad account. (This is unlike creating Take-Home questions or viewing code playback, which must be done within CoderPad.)
Navigate to your CoderPad account and locate the API Key on your My Settings page. Copy the CoderPad API Key.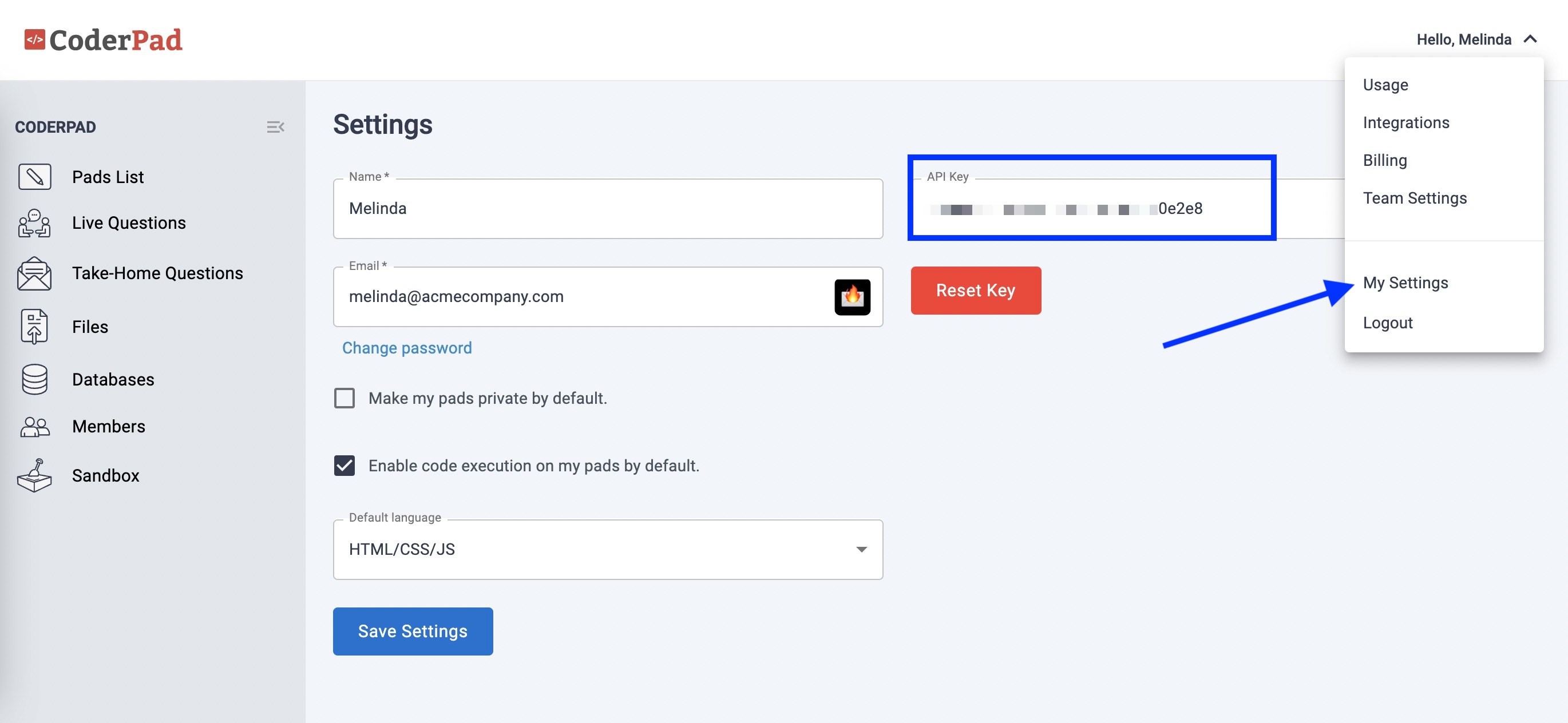 Once you have received your API key, click here to open a ticket with the Greenhouse Support team.
Note: Do not send the API key in this initial email.
The Greenhouse Support Team will respond with a SendSafely link for you to enter your API key. A notification will be sent to the Greenhouse Support team after you have entered your API key and they will email you to confirm that your API key has been set up in your account and your integration is enabled.
Note: To verify your identity, the Greenhouse Support team might request you provide a Support Verification Code before adding the API key to your organization's account.
Please note there is also a CoderPad Live Integration which supports live, collaborative coding interviews and does not require working with the Greenhouse Support team.
Add CoderPad Take-Home Stage to Job's Interview Plan
Once the CoderPad Take-Home integration is enabled for your organization, you will be able to add assessments as an Interview stage.
To do this for an existing job, navigate to a job (All Jobs > Job Name) and click Job Setup from the job navigation bar.

From the Job Setup page, navigate to Interview Plan on the left-hand panel. Scroll down the page and click + Add a Stage.

From the Add Stage dialog box, select the CoderPad Take-Home stage. When finished, click Add at the bottom of the dialog box to add the stage to the job's interview plan.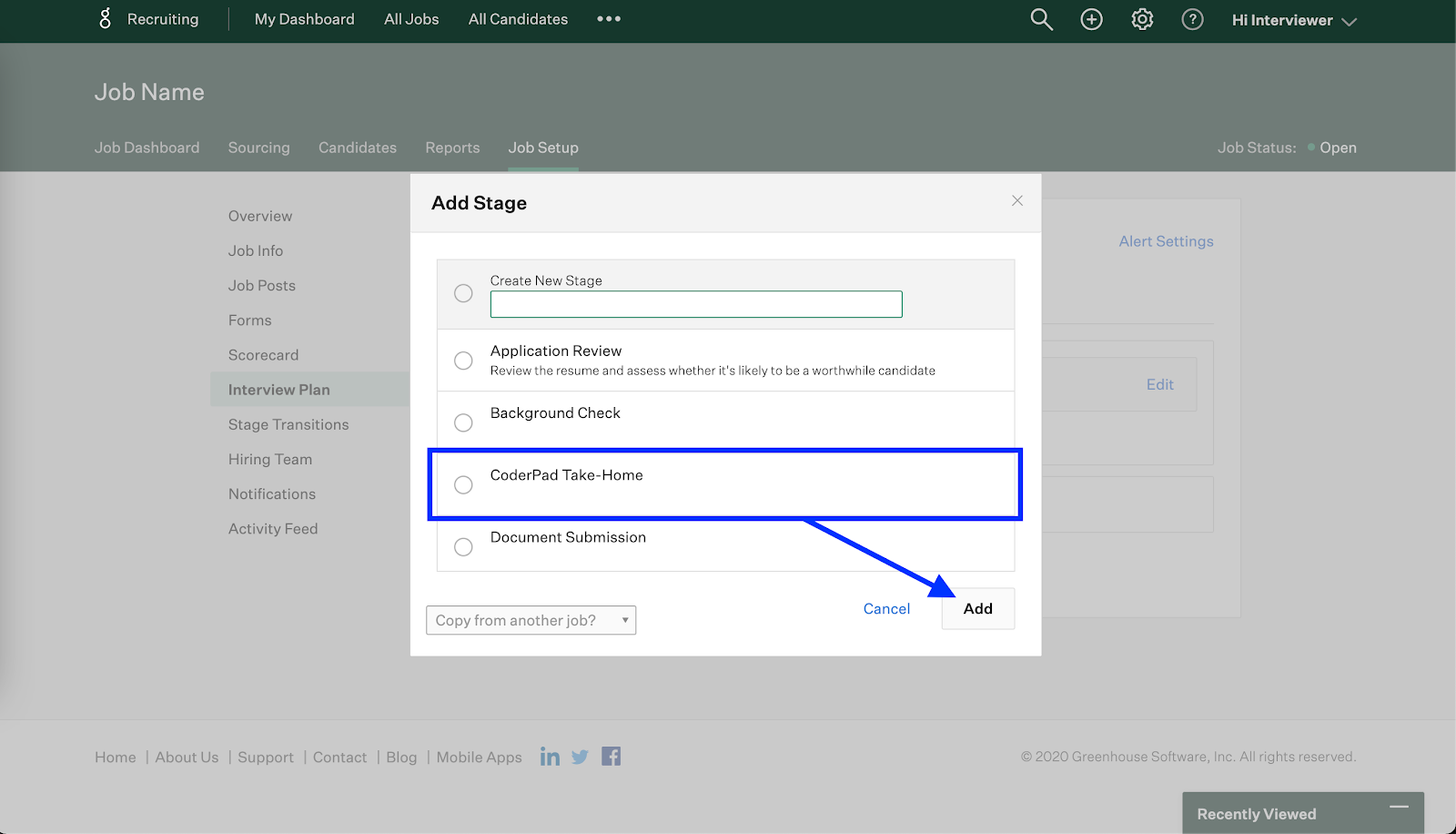 Configure the CoderPad Take-Home Stage
Once the stage is added to a job's interview plan, click Edit to preset the take-home assignment for all candidates on the job.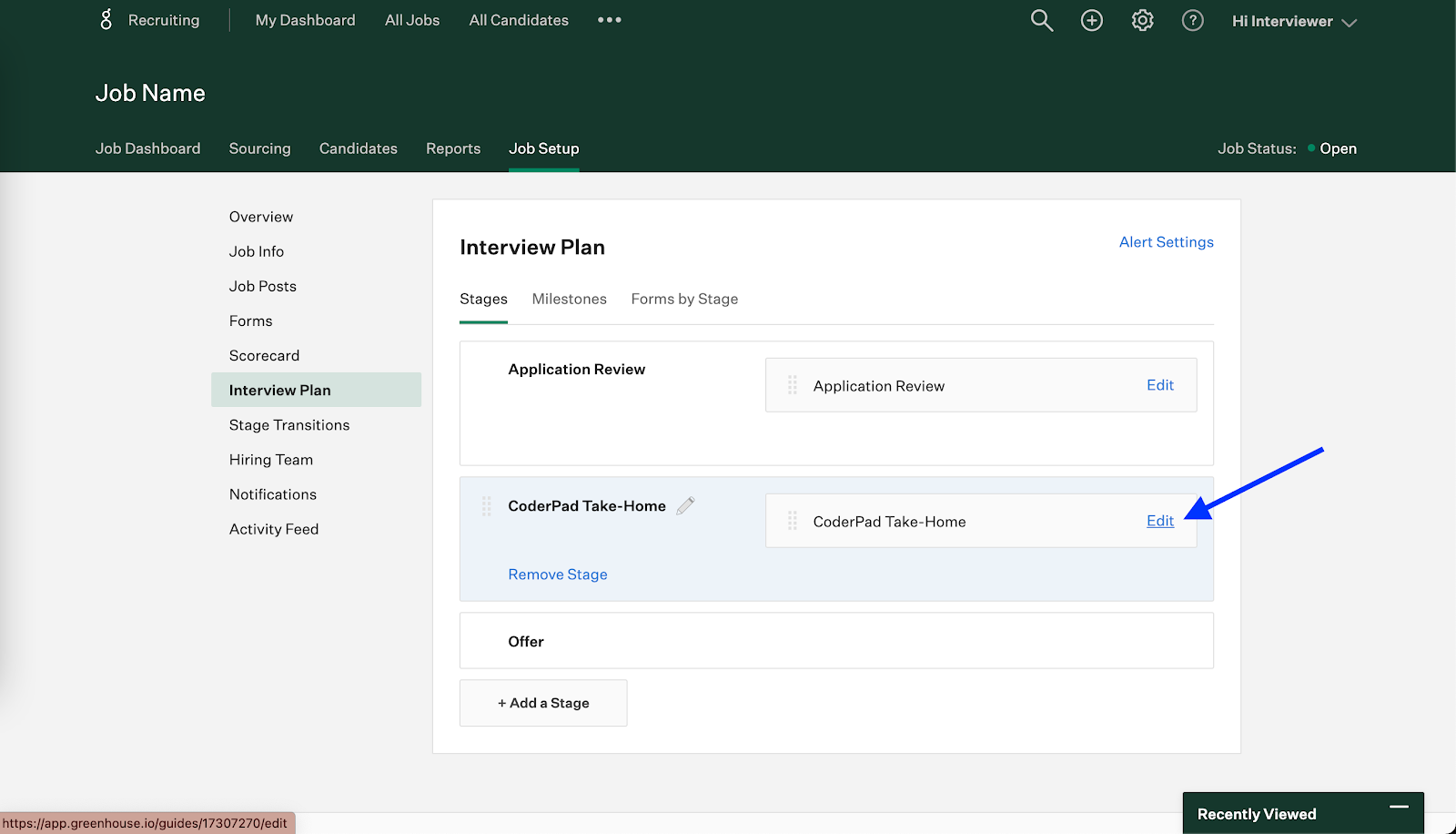 On the subsequent page, search and/or select a take-home assignment from an alphabetical list sourced from your organization's CoderPad account. Click Save when finished.
Note: All configuration of the take-home questions themselves, as well as the email template, will need to be completed in CoderPad.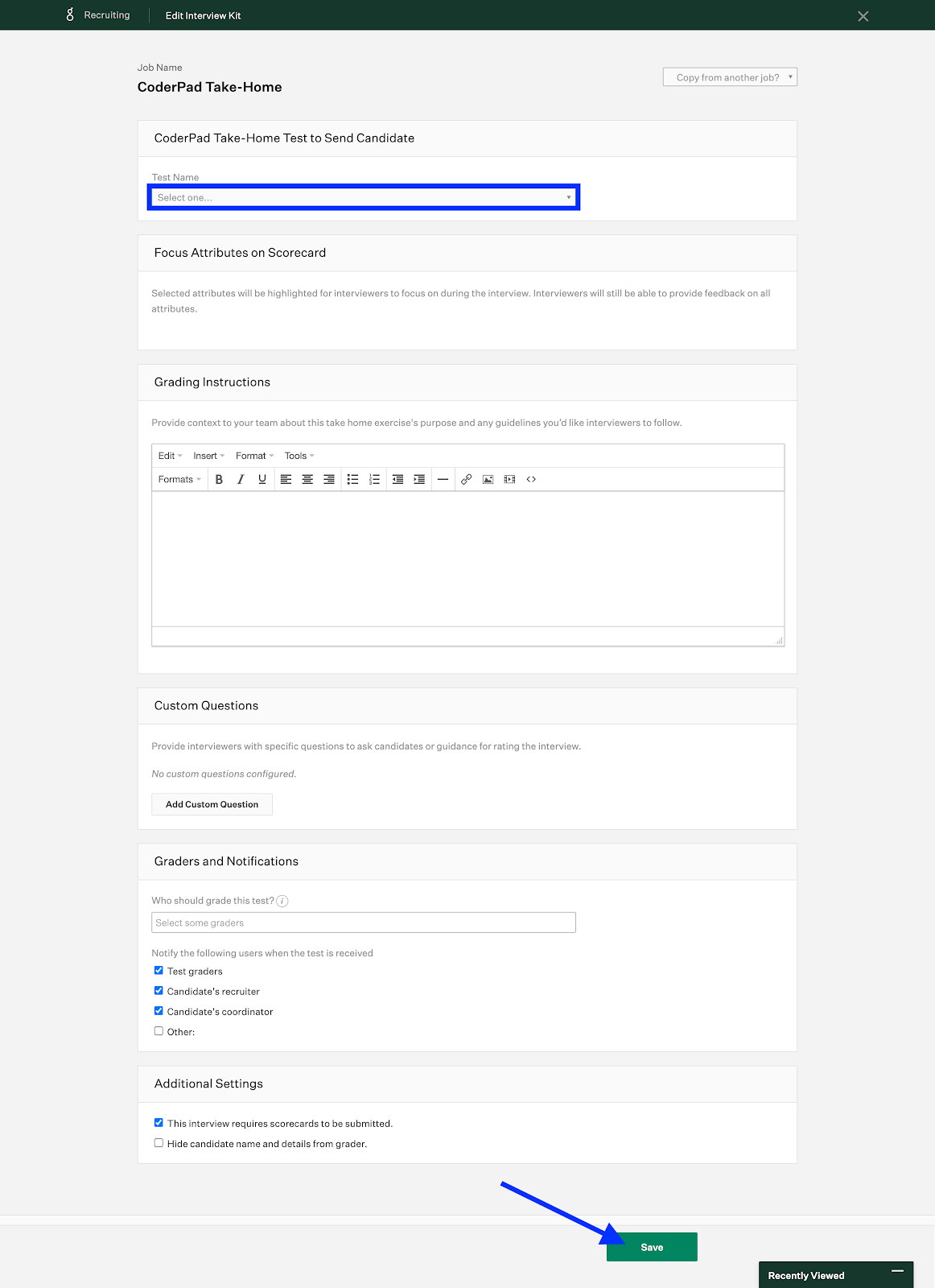 Send and Review CoderPad Take-Home Test
To send a CoderPad Take-Home test to a candidate, advance the candidate to the CoderPad Take-Home test and click the Send Test link.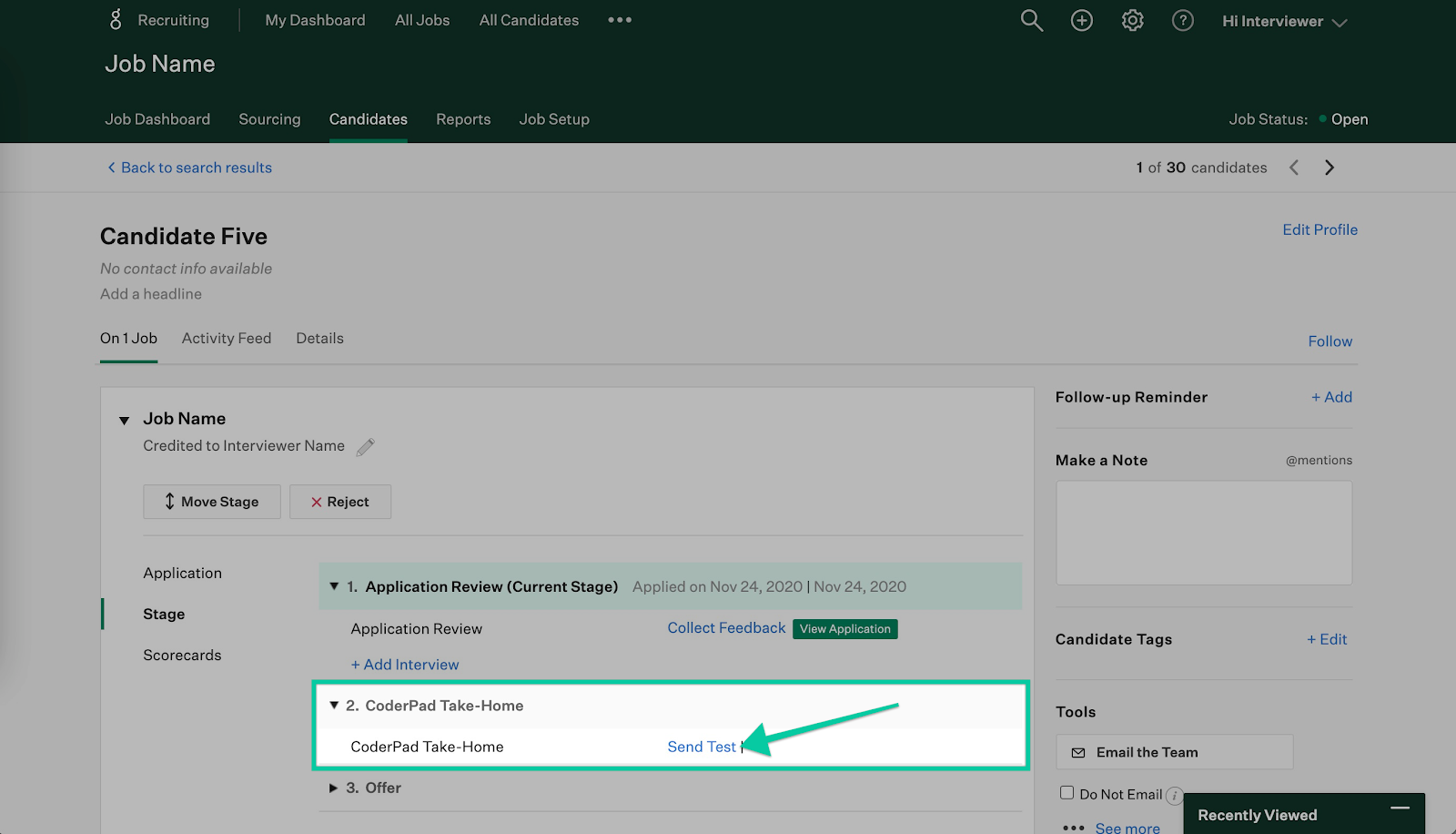 Use the subsequent dialog box to:
Confirm the email address of the candidate
Select which assignment to send the candidate (from an alphabetical list sourced from your organization's CoderPad account)
Assign a grader for the CoderPad Take-Home test
Click Send Test when finished.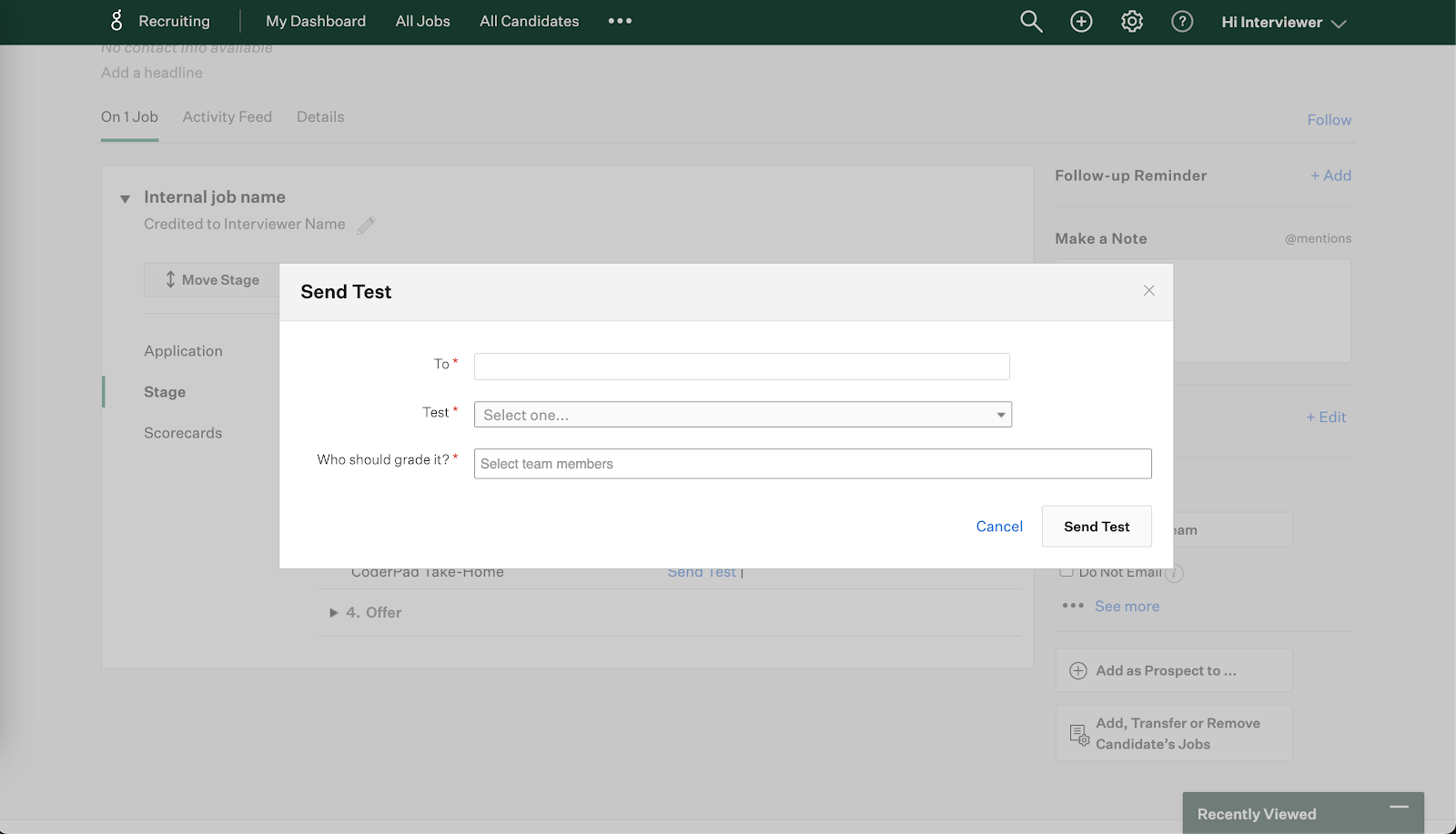 An email from CoderPad is sent to the candidate, prompting the candidate to begin the Take-Home assignment.

The status of the assessment is viewable on the candidate's Greenhouse Recruiting profile. The following statuses are available:
Take Home Test to be sent
Waiting for candidate to submit test
Scorecard due from [designated grader]
Once a CoderPad Take-Home assessment is ready to be graded or reviewed, navigate to the candidate's Job panel in Greenhouse and click CoderPad Take-Home.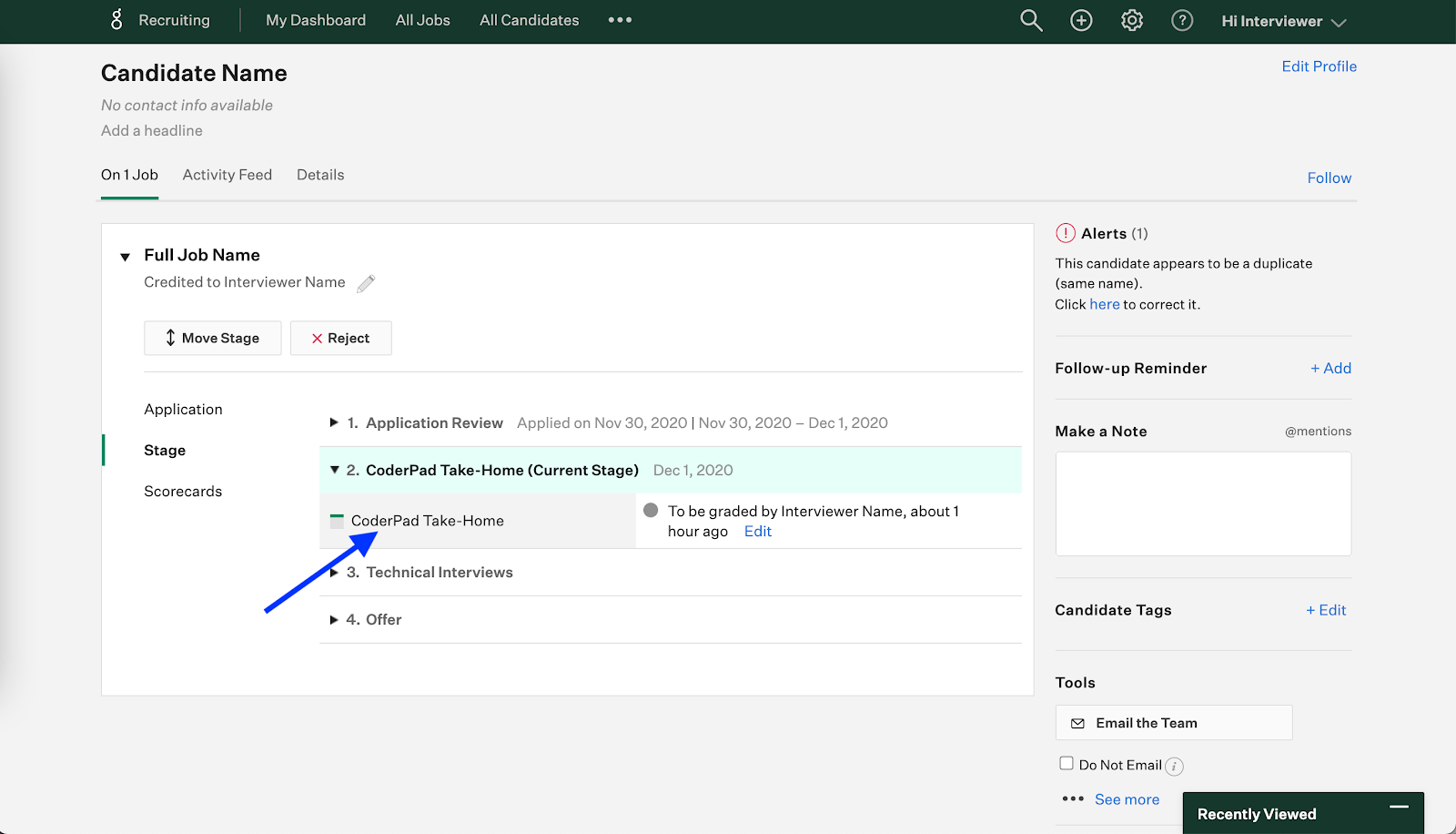 Then click to see the Test Cases that have passed.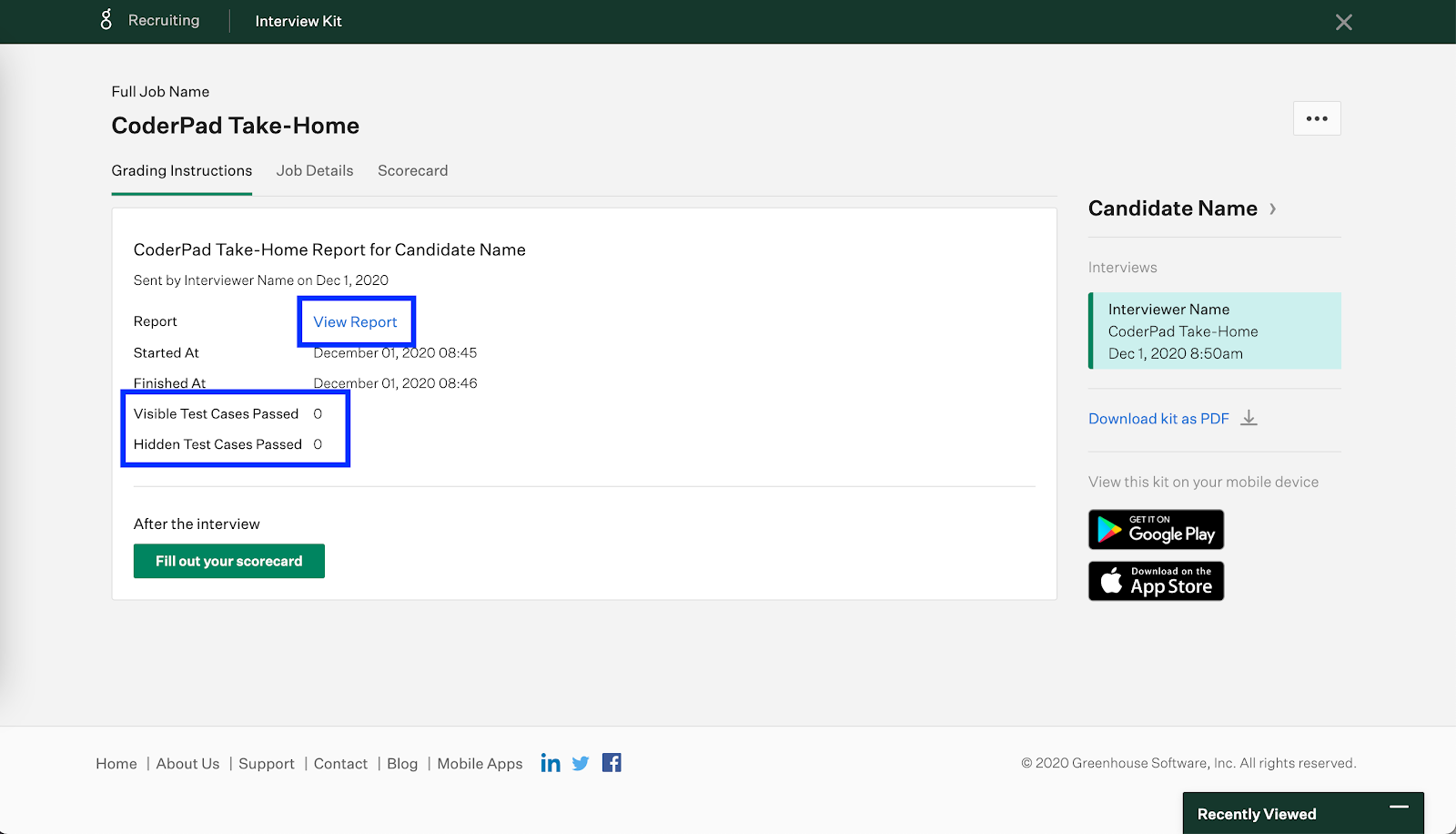 For more details, including to view the CoderPad Playback, click View Report to open a new browser tab and see the candidate's Take-Home results in CoderPad.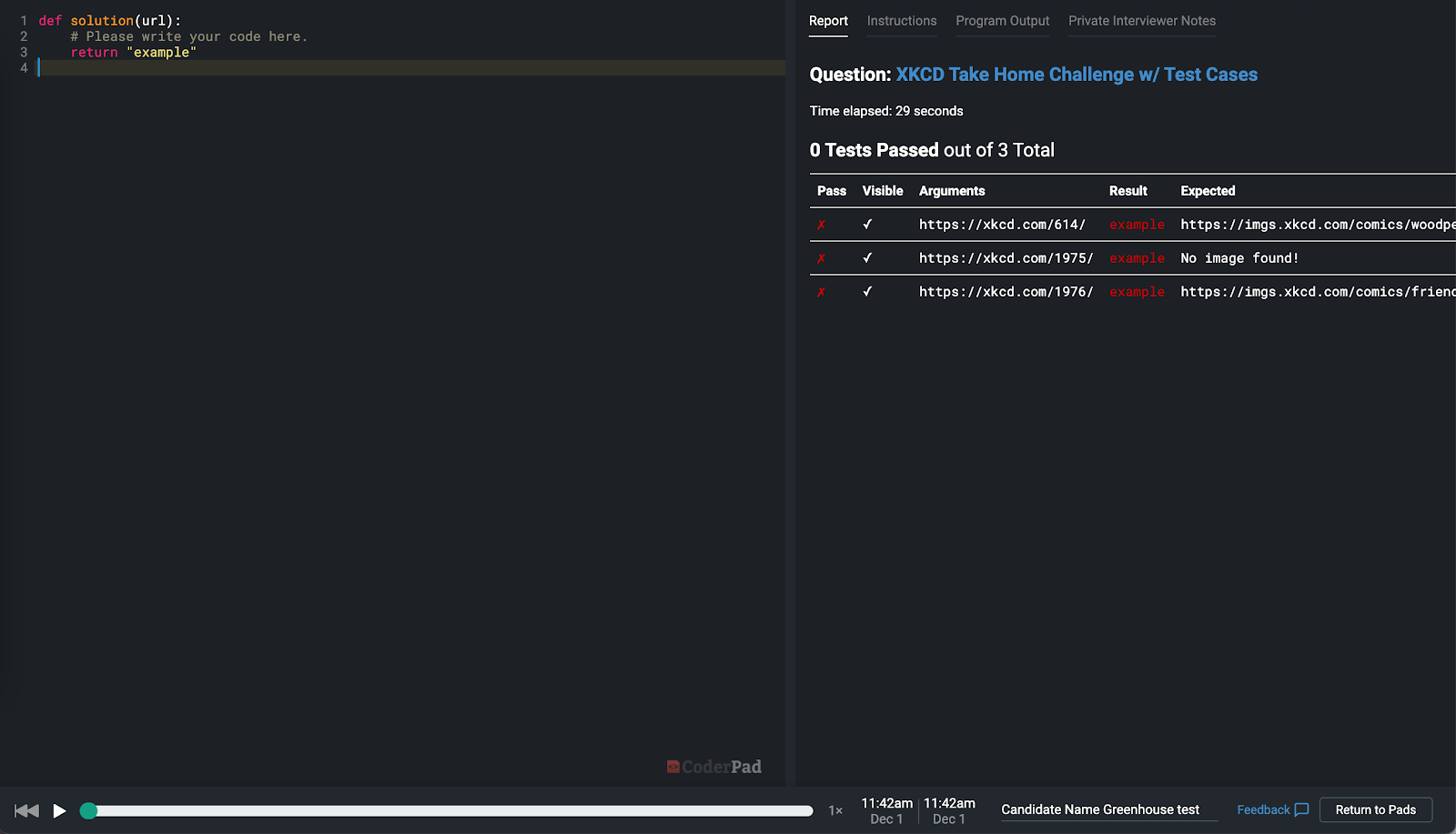 Then in Greenhouse click Fill Out Your Scorecard.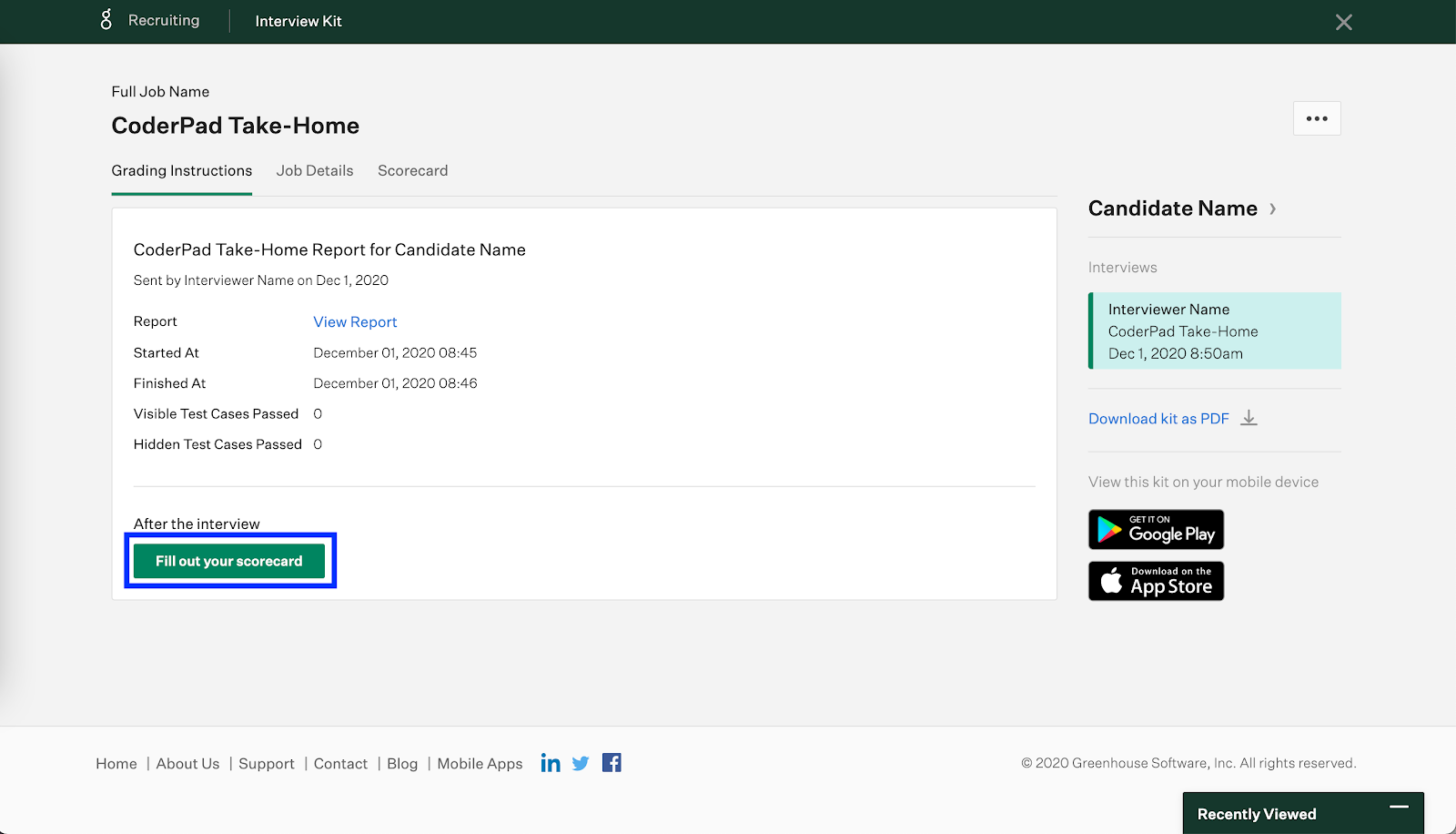 Once you have filled out the candidate's scorecard, the candidate's progress is reflected in the On Job panel.