Connecting Guide with Greenhouse enables the automatic creation, sending and updating of Guide content based on each candidate's interview stage in Greenhouse. The integration also enables automatic import of key information for candidates such as interviewer profiles and interview schedules.
Creating a Harvest API Key
Creating and enabling a Harvest API key enables Guide access to your Greenhouse data which powers the Guide experience.
To get started, login into Guide at https://guides.resource.io and follow the steps below:
Head to the integrations page in your Guide dashboard (Settings -> Integrations) and choose Greenhouse.
With the Greenhouse integration modal open, as seen below, open a new tab and navigate to the Greenhouse API Configuration Page.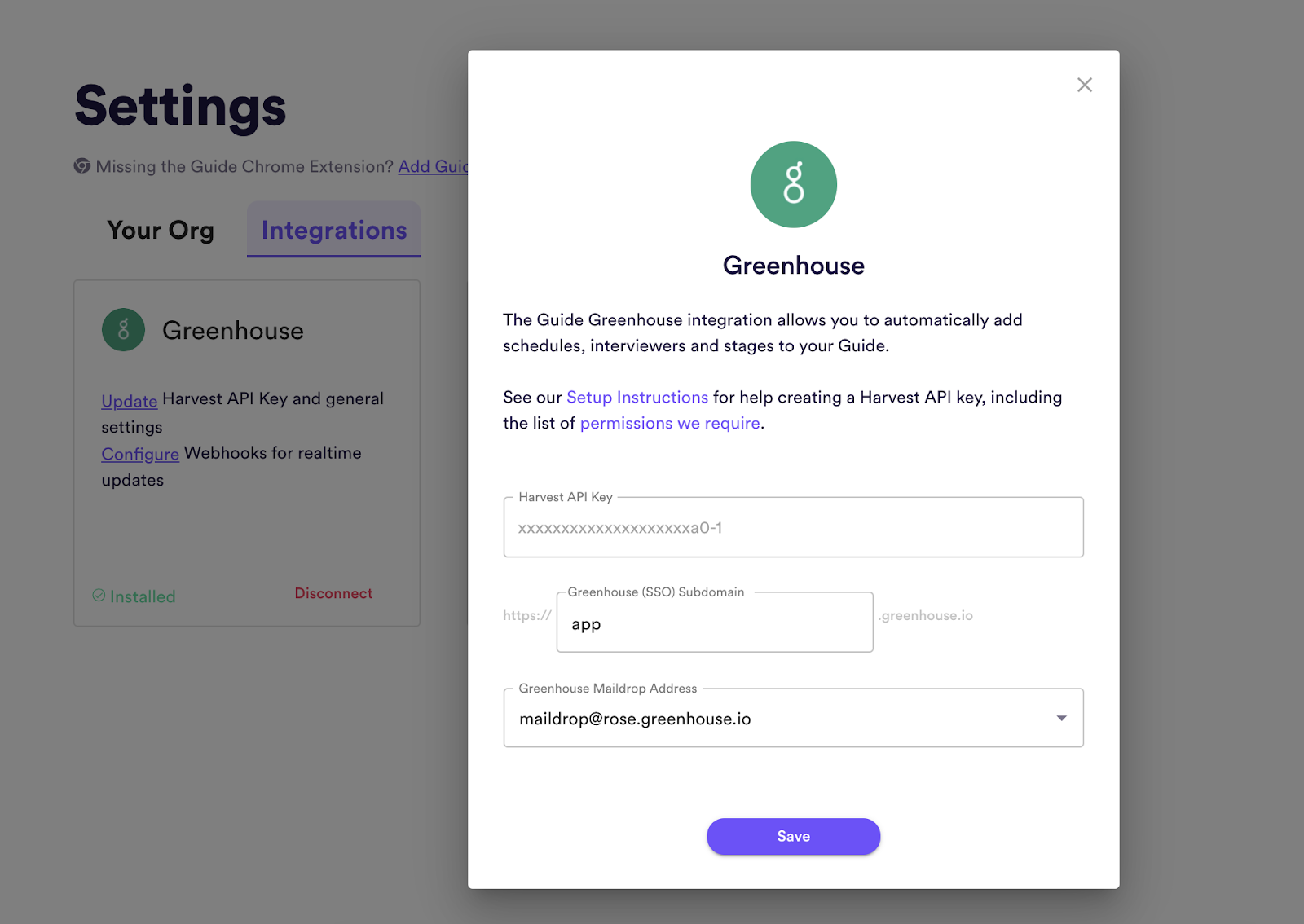 3. From inside the API Configuration Page in Greenhouse, select "Create New API Key."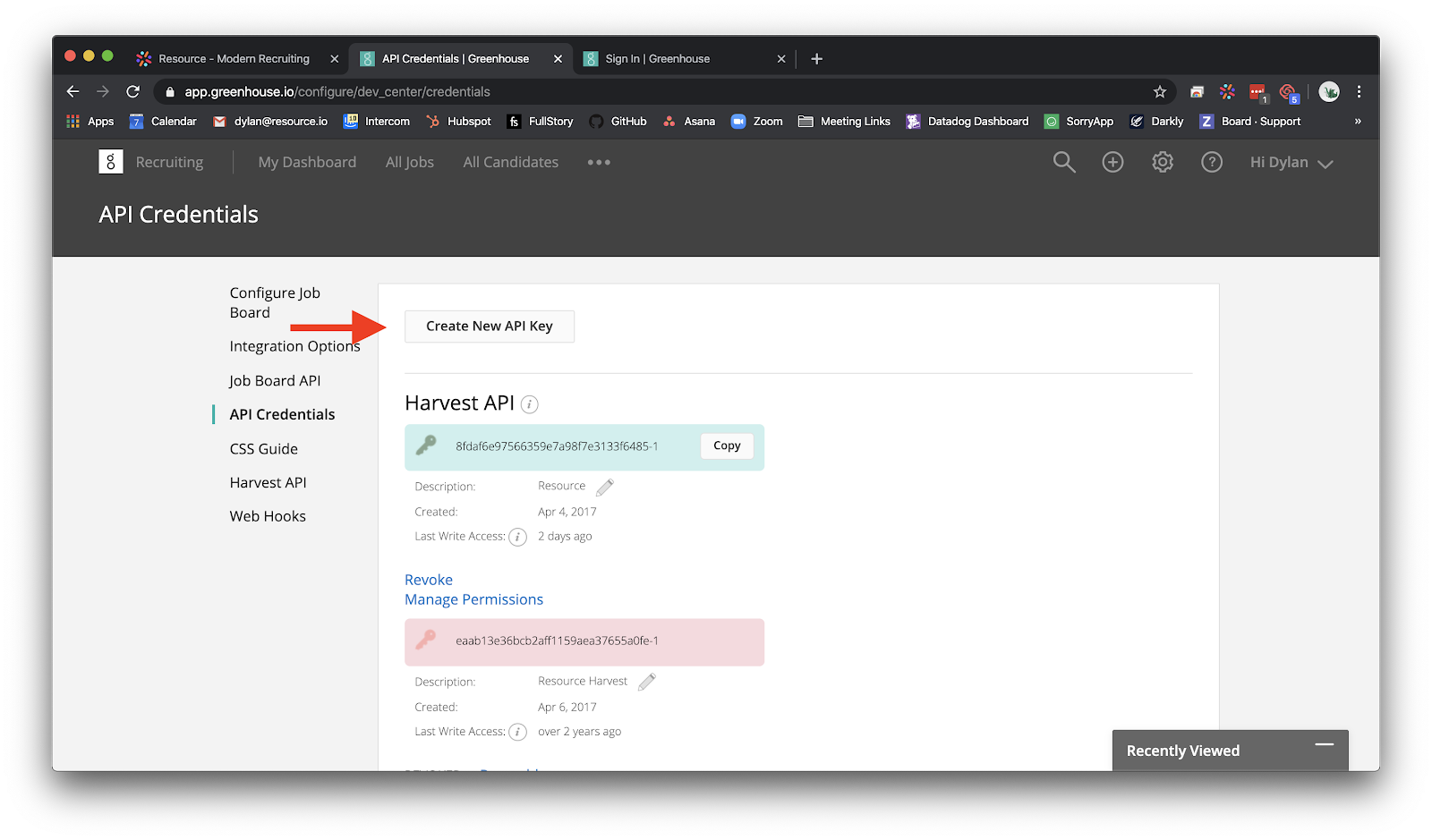 4. Create the new key with "Guide by Resource" as the description and "Harvest" as the type.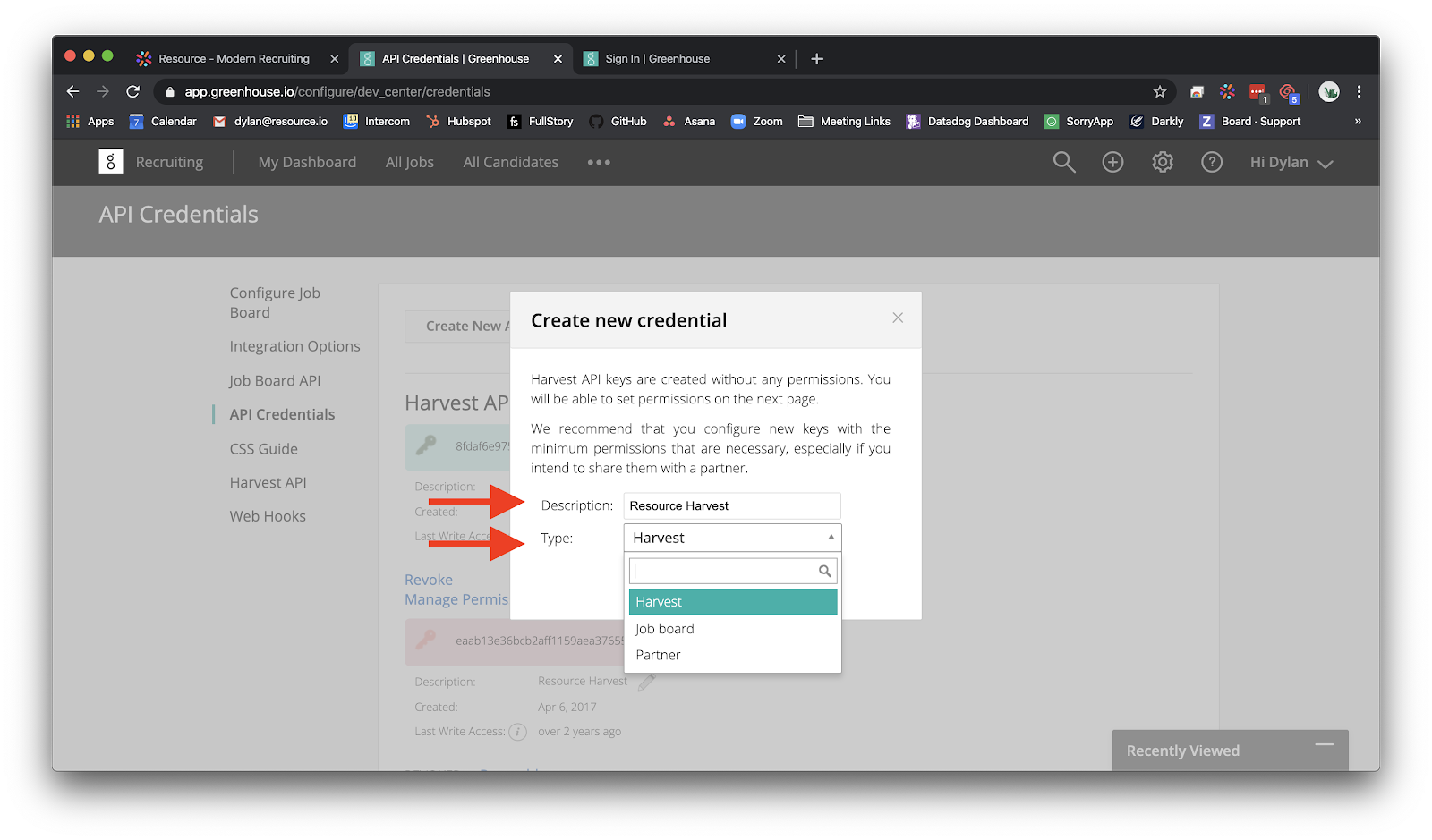 5. Click "Create" to move on to the next step and edit the specific permissions of API Key.
6. On the permissions screen you'll see a checklist of items. To fully integration Guide, categories and select all permissions that begin with "GET:"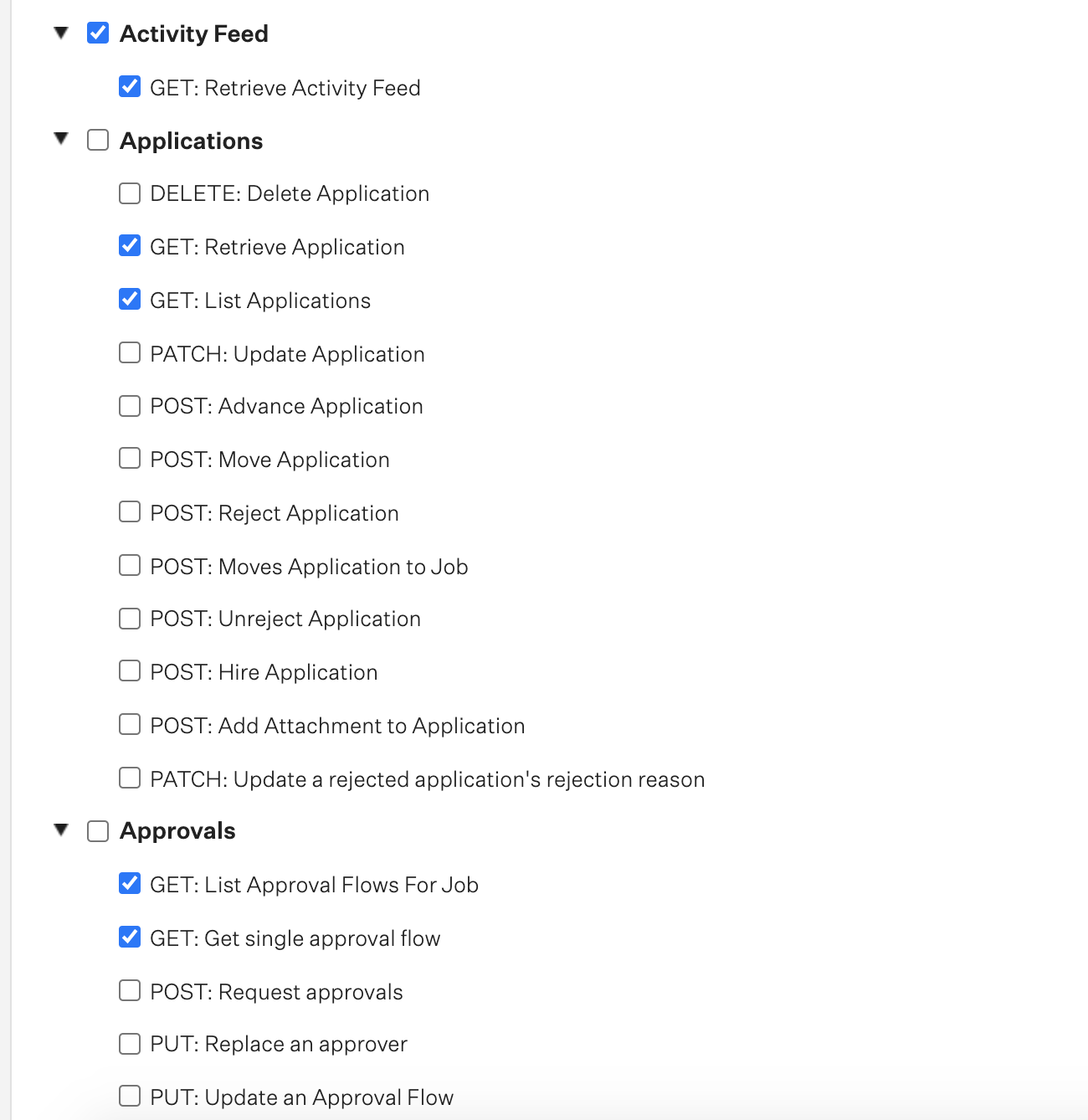 7. Select "Update" from the bottom of the permissions screen, and on the next screen click "Copy."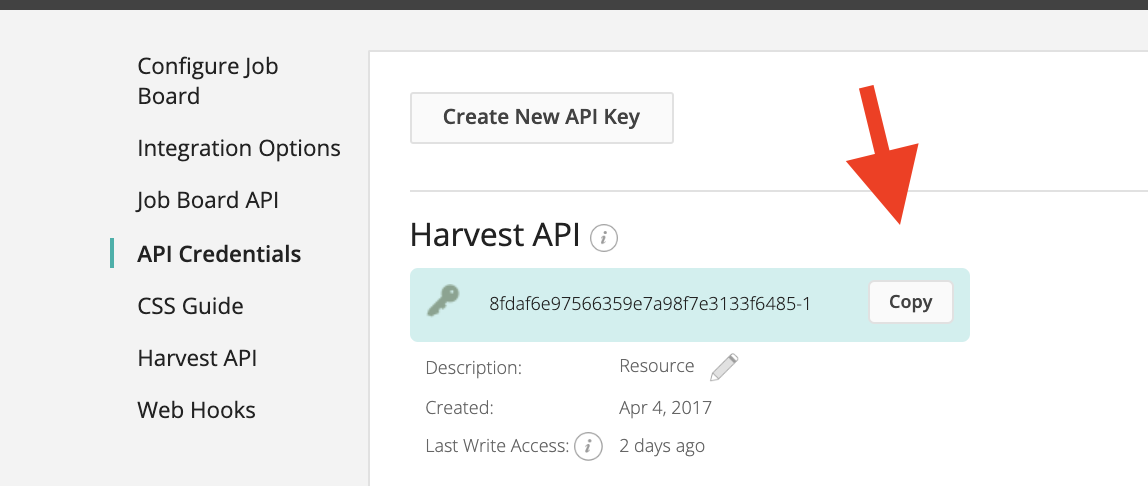 9. Head back to the Guide Integration page and paste in the API Key into the "Harvest API Key" field.
Greenhouse Maildrop and Hosted Address
Inside the Greenhouse API Setup Window you'll notice fields for Single Sign On Subdomain and the Maildrop Address. Resource needs these two items to communicate with your Greenhouse account and to ensure emails sent through Guide appear on the Greenhouse activity feed of your candidates.
You can find your Greenhouse Subdomain simply by logging into your Greenhouse account and noting the URL in the address bar, this is usually app or companyname.greenhouse.io.

The Greenhouse Maildrop of record for your account can be found by visiting this article and noting the Maildrop email address found next to item 3 in the linked article.

Add your SSO and Maildrop address on the screen above, and click Save.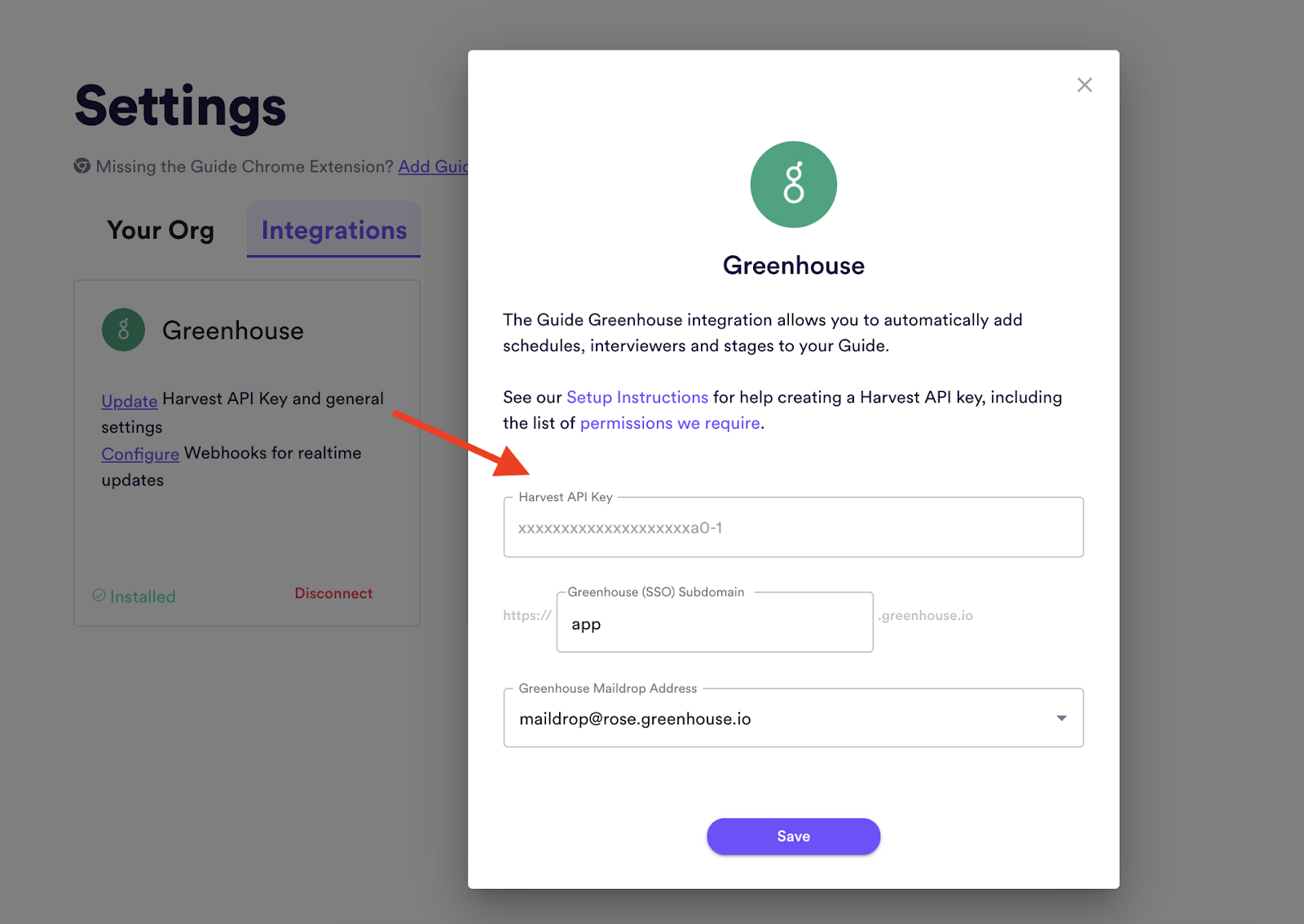 You're done with the Harvest API setup!
Setting up Greenhouse Webhooks (final step)
Connecting webhooks between Greenhouse and Guide enables Guide to be notified when changes are made to candidates within Greenhouse. This enables powerful functionality like updating a candidate's guide content when they move interview stages, or sending them an email after they apply.
Here's how to complete the setup:
Head to the Guide Integrations page and select "Configure" under greenhouse.

Follow the instructions inside the window (as shown below) to create a webhook, and repeat the same process for each one requested. Estimated time: ~10 minutes.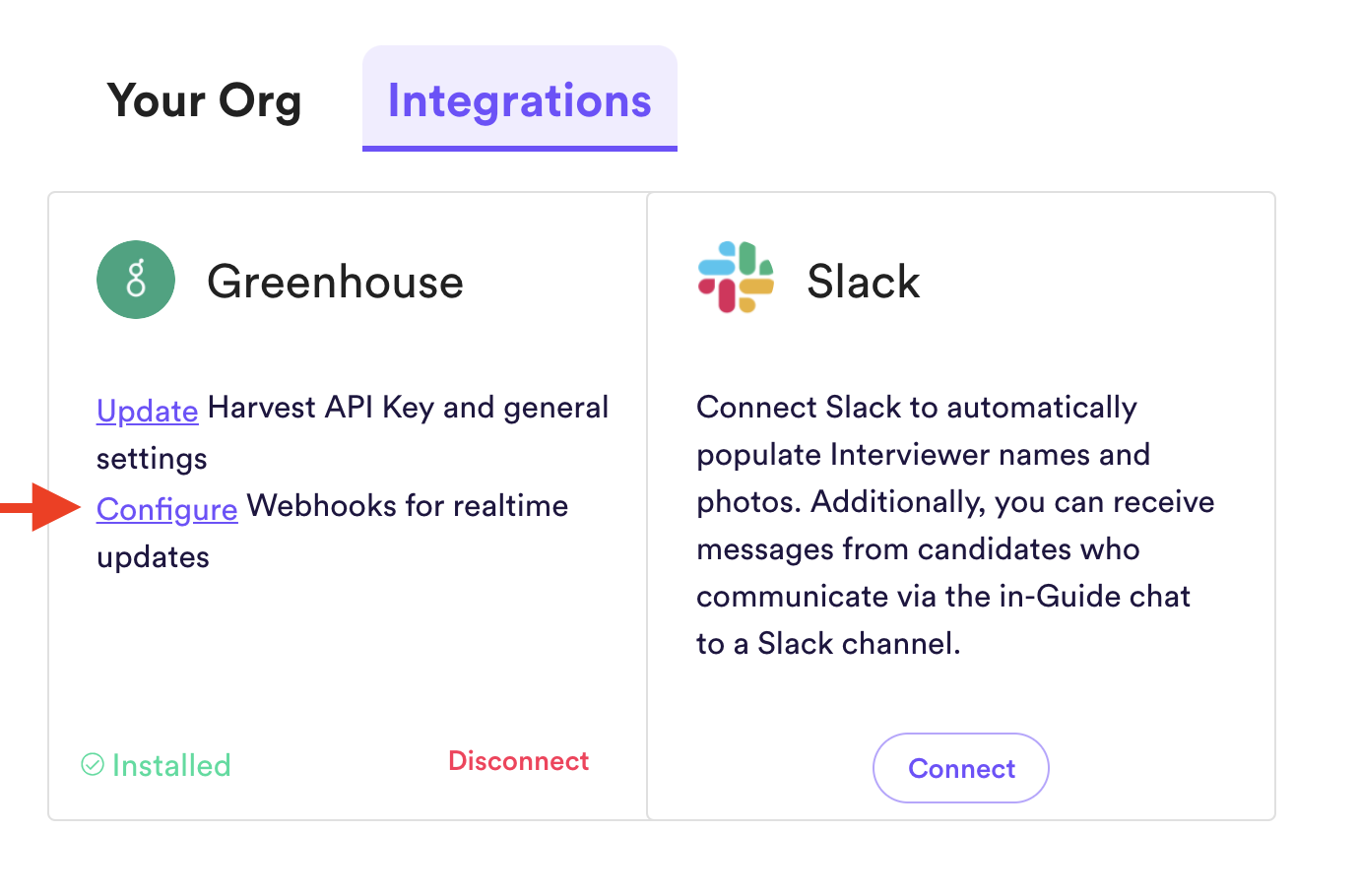 Pro Tip: the fastest way to complete this is to open a second tab for Greenhouse's web hook configuration page, and switch between both tabs in tandem.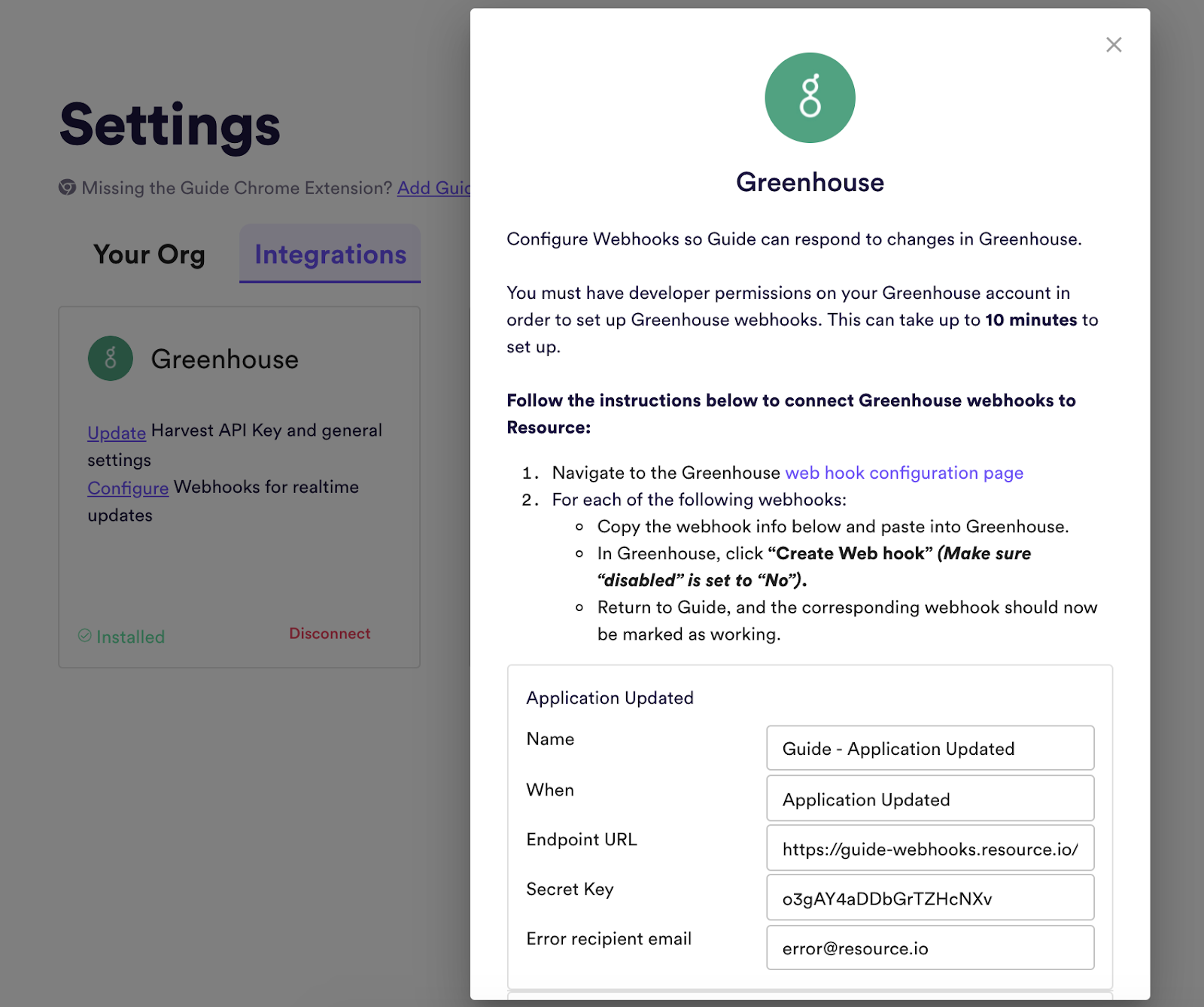 If you run into any trouble setting up the permissions required or have any questions please reach out to us at support@resource.io, we're happy to help!
Wishing you the happiest of candidates,
- The Resource team