Greenhouse Recruiting's integration with Guide allows you to automatically create, send, and update Guide content based on each candidate's interview stage in Greenhouse Recruiting. The integration allows enables the automatic import of key information for candidates, such as interviewer profiles and interview schedules.
Configure user setup permissions in Greenhouse Recruiting
In order to enable the Greenhouse Recruiting / Guide integration, you will need the following developer permissions:
Can manage ALL organization's API Credentials
Can manage and configure web hooks
Contact a Greenhouse Recruiting user in your organization with Site Admin level permissions with the additional user-specific permission Can edit another user's advanced permissions to apply the developer permissions to your account. Have the user with Site Admin level permissions edit your user account's permissions by navigating to the Configure icon

> Users > Your Name.

The user with Site Admin level permissions should navigate to the User-Specific Permissions panel on your user page and expand the Developer Permissions dropdown menu.
Select Can manage ALL organization's API Credentials and Can manage and configure web hooks so a check is in each checkbox. When finished, click Save.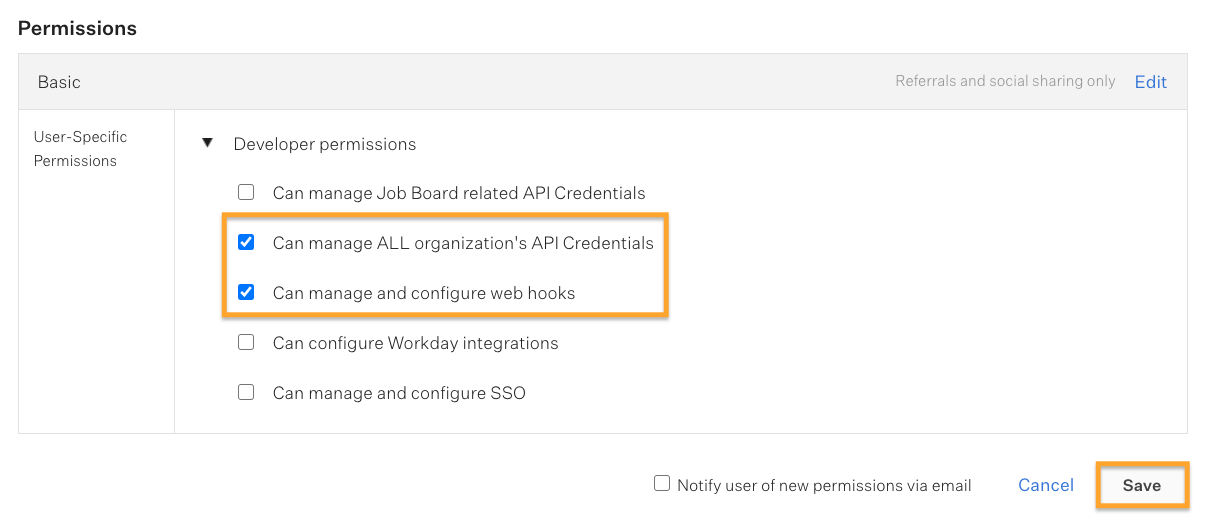 Repeat as necessary for any other user that should have access to set up the integration.
Create Harvest API key for the Greenhouse Recruiting / Guide integration
Creating and enabling a Harvest API key enables Guide access to your Greenhouse Recruiting data, which powers the Guide experience.
To create a Harvest API key for the integration, click the Configure icon

in the upper right-hand corner, and navigate to Dev Center on the left-hand panel. From the Dev Center page, click API Credential Management.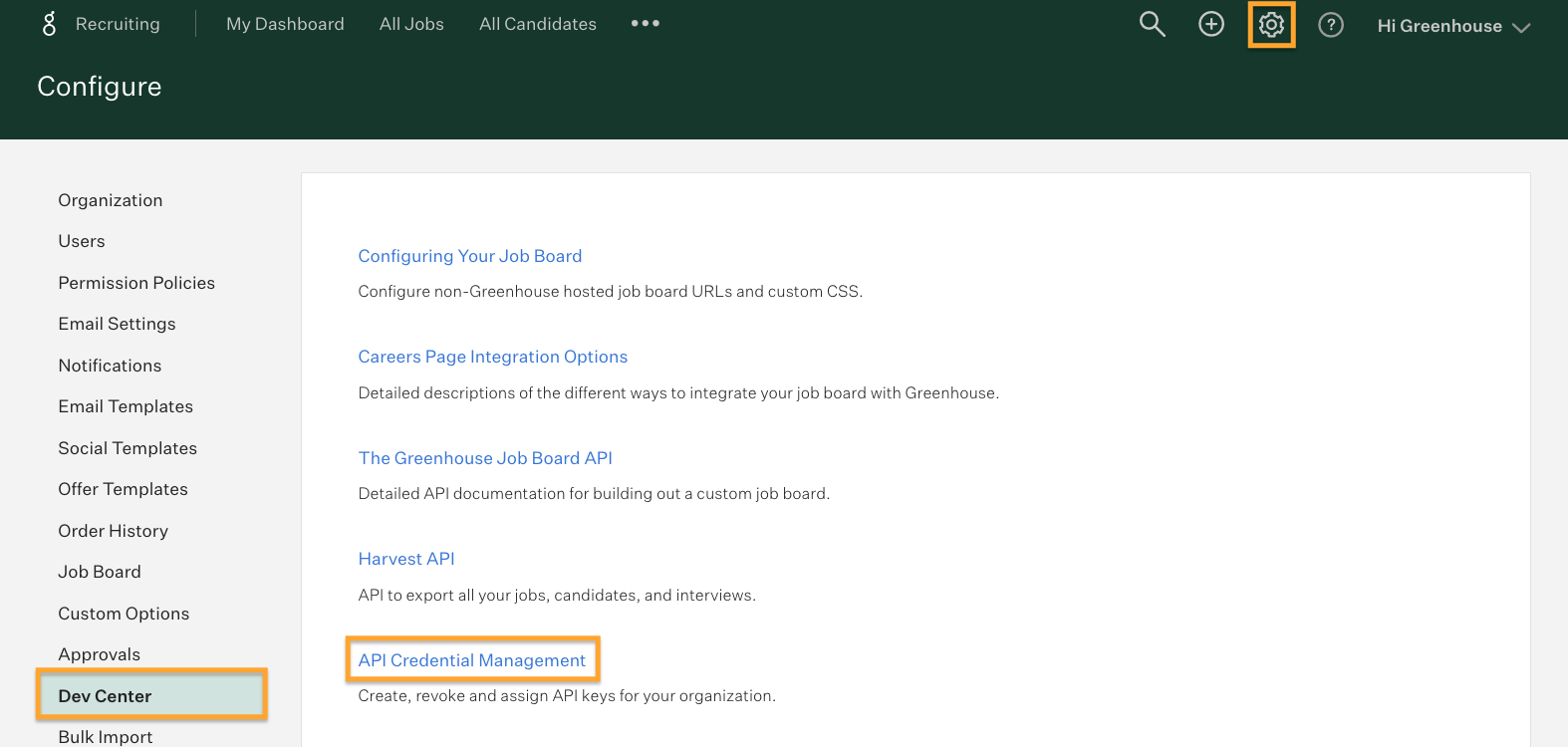 From the API Credential Management page, click Create New API Key to generate the API key for Guide.

In the Create New Credential dialog box, make the following selections:
API Type: Harvest
Partner: Guide
Description: Guide Harvest API Key
When finished, click Manage Permissions to generate the Harvest API key and automatically assign it the appropriate permissions required by Guide.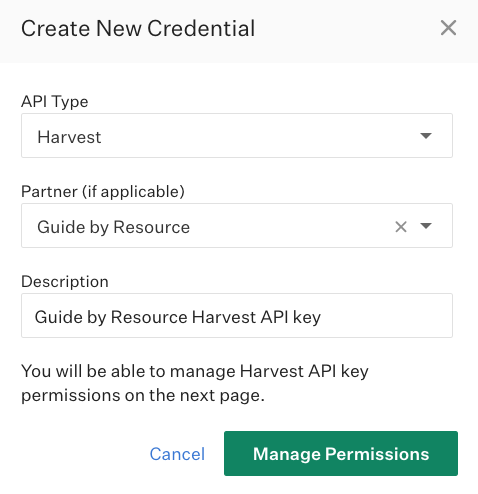 In the subsequent dialog box, click Copy to save your API key to your clipboard. Store the API key in a secure location to provide to Guide in the next step. Click I have stored the API Key once you have copied and saved the key.
Note: You cannot access the full API key again after clicking I have stored the API Key. If you lose your API key and need to access it later, you must create a new API key, provide it to the integration partner, and then revoke access to the original key.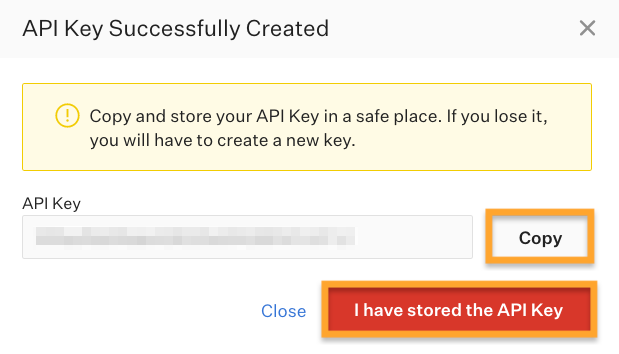 On the subsequent page, confirm the following permissions are assigned to your new API key:
All permissions beginning with GET: within each category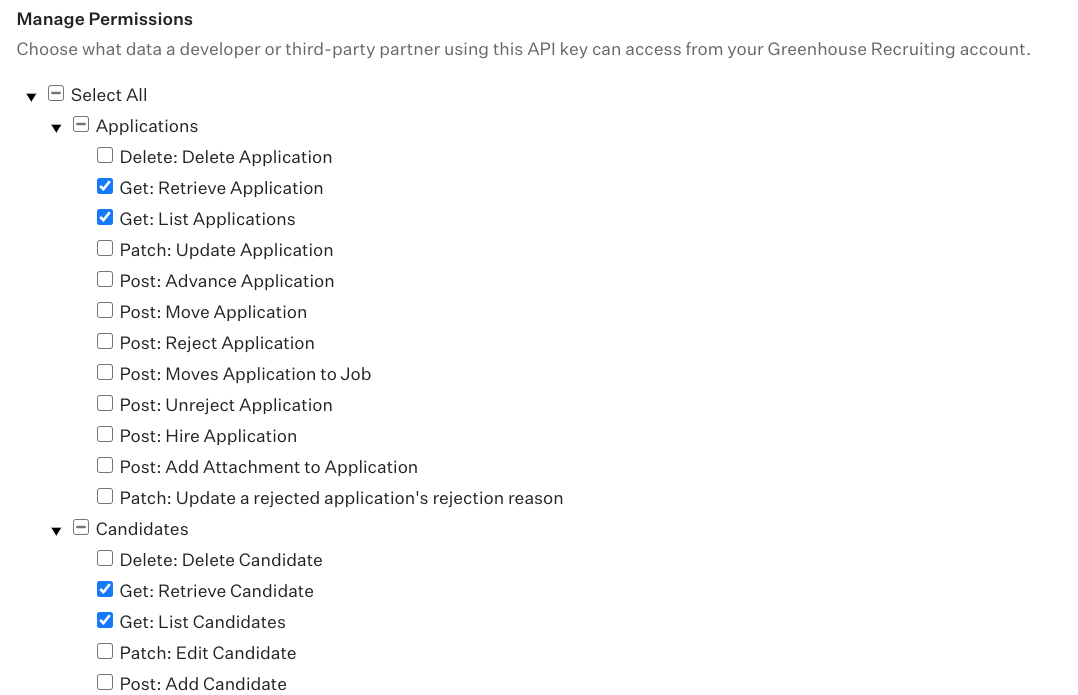 If any of the GET permissions are not selected, place a check in the box next to the appropriate permission. Click Save when finished.
Your Harvest API key for the Greenhouse Recruiting / Guide integration is created and configured. Navigate to Guide's Integrations page (Guide Dashboard > Settings > Integrations), choose Greenhouse, and paste the newly created API key in the Harvest API Key field.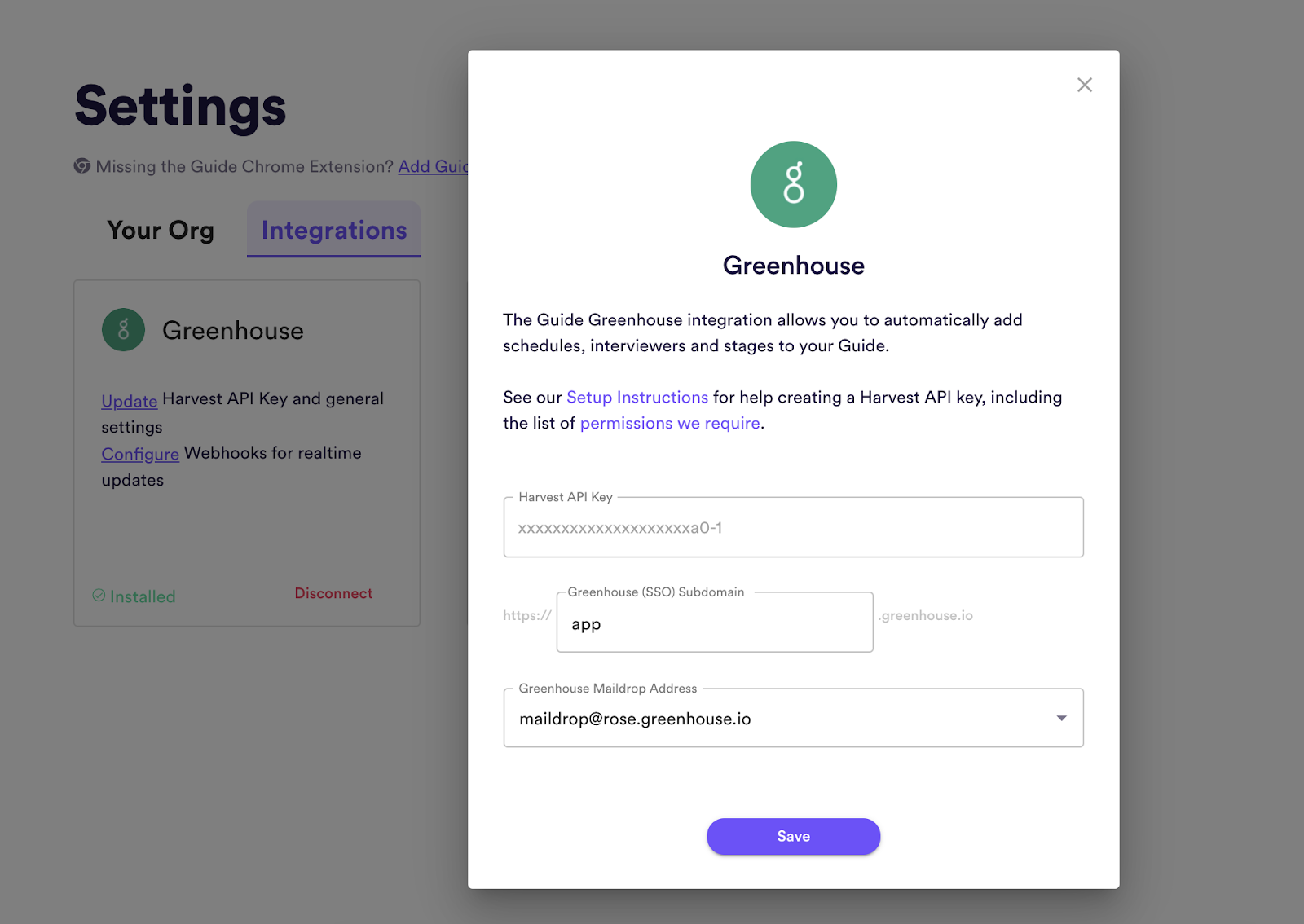 Keep this window open to add additional information in the next step.
Provide Maildrop email address and company subdomain to Guide
In the Greenhouse API Setup window (in Guide), there are fields for Single Sign On (SSO) subdomain and Greenhouse Maildrop address. Resource needs these two pieces of information to communicate with your Greenhouse Recruiting account, and to ensure email messages sent through Guide appear in each candidate's Activity Feed in Greenhouse Recruiting.
Locate your company's subdomain by logging into your Greenhouse Recruiting account and noting the URL in your address bar. This usually is either app, app#, or companyname.greenhouse.io.
Locate your company's Maildrop address by visiting this article and noting the Maildrop email address found next to item 3.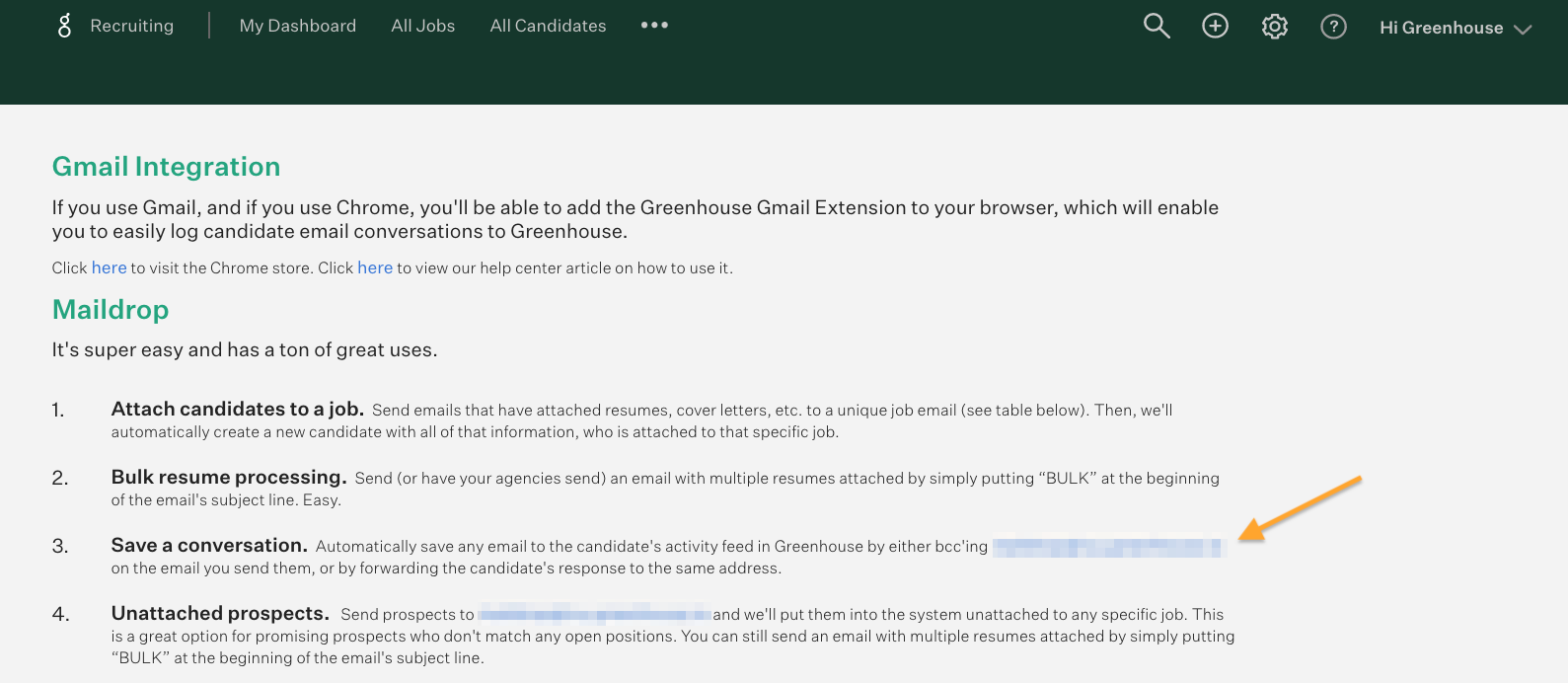 Paste your subdomain and Maildrop email address in Guide and click Save.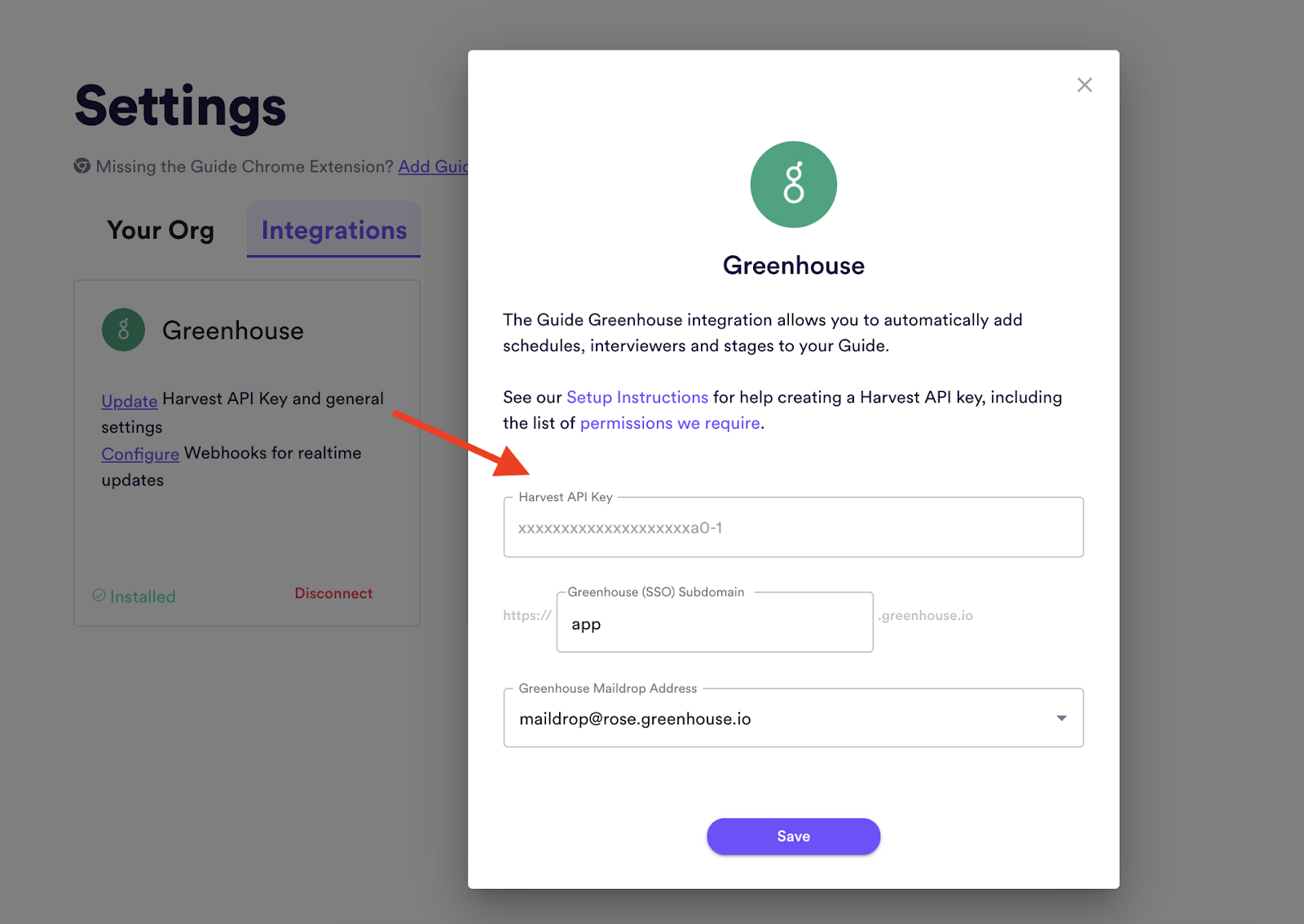 Create webhooks in Greenhouse Recruiting
Connecting webhooks between Greenhouse Recruiting and Guide enables Guide to be notified when changes are made to candidates within Greenhouse Recruiting. This enables powerful functionality like updating a candidate's Guide content when they move interview stages, or sending them an email after they apply.
To retrieve the information for the webhooks, navigate to the Guide Integrations page and click Configure under Greenhouse. Follow the instructions to create a webhook, and repeat the same process for each one requested. This will take approximately 10 minutes.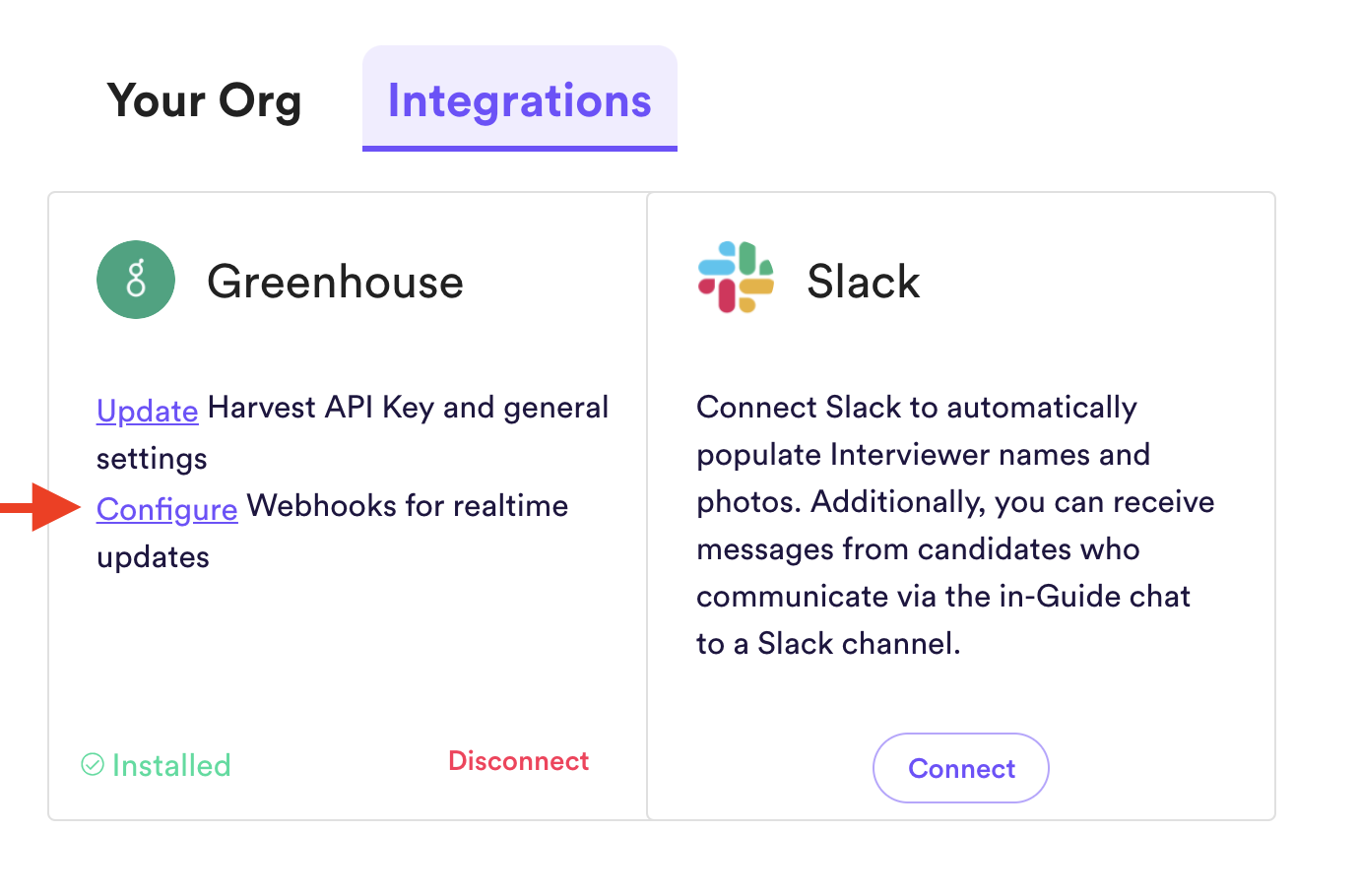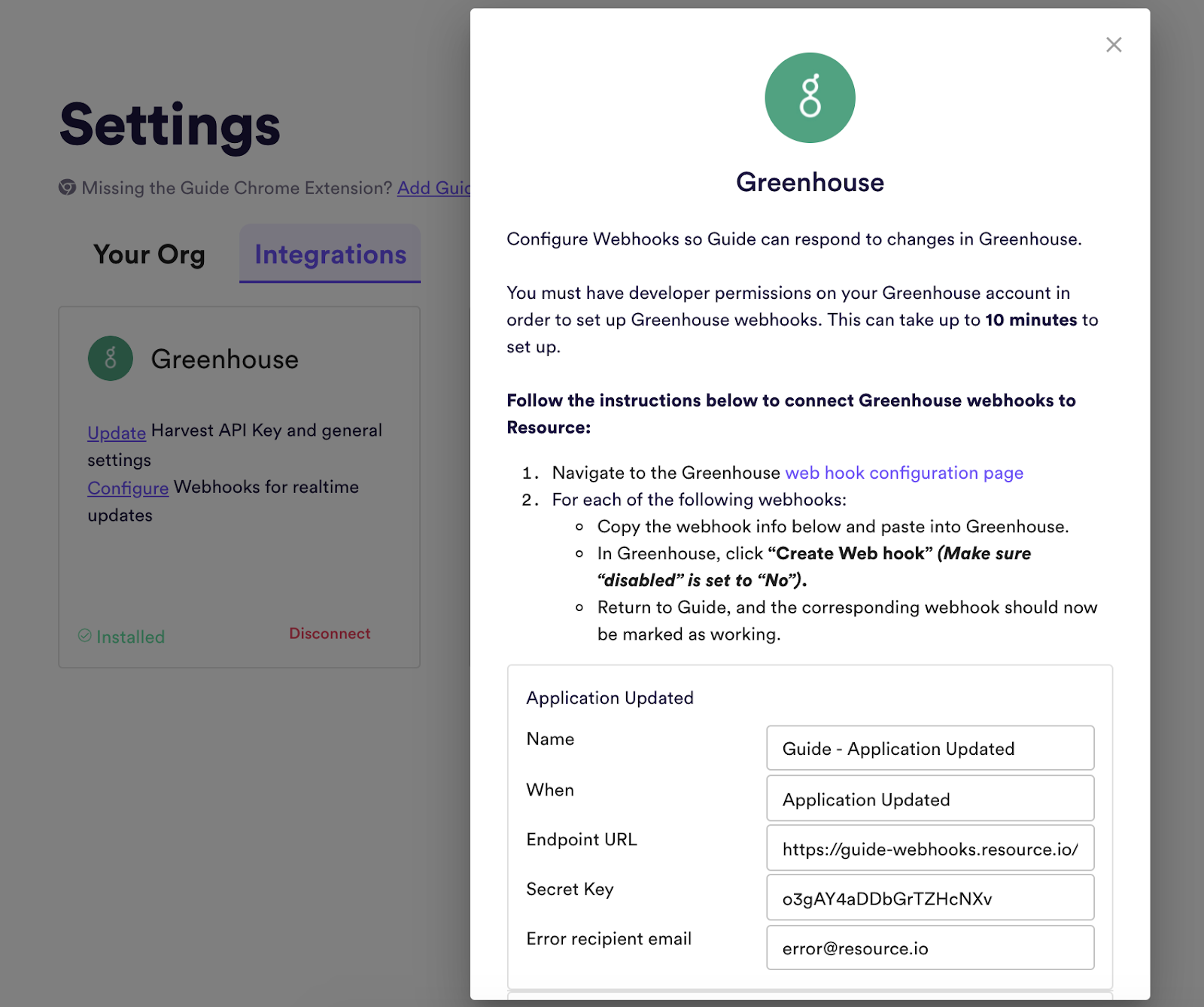 Get help
For troubleshooting or setup assistance regarding the integration, please contact the Guide support team.