Clearspeed enables you to automatically assess your entire candidate pool using Clearspeed's automated questionnaire. With PreCheck by Clearspeed, you can have confidence the candidates you add to your shortlisted pool have the skills and experience they have represented in their applications and resumes.
Enable the Greenhouse Recruiting / Clearspeed integration
To start, contact your Clearspeed representative to request your API key. After you have the API key, follow the steps in this article to add the Clearspeed PreCheck stage to your interview plans.

Once you've set up your interview plans and configured your take-home test, you'll be able to send the test to candidates.
Send and review a test
When candidates are moved into the Clearspeed interview stage, Greenhouse Recruiting displays a Send Test link.
Note: When you send a test from Greenhouse Recruiting, the interview instructions actually are sent by Clearspeed.

Click Send Test and confirm the right reference check and grader are selected. After reviewing, click Send Test to send the PreCheck invitation to the candidate.

After it's sent, the test's status will display on the interview plan.

Once the candidate has invited all their references, and all references have responded to the survey, the Interview Kit will contain a report holding the most important information about your candidates. Click View Report to see the candidate's reference check profile in Clearspeed.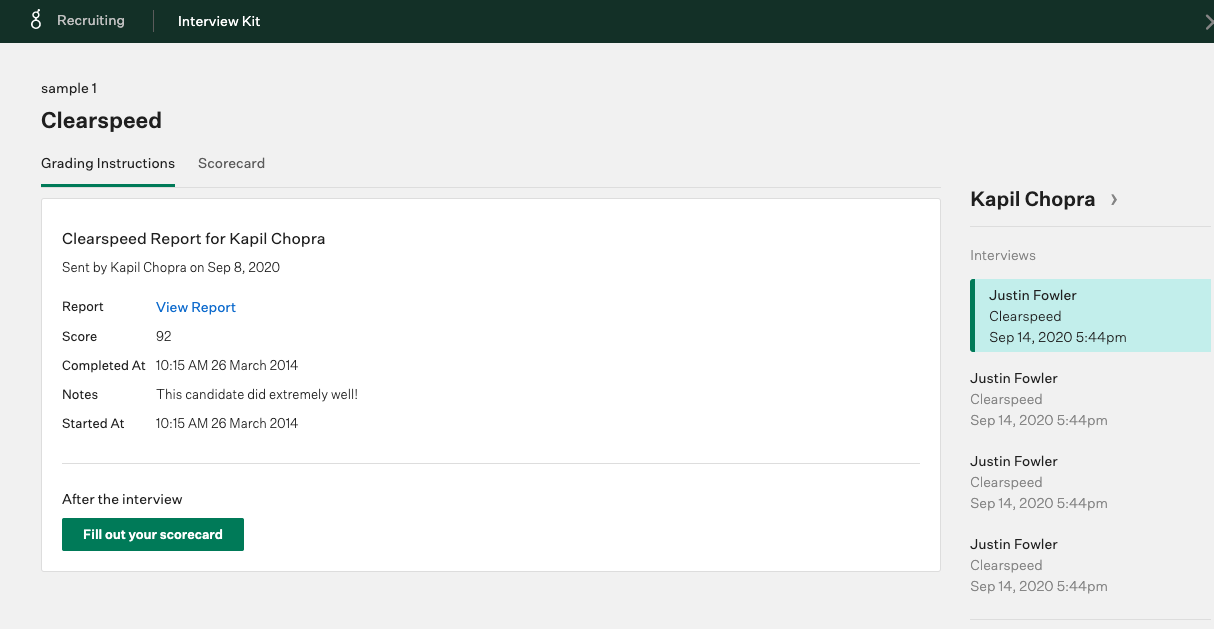 Additional support
For troubleshooting assistance regarding the integration, contact the Clearspeed support team at customerservice@clearspeed.com.