VidCruiter and Greenhouse integrate seamlessly together to allow for an easy and dynamic recruitment process. We work hard to create a great experience for both your recruiters as well as your applicants.
With this guide, you will be able to enable the integration within both VidCruiter and Greenhouse, create a position within both VidCruiter and Greenhouse as well as test the connection between the two.
This will be a quick and easy guide with everything you need in order to get this integration up and running.
Getting Started
Before starting this guide, please ensure that you have administrative access to both your VidCruiter and Greenhouse accounts.
We will start by linking the two accounts together. Later in the guide, we will go through the steps of making this integration work with your workflow.
Let's get started!
Enabling the Greenhouse integration in VidCruiter
Log into VidCruiter and click on Admin (1), Integrations (2), Greenhouse (3), and then on Connect

(4).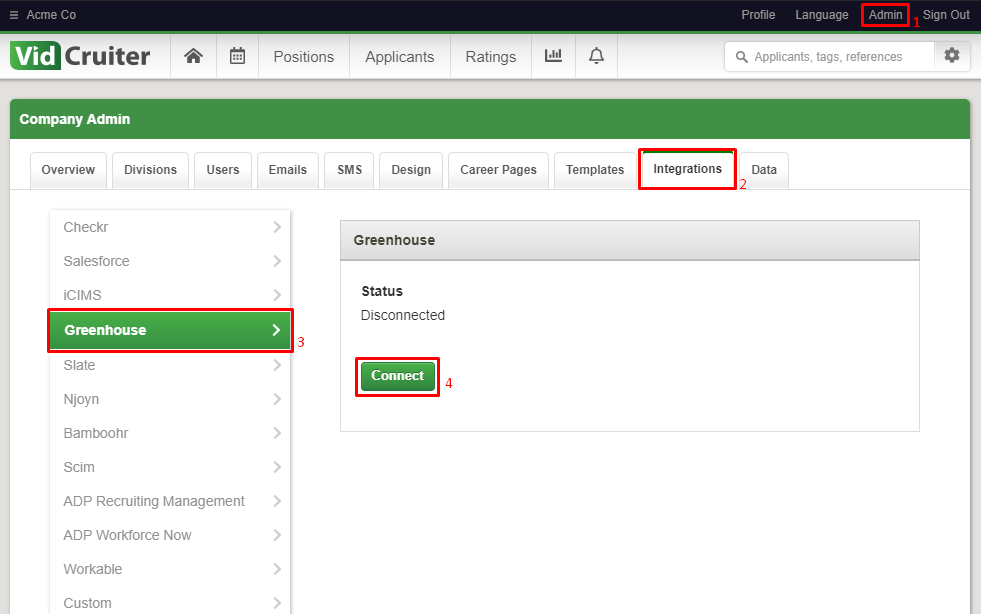 On the following page, save the API key listed. You will need this to connect VidCruiter in Greenhouse.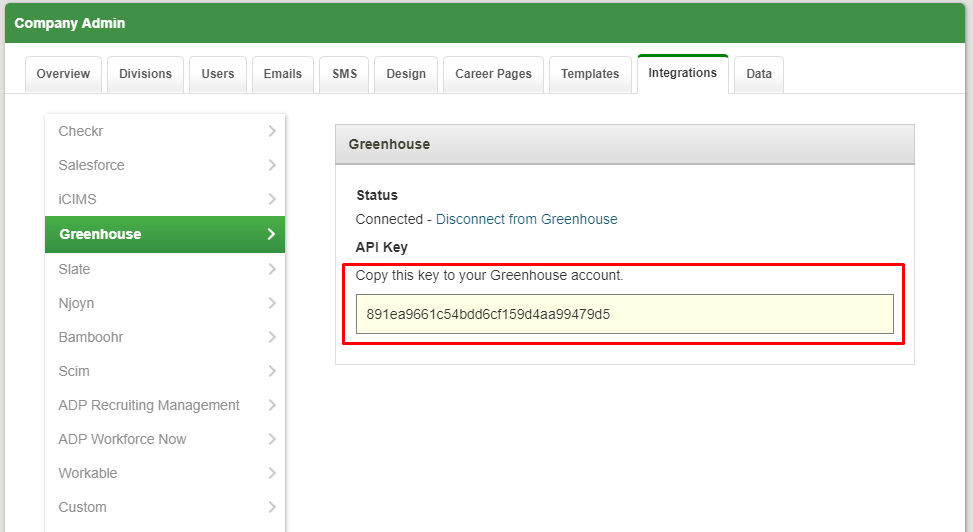 Adding an export event in VidCruiter
Click on Positions (1), Click on the folder your position is in (2), click on the gear by your position (3), and then on Edit

(4).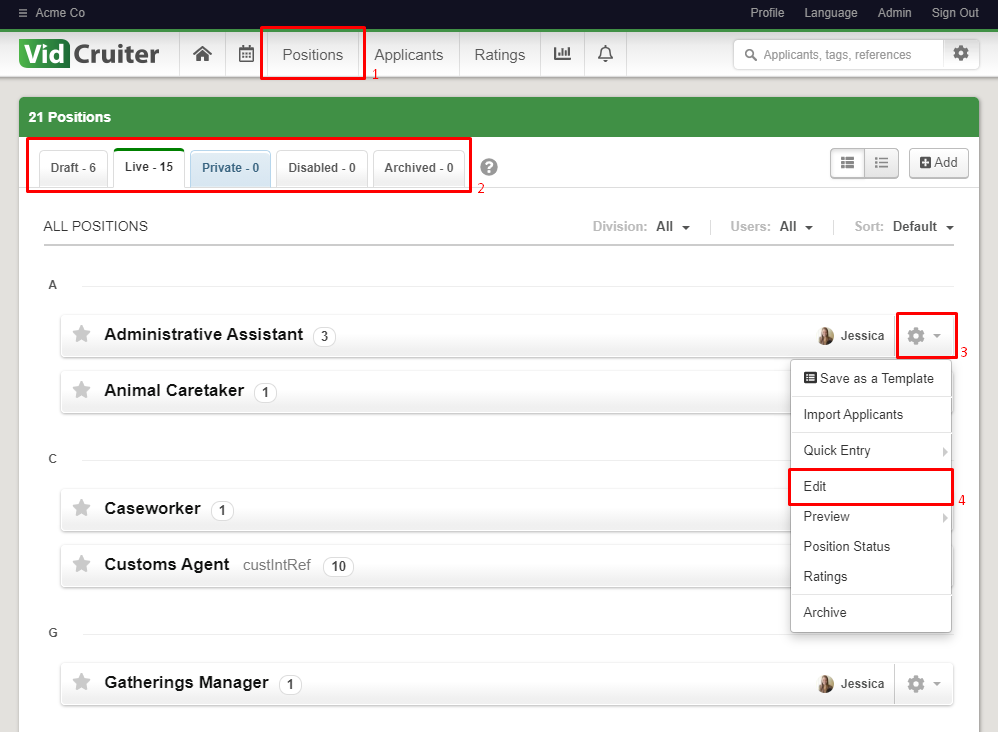 Click on Recruiter Tasks

in the top navigation menu.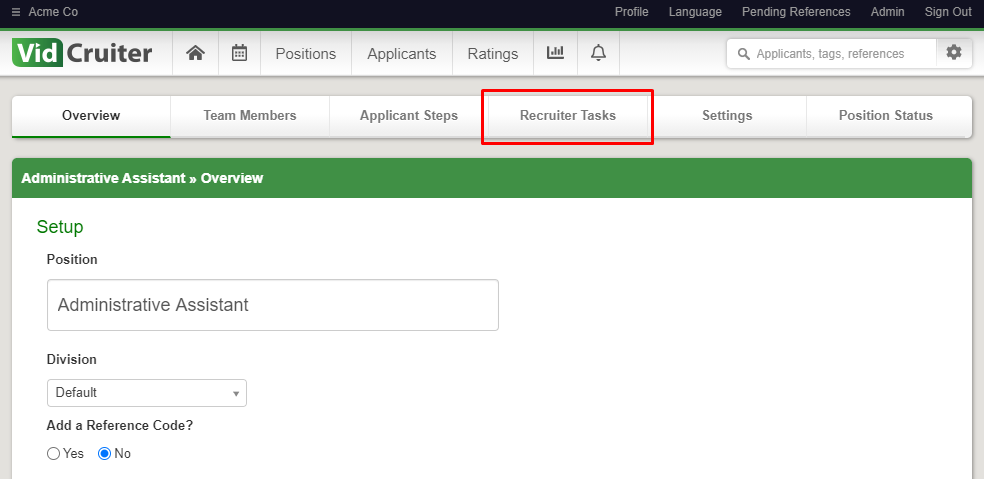 Within your Recruiter tasks, choose where you would like to export your candidates information back to Greenhouse. In this example, we will export the candidate information upon entry into the Greenhouse Export task. Click Add an Action

.
Choose when you would like the export to happen. There are many options, however, we will be using the Applicant enters this step

option.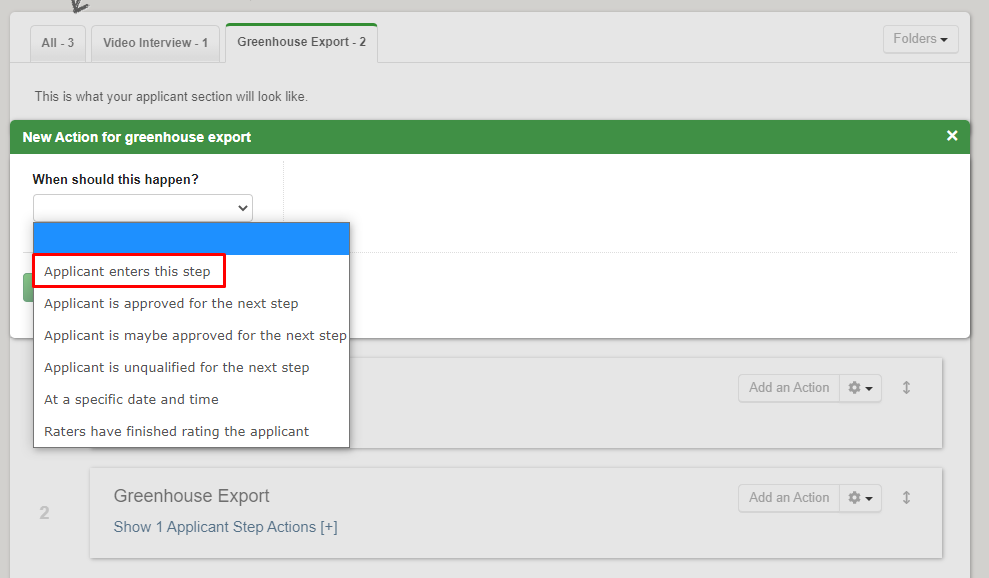 In the What should happen? dropdown menu, choose Export Applicant

.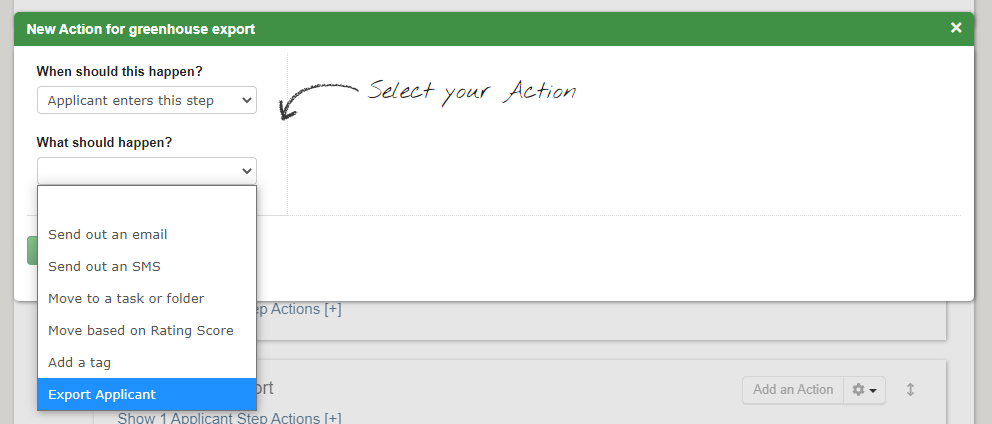 Lastly, ensure the export is set to Greenhouse and click Save

.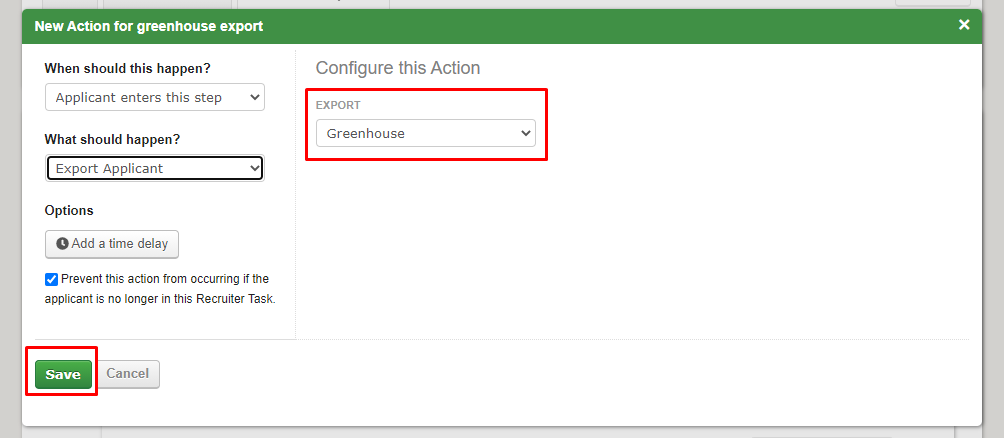 Anytime an applicant enters this step, their information will be exported back to Greenhouse automatically.
Note: Greenhouse will pull applicant information and display it periodically. Therefore, the export will not happen right away. For more details on the time delay, please contact Greenhouse Support.
Enabling the VidCruiter Integration in Greenhouse
Log into your account and speak to a support agent. Let the agent know you are enabling the VidCruiter Integration and you have an API key.
You can contact Greenhouse Support by filling out a form or opening a ticket. For more information, click here

.
They will send you a SendSafely link where you will be able to securely enter the API key copied from VidCruiter.

Once the Greenhouse Support team has enabled the integration, go to your Greenhouse Account and click on All Jobs

, then on the job in question.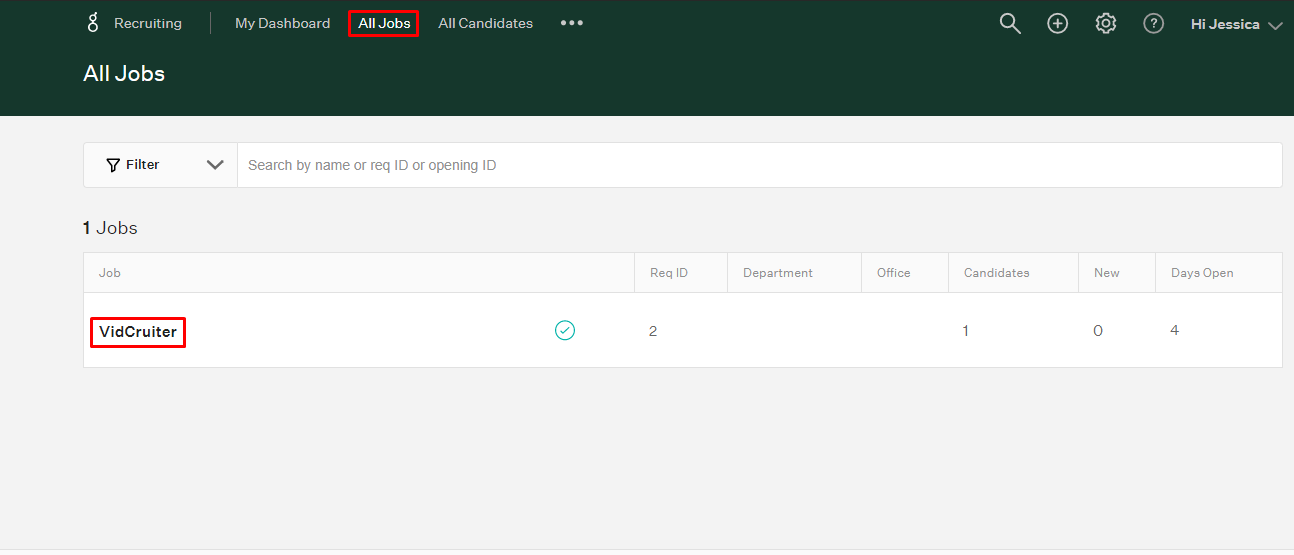 Next, click on Job Setup and then on Interview Plan

.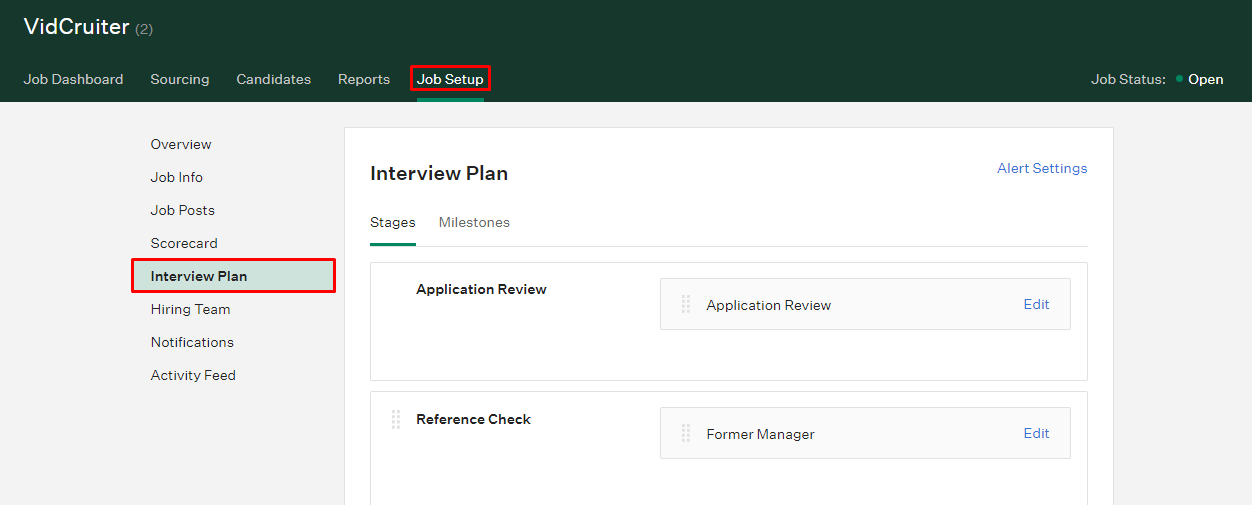 Scroll down this page and click on Add a Stage

.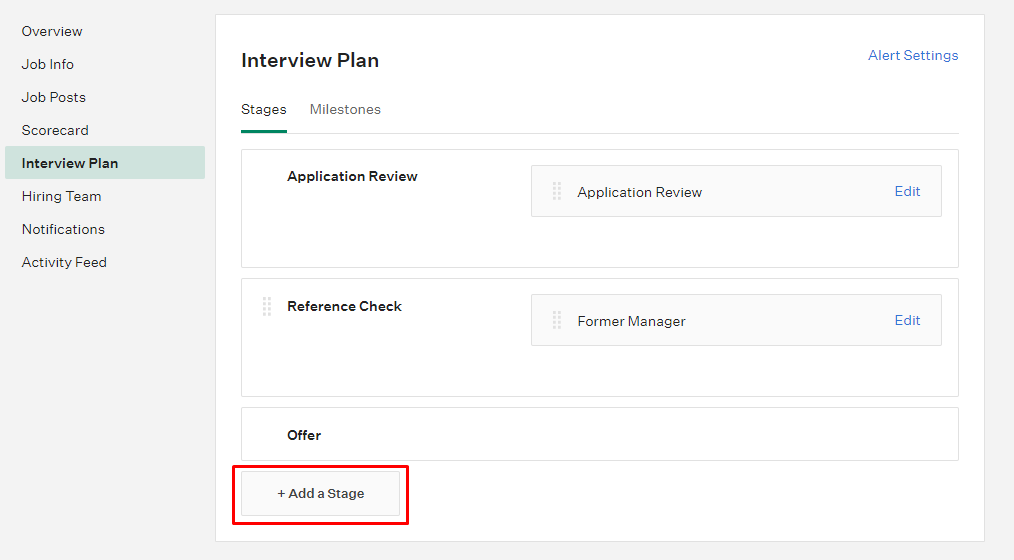 In the stage popup, scroll down the list, click VidCruiter, and then Add

.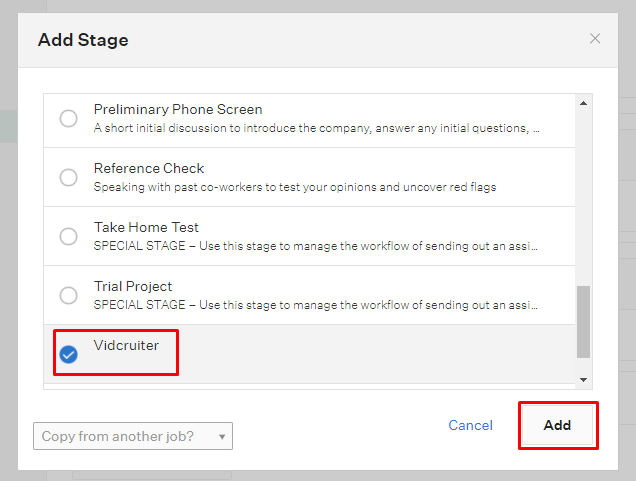 Sending your Candidate to VidCruiter
Click on All Candidates

and then click on one of your active candidates.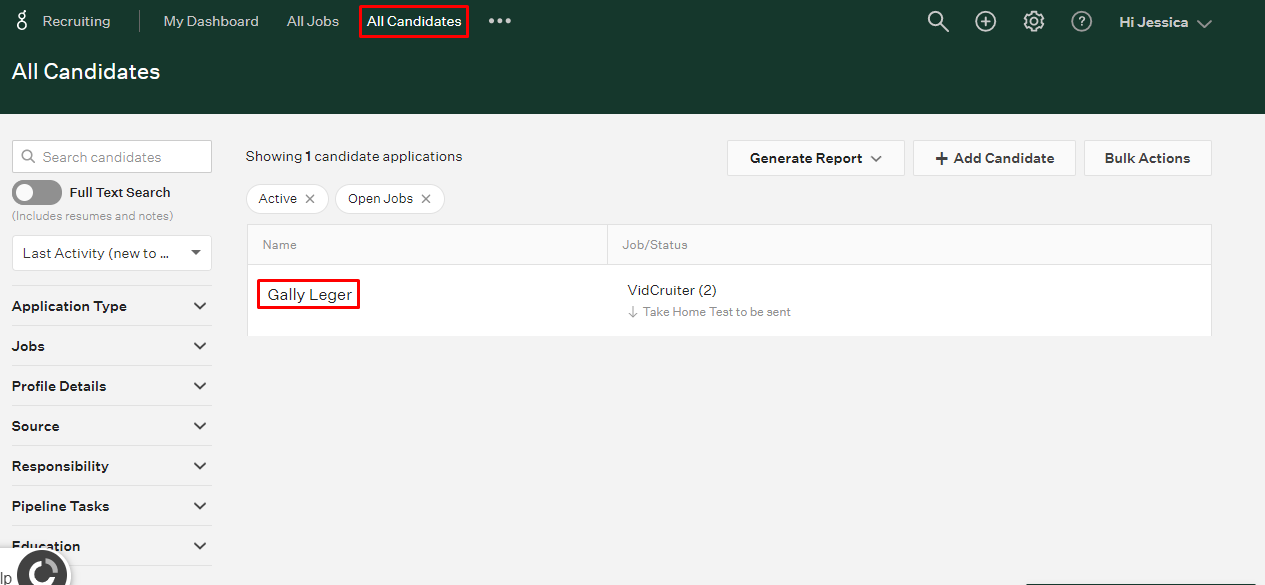 Click Move Stage

.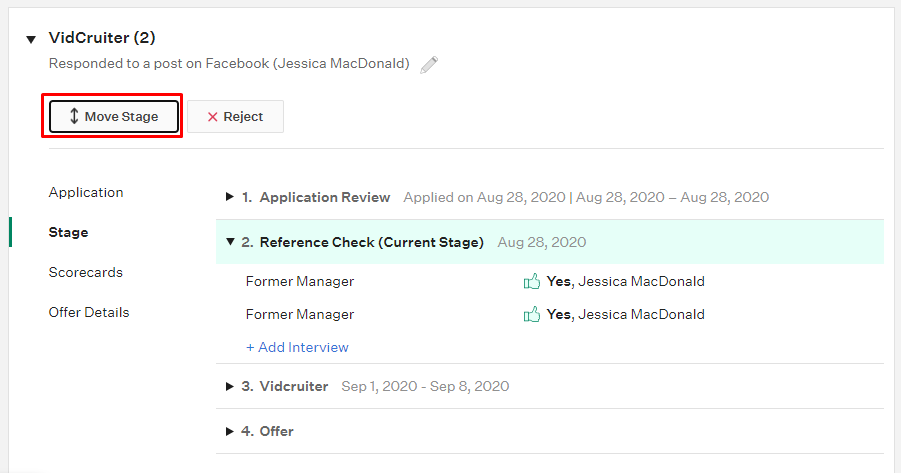 Move the Candidate into the VidCruiter

Stage.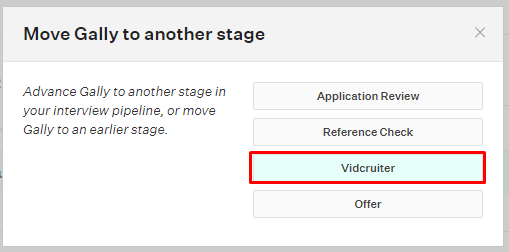 Click on Send Test

.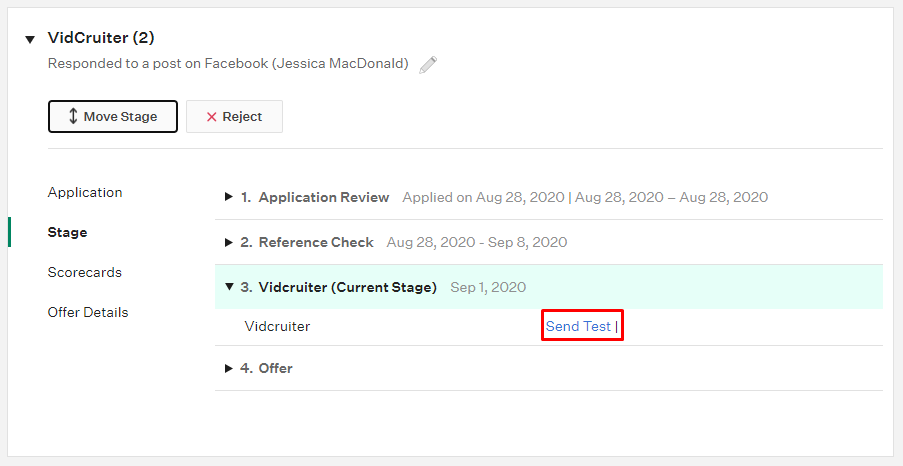 Select the VidCruiter test you would like your candidate to complete as well as the person who will grade the test. All VidCruiter tests available and connected to Greenhouse will display within the Test

dropdown.
Once completed, click Send Test.
.

You should now see Sent, less than a minute ago. This confirms that the candidate has been successfully sent to VidCruiter to start their test.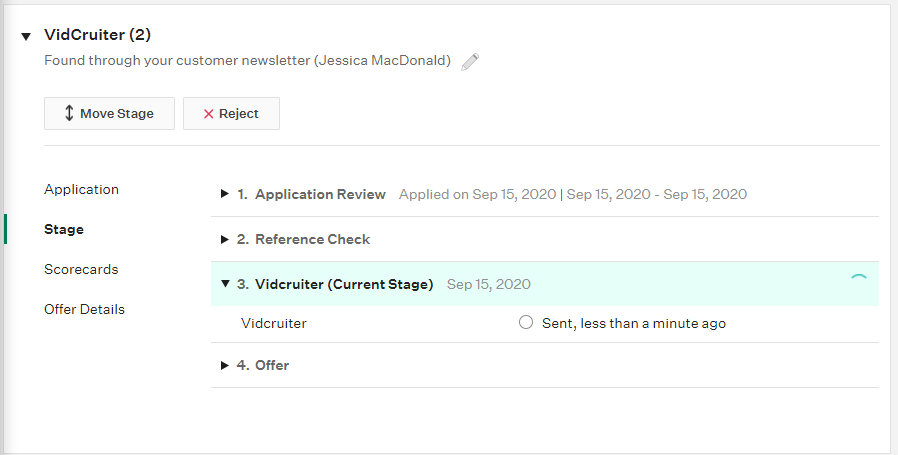 When clicking on Candidates, the candidate you sent to the VidCruiter test will now show as Waiting for candidate to submit test

.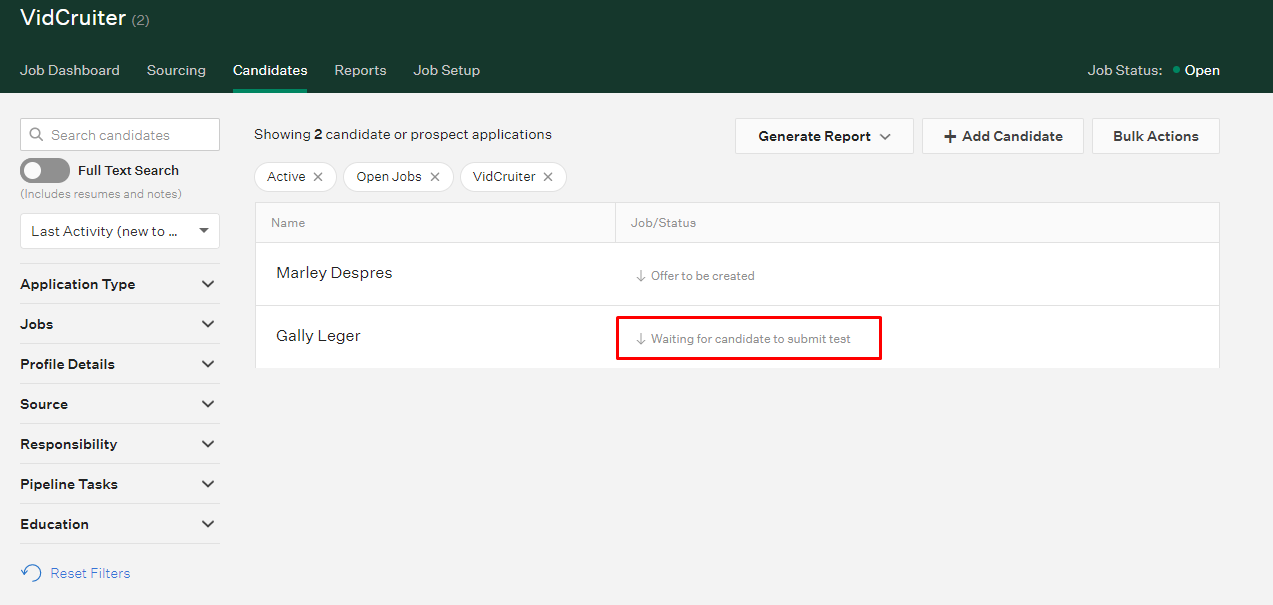 Viewing Test results in Greenhouse
From the Greenhouse Dashboard, click on All Candidates

and then on the candidate's name.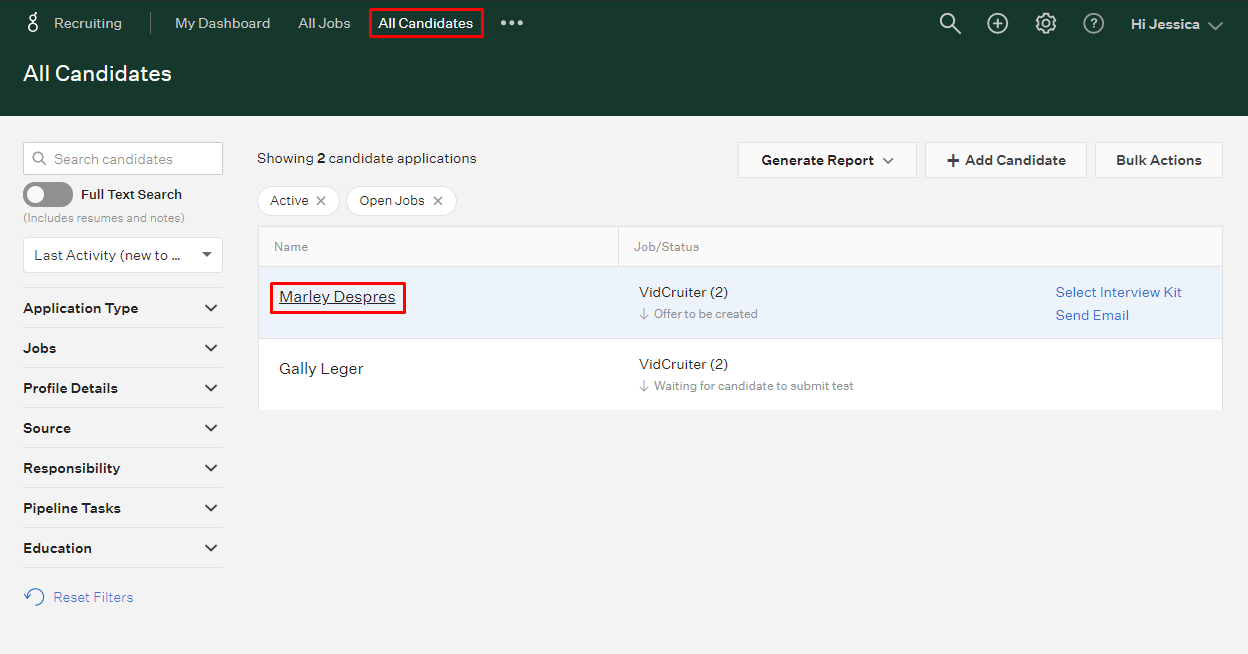 From the Candidate Profile, click on the VidCruiter stage and then on VidCruiter

.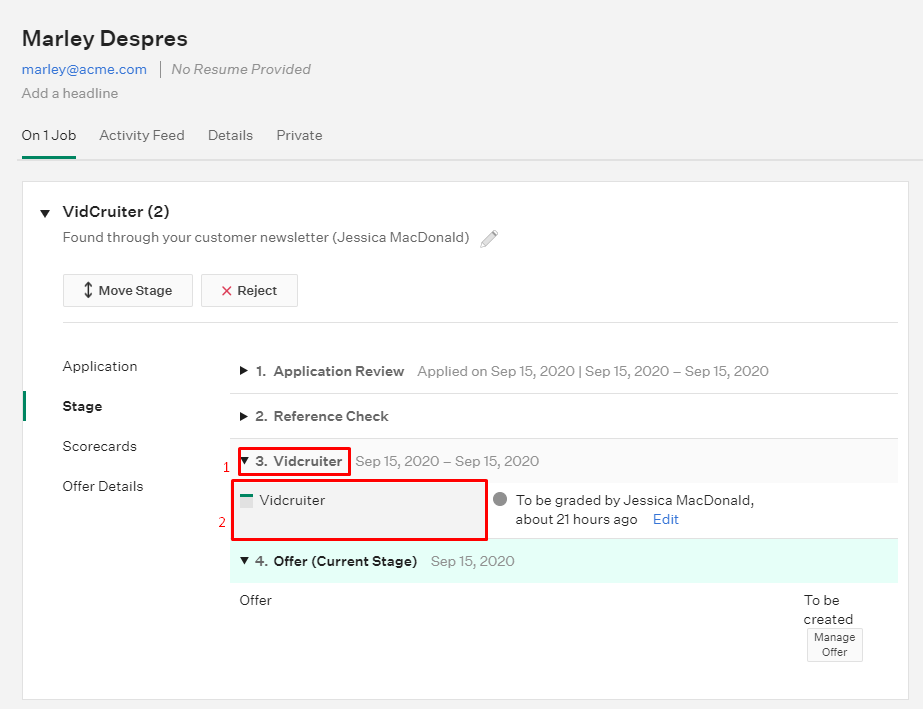 On the Grading Instructions screen, click on View Report

.

Viewing the report will bring you to the Candidate's VidCruiter Profile. Here, you can view the candidate's answers to the VidCruiter test they completed.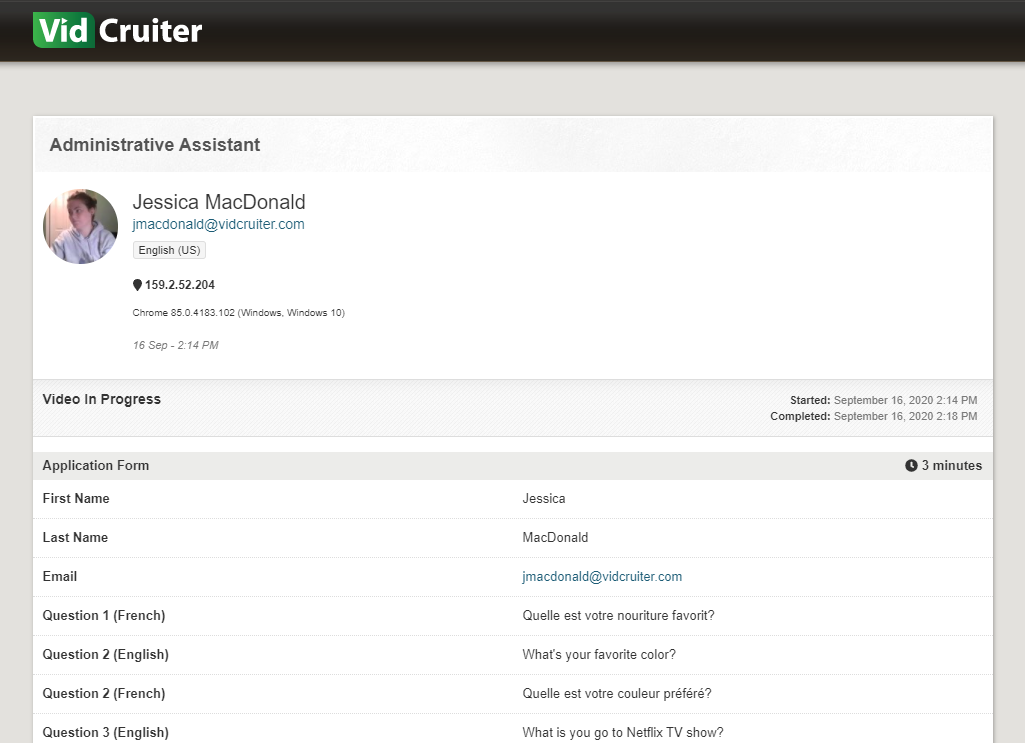 Additional Information
This should be all you need to connect your VidCruiter Account and your Greenhouse Account.
For any inquiries, contact your VidCruiter Client Success Manager or Greenhouse Support for any additional questions during or after the setup process.