Permissions: Owners and Coordinators
Product tier: Available for Greenhouse Welcome and Greenhouse Onboarding subscription tiers
Choreographed introductions help your onboarding team notify employees about the latest group of new hires who've joined your organization, giving employees a chance to learn more about their new teammates.
Greenhouse Onboarding provides four default choreographed introduction email templates to get you started:
Department-wide hello: Introduce an entire department to their new teammates
Manager notification: Send managers a reminder when their new hires are about to start
Onboarding class: Introduce new hires in the same cohort to each other
Buddy program instructions: Introduce new hires to employees assigned to be their onboarding buddies
You can also create custom choreographed introduction templates to fit your team's needs or to notify other specific groups of employees in your organization.
Selected recipients will receive choreographed introduction emails automatically on a date relative to the new hire cohort's start date, based on the schedule you configure for each template.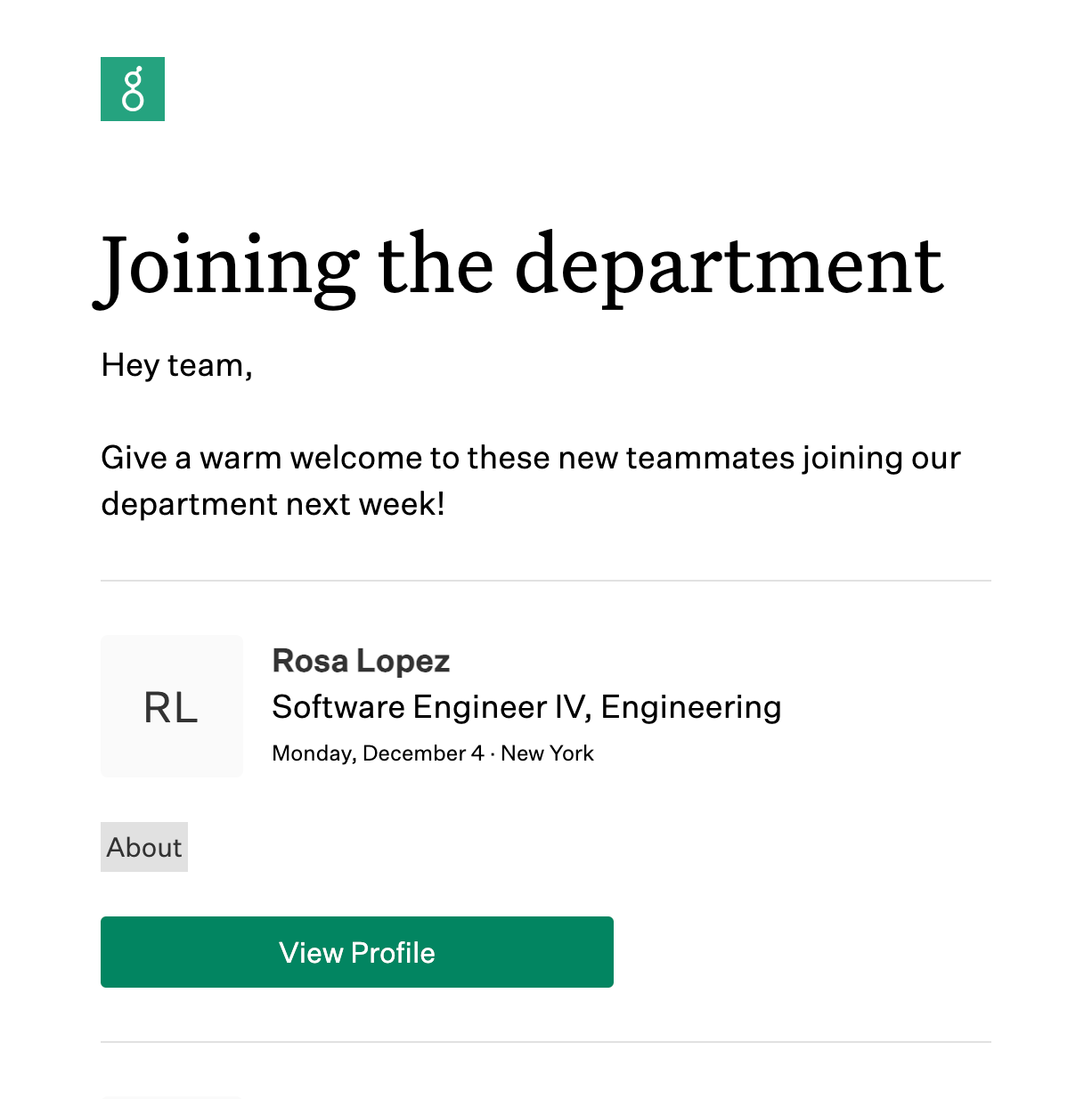 New hire cohorts
Choreographed introductions use new hire cohorts to determine which new hires should be featured in each email. New hires are grouped based on their start date and the cohort criteria defined in your template, including a new hire's department, location, employment status, or other criteria.
For each template, you'll want to define new hire cohort criteria. You'll also schedule when choreographed introduction emails should be sent, relative to the start date for each new hire cohort.
Example: You've created a department-wide choreographed introduction email for the Engineering department. Your template is set to send on the following schedule:
Mondays
1 week before new hires start
It's Monday. Next week, these new hires will join your organization:
Isaac Ellig, Software Engineer I, starting next Monday 
Seoyun Kim, Sales Manager, starting next Tuesday
Rosa Lopez, Software Engineer IV, starting next Tuesday
Based on your template's criteria, the following new hires will be grouped into a new hire cohort and included in today's choreographed introduction email for the Engineering department: