Career.Place is an anonymous candidate screening tool that removes bias from hiring. It completely eliminates resumes and any candidate identifying information from the screening process and replaces them with a step-by-step evaluation funnel easily configured by the employer. The evaluation funnel can include basic requirement questions, trait assessments, scenarios and pre-recorded video interviews. Only those qualified advance through each step of the funnel.
Further, Career.Place provides employers with valuable insight at each step of the evaluation funnel; empowering employers to maintain an effective, consistent, and compliant hiring program while promoting diversity through this funnel. Real-time data allows employers to monitor and adjust the hiring funnel to ensure standards are met while the job is posted, not after the fact.
Anonymous candidates are guided through a process designed to empower and encourage strong candidates, while keeping them informed of their progress and standing at every step in the funnel. For the first time, candidates will be screened fairly and consistently, based on their capabilities and skill-set and not on what is written on a resume.
Greenhouse Recruiting's integration with Career.Place allows you to seamlessly add Career.Place's anonymous candidate screening process to a job's interview plan. In this article, we will cover how to:
Enable the Greenhouse Recruiting / Career.Place Integration
After creating your organization in Career.Place, navigate to the Organization Settings and click the Integrations tab. Scroll down the page until you find the Greenhouse section and copy the API key.

Once you have obtained your API key, click here to open a ticket with the Greenhouse Support team.
Note: Do not send the API key in this initial email.
The Greenhouse Support Team will respond with a SendSafely link for you to enter your API key. A notification will be sent to the Greenhouse Support Team after you have entered your API key and they will email you to confirm that your API key has been set up in your account and your integration is enabled.
Note: To verify your identity, the Greenhouse Support Team might request you provide a Support Verification Code before adding the API key to your organization's account.
Add Career.Place Stage to Job's Interview Plan
Once the Greenhouse Recruiting / Career.Place integration is enabled for your organization, you will be able to add the Career.Place assessment as an Interview stage.
To do this for an existing job, navigate to a job (All Jobs > Job Name) and click Job Setup from the Job navigation bar.

From the Job Setup page, navigate to Interview Plan on the left-hand panel. Scroll down the page and click + Add a Stage.

From the Add Stage dialog box, select the Career.Place stage. When finished, click Add to apply the stage to the job's interview plan.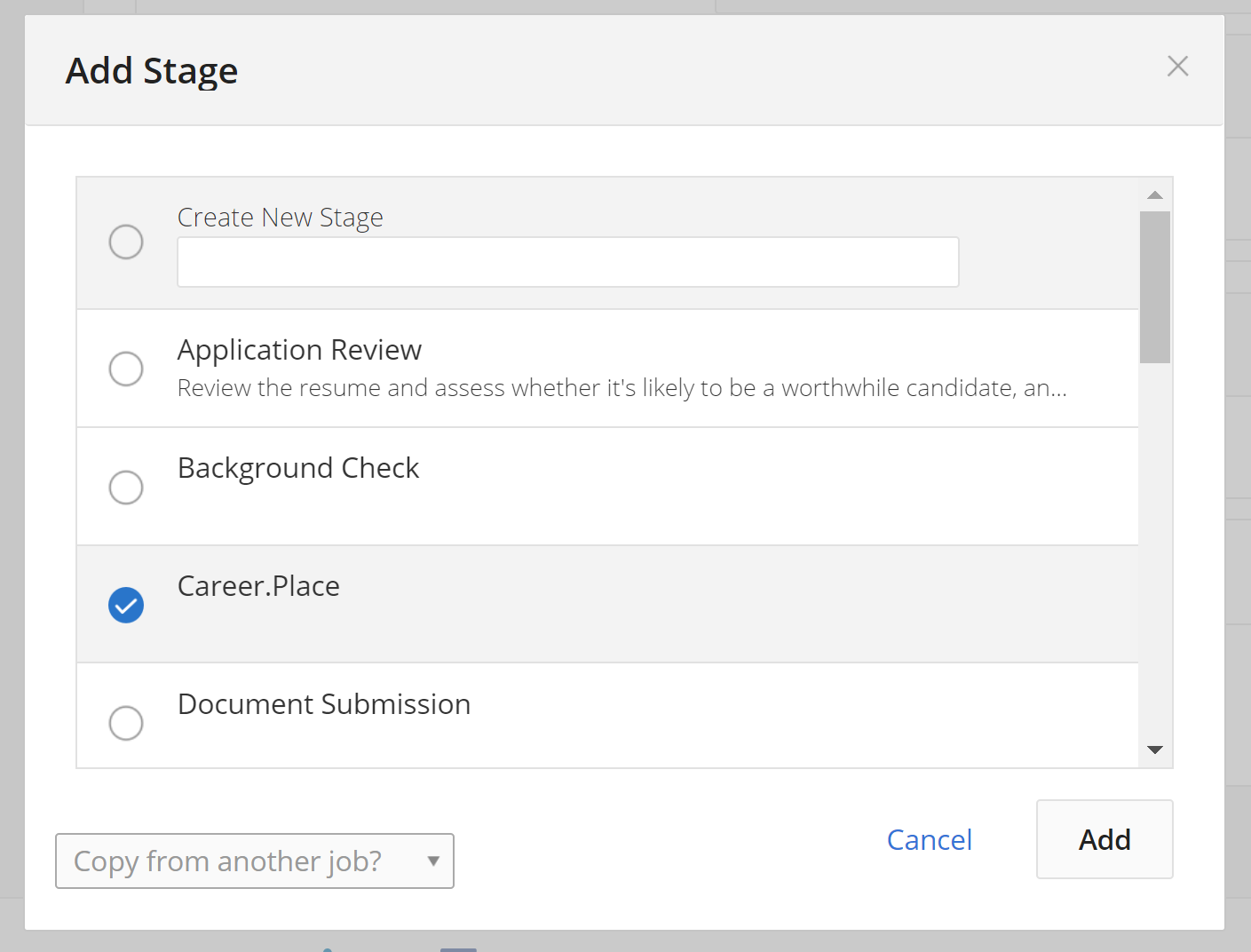 Career.Place is typically used as the first stage of an Interview Plan. You can set the placement of the Career.Place stage from the Interview Plan page.
Configure Career.Place Stage
Once the stage has been added to the job's interview plan, click Edit. On the subsequent page, use the provided dropdown menu to view a list of jobs that you have previously set up in Career.Place.
Select the appropriate job (referred to as a Test or Assessment in Greenhouse Recruiting) from Career.Place and assign at least one Greenhouse Recruiting user to grade/review submitted assessments. When finished, click Save.

Note: Keep in the mind that all configuration of the job itself, as well as the email template, will need to be done in Career.Place.
Send and Review the Test
When candidates are moved into the Career.Place interview stage, Greenhouse Recruiting will display a Send Test link.
Note: When you send a test from Greenhouse Recruiting, the interview instructions are actually sent via email by Career.Place.

The status of the candidate's test will be viewable in Greenhouse Recruiting:

The Greenhouse Recruiting user will be able to monitor the status of each candidate that was sent to Career.Place on the candidate screen.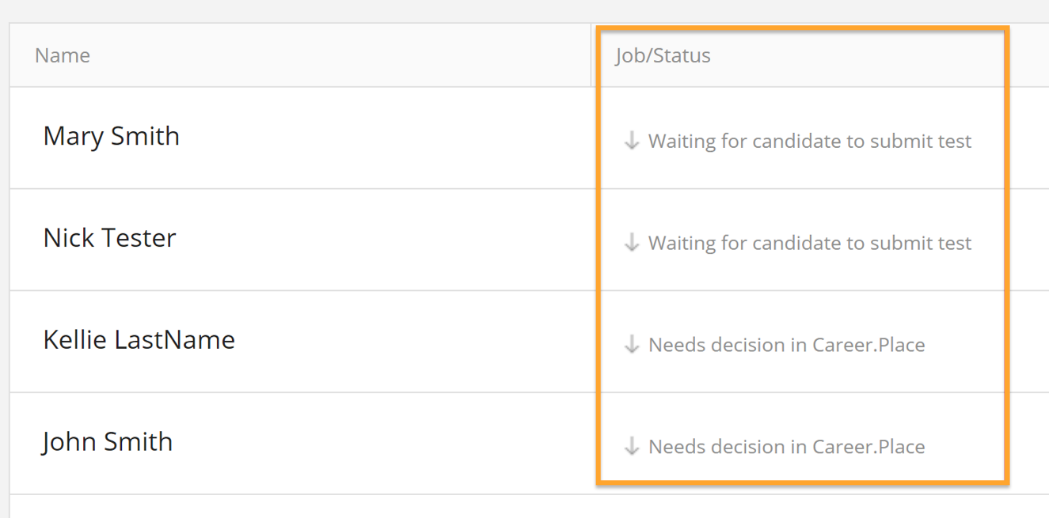 | | |
| --- | --- |
| Job/Status | Meaning |
| Waiting for candidate to submit test | Candidate has either not started their work or is in progress in Career.Place. |
| Needs decision in Career.Place | Greenhouse Recruiting user assigned to grade is expected to move the candidate to the appropriate interview step. |
Based on the associated job configuration in Career.Place, candidates will complete up to four stages:
Criteria
Assessments
Homework
Video Interview
If the associated job in Career.Place is configured with Homework and/or Video Interview stages, the appropriate user (Recruiter or Hiring Manager) will need to review the submitted candidate responses, rate them, and provide a disposition on whether the candidate's responses are a fit or not for the organization.
Candidates are returned to Greenhouse Recruiting as either qualified with a score of 100 or not qualified with a score of 0. When a candidate becomes disqualified in Career.Place, their status is updated in Greenhouse Recruiting immediately. For a candidate to be shown as qualified in Greenhouse Recruiting, the Recruiter or Hiring Manager will need to "Unlock" the candidate in Career.Place.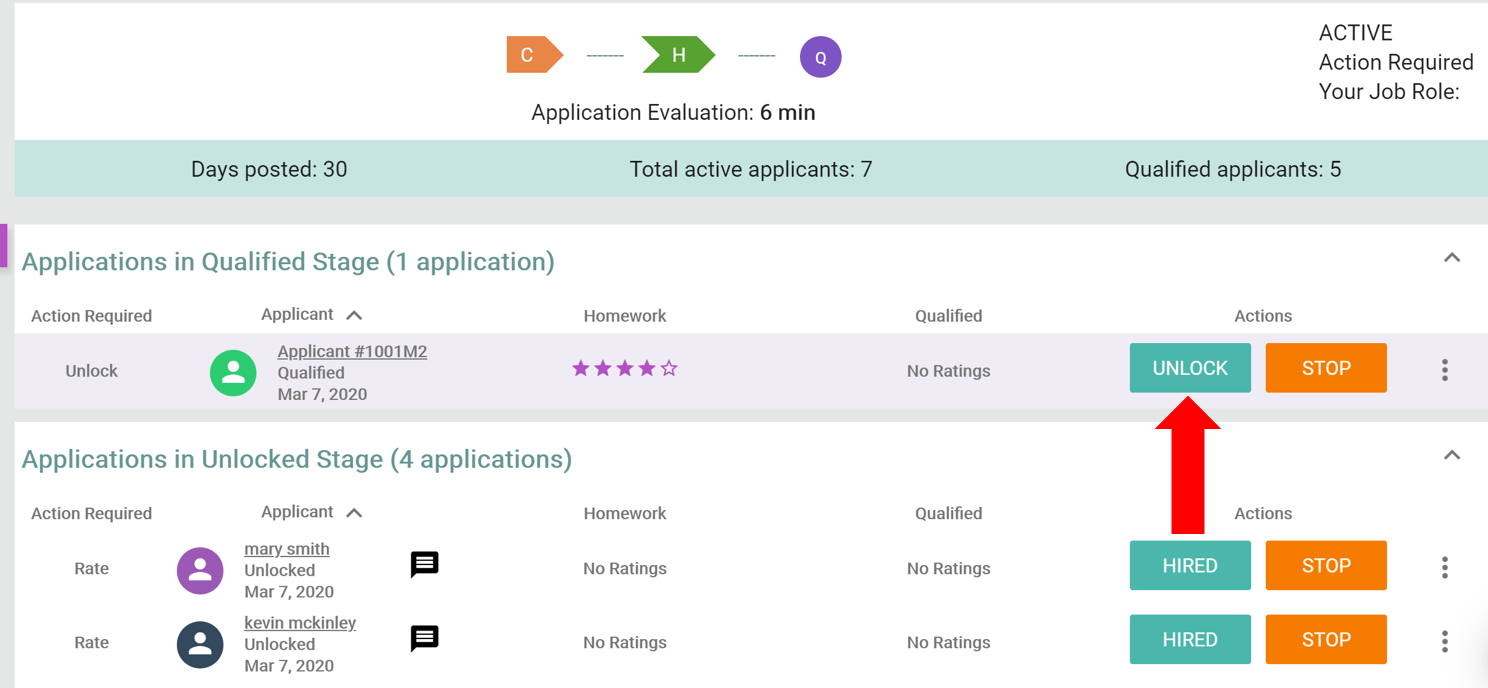 Once the candidate has completed the process in Career.Place and a final result is returned to Greenhouse Recruiting, a status of Needs decision in Career.Place will be shown in Greenhouse Recruiting. This means a candidate is ready to be moved to the appropriate Greenhouse Recruiting interview step.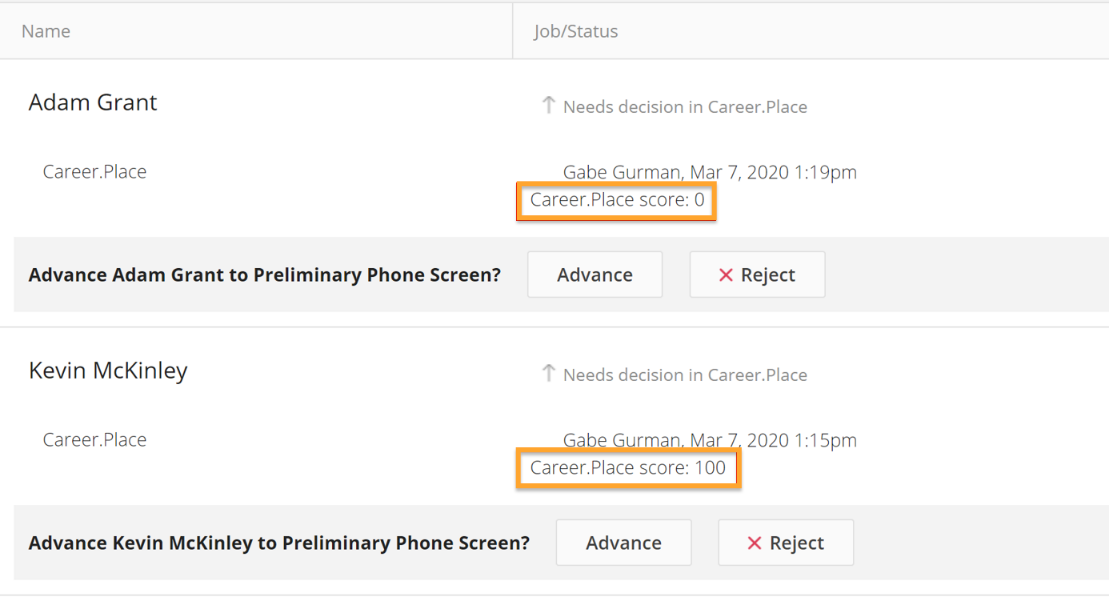 After you click on the Interview Kit on the candidate's profile, you will be taken to a page where the URL is available to view details of the candidate's results in Career.Place.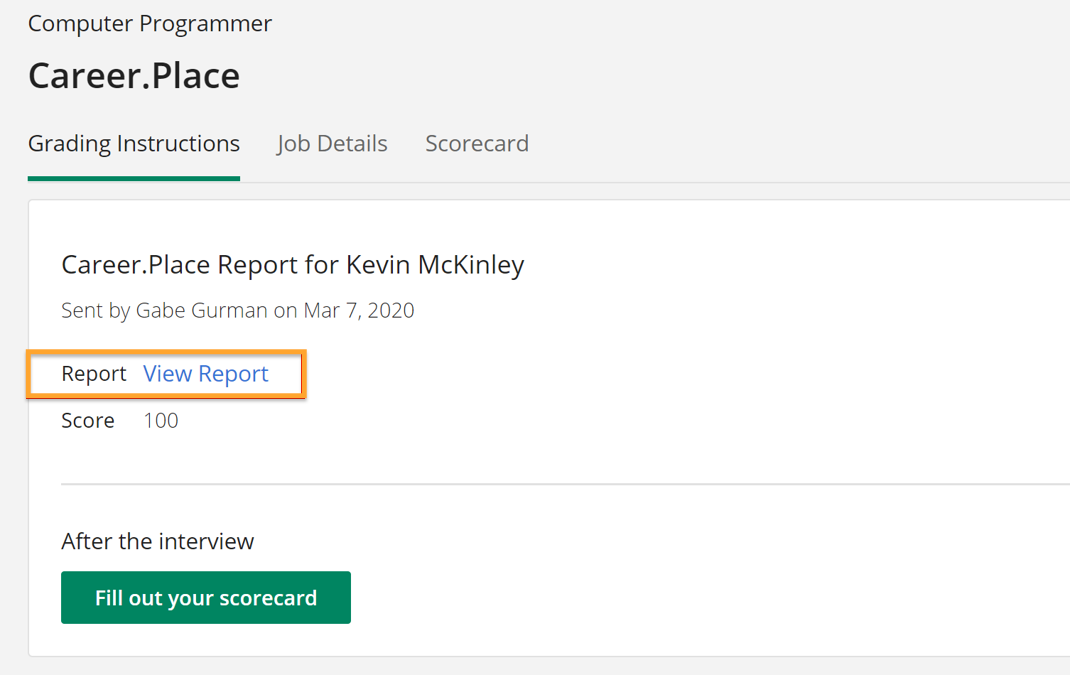 The candidate detail screen from Career.Place will appear after clicking View Report.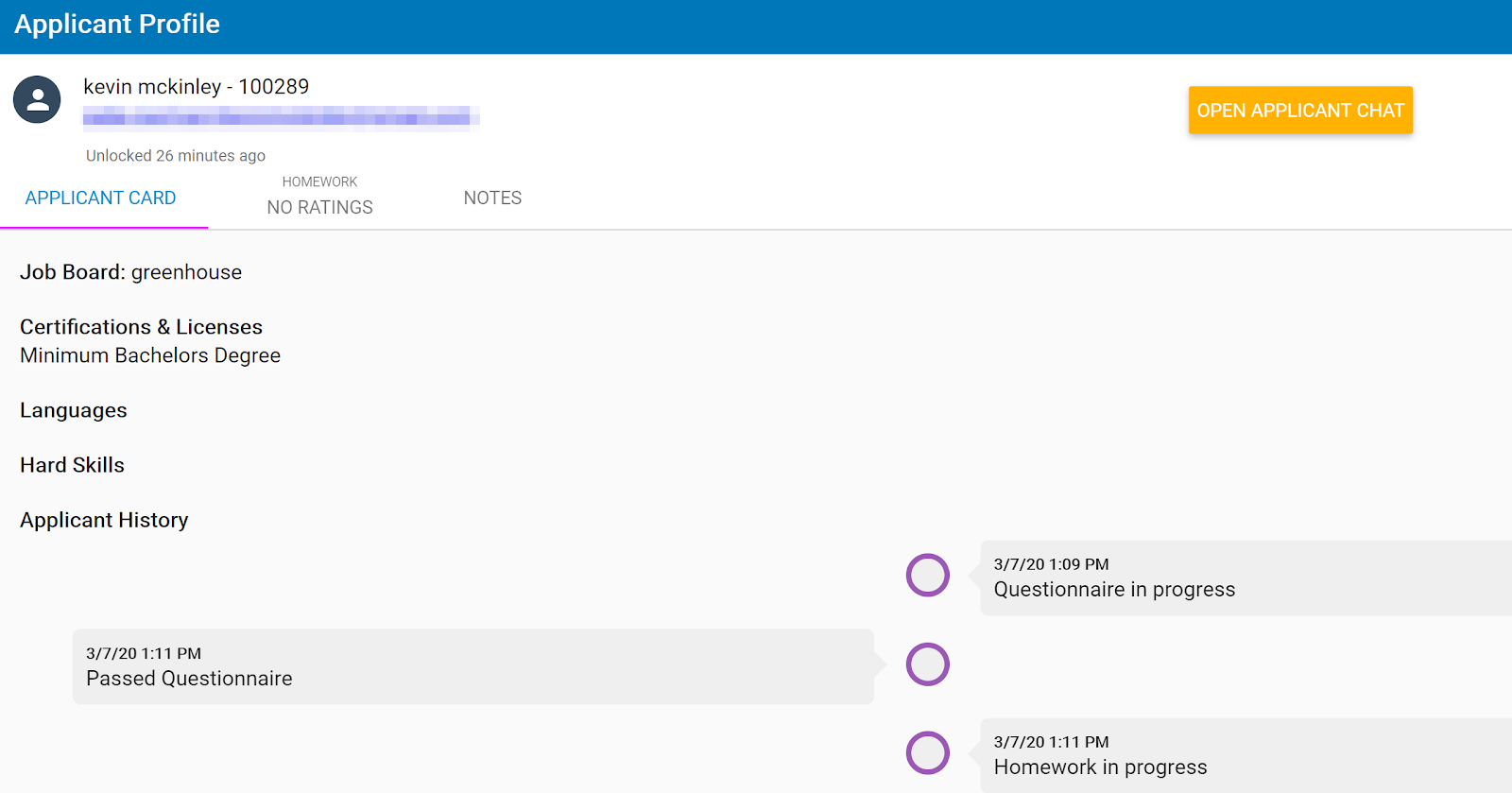 Get Help
Please email support@career.place for troubleshooting assistance regarding the integration.