Career.Place is an anonymous candidate screening tool that removes bias from hiring. It completely eliminates resumes and any candidate identifying information from the screening process and replaces them with a step-by-step evaluation funnel easily configured by the employer. The evaluation funnel can include basic requirement questions, trait assessments, scenarios and pre-recorded video interviews. Only those qualified advance through each step of the funnel.
Further, Career.Place provides employers with valuable insight at each step of the evaluation funnel; empowering employers to maintain an effective, consistent, and compliant hiring program while promoting diversity through this funnel. Real-time data allows employers to monitor and adjust the hiring funnel to ensure standards are met while the job is posted, not after the fact.
Anonymous candidates are guided through a process designed to empower and encourage strong candidates, while keeping them informed of their progress and standing at every step in the funnel. For the first time, candidates will be screened fairly and consistently, based on their capabilities and skill-set and not on what is written on a resume.
Greenhouse Recruiting's integration with Career.Place allows you to seamlessly add Career.Place's anonymous candidate screening process to a job's interview plan.
Enable the Greenhouse Recruiting / Career.Place integration
To enable the integration, follow the steps in this article to retrieve your API key from your Career.Place representative and set up the assessment stage in your interview plans.
Once you've set up your interview plans and configured your take-home test, you'll be able to send the test to candidates.
Use the Career.Place integration with Greenhouse Recruiting
Once the Greenhouse Recruiting / Career.Place integration is enabled for your organization, you will be able to add the Career.Place assessment as an interview stage.
You can send an assessment to a candidate by selecting the Send Test button next to the interview stage.

After it has been sent, an assessment's status will display in Greenhouse Recruiting.

Once the candidate has submitted their test, the Interview Kit will contain a link to view the submitted test in the Career.Place application.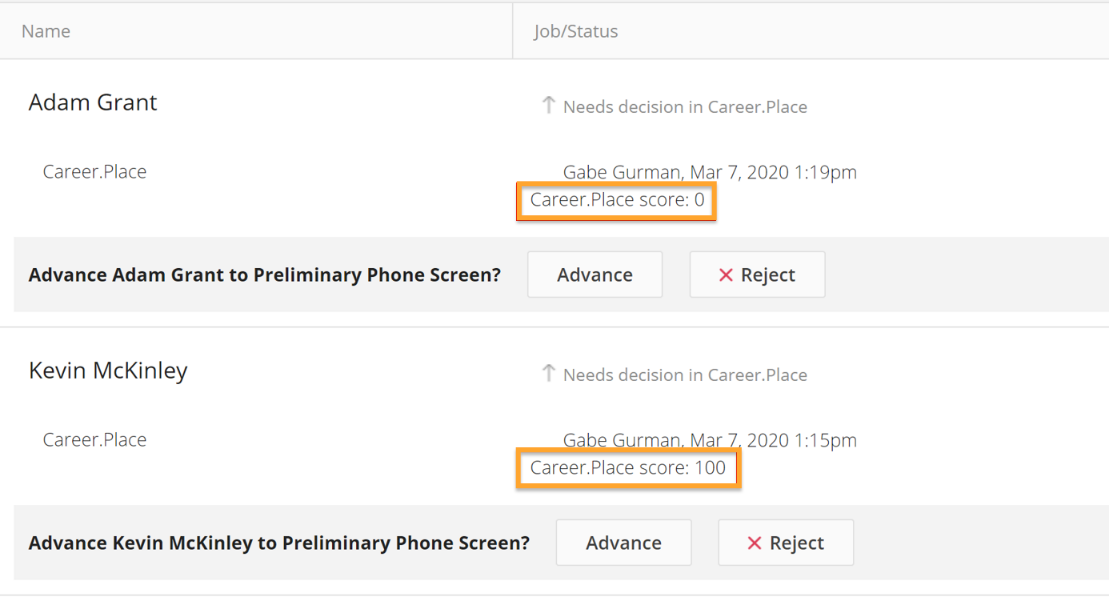 To see a candidate's results in Career.Place, click View Report.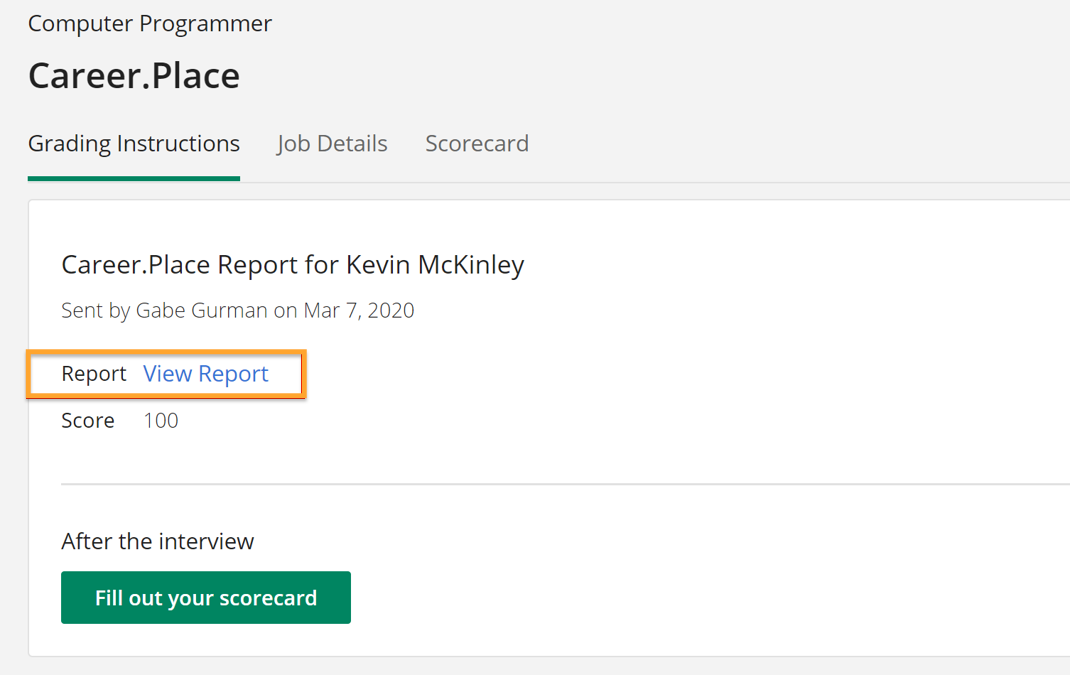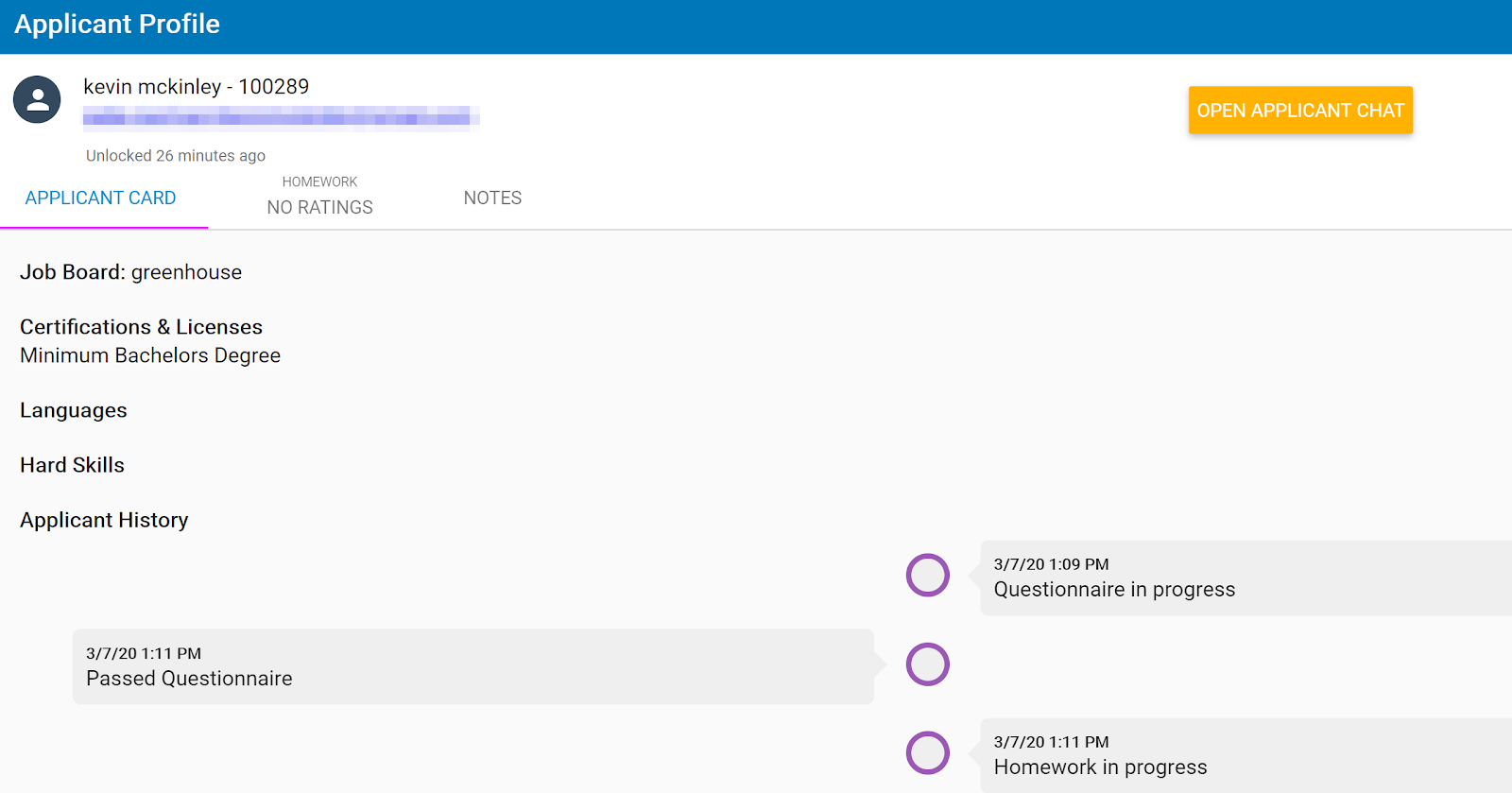 Based on the associated job configuration in Career.Place, candidates will complete up to four stages:
Criteria
Assessments
Homework
Video Interview
If the associated job in Career.Place is configured with Homework and/or Video Interview stages, the appropriate user (Recruiter or Hiring Manager) will need to review the submitted candidate responses, rate them, and provide a disposition on whether the candidate's responses are a fit or not for the organization.
Candidates are returned to Greenhouse Recruiting as either qualified with a score of 100 or not qualified with a score of 0. When a candidate becomes disqualified in Career.Place, their status is updated in Greenhouse Recruiting immediately. For a candidate to be shown as qualified in Greenhouse Recruiting, the Recruiter or Hiring Manager will need to "Unlock" the candidate in Career.Place.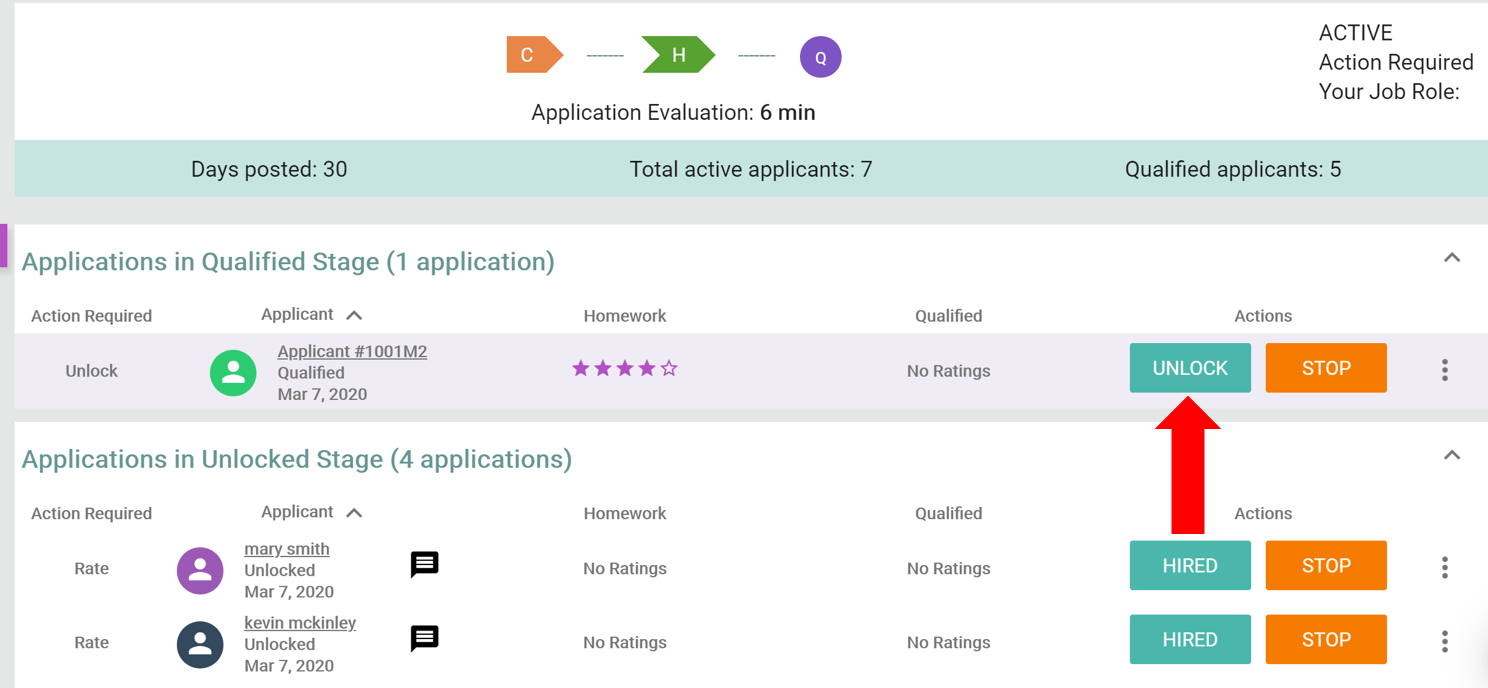 Additional resources
For additional information not covered here, reach out to support@career.place.