Greenhouse and Criteria Corp are integrated, allowing you to seamlessly use the two products together to add an assessment to your interview pipeline.
To implement the integration, you need to:
Contact your

Criteria Corp

Customer Success Manager

to request your API key.

Email

support@greenhouse.io

or

click here

to open a ticket.

Please do not send the API key in this initial email

.

The Greenhouse Support Team will respond with a SendSafely link for you to enter your API key into (

How does SendSafely work?

), which will notify Greenhouse Support once the API key has been entered.

Greenhouse Support will then email you back confirming that your API key has been setup in your account and your integration is ready to go.

Add a special

Criteria Corp

stage to your Interview Plan.

As candidates enter that stage, send the

Criteria Corp

assessment through Greenhouse.

Once candidates complete their assessments, a link to view their test results in Criteria Corp's testing platform,

HireSelect

, will be accessible through the Interview Kit in Greenhouse.
Enabling the Integration
To start, contact your Criteria Corp representative to receive your API key. Once you have received your API key, fill out the form at www.greenhouse.io/asksupport or click here to open a ticket.
Note: Do not send the API key in this initial email.
The Greenhouse Support Team will respond with a SendSafely link for you to enter your API key. A notification will be sent to the Greenhouse Support Team after you have entered your API key and they will email you to confirm that your API key has been set up in your account and your integration is enabled.
Note: To verify your identity, the Greenhouse Support Team might request you provide a Support Verification Code before adding the API key to your organization's account.
Adding the Criteria Corp Stage to the Interview Plan
Go to the All Jobs menu and select a job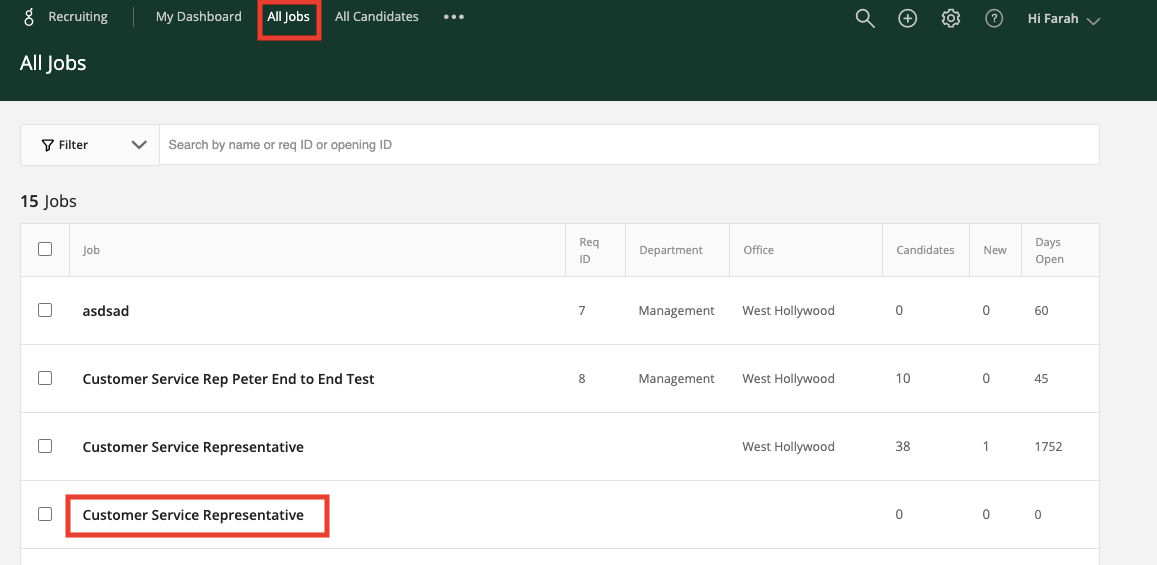 Select Job Setup, then select Interview Plan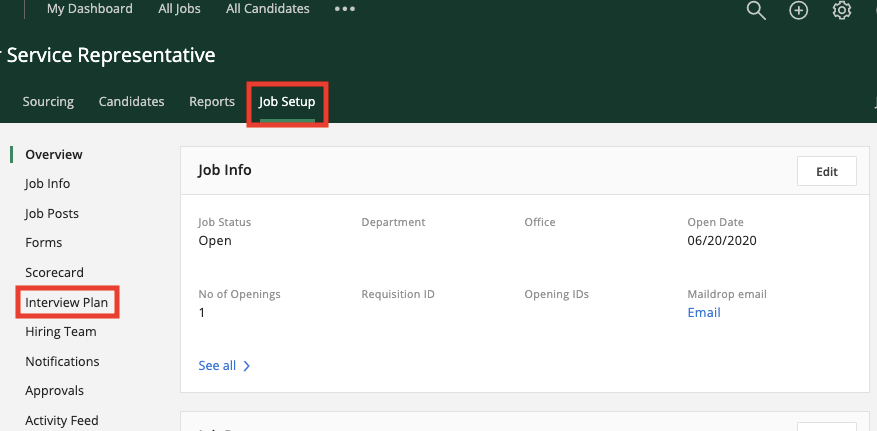 Scroll down to the bottom of the page and select + Add a Stage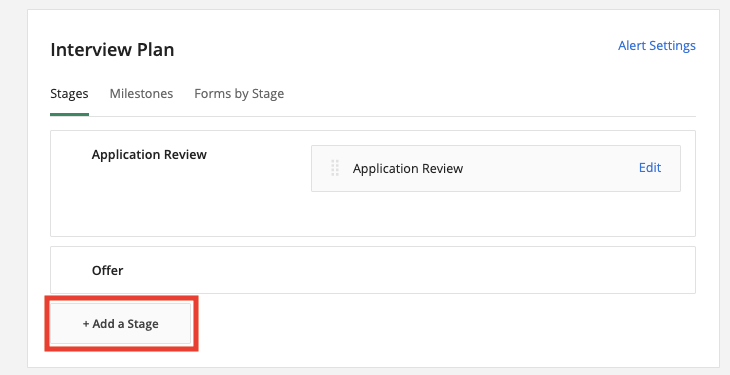 Select Criteria Corp and click Add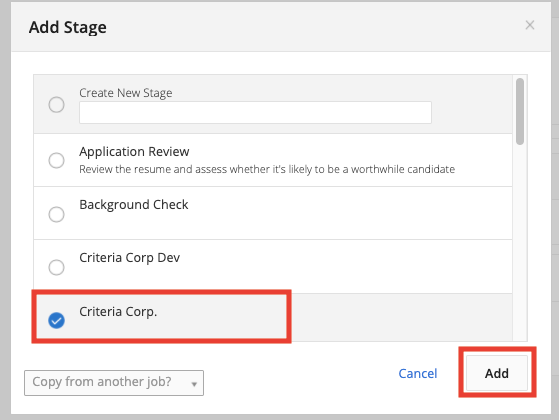 Adding Assessments to a Stage
Once the Criteria Corp stage has been added, click Edit

Use the drop-down menu to select the appropriate test battery for the job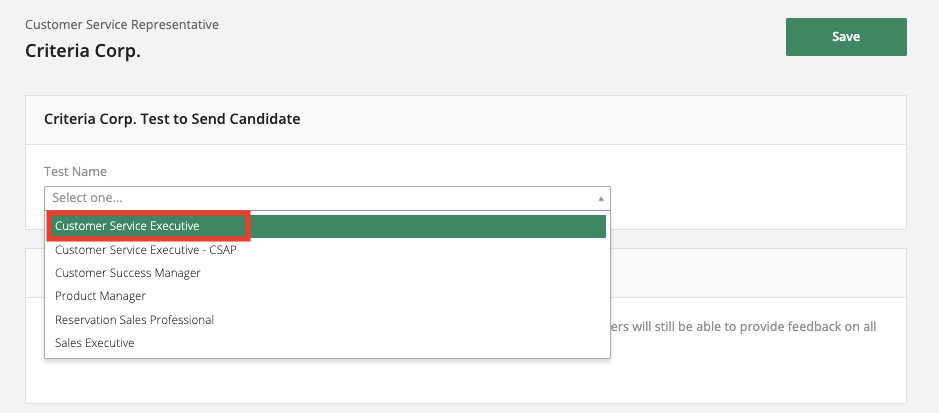 Scroll down to the Graders and Notifications section and select at least one Greenhouse user to grade/review the assessments, then click Save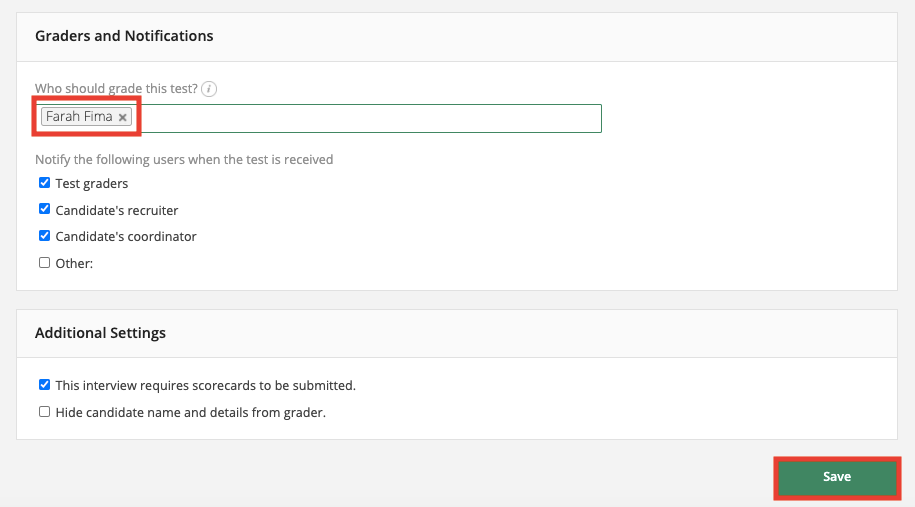 Note:

If you'd like to add additional testing to another stage, simply replicate the steps above. You may want to name the second testing stage something different so you can differentiate them (e.g. Criteria Corp 2 instead of Criteria Corp). To edit the stage name hover over the stage name and click the pencil icon

Sending Assessments to a Candidate / Reviewing Scores
While in the job, select the Candidates option and click on a candidate's name

Expand the Criteria Corp Stage by clicking the arrow, then click Send Test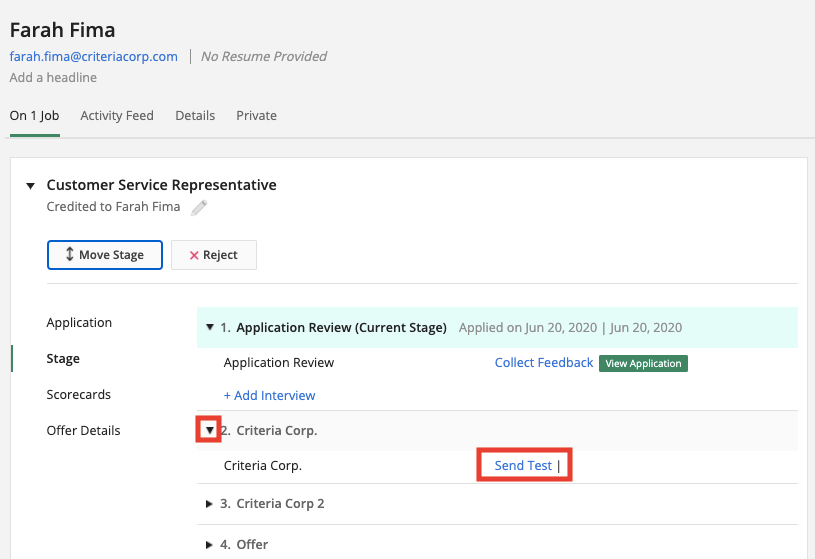 This box will appear. Review details and click Send Test

Note: Keep in mind that all configuration of the assessment itself, as well as the email template, will need to be handled in HireSelect. When you click "Send Test" from within Greenhouse, the assessment instructions are actually sent by Criteria Corp.
The tests will send immediately and this message will display to confirm when testing was sent

The candidate will receive an email from Criteria Corp to take the assessments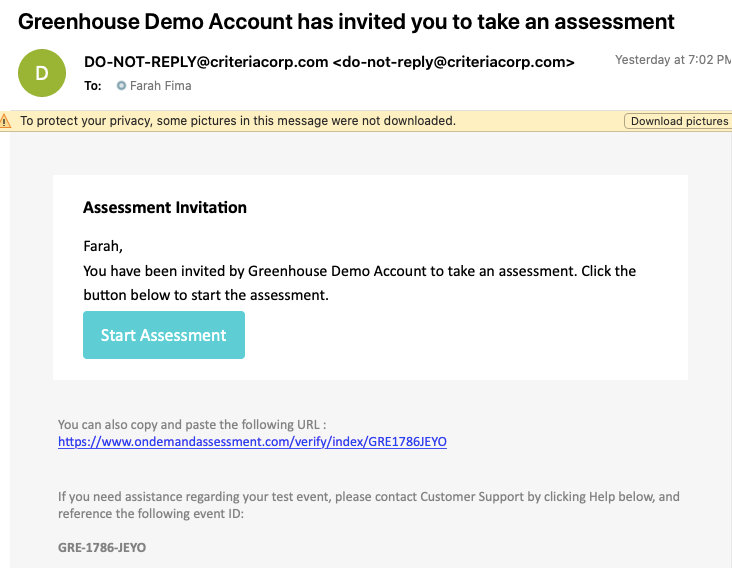 Once the assessments are completed the Grader(s), Recruiter and/or Coordinator (depending on how you've configured your notifications in Greenhouse) will receive an email notification from Greenhouse. Click the hyperlinked "here" to be taken to the Candidate's Interview Kit.

Note: Greenhouse pulls results from Criteria Corp once an hour.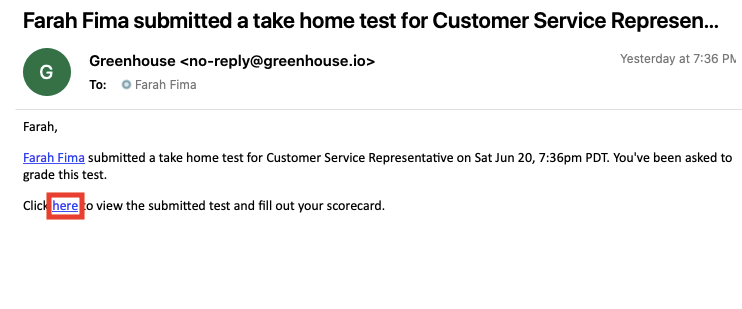 Click View Report to see a PDF of the candidate's score reports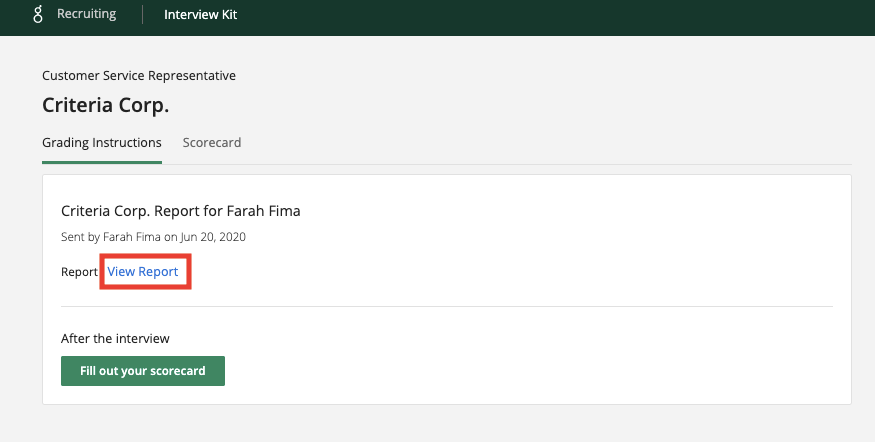 Sending Assessments in Bulk
Note: Candidates must reside in the same job and in the same testing stage (e.g. Criteria Corp) in order to bulk send the assessments
Click on All Candidates, then select Pipeline Tasks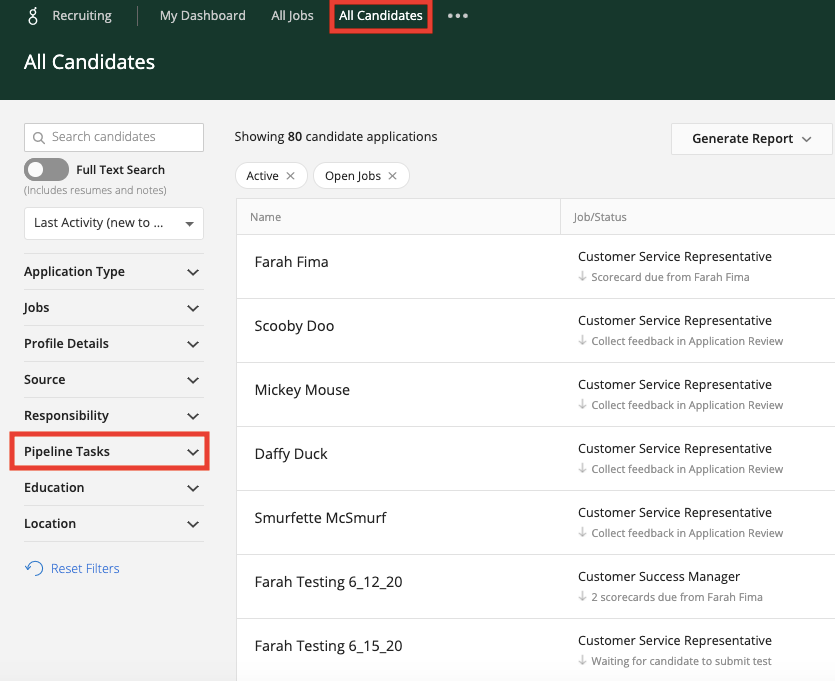 In the Pipeline Tasks menu, scroll down to Test Status and filter by To Be Sent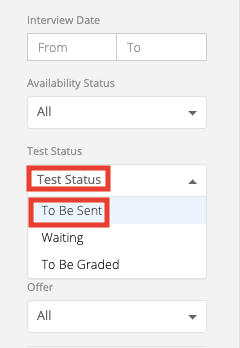 The list of filtered candidates will appear, click the Bulk Actions button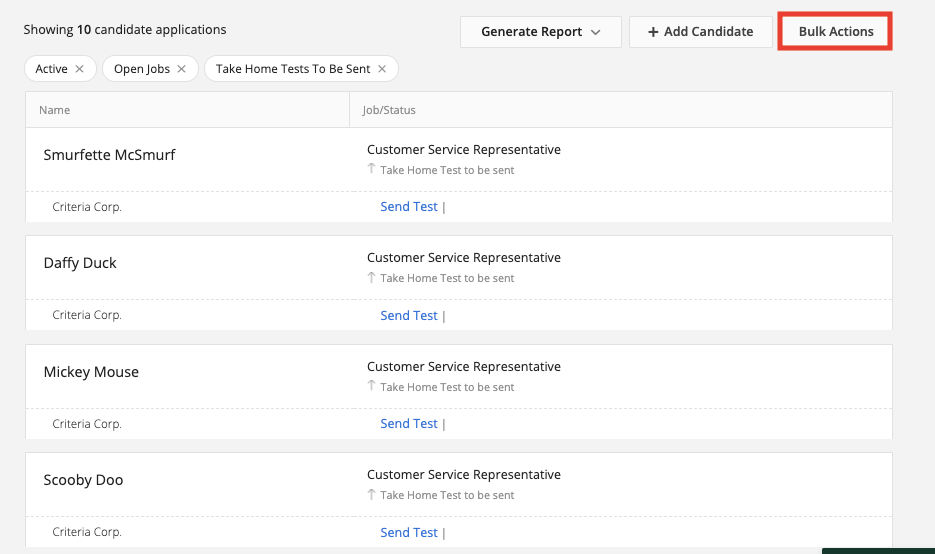 Then check the boxes next to the candidates that you'd like to send the testing to (or use the Select All button), and select Edit Selected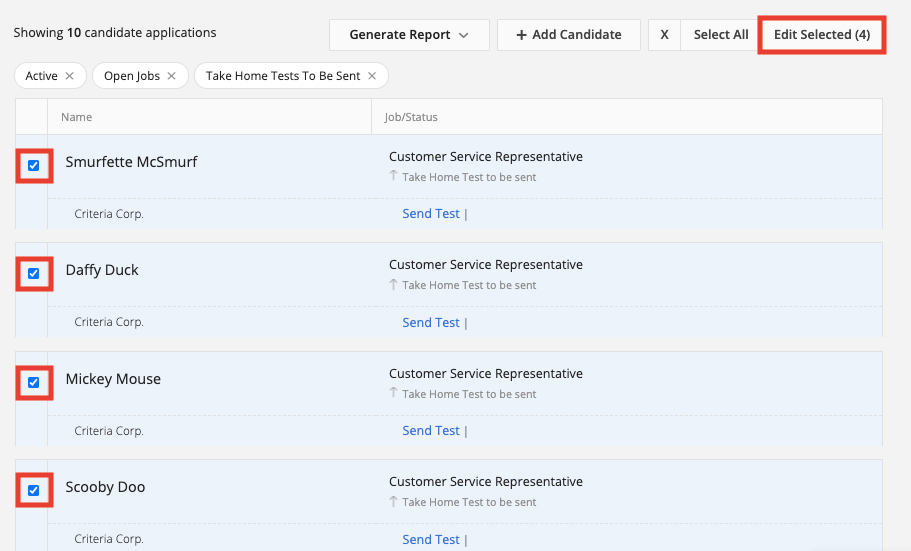 This box will appear. Click Send Tests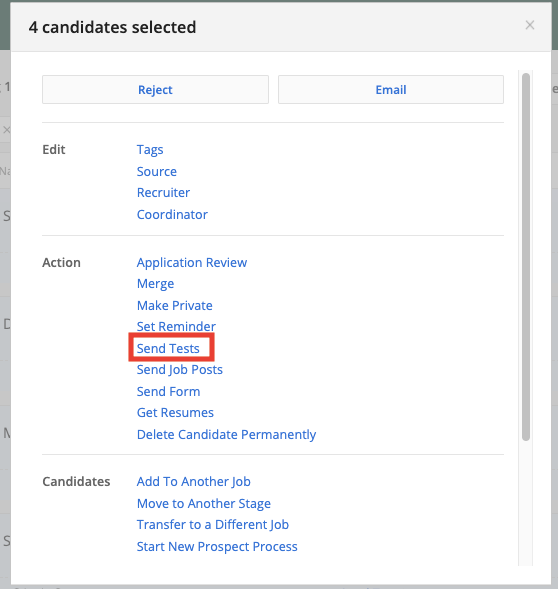 This box will appear. Review details and click Send Test. Note: If you select different tests on this screen, then those which are associated with the job req, an email notification will not be sent to the Grader from Greenhouse when the results for those tests are completed.

While the bulk action is processing you'll see this message, and when it disappears the tests have been sent.