Greenhouse Recruiting's integration with Fairlane automates sending take-home challenges to your candidates. A candidate interviewed through Fairlane is invited automatically to a Github repo with access for a limited time. Once the time is up, the candidate loses access to the repo and your engineers can review it.
In this article, we will cover how to:
Enable the Greenhouse Recruiting / Fairlane Integration
In order to enable the integration, you will need to retrieve your API key from Fairlane. This API key will be used by Greenhouse Recruiting to send tests to Fairlane.
Navigate to your Fairlane Settings page and copy the provided API key.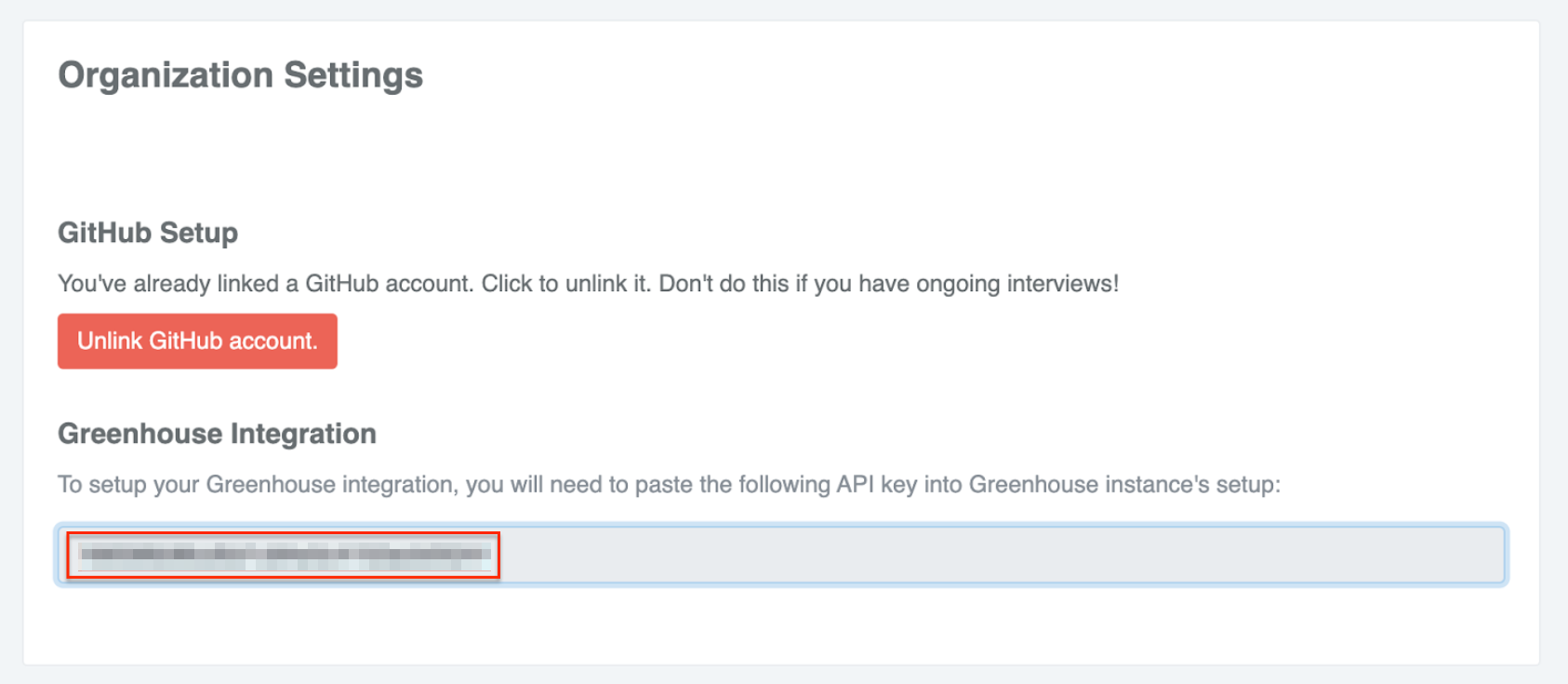 Once you have obtained your API key, fill out the form at www.greenhouse.io/asksupport or click here to open a ticket.
Note: Do not send the API key in this initial email.
The Greenhouse Support Team will respond with a SendSafely link for you to enter your API key. A notification will be sent to the Greenhouse Support Team after you have entered your API key and they will email you to confirm that your API key has been set up in your account and your integration is enabled.
Note: To verify your identity, the Greenhouse Support Team might request you provide a Support Verification Code before adding the API key to your organization's account.
Add Fairlane Stage to Job's Interview Plan
Once the Greenhouse Recruiting / Fairlane integration is enabled for your organization, you will be able to add the Fairlane assessment as an Interview stage.
To do this for an existing job, navigate to a job (All Jobs > Job Name) and click Job Setup from the Job navigation bar.

From the Job Setup page, navigate to Interview Plan on the left-hand panel. Scroll down the page and click + Add a Stage.

From the Add Stage dialog box, select the Fairlane stage. When finished, click Add at the bottom of the dialog box to add the stage to the job's interview plan. If you do not see a Fairlane stage in the list, add Fairlane in the Create New Stage field.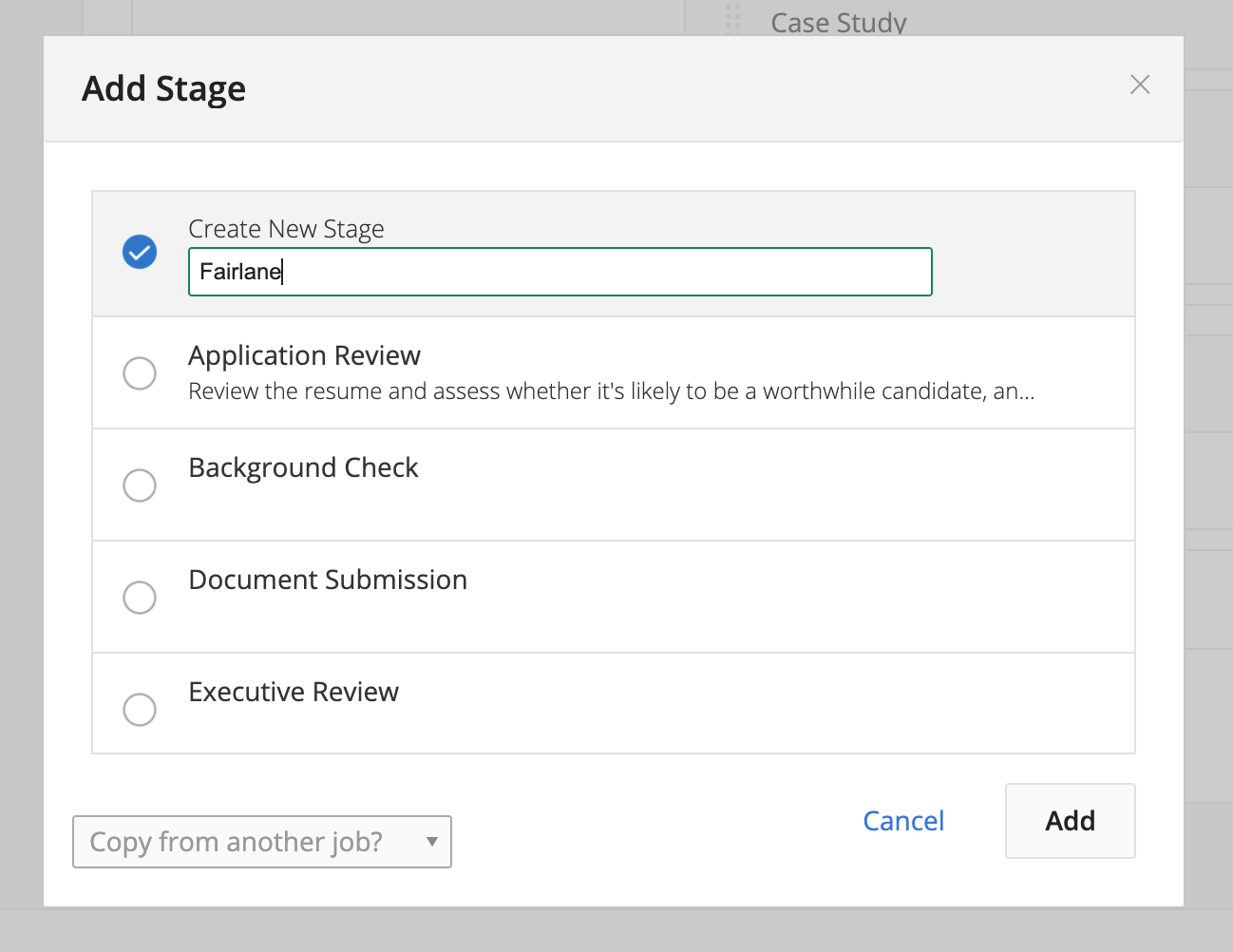 That is it! You are now ready to send take-home challenges through Fairlane!
Send and Review Fairlane Take-Home Test
To send a take-home challenge to a candidate, select Send Test when the candidate is in the new Fairlane stage.

In the subsequent dialog box, confirm the recipient's email address is correct, and select the assigned reviewer.

Click Send Test, and Fairlane will send the candidate an email to let them know they can begin the test when they are ready. Once the candidate finishes the test, the reviewer will be notified automatically by Greenhouse Recruiting. The reviewer's scorecard will include a link (View Report) to view the candidate's GitHub repository.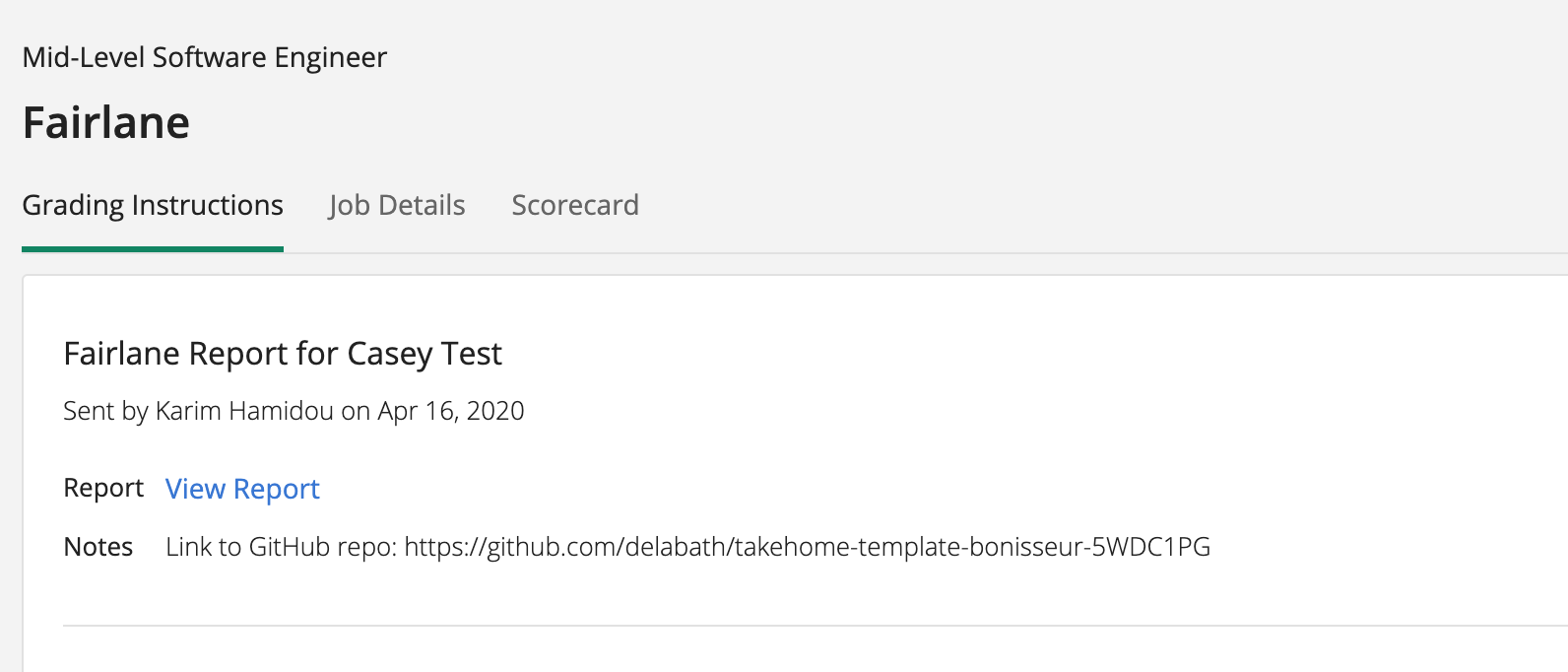 That is it! If you have questions about the Fairlane / Greenhouse Recruiting integration, please contact Fairlane support at support@fairlane.io.