Greenhouse Recruiting allows your organization to edit the user-specific permissions for multiple users at the same time using the bulk action feature. With the bulk action feature, you can edit individual user-specific permissions for a single permission level at a time.
To edit user-specific permissions in bulk, click the Configure icon

in the upper-right hand corner and navigate to the Users on the left-hand panel.

Click the All Permissions dropdown menu to expand, then select a single permission level to filter the Users list for that single permission. Click Bulk Actions when finished.
Note: Bulk editing user-specific permissions can be performed only for users belonging to a single permission level.

Select the users you wish to edit. This can be done in one of two ways:
Click the checkboxes to the left of the user names, or
Click the Quick Select button to search for users by name or email address
If you prefer to select users from the provided list, click the checkbox to the left of each user who should be edited in your Bulk Action. When finished selecting users, click Edit Selected (#).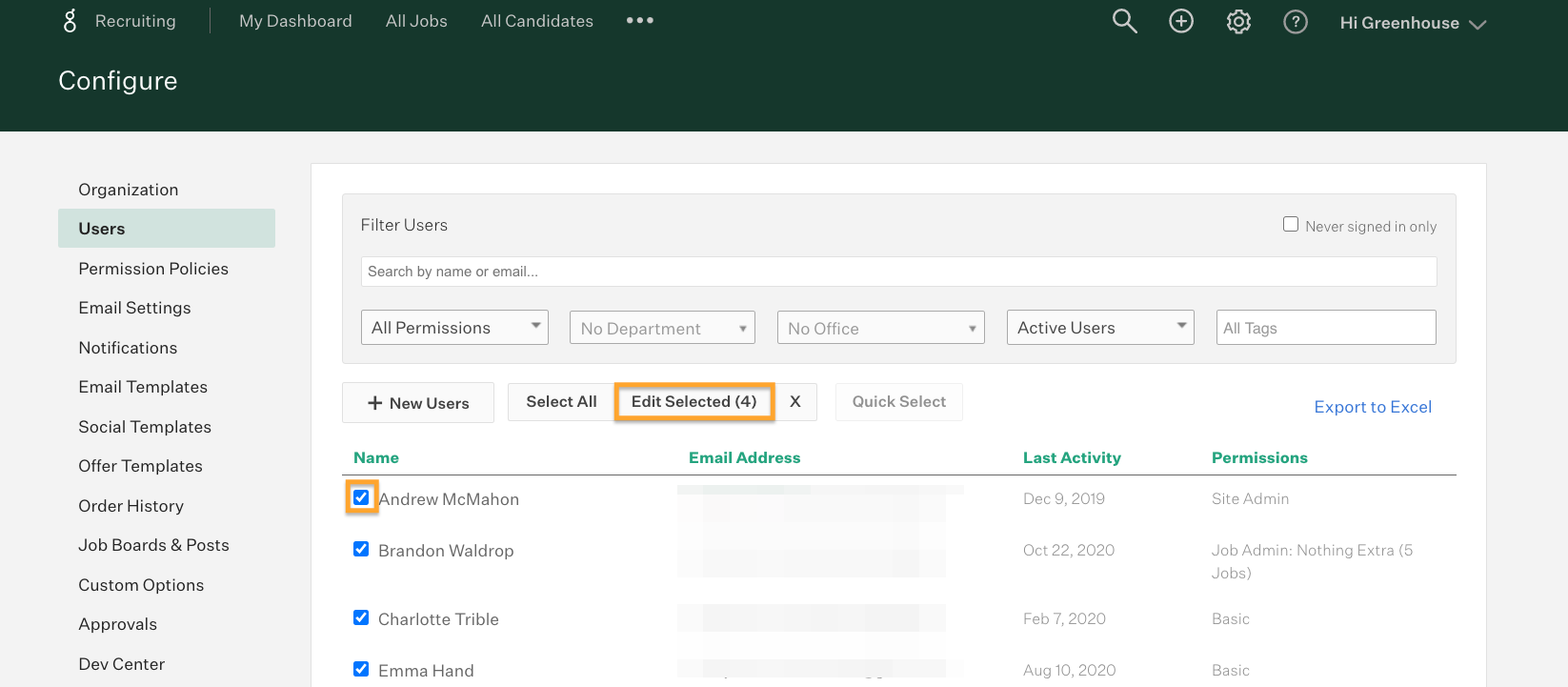 If you prefer to select users by searching for name or email address, click the Quick Select button instead.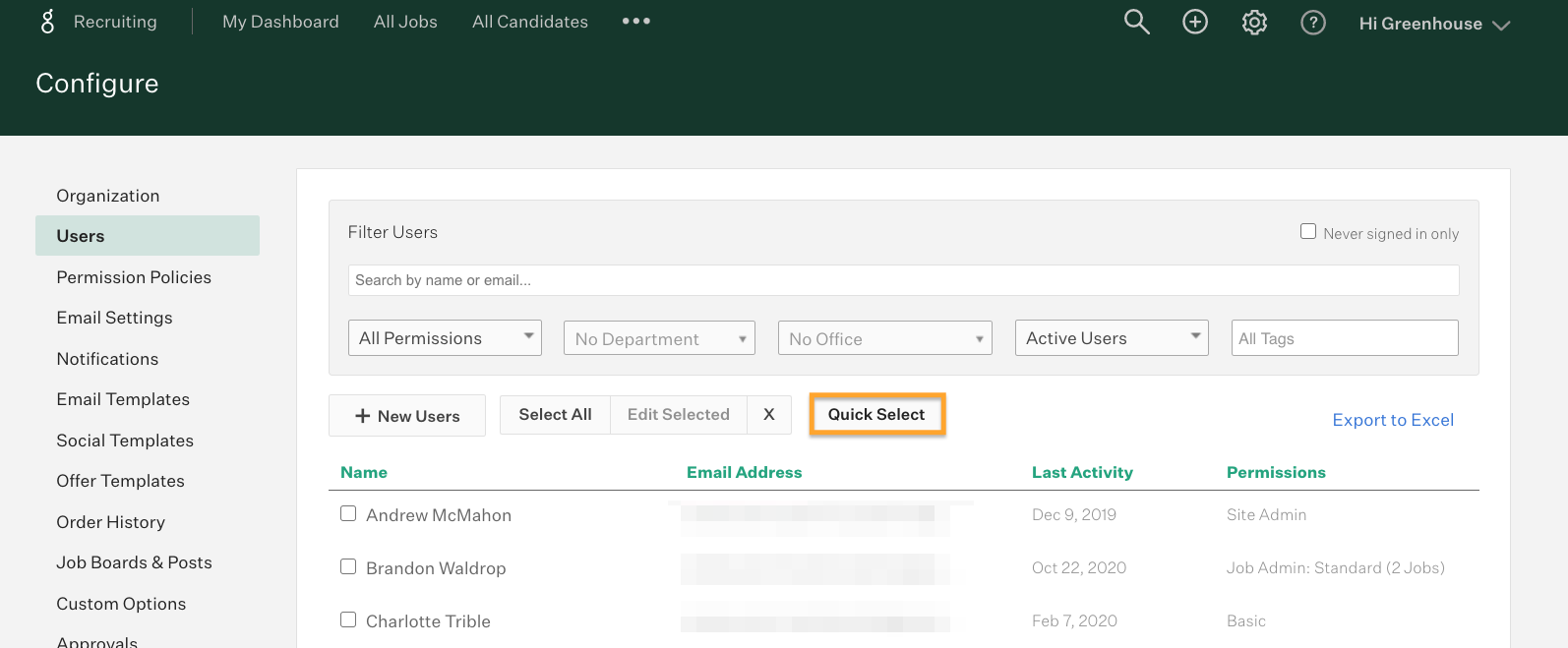 In the Quick Select dialog box, type or paste the user names or email addresses you wish to edit in your Bulk Action. If any names or email addresses are entered which do not match existing users, they will be skipped. When finished entering users, click Edit Selected (#).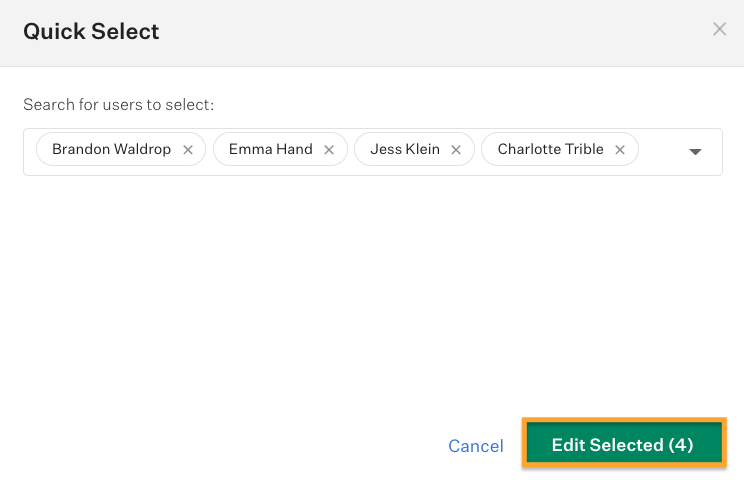 Once you have selected your users through one of the methods above, you will be directed to the Edit # Users dialog box. In this dialog box, click Edit User-Specific Permissions.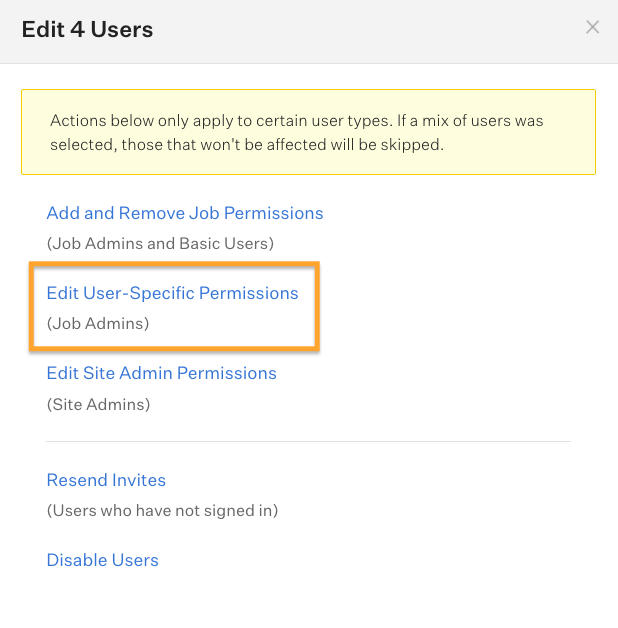 Note: If you have filtered the list of users by the Site Admin permission level, click Edit Site Admin Permissions instead.
For each user-specific permission you wish to edit, click Turn all on to grant the permission to all selected users, or click Turn all off to remove the permission from all selected users. This will edit the user-specific permission setting for every user included in the bulk action. Skip any user-specific permissions you do not wish to edit in bulk.
Click Save Permissions when finished.