Greenhouse Recruiting's integration with Jopwell allows you to send your jobs and application updates to Jopwell, while also allowing you to send Jopwell candidates directly into your Greenhouse account as either candidates or prospects.
All clients that have set up the Greenhouse integration on Jopwell are given two options: to either send a profile as a Prospect (just the user info) or as a Candidate (an application to a specific job).
Please note that not all Greenhouse Core users will have the prospects feature enabled in their account. If you do not have the prospects feature, then candidates will be submitted by Jopwell.
In this article, we will cover how to:
Configure User Setup Permissions in Greenhouse Recruiting

Create a Partner API Key for the Greenhouse/Jopwell Integration

Use your Greenhouse/Jopwell Integration
Configure User Setup Permissions in Greenhouse Recruiting
In order to enable the Greenhouse/Jopwell integration, you will need the developer permission Can manage ALL organization's API Credentials.
Contact a Greenhouse user in your organization with Site Admin level permissions with the additional user-specific permission Can edit another user's advanced permissions to apply the API credential management permission to your account. Have the user with Site Admin level permissions edit your user account's permissions by navigating to the Configure icon

> Users > Your Name)

The user with Site Admin level permissions should navigate to the Permissions panel on your user page and expand the Developer Permissions dropdown menu.
Select Can manage ALL organization's API Credentials so that a check is in the checkbox. When finished, click Save.
Repeat as necessary for any other user that should have access to set up the integration.
Create a Partner API Key for the Greenhouse/Jopwell Integration
To create a Partner API key for the integration, click on the Configure icon

in the upper right-hand corner. Navigate to Dev Center on the left-hand panel.
From the Dev Center page, click API Credential Management.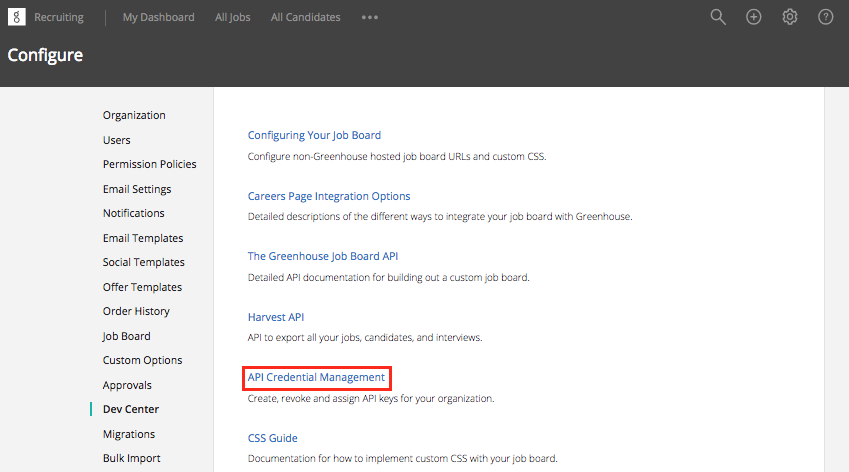 From the API Credential Management page, click Create New API Key to generate the API key for Jopwell.

From the Create new credential dialog box, give your API key a name and select Partner from the Type dropdown menu. Next, find the appropriate partner from the Client Application dropdown menu. When finished, click Create.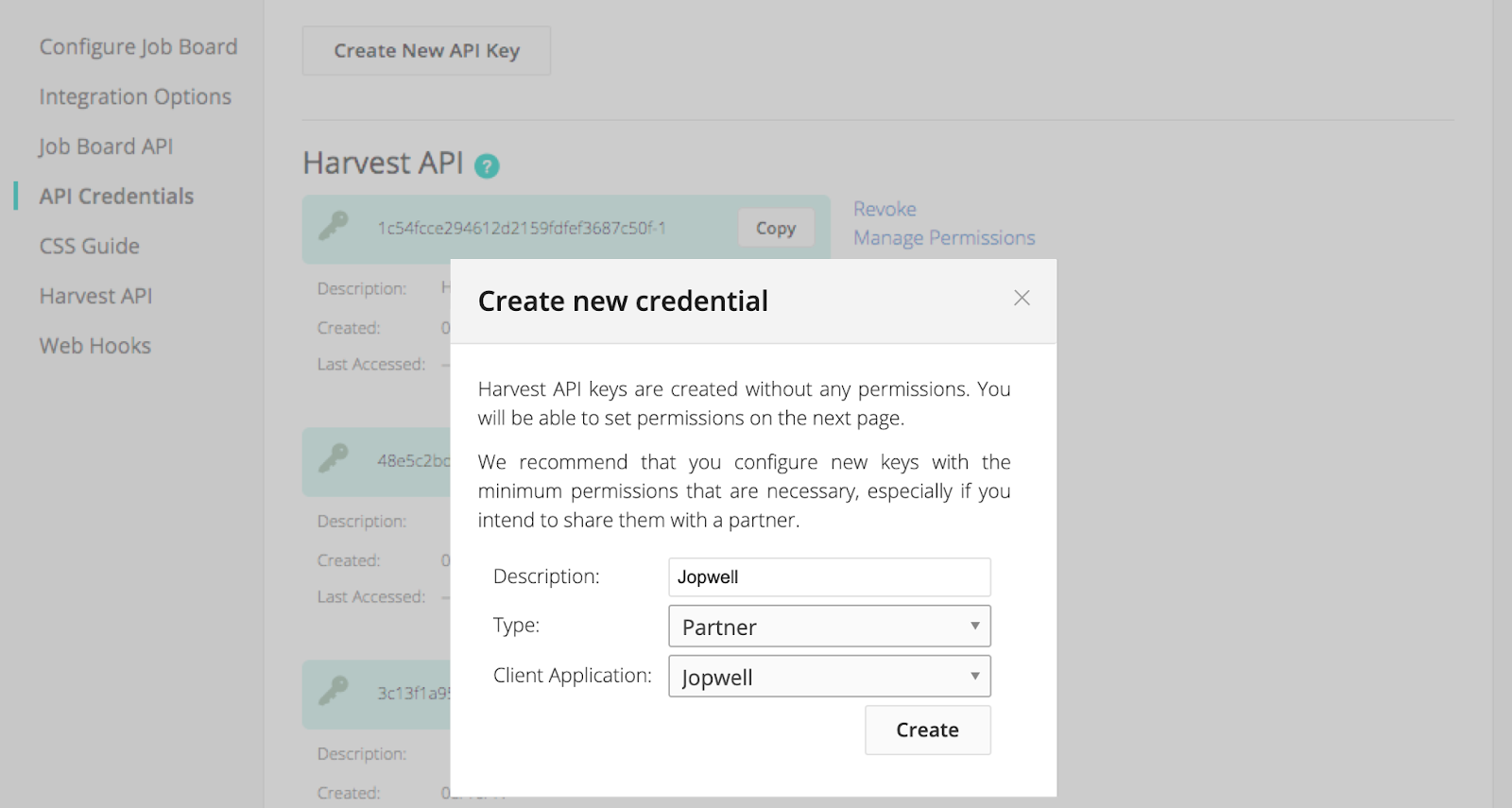 Your Partner API key for the Greenhouse/Jopwell integration is created and configured.
Keep this newly created Jopwell Partner API Key handy, you'll need it in the next step.
Enter your Partner API Key on Jopwell platform.
Login to your Jopwell account and follow the steps here:
https://www.jopwell.com/dashboard/application-tracking

When prompted, enter the Partner API Key you created to complete the integration. Once the integration is set up, your jobs, candidates and application statuses will be sent to Jopwell. The transferred data will include: job title, job description, job location and status of current applications.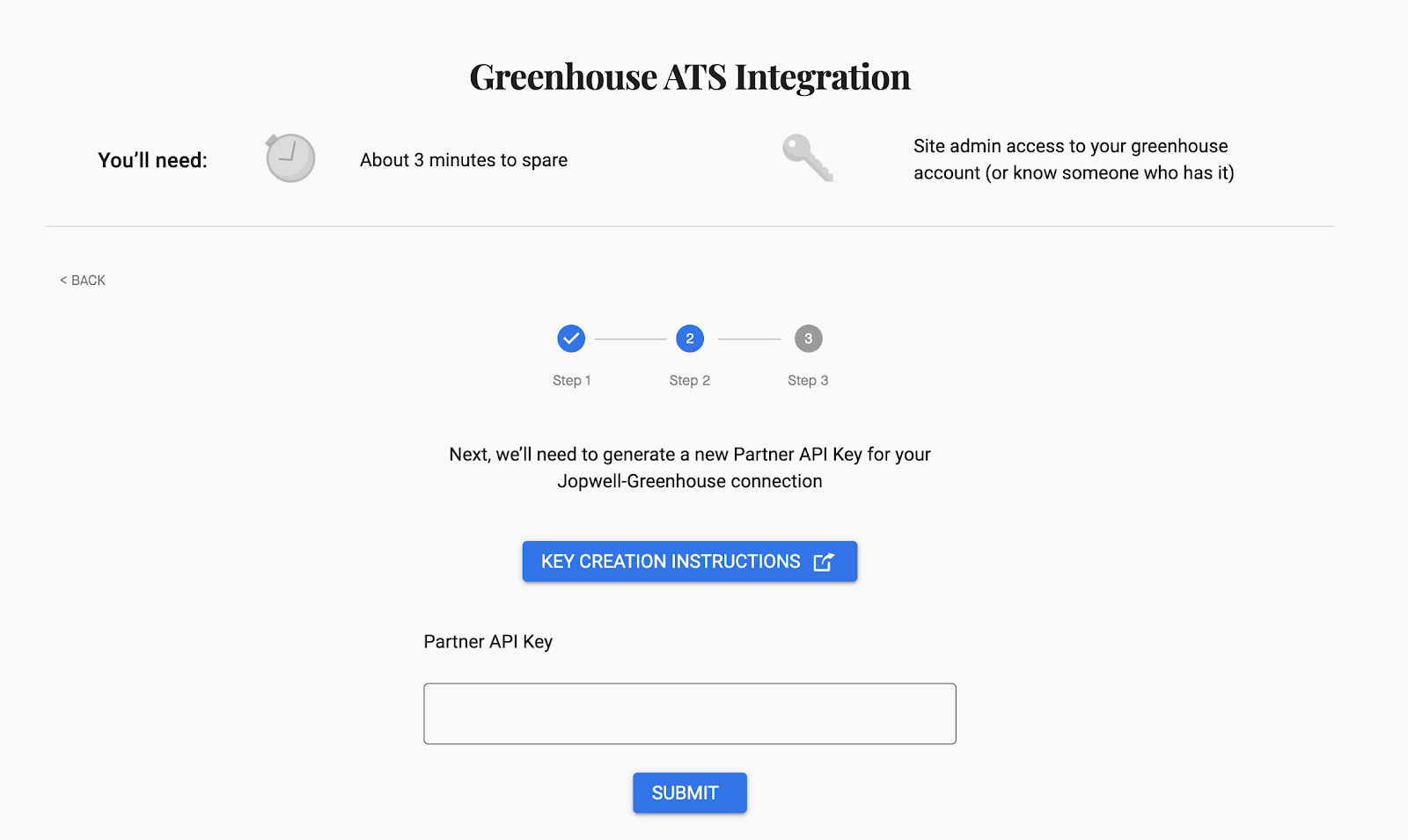 How to use the Jopwell Integration with Greenhouse
To transfer Jopwell profiles to Greenhouse simply click the "Send to ATS" button when viewing a candidate profile on Jopwell and the profile will be created as a prospect in your ATS account.

With Jopwell integration all job candidates applying through Jopwell will automatically be tagged. To identify them you can simply sort by "Source = Jopwell".

To update Jopwell on the status of your candidates simply make application status updates in Greenhouse, and they'll automatically be updated on Jopwell as well. No need to do double the work!
Have additional questions on how to use the integration?
Find answers here: Frequently Asked Questions
Need help?
Please contact support@jopwell.com for troubleshooting assistance regarding the integration.