Wuhu allows companies to find qualified candidates and candidates to find the qualified opportunities, fast. By integrating your Greenhouse account, Wuhu can automatically post open jobs directly to candidates that match your position, alerting the candidate to apply. The integration also allows for an application to automatically push to your Greenhouse job posting, once a connection is made from a candidate.
In this article, we will cover how to:
Configure User Setup Permissions in Greenhouse Recruiting

Create a Harvest API Key for the Greenhouse/

Wuhu

 

Integration

How to enable the Greenhouse integration within Wuhu

How to sync Wuhu Candidate Applications into Greenhouse
Configure User Setup Permissions in Greenhouse Recruiting
In order to enable the Greenhouse/Wuhu integration, you will need the developer permission Can manage ALL organization's API Credentials.
Contact a Greenhouse user in your organization with Site Admin level permissions with the additional user-specific permission Can edit another user's advanced permissions to apply the API credential management permission to your account. Have the user with Site Admin level permissions edit your user account's permissions by navigating to the Configure icon  

 > Users > Your Name)

The user with Site Admin level permissions should navigate to the Permissions panel on your user page and expand the Developer Permissions dropdown menu. 
Select Can manage ALL organization's API Credentials so that a check is in the checkbox. When finished, click Save.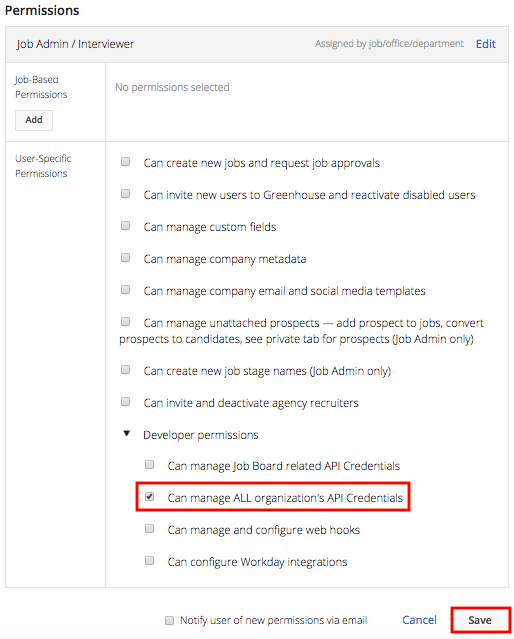 Repeat as necessary for any other user that should have access to set up the integration.
Create a Harvest API Key for the Greenhouse/Wuhu Integration
To create a Harvest API key for the integration, click on the Configure icon 

 in the upper right-hand corner. Navigate to Dev Center on the left-hand panel.
From the Dev Center page, click API Credential Management.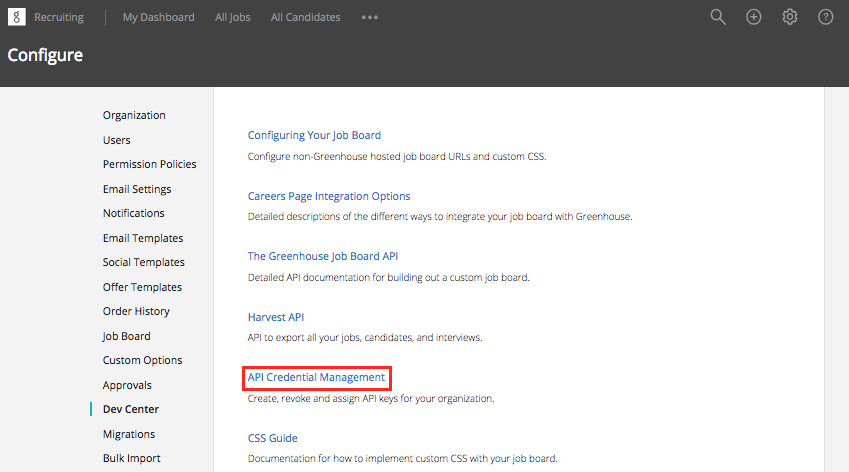 From the API Credential Management page, click Create New API Key to generate the API key for Wuhu.

From the Create new credential dialog box, give your API key a name and select Harvest from the Type dropdown menu. When finished, click Create.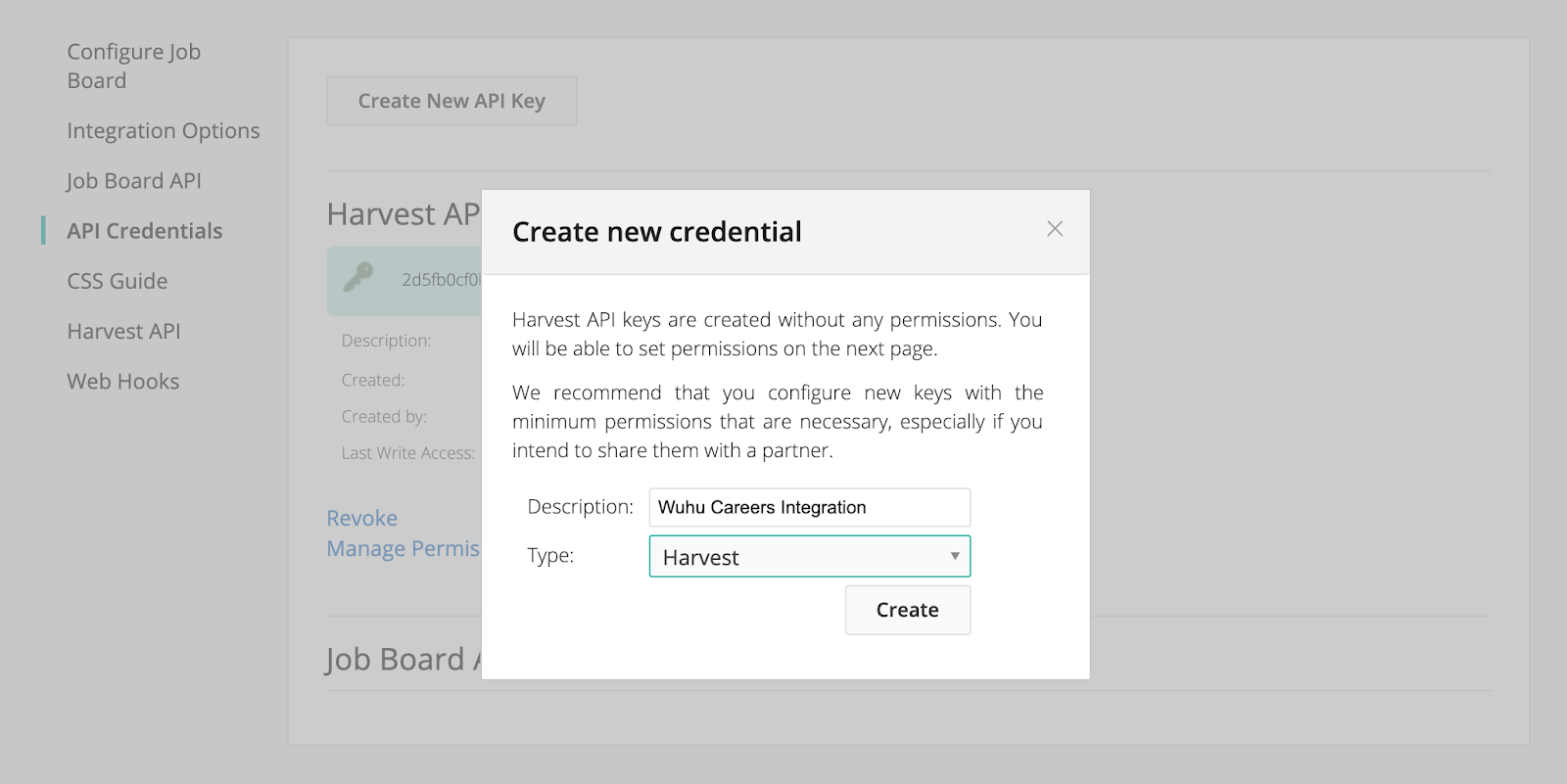 On the Manage API Key Permissions page, you will need to check the boxes for:
Applications

Candidates

Job Posts

Jobs

Users
When finished, click Update.

How to use the Wuhu Integration with Greenhouse
Your Harvest API key for the Greenhouse/Wuhu integration is created and configured.
You can now either:
Provide your Harvest API key to your Wuhu onboarding team so they can set up the integration, or

Head to

https://app.wuhu.guru

 -> Account -> Manage and click the Greenhouse Integration button to submit and connect your Greenhouse account:
After Integrating Harvest Token With Wuhu
After your Harvest token is saved to your Wuhu account, Wuhu will fetch all open and active job posts in your Greenhouse account, creating them as job postings in Wuhu.
Greenhouse requires all API calls that adds to your Greenhouse account to supply a Greenhouse user id header of On-Behalf-Of. Wuhu will populate this automatically, assuming that the user email address that supplied the Harvest token is the same in both Wuhu and Greenhouse accounts.
For example, my Greenhouse Account email address is brandon@company.com, I generate the Wuhu Harvest token using this account. I have the same email for my Wuhu Account, brandon@company.com, this way Wuhu can let Greenhouse know who is making which API calls. It will be the same brandon@company.com Greenhouse user id used on all API calls from Wuhu, no matter how many Wuhu users are associated with your Wuhu account.
Syncing Job Posts
Wuhu syncs with your Greenhouse account every hour automatically creating new job postings, archiving job postings that are no longer active, and unarchiving postings that are turned back to active within Greenhouse.
Here is an example of what a job posting could look like based on the title, location, and description:

If you need to refresh your job postings sooner than every hour, there is a button that can manually sync with Greenhouse that is located on your Company Page: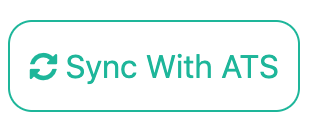 Syncing Candidate Application
After making a Wuhu Candidate Connection, you can do two things: 
Download a csv of all candidate profile information to manually upload to Greenhouse

Export Profile to Greenhouse via the "Export Profile To ATS" button, which will automatically sync the candidate information/resume to the open job posting.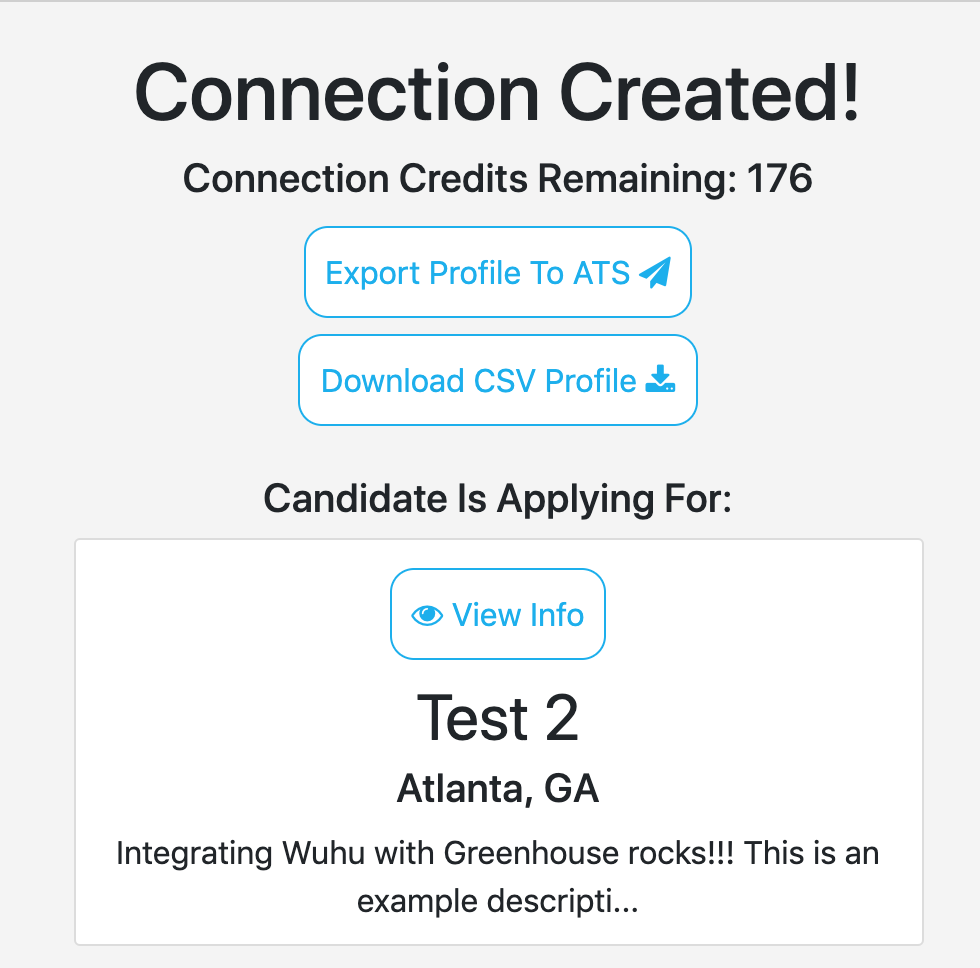 Need help?
Please contact support@wuhu.guru for any questions or help that you need. You can learn more about Wuhu at www.wuhu.guru.
Please contact support@wuhu.guru for troubleshooting assistance regarding the integration.