HRdiversifyd is a diversity analytics software that enables an organization to proactively track and measure diversity, and identify unconscious bias in real time through the talent pipeline.
Greenhouse Recruiting's integration with HRdiversifyd allows your organization to capture diversity data from your applicants and measure that data against the goals set by your organization.
Create a webhook
To integrate HRdiversifyd with Greenhouse Recruiting, you'll need to create a webhook. Follow the steps in this article to create your webhook. Use the values listed below to configure the webhooks.
Name: HRdiversifyd integration
When: Application Updated
Endpoint URL: The Endpoint URL provided by HRdiversifyd
Secret Key: The Secret Key provided by HRdiversifyd
Use the HRdiversifyd integration with Greenhouse Recruiting
The landing page is a customizable dashboard displaying real-time EEO data from Greenhouse Recruiting. The dashboard can display data based on year or quarter with counts or percentages and with active or historical data.
It exemplifies your real-time analytics and displays whether your organizational diversity goals are being met or missed at each stage of your hiring process.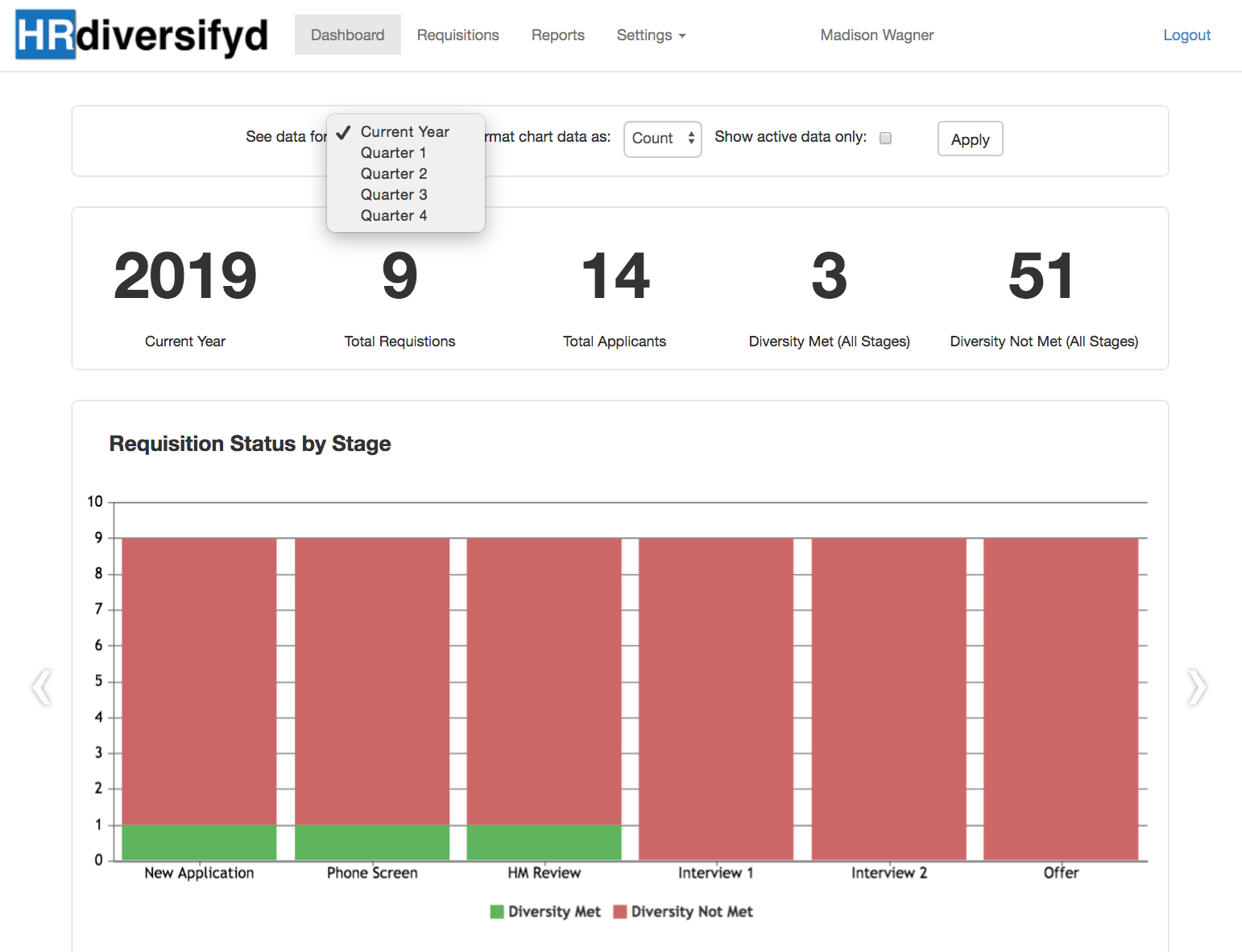 All requisitions are listed within the requisitions tab. You can choose whether they are still active or have been filled.
Status shows if all steps in your hiring process met your diversity goals.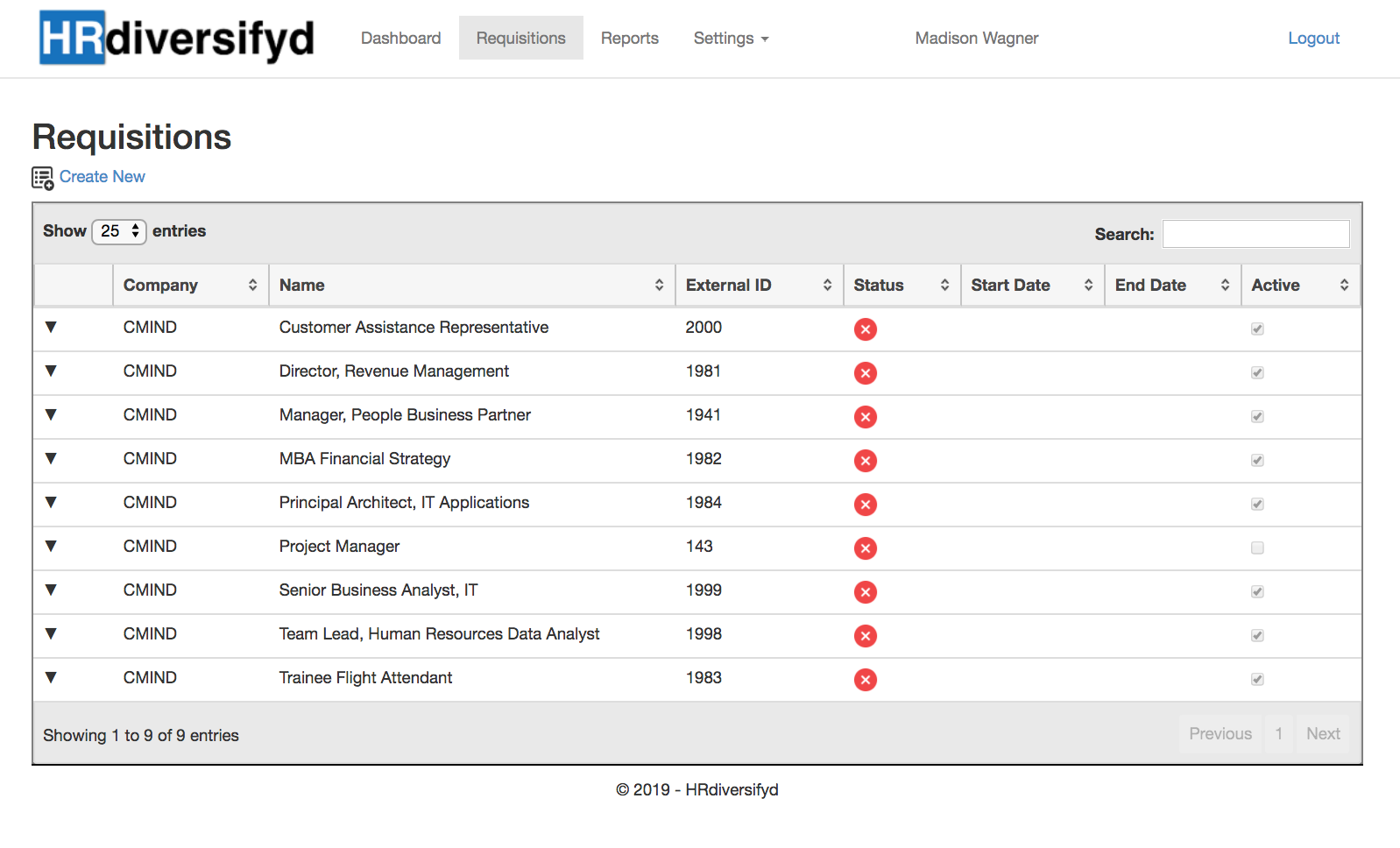 By clicking on a single requisition, you can see if your diversity goals have been met or missed and at what stage.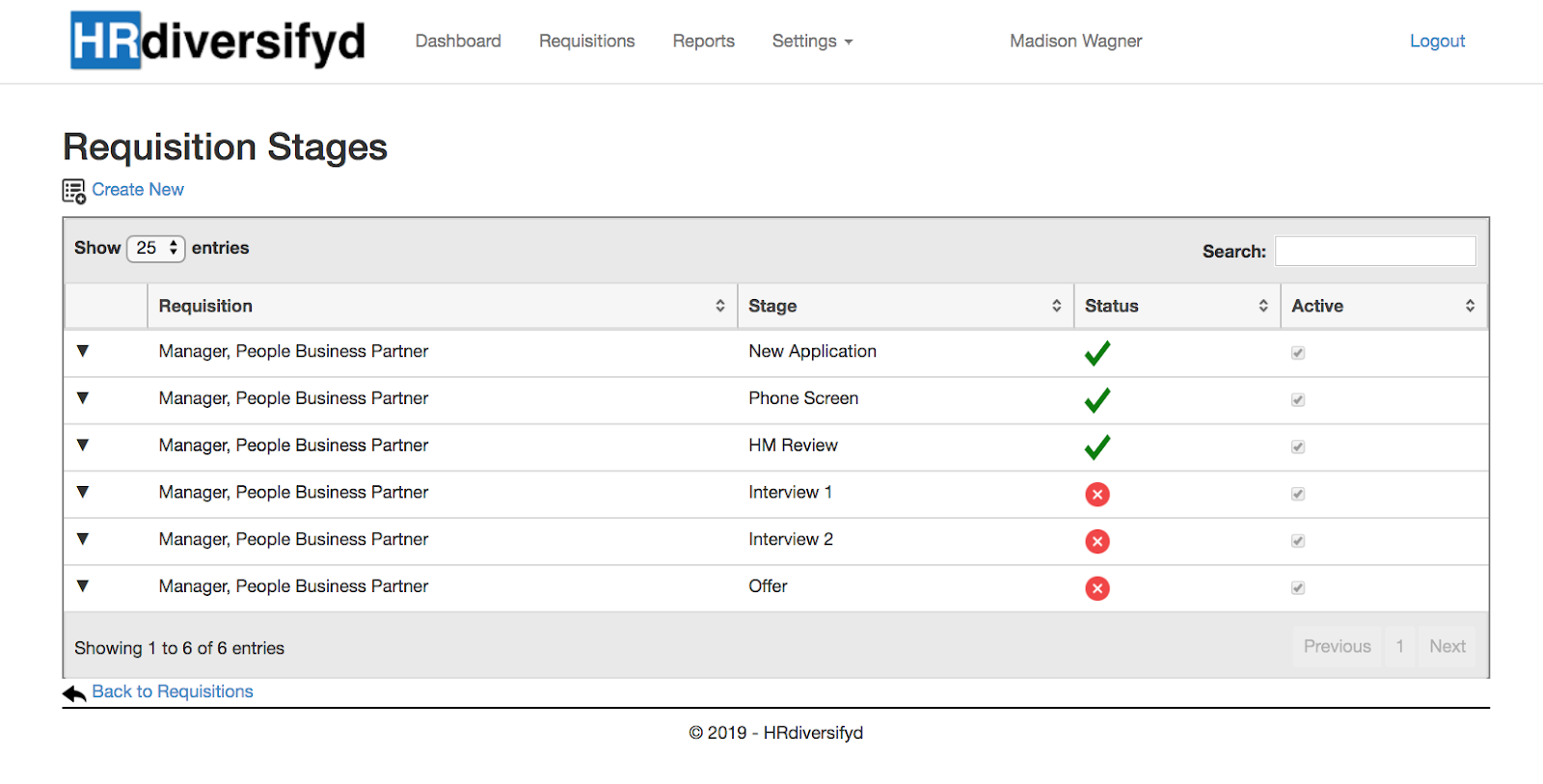 Within the reports tab, you can further analyze data for a specific requisition, stage (e.g. Application Review, Phone Screen), Category (e.g. Disability, Gender), and Value (e.g. Female, Male, Decline to Identify).
Additionally, reports can be tailored to your organization's needs and business requirements.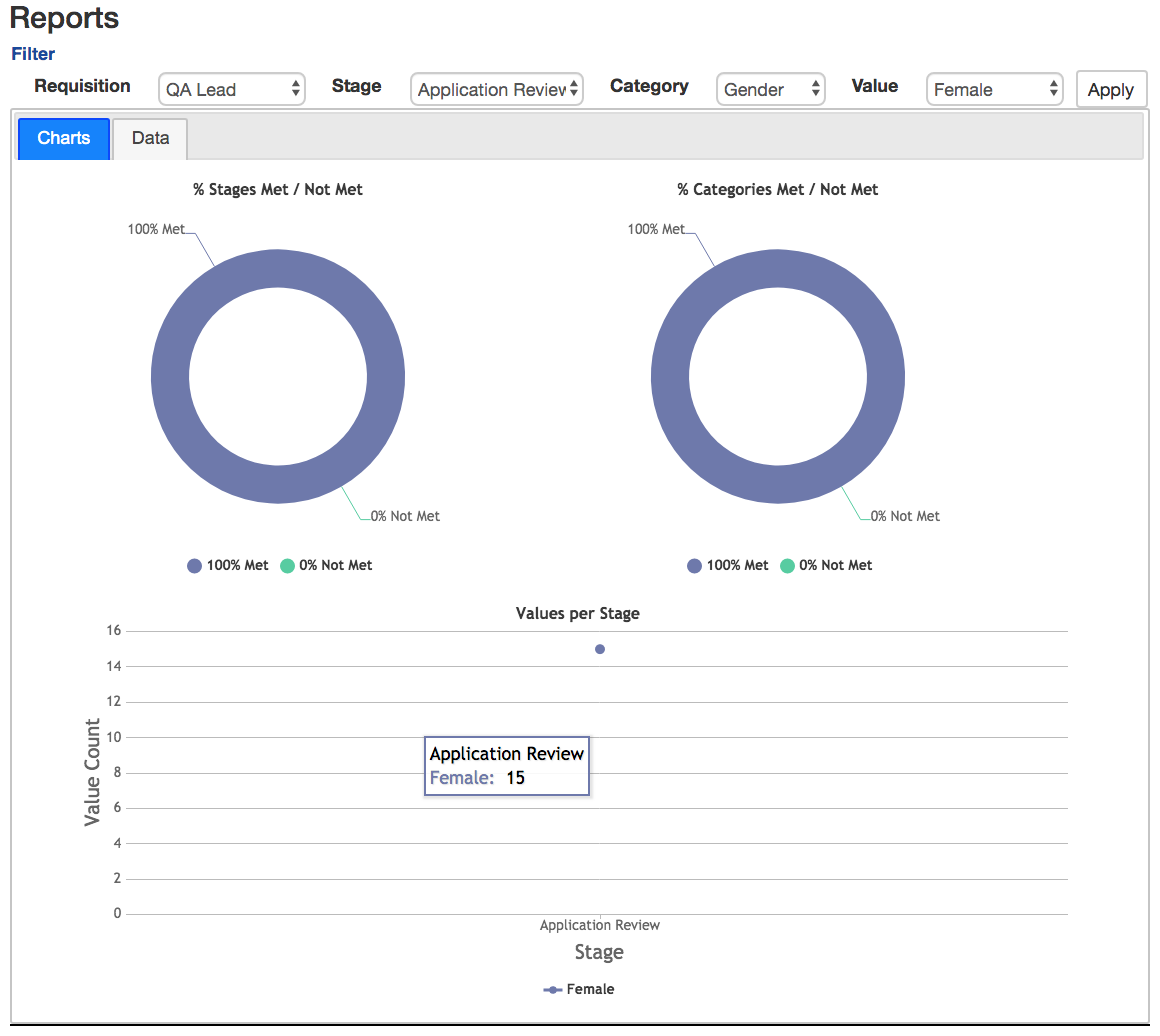 Stages and Categories can be custom entries or pre-populated with your candidates' EEO data from Greenhouse Recruiting.


Additional resources
For additional information not covered here, reach out to support@hrdiversifyd.com
FAQs
Does HRdiversifyd store any personal data (PII)?
HRdiversifyd does not store any Personal Identification Information. Only diversity data provided in the EEO section of an application is collected by HRdiversifyd. No personal information that can be linked to a specific individual is stored within HRdiversifyd.
Is HRdiversifyd a SaaS or On-Premise solution?
HRdiversifyd can accommodate either option; however, it depends on the tiered model selected. The Lite and Pro tiers offer a SaaS solution, and the Enterprise tier provides a choice of either SaaS or On-Premise solutions.
Does HRdiversifyd send back any information to Greenhouse indicating whether diversity goals are met during the hiring process?
HRdiversifyd has the ability to send data back into Greenhouse with our Enterprise option. That specific functionality is not offered within the Lite and Pro options.
How much does HRdiversifyd cost?
Please contactHRdiversifyd for pricing details. There is a discount offered for non-profit organizations or educational institutions.
Is there another solution like HRdiversifyd in the market?
There is no other solution like HRdiversifyd, on the market today providing real-time analytics around diversity in the hiring process. No other solution is tracking whether or not your diversity goals are being met or missed and a what stage. Furthermore, no other solution is tracking whether or not conscious or unconscious bias and discrimination are occurring through the hiring process and at what stage.
Who do we contact to see the live demo or license the solution?
Please visit www.hrdiversifyd.com and check out the "Request a free demo" section for more information.