If your organization is planning to post a prospect post to an external job board or will be marketing the prospect post in some other way, you will want to create unique URLs to the online prospect post application so that your organization can track where the prospects came from. Once a prospect post is made Live, your organization can generate unique URLs to track the prospect's source.
To generate a tracking link for a prospect post, click the ellipsis

on the navigation bar and select CRM from the

Click Configure CRM from the CRM page.

Navigate to the Prospect Posts panel, and click the ellipsis

under the Actions column inline with a specific prospect post.
Select Tracking Link from the dropdown menu.

Use the subsequent dialog box to fill in the fields for Who gets credit and the Source. Greenhouse provides you with a default list of sources to choose from.
Note: To add your own custom source visit: Create Custom Sources. You will only need to create a custom source once. Once created, the custom source will be available for any job going forward.
After credit and source has been assigned, click Create Link to generate your tracking link.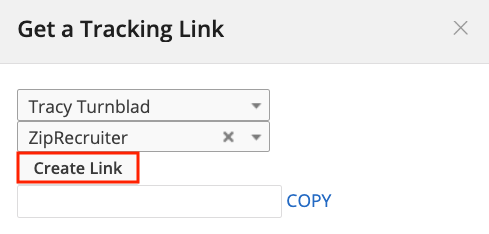 Copy the tracking link. Whatever marketing you may be doing, provide the tracking link to show prospects where they need to click to apply.
For example, if you are creating a job post on LinkedIn, you will want to include the tracking link in the Direct applicants to an external site to apply field.