Referral questions enable your organization to capture structured data for referrals made by your existing employees. In addition to Greenhouse Recruiting provided default questions, your organization can add new custom referral questions.
In this article, we will cover how to delete an existing referral question so that it no longer populates for users while making referrals. Default and custom referral questions can both be deleted.
Click the Configure icon 

 in the upper right-hand corner and select Custom Options from the left-hand panel.

Click Referral Questions.

From the Manage Referral Question Fields page, navigate to an existing referral question and click Remove.

A subsequent dialog box will ask you to confirm the decision. Click Yes, Remove it.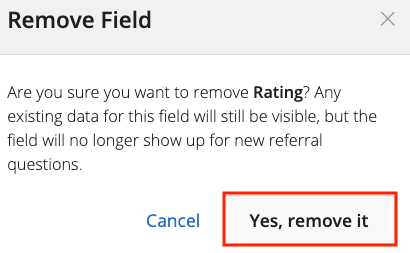 While responses to the question will continue to be visible for existing referrals, the question will no longer appear for future user submitted referrals.